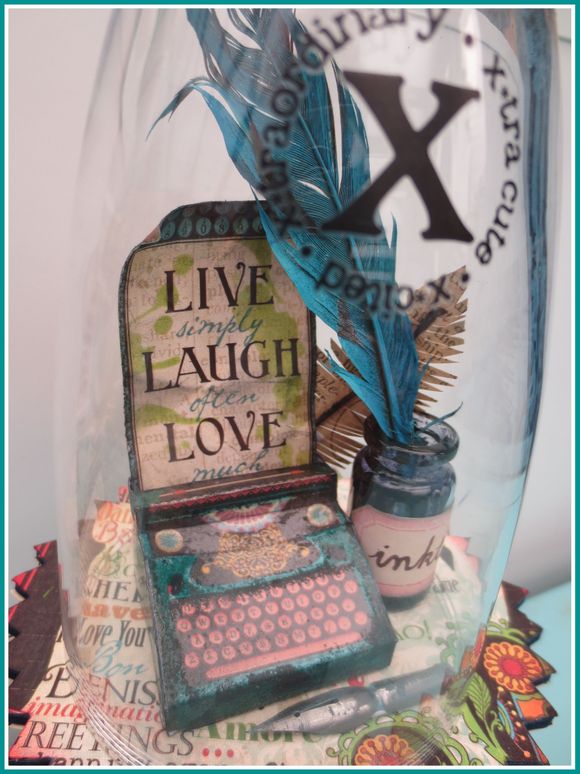 Am I still on this world ? 
Yes, I am ! 
I'm sorry for the people who came by on my website and didn't found any new blogposts...
The past months have been difficult because of healthproblems and every time I thought I was back again... well my body protested and took away my energy...
But I don't complain... I'm feeling better now than I was since months, so I cherish these days.
It's also vacation now, so there is more time to slow down and rest if needed and I finally have the feeling I get more done then just the "basics".
And I'm happy to say I can create a lot again ! So I have lots to show and tell and hopefully I will be able to share it with you on a more regular base than the past months.
Fingers crossed for again weekly posts... but no pressure :)
I'm in the designteam of my local craftshop and now and then I get soms stuff, mostly papers, to create something "as I wish".
Although I think there are scrapbookpapers to die for... I rarely buy it, because they are too beautiful to cut apart... and mostly cause I love to make my own papers from scratch with inks, paints, sprays, stamps,... so it's a challenge for me to create with ready made "scrapbook"paper.
I do have to admit Graphic 45 has a real own distinctive style and lovely papers, so I was quite excited when I got 10 sheets from some of  their latest papers
Curious what I created with them ? 
Well , let me take you on a tour :)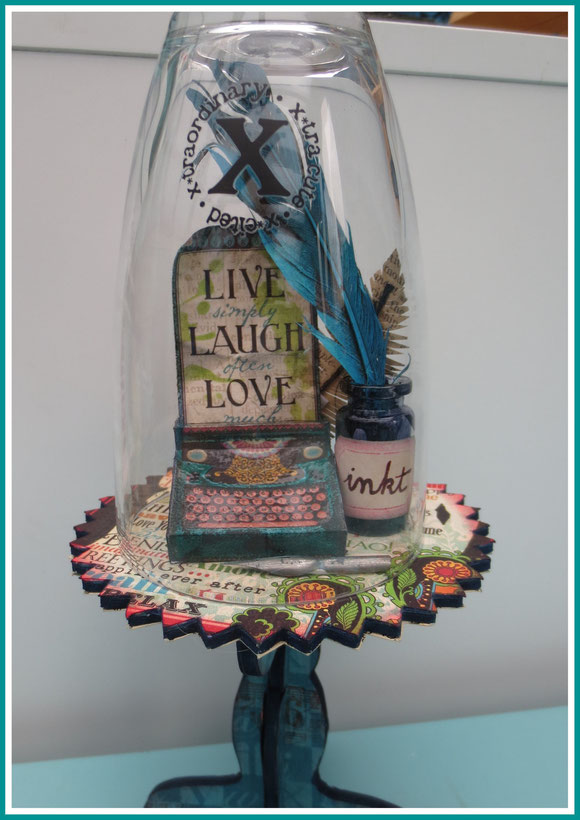 I first made this cupcakestand with a belljar.
The belljar is made with a drinkingglass from IKEA, a curioknob of Tim Holtz on the top and a rub-on.
The cupcakestand was a cheap one I bought, but altered to fit my project.
I glued papers of Graphic 45 on the stand and added more stamps, inked the edges with distress inks...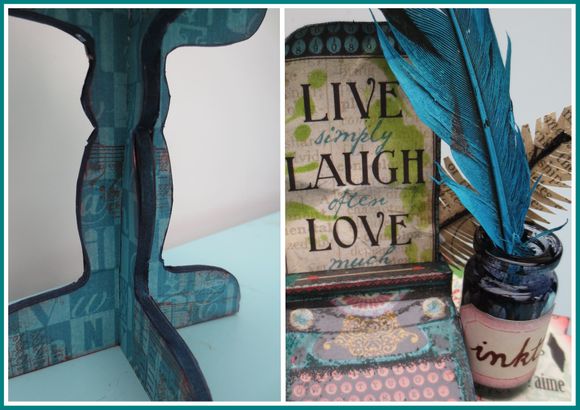 The typewriter is a beauty I bought on Etsy from SkyGoodies.
It normally is a deskcalendar and I made it like that, but I also resized it several times to use it in another scale and on different projects.
This one was inked over with distress inks and distress markers and then I made it look old and tattered by the chipped enameltechnique.
The text is from a graphic 45 paper and I added some splatters with Tim Holtz layeringstencil.
Different ways to create letters, so next to the typewriter I also added pen/plume and ink.
The inkbottle is a small glass bottle from Tim Holtz in which I poured real ink so the sides got coated and then I poured the ink out again. I let it dry.
I made a paper feather with vintage paper, but my favorite is the blue feather ! 
A feather found in my garden that I used in my gelprinting as a mask, but now it has a beautiful color that suited my bell jarproject perfectly.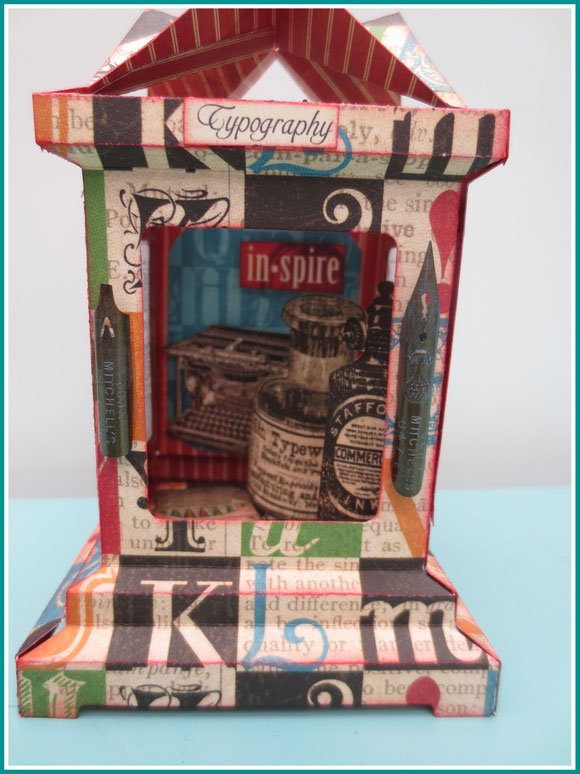 One of my favorite dies from Tim Holtz is the 3D luminary die.
I love to make this into a lantern ( see previous projects here and here)  but it's also perfect as a little 3D display for any kind of theme.
The luminary itself was made with a Graphic 45 paper. Edges were inked with distress inks and I added two old pens on the front.
I left the front side open so you can have a peek inside. Left and right opening are see through, but I added a piece of packaging plastic on which I stamped with a Tim Holtz stamps and Sta-zon ink to give it some interest.
The back of the luminary was blocked with another Graphic 45 paper.
The typewriter, inkbottles, pencilbox,.. were cut out from Graphic 45 paper and added with foam to give some dimension or a papertab so the bottles could stand up.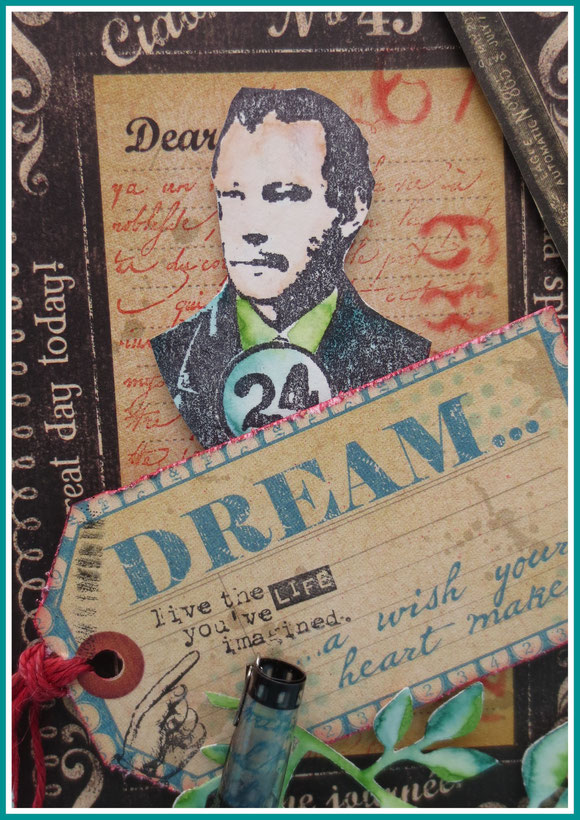 On one of the papers there was a large "card" so I made it into a standing card with Tim Holtz "small easel" die  on the back.
I added some more text on the card with a stamp and added numbers with one of Tim Holtz layering stencils.
The man is a stamp on watercolorpaper, colored with distress markers.
The tag "dream" was also from the Graphic 45 papers, but I added a quote from Tim Holtz, the pointing hand and splatters. If you have a first look you don't notice them but the splatters in distress ink add so much more depth on the paper label.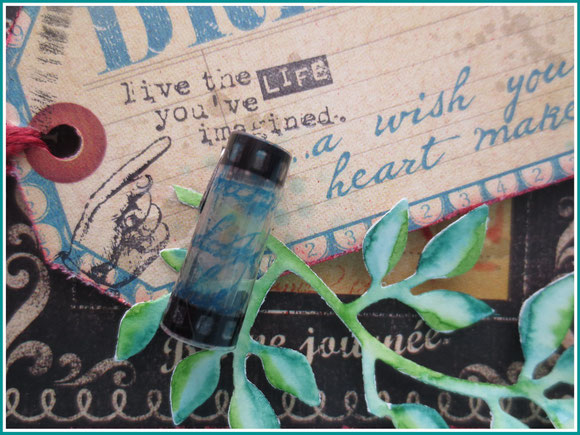 I added a filmrollstrip on which I stamped with a textstamp and stazon. This is the best ink for sleek surfaces.
The little branch is a Tim Holtz die from watercolorpaper, which I gave color with distress markers and spritzed with water. I love how the colors wick into each other.
I have one more project made with the Graphic 45 papers, but that's for another blogpost.
A little hint : what do you do when your husband  comes home with a big box full of little cardboardboxes in the same size... packaging material from technical stuff in the hospital that they would throw away...
And what do you do with all those little findings and collections in your drawers..
Well... you create...;)
greetings from Belgium
Inge