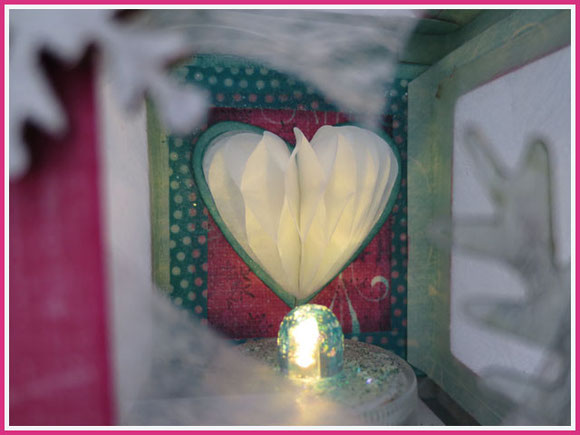 When I have the energy, I try to create... and bit by bit creative projects get finished this way :)
I created some little "lighthouses" the past weeks...
It all started seeing what Shelly Hickox did with the 3D luminary die of Tim Holtz past year.
I definitely wanted the die, not yet knowing the range of possibilities it has.
As with a lot of new bought stuff, it arrives and sometimes it sits there for weeks or months before getting used...
Then I finally gave it a go. I sprayed some paper with Dyan Reaveley's inks and I managed to get the luminary together.
I added paper pinecones made with the pineconedie (Tim Holtz).
Not bad, but it still looks a bit simple and not so interesting...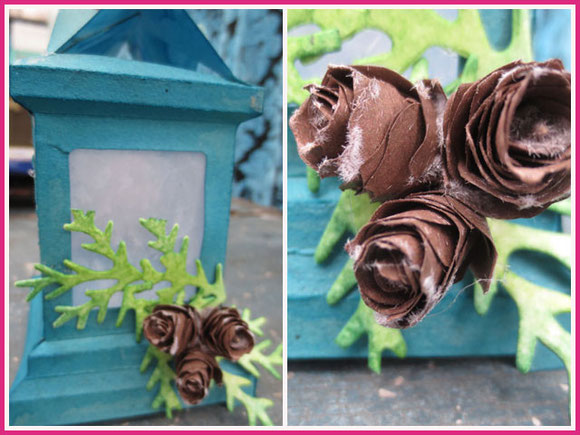 Winter came.. let's say "official" winter came, cause we don't have a real cold winter here in Belgium. Lots of rain and cloudy days, but nothing to be nagging about, knowing people get snowed in or floods wash away houses... 
Let's be happy with our Belgian winter..
But I still like a wintery feel with blue and icy colors, lots of lights in the house, so I transformed the top of my piano in a "winterwonderland".
These little luminaries would fit perfectly in the scene and I made two identical ones.
I started with plain white paper, stamped images on the white paper and inked them up with distress inks.
I cut panels for the inside from packaging plastic and "frosted" them by spraying iceflowerspray on them. 
I had to let them dry completely before touching the plastic so the spray would not smear, but this product does not only work perfect on my glasswindows in my house, but also on this plastic !!
You can't see it on the photos but there are iceflowers on the plastic.
Rock candy glitter over the whole luminary adds a "frosty" feeling to the luminary. 
It looks like it sat overnight in an icecold night and in the morning you see a thin layer of ice...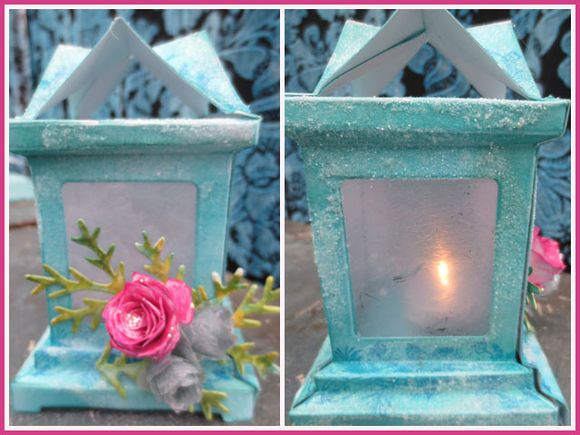 The pineconedie was used again, but this time I made roses with it.
A pink rose, colored with distress ink and two translucent ones with printed vellum.
It's a bit more tricky with vellum because it easily tears, but it worked in the end.
Tiny bits of glitter were added to the pink rose.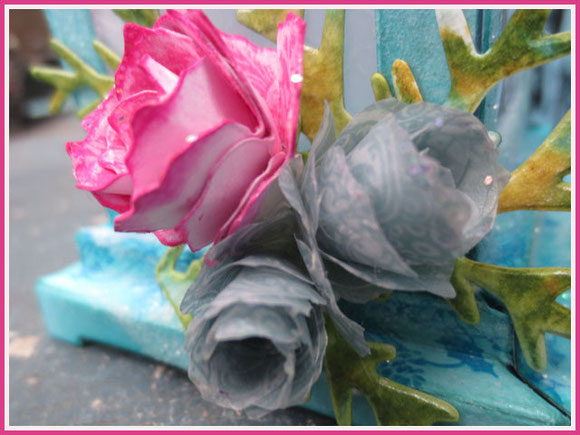 When I added the little lights ( with batteries) the luminaries looked like little lighthouses in the dark of the evening.
I love how you see there is a light within, but how it's muted by the frosted windows.
I made some more winterinspired luminaries to give away... and the more I made them, the more I liked to make them.
Ideas were coming... These luminaries are not just for the winterseason : they can be used throughout the season and for every theme.. so they don't need to be tucked away in a box after the holidayseason...
More presents to make... and customized !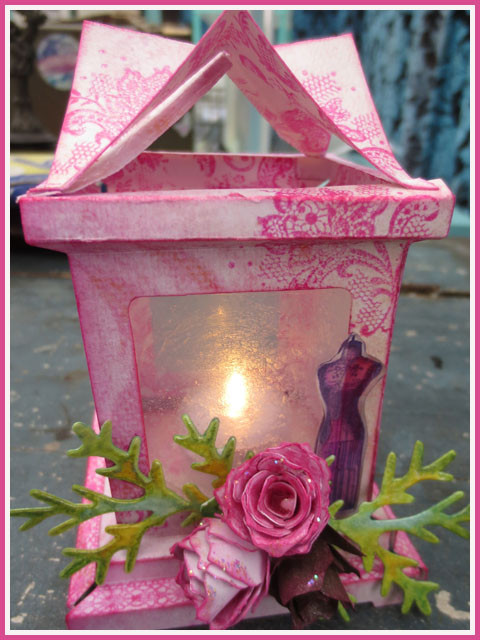 A pink luminary for Dorien....
In the past I already have made her several projects inspired by a corset. This means I helped her start a papercollection that suits together both by color and theme :)
For this pink luminary I used several lace stamps to add images to the white paper.
A dressform ( oxford impressions) was stamped with permanent ink on shrinkplastic, colored with copics and shrunk.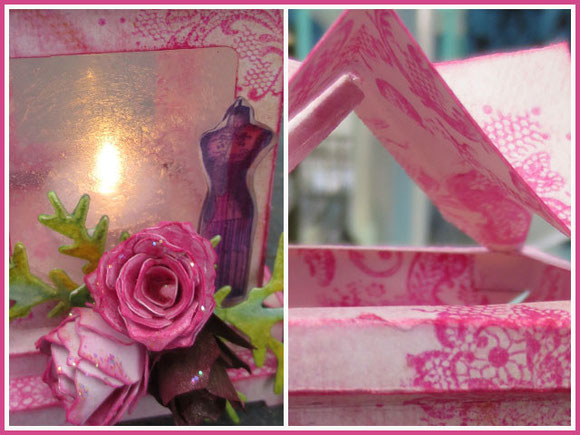 I love to start with plain white paper and customize it completely as I want it with stamps and inks.
I also add stamps on the inside of the luminary and ink it, cause when you take a look from different angles, there are several places where you can see the inside and I don't like it to be plain white.
Another luminary customized for bearlover Ann.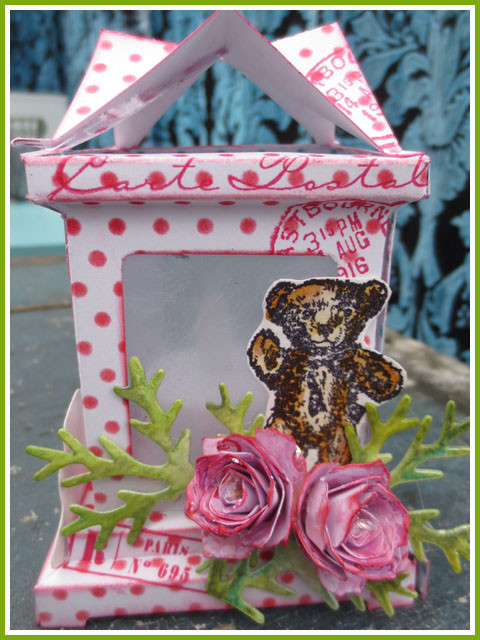 I know she likes dots and red and bears, so she also got a luminary that suits previous papergifts.
For the moment I'm one of the members of the designteam of my local craftshop.
Mostly we are given some scrapbookpapers and some embellishments and can create what we want.
I'm not a scrapbooker and often feel limited by the (sometimes indeed gorgeous) scrapbookpapers.
I have bought nice scrapbookpapers in the past and I try to use them on cards and projects, but often I get stuck and grab my white paper, stamps and inks...
This is what I love the most: starting from scratch..
But I hàd to use these christmaspapers for the designteam..
Time was a bit limited and as the holidayseason would be over soon, I made something "wintery".
Luckily themed scrapbookpapers often have backs with less themed prints or colors..
..
This is what I ended up with.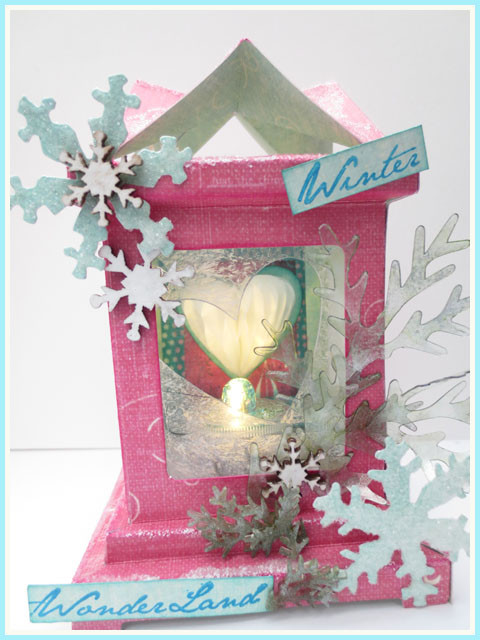 When I was watching videos from Tim Holtz, I saw him use honeycombpaper and dies.
What a fun way to use this "old fashioned" paper ! 
It got my inspired immediatly and I combined the idea of the honeycombpaper with the luminary.
No frosted windows on all the sides, but two on the left and rightside, a plain paper for the back and a heart cut out of the frontpanel, so you get a little peek inside...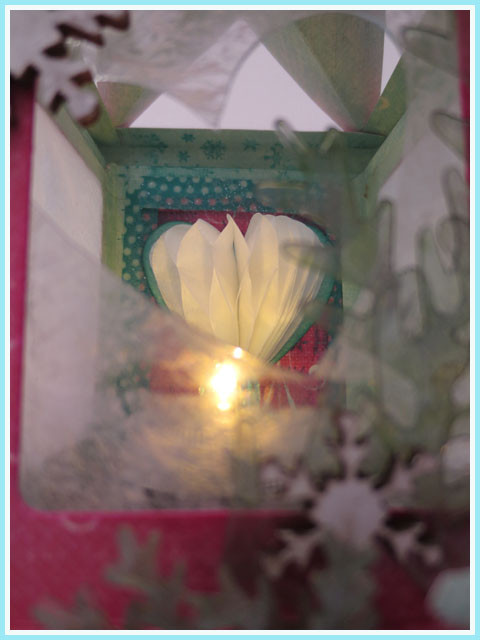 The little light inside lits up the different layers of the honeycombpaper !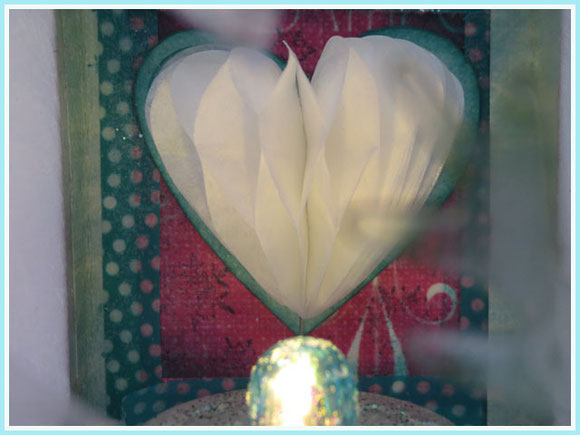 When you peek throught the heart-hole I wanted you to see the paperheart as the focal point.
Even the small light was a bit too bright and distracted the attention. I added a bit of blue distressstickles and this worked to tone the light down.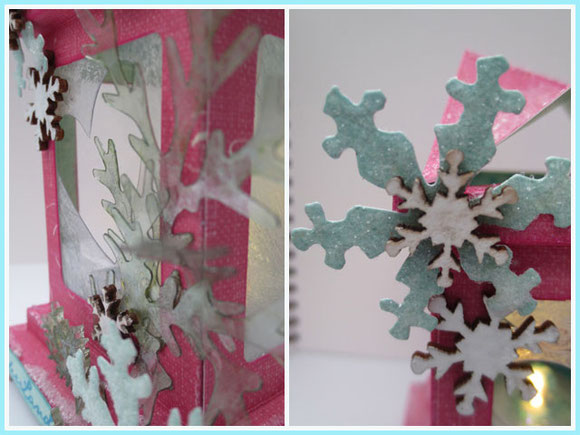 I love the bright pink of the paper, but to keep the luminary wintery enough I added more embellishments in pale blues, wintergreens..
The leaves of the pineconedie were cut out of packagingplastic and colored with  alcoholinks. I heated the edges  with my heattool so I could curl them a bit. Not too long or too close or the plastic would melt ! 
Distress rock candyglitter on diecut paper icicles and wooden icicles from my stash, colored with distress paint, were also added.
On the front again the leaves from the pineconedie but this time cut out of shrinkplastic ( colored with alcoholinks) to add some variety in the sizes of the leaves.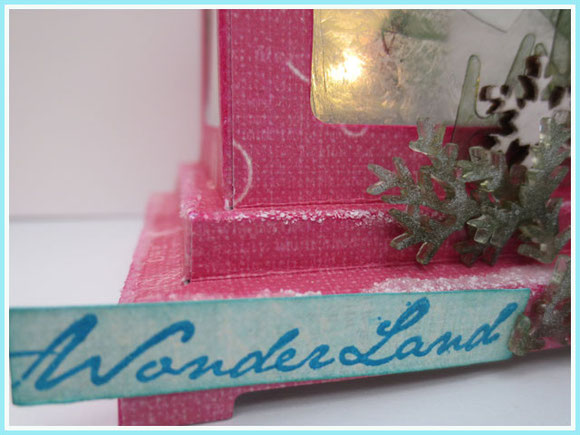 We haven't had snow and I'm not sure we will have some this winter, but I did have my own little Winterwonderland on display in my home.
These luminary-projects are still evolving... I made one into a little "home" to display my love for sewing , but it was a project for Valentine for the designteam and don't know why, but I forgot to take photos ! 
I promise to share that project in the future when it comes back from the craftshop....
In the meantime... good moments with energy are used to create... this keeps my spirit lifted :)
greetings from Belgium
Inge