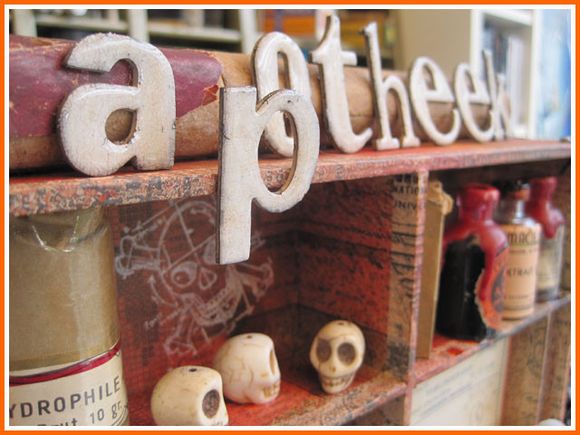 Strange how halloween seems so far away during the year and you start preparing for decoration and a halloween party... and then it's finally there ! 
Even Freek in Finland is having a halloween party this evening just like us at home here in Belgium, but HIS party will be surely multicultural.
Gaia is having a party with her boyfriend Sam and 5 girls. Not sure yet if Sam is blessed tonight or I should feel sorry for him to be surrounded by 5 19 year olds...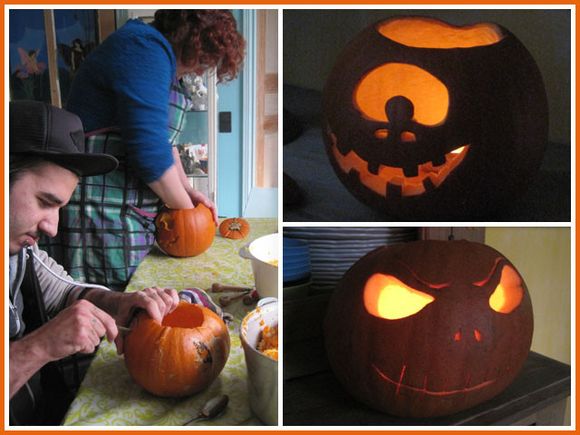 Gaia is happy with Sam for almost half a year now. Although they had their worries... Sam got hit by a car a month ago and broke 3 of his vertebra and he's out from work for at least 3 months.( but it could have been MUCH worse...)
He's supposed to rest a lot, to lie down on his back  and keep quiet... He luckily has a special corset who enables him to walk and to sit now and then.
For a young boy who's a bit a "nervous type", the being still is very difficult for him. Sam lives an hour and a half driving from us and Gaia spends a lot of days at his home taking care of him and keeping him "amused"...
Sam's finally able to make a long travel in a car and he's at ours for a week for a change in the "environment"...
We revived childhoodmemories for him yesterday carving pumpkins ! For us it's a yearly habit. A lot more halloweens may come seeing all the ideas for pumpkindecoration on Pinterest ! 
We ended up making a cute monster and a jack skelington.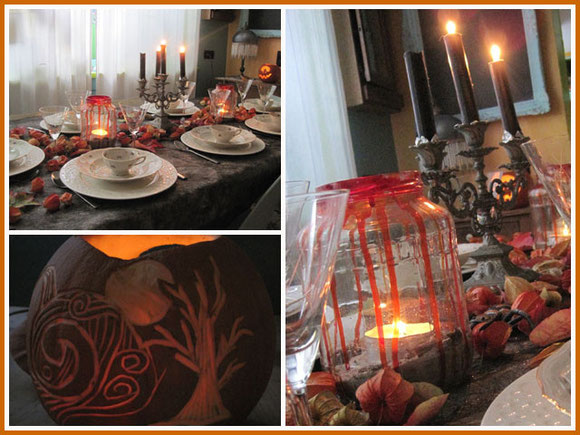 On the other side of my monster I carved out a tree, the moon and a decorated scroll. For the tree I taped a cut out of Tim Holtz tree die to the pumpkin and used it as a template... a bit of cheating :)
This is how the table for tonight looks in falling daylight : a black tablecloth covered with leaves and "lanterns", spiders, black candles and large glasscontainers with dripped red paint...
In the dark this looks more spooky...
Gaia painted her pumpkin in "dios de los muertes" style and this one is used to serve the pumpkinsoup.
The rest of the dinner is " worms in bloody sauce" served in a fishbowl and white bones ( cakepops that taste very good, but don't look so cute as we wanted... we definitely need to follow a workshop on how to decorate cakepops... We wanted Jack Skellingtonfaces, but that's NOT how they look...so they are "bones" now...)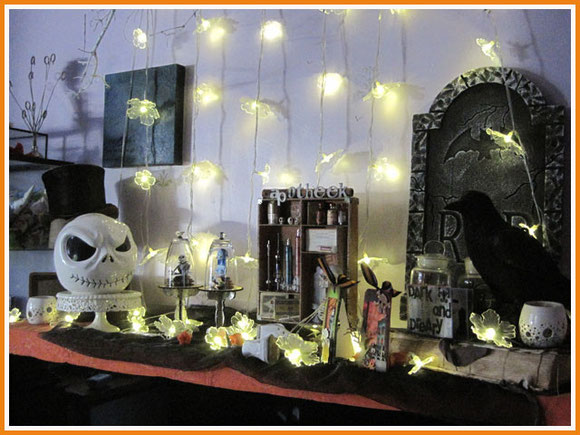 Let the young ones have their party... I had fun making my halloweendisplay on my piano..
Some bought stuff, but lots of handmade stuff...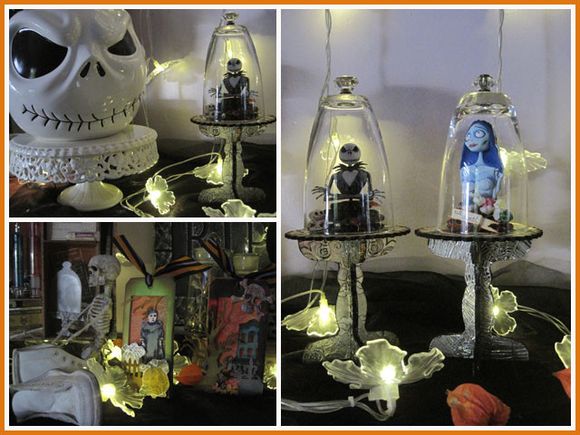 The Jack skellington jar is a found in the Disney store in Antwerp. Don't tell anyone, especially not Freek, that this is the jar we hide our skittles in...
Next to him, Jack and Emily, the collaboration of Wienne, my daughter and me for this halloweens decoration. You can read and see more about them here.
Also in the display the two 3D tags I teached the children of my collegues past saterday. Some old white babyshoes, a skeleton, old books, jars, a thumbstone, a pageswap book " dark and dreary" from some years ago... and a newly made "old apothecary"...
My husband works in a hospital and sometimes he brings old medical stuff at home he rescued from the bin... Some months ago he brought a whole box with old glass hypodermic syringes and metal tins with lots of injectionneedles. 
Nice... of course...but what could I DO with this except just hoarding cause it was nice ? 
Some of the old stuff I gave to my housedoctor to display in his "doctor's glass cabinet", but I'm still left with lots of them...
When he brought home a vintage thermometer, old bandages, little bottles ,... and I got a little box from a friends father with labels on with a skull and "poison", the muse started whispering : " an apothecary of a wicked man"...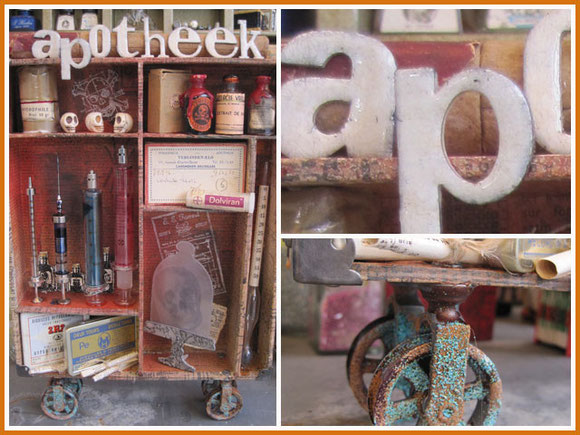 After making the configurationbox of my officesupplies myself, an apothecary configurationbox was just a small step further. Making it custom makes it easier to fit the stuff I wanted in it, to suit the boxes. 
I layed out the stuff in groups on the cardboard and divided the box in smaller sections depending on the hight of some things.
The cardboardbox was made, covered in vintage papers and the edges were taped with Tim's washitape. To make it look old I sprayed it with different inksprays and rubbed it with distress inks.
With the wordplayday ( expensive die but great letters...) I cut out  the word "apotheek" ( Dutch for apothecary) from cardboard. With Shelly Hickox technique to make "faux enamel" I changed the cardboard in old white enamel letters.
The wheels of Tim Holtz got also a "making old" treatment : I inked them as much as I could with versamark watermark ink and then covered it with distress embossing powder and verdigris embossing powder and melted the powders with my heatgun. i repeated the treatment until they had the look I wanted.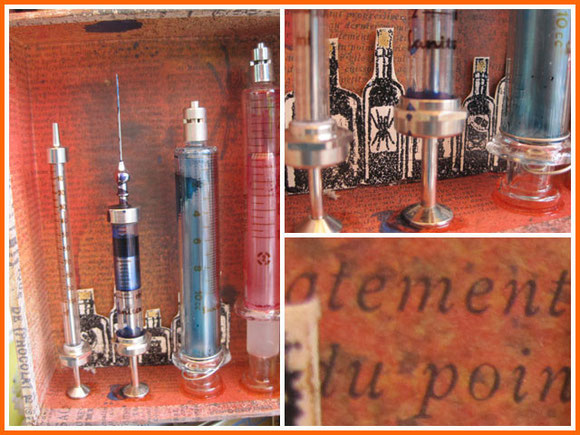 On the back a black embossed stamp of "artistic outpost". In front some of the glass hypodermic syringes I colored with alcoholinks. 
This pharmacist seems to have collected royal "blue" blood...
They were glued with glossy accents to the cardboard and although it took a long time to dry,  now they are sturdy adhered to the box.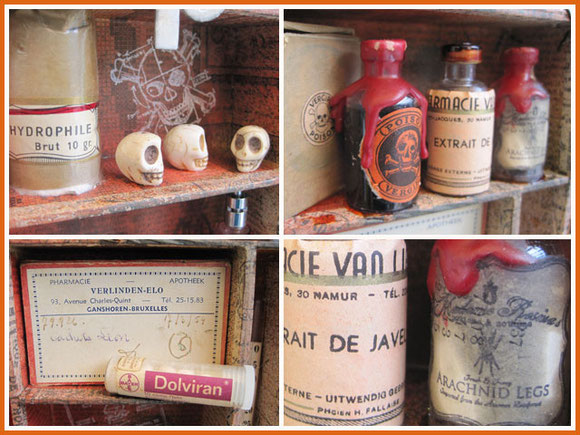 On the top left vintage bandages still in their package. On the back I stamped a white skull from Tim Holtz latest sets.
On the right 3 small bottles. There was a fluid in that was for injection, but I replaced this with black ink and spiders for the arachnid legsbottle.
The tops of the bottles were covered with melted red sealingwax.
The labels are real vintage labels, treasures from fleamarkets and gifts.
I can't resist a vintage box when I see one on a fleamarket, so the "pharmaciebox from an apothecary in Bruxelles" is in my collection for years. now it finally found it's place. 
The bottle with Dolviran pills is from a friends old father. I did replace the old pills with mints... one never knows...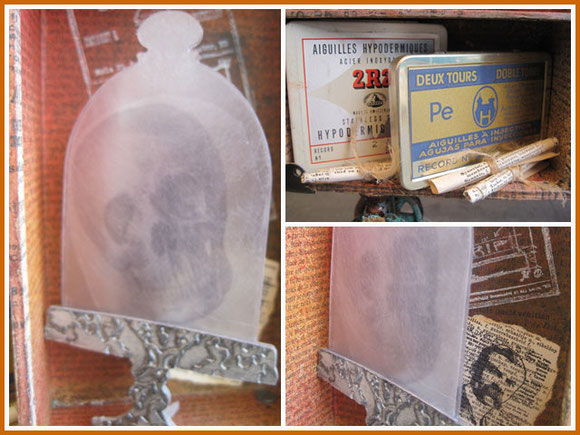 My bell jar die arrived just in time to be added in my apothecarybox ! 
Packaging plastic was sanded to give it an old look. I didn't have any skull stamp but I have a whole Dover book full with skeletons and skulls from ancient artists...
I printed the skull on a transparency and added it between two layers of plastic. The bottom part of the apothecary jar was cut four times and glued together to form a thicker bottom. I also added an extra one to the back so it could stand upright in the box.
If you take a peek behind the bell jar you can see the white stamp of a grave (tim Holtz) and the photo of the wicked pharmacist ( artistic outpost)...
On top more of the tins which hold injection needles.
I added vintage paper that I made into small rolls.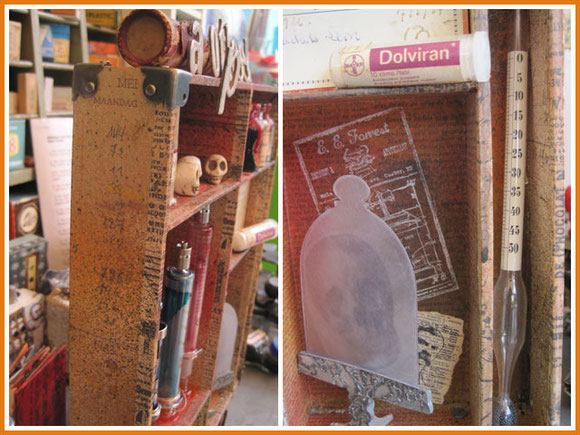 Here you can see the sides of the apothecary which I enforced with the metal corners ( Tim Holtz).
On the right the vintage thermometer. Glossy accents holds everything ! 
The box of the thermometer was glued on top of the box.
I had fun making this box and getting old findings in an appropriate setting.
Just another handmade addition to my halloweencollection :)
The party is going on...but it's not really a scary halloween, as I mostly hear giggles...
As a mom I enjoy the event from a distance, making this blog and ending the evening in my bed with my ipad, ready for just another day in my "onlinecardclass" :)
happy halloween ! 
Inge