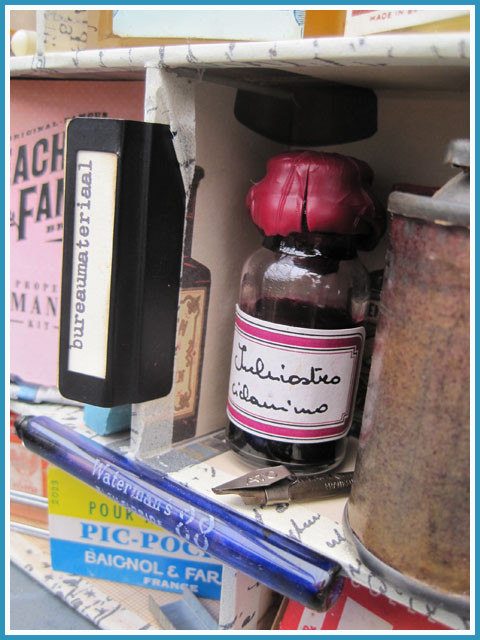 In the previous blogpost you could see in my make-over of my craftroom that I love vintage officesupplies...
I don't know where it started...Did I have some old inkbottles or did it started when I saw the nice inkbottles with calligraphyink which I "needed" all because they looked so nice...
Or was it when I found the oldprinterscabinet in a secondhandshop with all the little "boxes" where I could put something in...
Anyway... it is a little collection...After reorganizing the stuff in the printerscabinet I found out I had more cute cardboardboxes and blass bottles tucked away, but worthwhile to be displayed...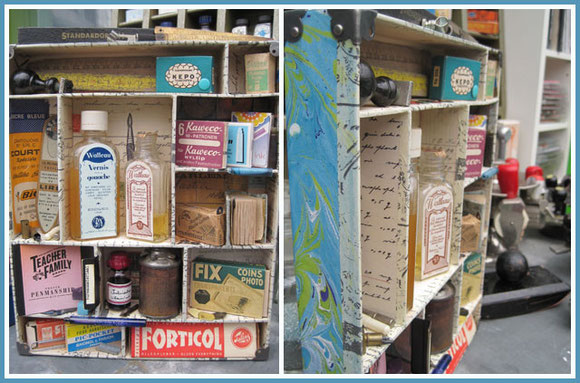 I've seen lots of configurationboxes made inspired by Tim Holtz and I know he has 4 different sizes of these.
I just hadn't any in my house and I doubted if all my stuff would suit or fit in his boxes.
I wanted to incorporate the glass bottles with varnish and the large box of Forticol ( an old glue..), so I started measuring everything and made a template of how big I wanted all the little segments.
I cut heavy cardboard and assembled the box. The outside was decorated with marbled paper I made myself in my first workshop in my house past year. Marbled papers are always nice and I liked especially these bold blues and greens which would suit my new-painted veranda.
The inside was decorated with vintage ledgerpaper, Italian paper with inkbottles printed on, dictionary paper,...
I used the method Tim explains in his second book a compendium of curiosities volume II",which is an quite easy way to decorate these boxes. Easier and faster  then what I learned in bookbinding...but with the tissuetape on the edges it looks finished too.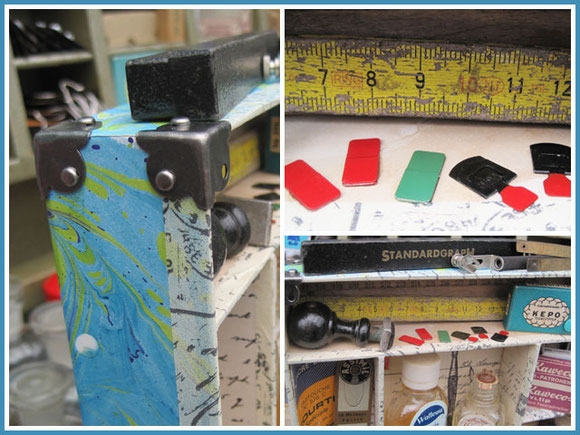 I used Tim Holtz boxcorners to finish the box off and make it sturdier.
Then began the fun part : filling all the boxes with the vintage office supplies.
It's incredible what you can find at fleamarkets : the red, green and black/red metals are tabs to put on files and I found a box full.
I had two wooden broken rulers to fit on the back.

On the left an enveloppe from refillings of BIC : this is a ballpointmark I still love to use.
A cardboard bookmark I picked up on a French fleamarket and 3 small containers with refills for compasses.
Two old bottles with varnish and on the right a little handmade book with a box filled with metal "arrows". These should have been used to attach on pages...On the box it says : "nouvelle attache-lettres".

Although I always get inky fingers, I still love to write with my fathers pen...
So when I find an old box with inkcartridges, I buy them : partly to use, partly to hoarder the nice boxes...
A box of vintage photocorners I got from a friend who's dad passed away at the age of 96... Part of my collection comes from this man, when his son cleared out his desk and put it all in a box for me cause he knew I wouldn't throw it away...
In that box I found also a little blue box with gorgeous blue drawing-pins !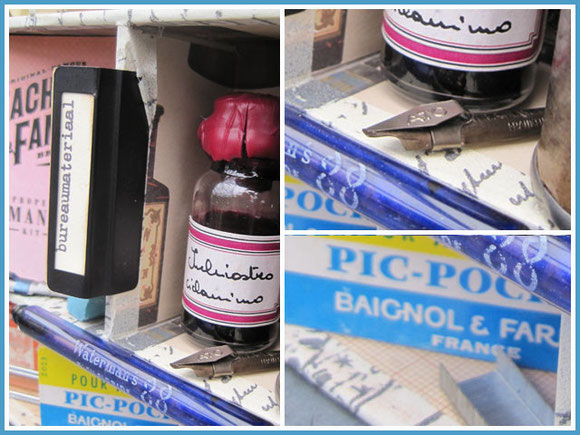 On the left a little book about "penmanship" and a calligraphy pen, Italian ink I don't have the gutts to open and use and a glass cartridge of Watermanink, an ink I still use.
I also had two little vintage boxes with staples which I also put in the configuration box.
To "name" my box I wrote on my computer "bureaumateriaal" ("officesupplies") in the font "vintage typewriter" and printed it. I inked it up with distress ink to make it look older.
In my collection I also have vintage metal labeltabs... so I added the label here.
Now my "configurationbox" is finished and is part of my decoration in my craftroom. 
I love to see my collections and enjoy them.
Clearing everything out I also found old bandages, apothecarybottles, vintage injectionneedles.... I think I'm going to make another configurationbox : inspired by real vintage apothecarystuff and halloween...
Inge