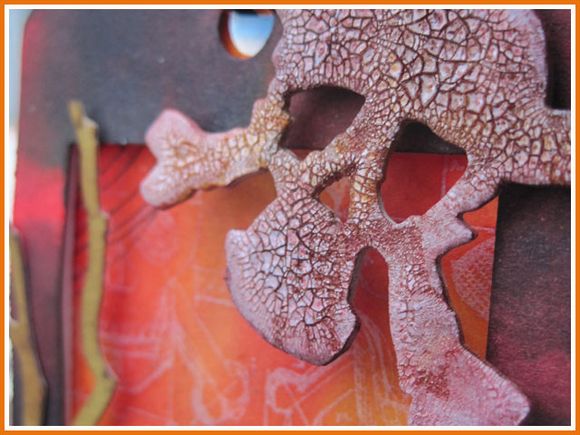 Time to show you more of my halloweendisplay projects !
"Absolutely everything " is one of my favorite online shops in the US. Lots of stuff, very good service, fast delivery ( even from the US to Belgium) and there 's always a goodie added at your purchase...
On one of their fridaynewsletters  I saw a tag they will give a workshop for. Inspired by seeing their tag I made two for myself and my halloweendisplay.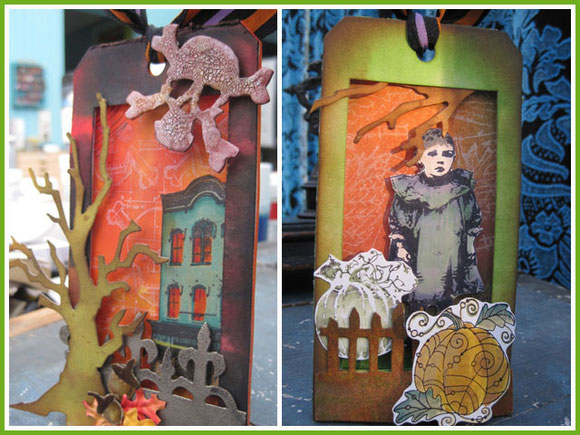 This halloween and autumntag is 3D and can stand up with the easeldiecut from Tim Holtz.
I love the 3D layers in these tags : so much to do with them ! 
In may I had a workshop with the children of  the Spettersclass, a group of mentally retarded children of our school. Supported by their teacher and several therapists they all made a spinnercard.
After that workshop my collegues asked : " why don't you give a workshop for OUR children ? They would love that too ! ".
In august I had the first workshop with them and both them as I were pleased. Taking in consideration that although I'm a teacher I'm used to work with severely handicapped children and NOT with "normal" children.
Doing the workshop with them I discovered I loved it and another part of my "being a teacher" was appealed to.
One of the children discovered he can be creative although he can't draw. He said afterworths to his mom : "I hope she will do it again and hopefully she won't wait until the next summervacation"...
This ignited me to create a halloweenproject for these kids.
Yesterday we had the "halloween- and autumntag" workshop in my house with 7 children between 6 and 13 years old.

Even Siem was here : past sunday he broke his elbow and had surgery on wednesday... He almost did everything himself using weights, an old iron and my hands as his "second hand".
They all worked hard : some needed help and sometime I helped them, other times I challenged them to try it themselves. 
Arno cut out the centre of his own tag with a sharp knife after showing him how to do it safely. Aran cut out his little figures with a scissor himself although this is difficult for him...
Mirre who is 6 and was new to the group, soon found out how she could do it herself and she was good at it. Nice to see how she made her composition on the tag now and then and decided what she needed more.
Bram and Eva who were here in august for their first workshop, worked like professionals. You could see how they incorporated the techniques and materials they learned the first time in the tag now. They are quiet workers but they keep on working. Their friend Thiemen took profit of their knowledge and soon seemed like a pro himself !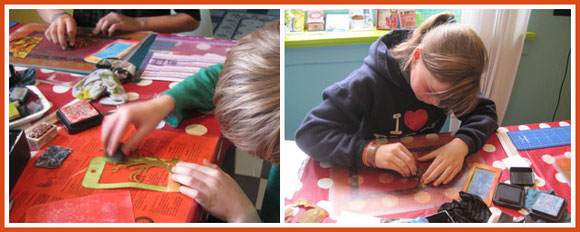 They had a lot of techniques to learn and we did it step by step.
Although I made two examples, it was not the intention that they made copies of mine.
They constantly had the choice for own colors, stamps,.. so they could create an own project. 
A few of the techniques they learned were : 
* making a background with white ink as a resist and overinking with distress ink.
* make an embellishment with crackle rock candy and distress stains.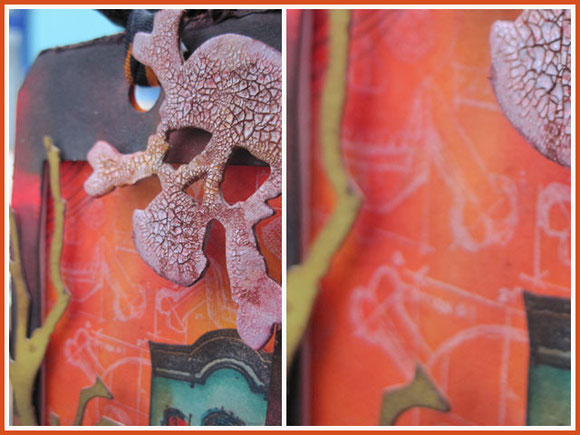 Others were :
* making a background by swiping your paper through distress stains and make splatters by flickering with water
* using dies to cut out a tree with their paper colored with distress stains and use edgedies. ( The kids LOVE to use the Vagabond and do it all by themselves)
* decorating the edgediecuts with the different embossingpowders : regular, distress,.... and using the tarnished silver technique.
* coloring with distress markers and  copic markers and discover the different properties of each.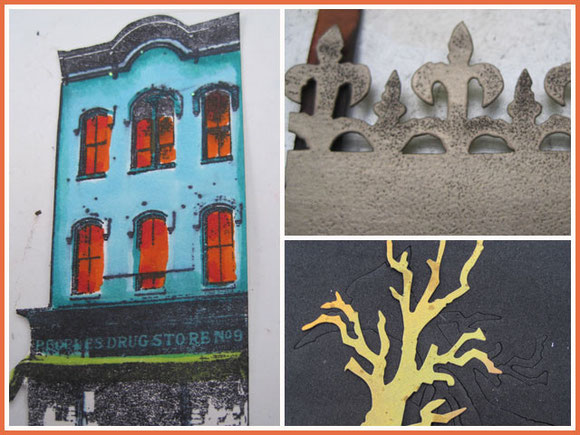 They all did it great and went home with a unique creation.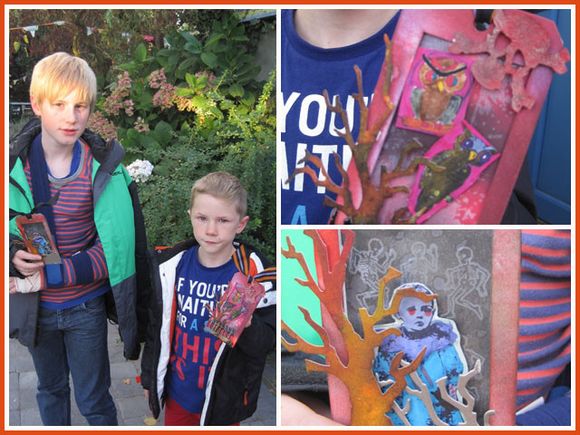 Siem and brother Aran show off their tags. Aran made scarey owls and Siem transferred a stamp of a child in a zombiechild.
Can you see the white skeletons in the background ? The result of stamping white ink on the background, drying it good and then overinking it with distress inks. This gives a ghostly effect. 
The kids were surprised to see their images appear when inking !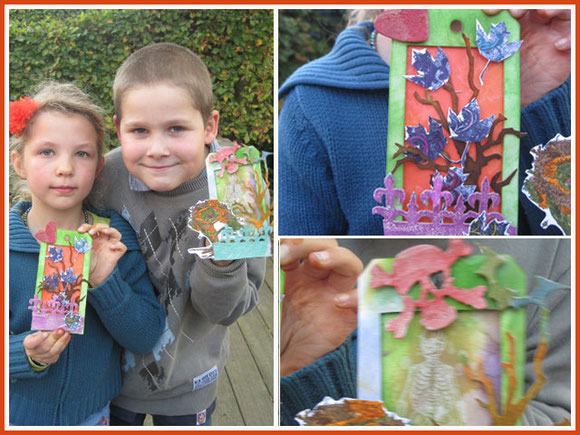 Mirre and Arno with their creations.
Mirre added a heart with crackle paint to her autumntag.
Arno was all into skulls and skeletons.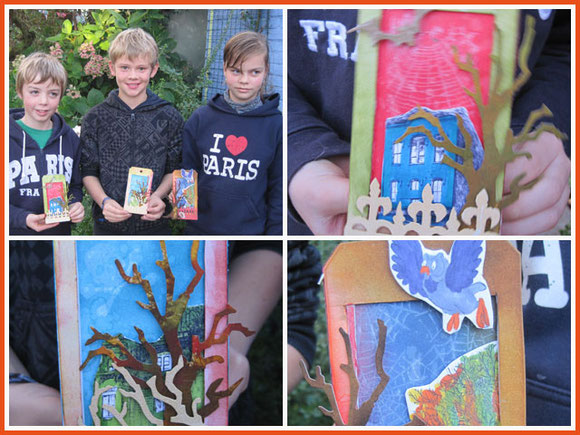 Bram, Thiemen and Eva with their personal creations. 
They too had a great effect with the white ink and their trees made from paper with distress stains were multicolored.
I enjoyed myself yesterday afternoon and looking at their faces, I know they did too :)
Time to get thinking for a new project for them in spring...
Oh... still in doubt about the "getting them addicted " ? 
You're never too young to create and to learn how to work with stamps and other stuff... ( says a stampaddict...)
And getting addicted to the homemade chocolatmousse is not difficult too :)
Inge