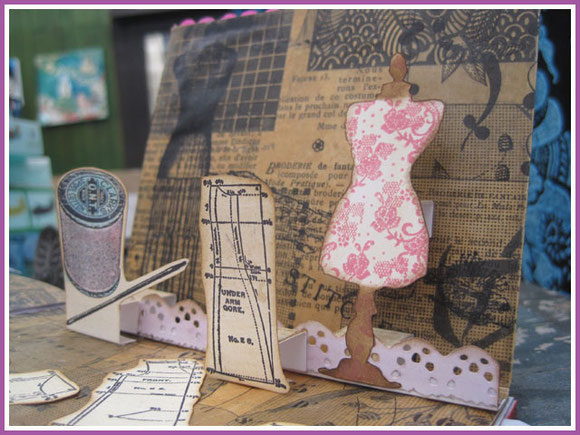 Between making cards for Ratteljee, our creative event in two weeks, I also finished a page in a local round robin enveloppebook.
Dorien's book is all about " collecting". The people before me made pages about collecting buttons, everything about pansies,...
I know Dorien has in real life collections of "sewing stuff", so I wanted to make a page about this "hoarding" habit...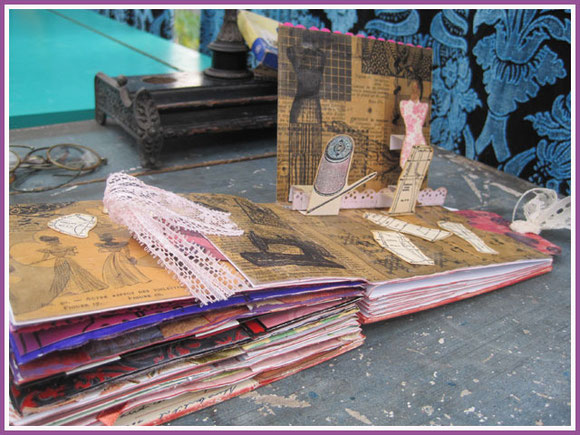 You can see the enveloppebook is starting to become FAT because of all the creations and tags people made in this book.
I have a book from 1897 of "revue de la famille". The book is tattered and damaged, but has beautiful pages with images of clothing of that era, embroidery, patterns,...
I have one magazine about undergarments of that time that I cherish, but I do rip out pages of the book to use in creative projects...

I glued the brittle paper on sturdy paper. I stamped "sewing" images like a sewing machine, a timble, a package of needles, buttons,... with permanent ink onto the paper.
I then covered the whole paper with melted wax. With my heat gun I then melt off almost every part of wax again. The paper did soak in a lot of wax and this stays.
What happened as an unexpected event in a previous creation in an evolution journal, was now used conscious.
The images on the backside of the old paper appear by waxing the paper and create an interesting layer.
The small tag was treated in the same way, but before I added wax, I colored the paper with pink distress stain. After waxing I brushed perfect pearls on the wax and heated it again to make the perfect pearls permanent.
The perfect pearls give the tag an pearl shine like old pearl buttons.

On the right page I added a flap. On the edge of the page I added a strip of enameled lace made with Tim Holtz lace die.
The paper was inked with distress stain, stamped with a lace stamp and 3 times embossed with UTEE.
Under the flap is again hiding... a pop-up..
I made a scene with sewing notions.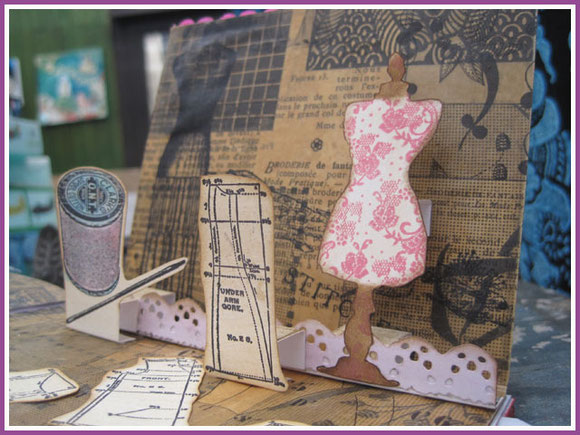 There is a paper lace trim on which I mounted the mini dress form I cut out of sturdy paper with one of Tim's mover and shapers.
The dressform was stamped with a lacestamp and edged with distress ink.
At two different widths of the background there is a spool and needle stamp and a patternstamp.
These things pop up when you open the flap and stand up due to the papertabs added at the background.
Pop-up madness still continues in the future..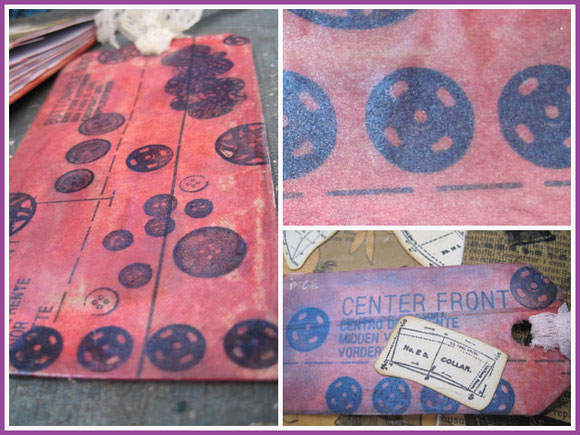 The large tag was treated the same way as the small tag.
Old paper glued on sturdy paper, colored with distress stain, stamps stamped with permanent black ink, covered in wax and melted off again and perfect pearls added.
On the photo on the top right you can see a bit of the shimmer the perfect pearls create.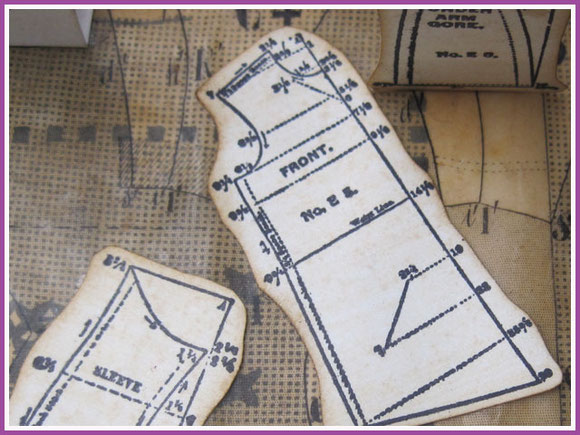 Here you can see a close-up of the waxed backgroundpaper and two patternstamps I once found online ( I know the shop is going out of business now but I can't remember their name right now...:(
I've also been busy past week making more spinnercards.
You find more about the techniques in my previous blogpost.
I just can't resist to show you these cute gnomes of Snow White...

Also made with distress inks and the wrinkle free distress technique, Tim's edge dies or with stencils of the craftersworkshop are these two spinnercards.

It has been a while since a made spinnercards, but now I'm addicted again...
I'm off now to make some more for Ratteljee...
liefs ( Dutch for 'sweet greetings'...)
Inge