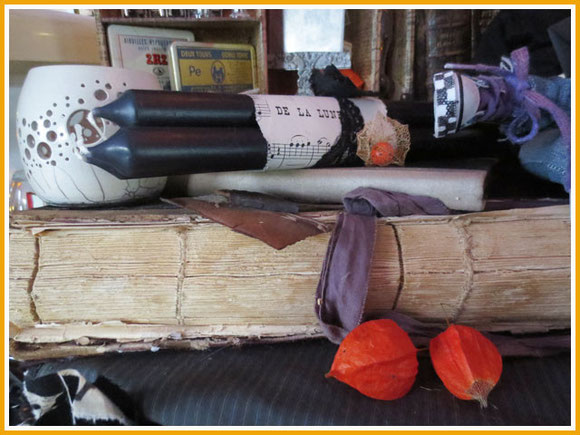 Halloween might be over, we enjoy this season some more days and my daughter Gaia has a party at our house this evening :)
I love to make little seasonal vignettes and love to make it more and more with handmade stuff instead of storybought props...
There is always something each year that makes my mind spinning about the theme...
For my birthday in september a got a "pampering" box from Lush from Gaia and her boyfriend Sam ànd a Jack Skellington doll ! 
Since the kids were little we are huge fans of Tim Burton and especially his "nightmare before Christmas" .
For previous birthdays and new year I got a cookiejar from Jack and a snowball.
With this new gift I had my theme ! " Jack and Bill in Wonderland"...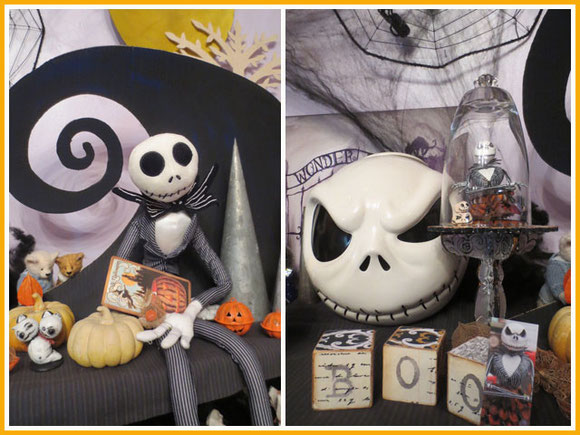 The scroll, the moon and pumpkins are part of the world of Jack.
I drew a big scroll on cardboard and painted it black and blue. A cardboard moon was painted with yellows and golds.
Jack in front of it and some pumpkins from my stash made the first scene.
My Jackcookiejar, a painting of my daughter Gaia from a few years ago about Wonderland , BOO blocks and our Jack in the glassjar made the second scene.
If you want to see Jack in the glassjar more in detail, have a look at my previous blogpost on how I made him and corpsbride Emily, a collaboration between my husband, my daughter and me :)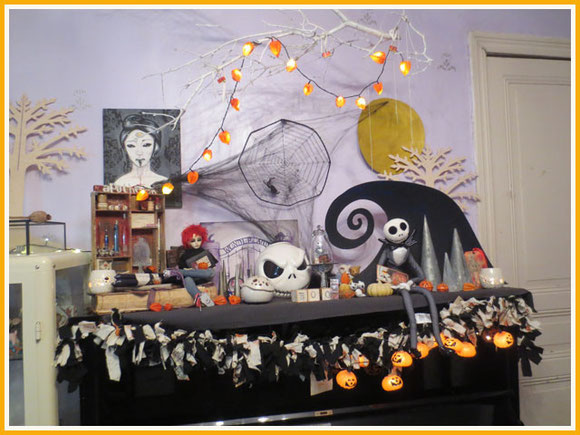 This is how the complete setting on the piano looks like with the lights on, but I like it more in the evening with the little lights on...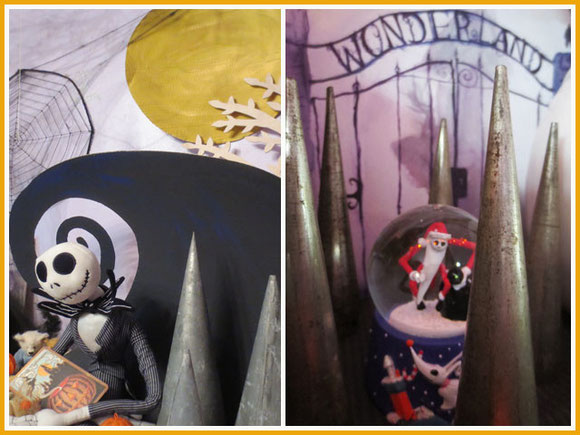 And my little handmade bears (made by Anne Bearheart) ? 
They come over and have a safe peek behind the scrollmountain...
My daughter loves to draw and paint and she has a quirky own style. Her paintings decorate my house, but this lady asked to be in Wonderland this year...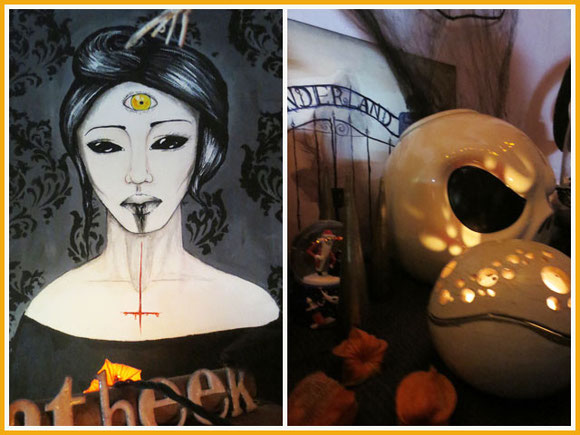 I love how candles in handmade ceramic candleholders threw their light through the holes on the props in the evening. A spooky effect..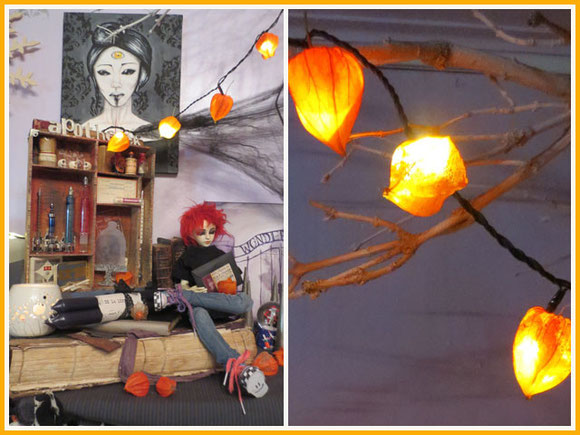 On the other side of the Wonderland scene sits Bill on a 100 year old Atlas I once found on a fleamarket.
Above the scene are little LED-lights with the orange fruits of the physasalis, just picked from my garden.
Because they are LED-lights, there is no firedanger and you just pop them on the lights. Little work but great effect and perfect orange/yellow lights.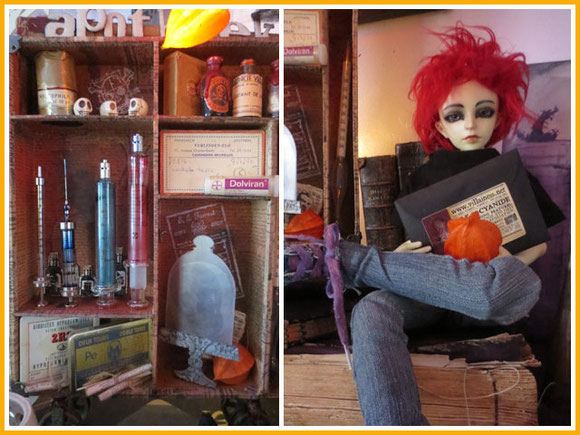 My apothecary configurationbox was a project from halloween a year ago. I collected old apothecary and medical stuff I got from my husband and now they fit perfectly in this apothecary.
You can see this one more in detail here.
Jack is holding a package of "cyanide", actually the name of a piece of soap from Villainess, a compagny who sells soaps and beautyproducts with quirky names ( like "blood", cyanide,...) but they work perfect and do smell so good !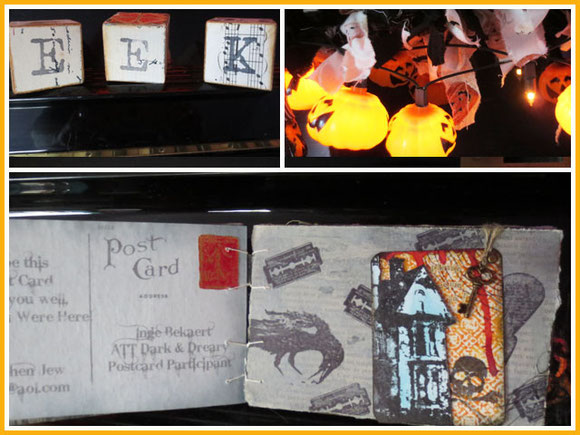 More handmade stuff are the wooden blocks with letters that form " EEK", " BOO" and "HALLOWEEN".
Easy to make and fun to display.
The fabric garland behind the pumpkinlights were gifts in a Halloweenexchange I did a few years ago.
The book is made from the "dark and dreary" postcardswap we did on ATT some years ago. Handmade :)
On my mantle on the other side of the room I made a second display.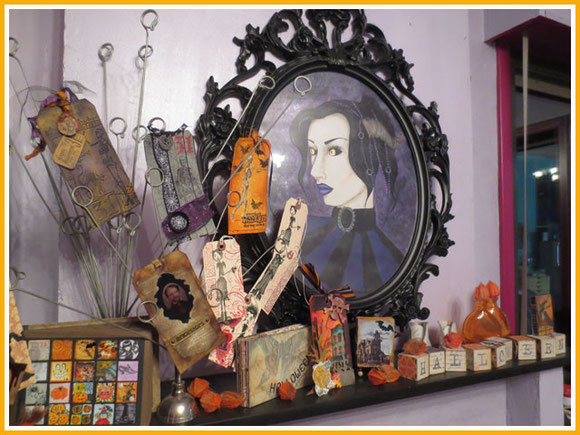 Almost all handmade stuff, made by me or others...in different creative exchanges.
The lady is one of our "freaky ancestors"... she COULD be an ancestor. Whom else do we inherite our quirky minds from ? 
It's a painting from my daughter that will find a place in her future home, but now is a decoration in my house throughout the year..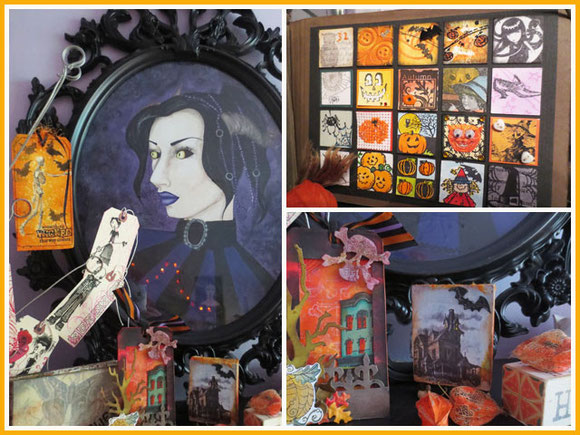 A lovely exchange I would love to do again is the "halloween inchie"swap. They are so fun to make, not much work, but little pieces of "art".
I glued them together in an old photobook.
Another handmade halloweentag and a 3D fat halloween ATC we did on our European All Things Tim group a while ago.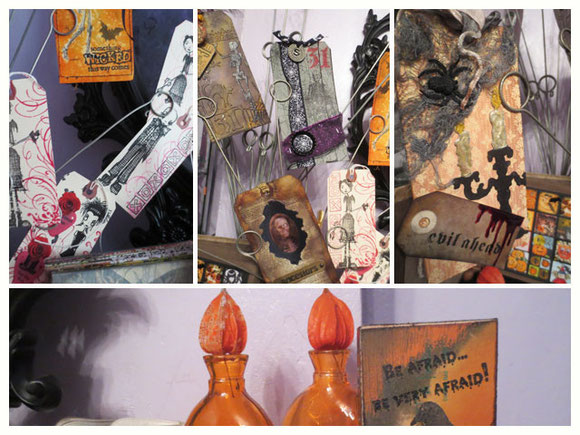 More handmade tags I cherish are the tags I got from Michelle Ward with the stamps of stampotique and some of her own. 
The same for the 1 to 1 exchange I did  a few years ago with Stephen Jew. When I saw the halloweentags he made on his blog, I asked if we could do an exchange... And he agreed from the first moment on :)
I should do exchanges and challenges more... most are from a few years ago... but the older I get, the more time seems to get shorter and flies by faster and faster...
You already saw some of my daughters paintings...
Here she is on the left... and on the right how she will look when she decides to do too much botox and facelifts in the future ...
Sorry...just a little joke.. it's a facepainting she did this week. She followed a course visagie for a whole week with an international teacher. They mostly learned to do beautymake up with airbrush and liquid make up, but you know how my daughter is... she also had to try something different :)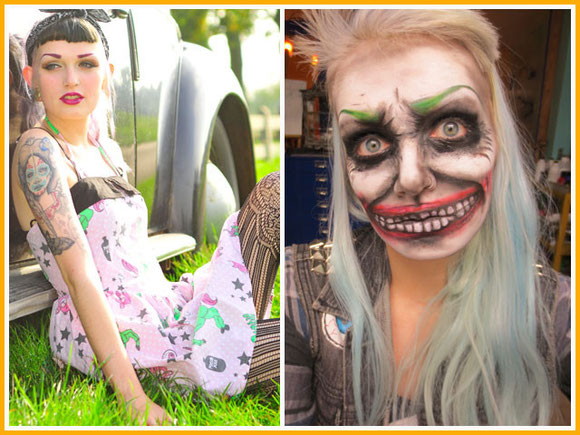 Gaia even gave her brother a beautymake-over..
Damn, I think I have such ugly kids...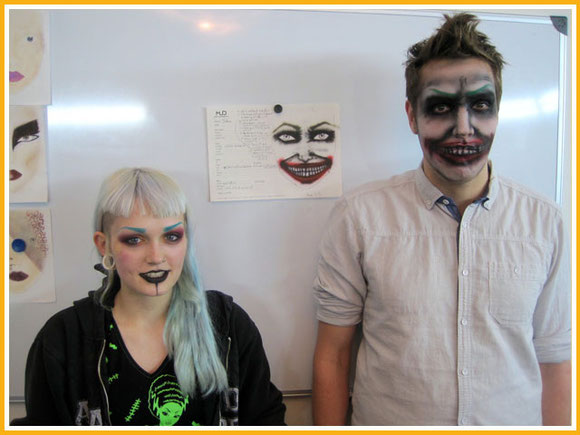 Gaia might be so damn ugly as the Joker, but I think she's a beautiful demon...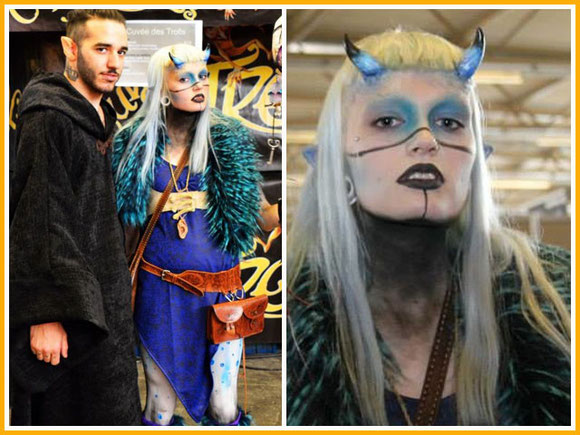 Half october we had FACTS here in Belgium, our local "Comicon" event.
She and her boyfriend Sam have been creating for months for this event and this is how they looked like :he as a hero, she as a demon...
She made several props : her demonfeet, the skullstaff, armour,...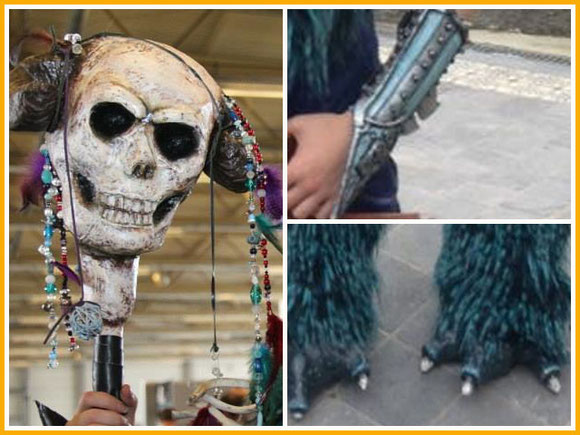 They went to Facts with friends and even Hermione and Harry are their best friends !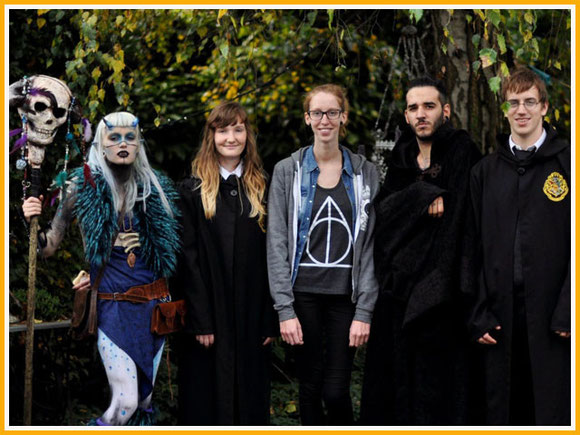 Yesterdayevening, just before the course ended, the international teacher said  Gaia she wanted to ask her something. She had seen Gaia drawing in between...
"Oh my god, she surely will ask me if I'm mental..." Gaia thought :)
But no... the lady asked Gaia if she would make her a painting for her apartment ! Gaia sure was flattered ! 
And so what... if people think she or we as a family are "not completly normal", I just will recite this:
"Have I gone mad"
asked the mad hatter sadly.
"I'm afraid so", said Alice
"you're entirely bonkers.
But shall I tell you a secret?...
All the best people usually are."
quote from Alice's adventures in Wonderland by Lewis Caroll
greetings from Belgium ;)
Inge