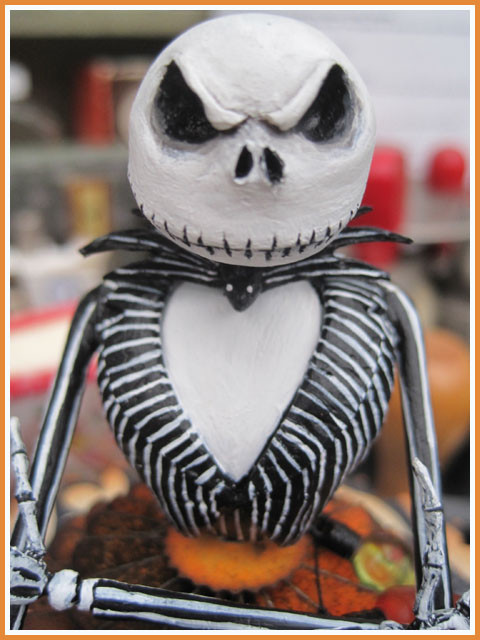 Halloween is approching fast...
My halloweendisplay is on my piano and I just added two cuties : Jack Skellington and corpse bride Emily from the movies of Tim Burton.
We are huge Tim Burtonfans since we first discovered "nightmare before Christmas" ages ago. This man understands how "fantasy can color your life" :)
My husband is a modelscaler, mostly of aeroplanes, but he once in a while buys resinfigures to paint. He's more hoarding then painting them, cause he's not so good at this...
When he found the resinfigures of Jack and Emily, he couldn't resist them to buy for Gaia's birthday.
As she's a good painter, she could probably paint these ? 
So, this project ended up as a collaboration between Wienne who bought and glued the figures, Gaia who painted them and me, who made them ready to display...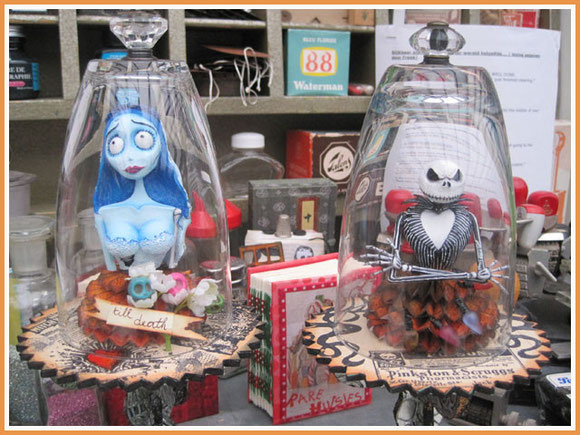 When I saw the "halloween bell jar" of talented Shelly Hickox, I immediately thought : " I want this too ! ".
When Gaia painted the figures, everything came together. These would be the perfect content for my halloween bell jars ! 
I don't have a cupcake die, but I had purchased months ago cheap cupcake standards made from foam and thin cardboard.
I liked the colors and the print on the cupcake standards a lot, but they are NOT halloweeny...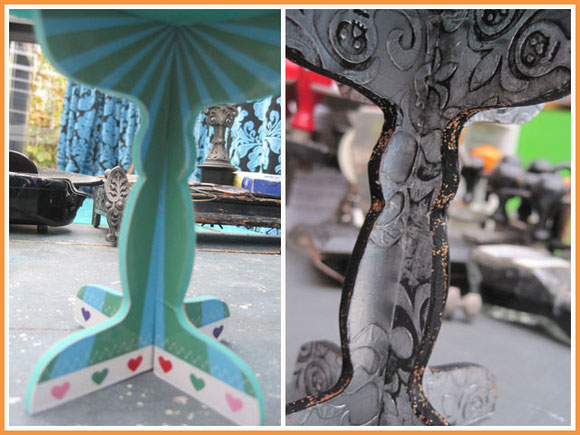 I first covered the base.
I glued two sheets of kitchen aluminium sheets to cerealboxcardboard.
For Jacks base I embossed it with an embossingfolder with swirls and skulls.
This looked too shiny, so I used Shelly's technique to age the metal: I painted the metal with black paint , let it slightly dry and then rubbed it with a babywipe until most of the black came off but remained in the crevices.
The sides of the stand were green foam, so I colored them with a black permanent pen and added some orange stickles.
Then I glued the embossed cardboard to the cupcake standard pieces, cutting around them, not forgetting to cut out the pieces where the parts had to slide in each other. 
The extra cardboard also made the cupcakes sturdier then they were.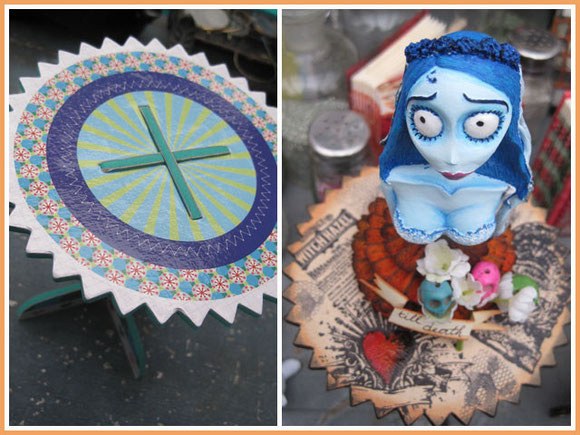 The top of the cupcakestandard was covered with vintage paper and stamped with permanent ink with stamps from Tim Holtz, oxford impressions and a lace stamp.
The edges were inked with rusty hinge and black soot distress ink .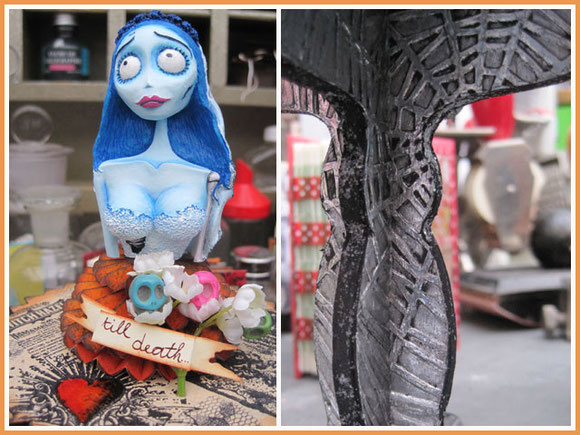 Emily's stand got the same treatment as Jack's, but with a spiderweb embossingfolder.
I added a banner from Tim's bannerstripdie, aged it with old paper distress ink and rusty hinge distress ink. 
With an old pen and sepia ink I wrote : " until death...". 
" Until death do us part"... but this was not the fact for Emily...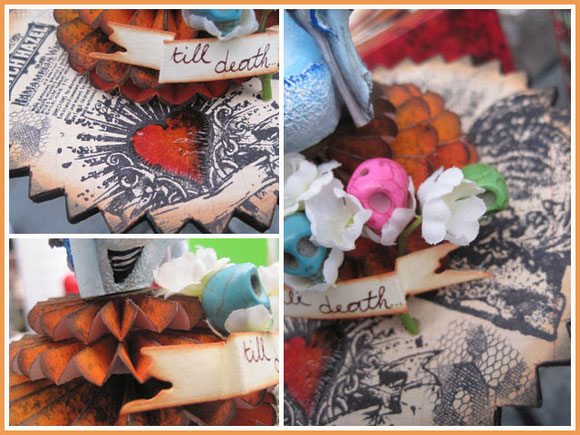 The heart on the base from the Tim Holtz stamp was covered with Ranger crackle glaze. Her heart has been shattered by her groom...not ? 
The figures had a metal rod underneath so they could be put in a stand. 
We've been looking for some, but they are not cheap and actually not nice too.
How could I add the figures to the cupcakestand ? ...
What about stacking some rosettes ? 
I colored sturdy paper with orange, yellow, black and brown dylusions inksprays and cut the rosettes with Tim's rosette die.
The edges and top of the folds were inked with black soot distress ink, to grunge them up a bit more.
I glued four of them on top of each other and put the metal rod in the hole in the middle. Perfect ! 
They stand up like I wanted, but if my daughter wants them on another stand she can still pull them out. But I hope she agrees they are looking good...
For Emily's bridal boucquet I pulled some white flowers from the stems and replaced them with skull head beads.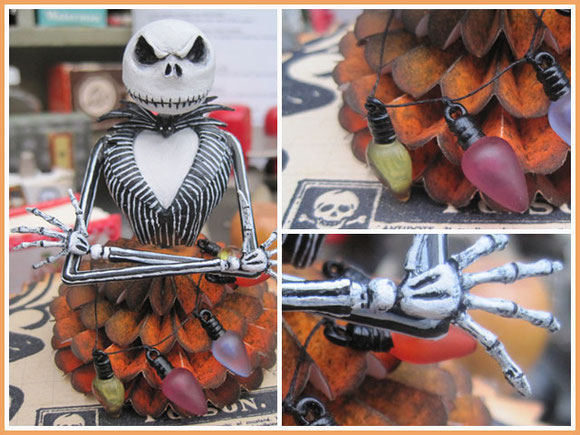 Jack got the same treatment. I think he looks good on his orange skirt... oeps... base...
The little lights were purchased in London a few weeks ago for a project...
They came out handy now for this project. 
I hung them on a black string and draped them around the rosettes.
No christmas without christmaslights even not on nightmare before christmas...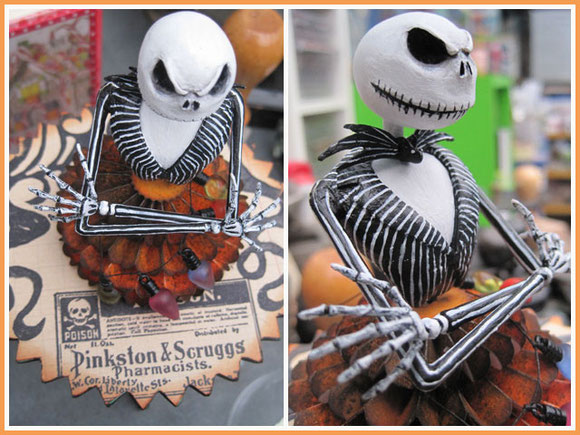 On Jack's base a swirly handmade stamp and the poison stamp of tim Holtz.
He lookes quite satisfied :)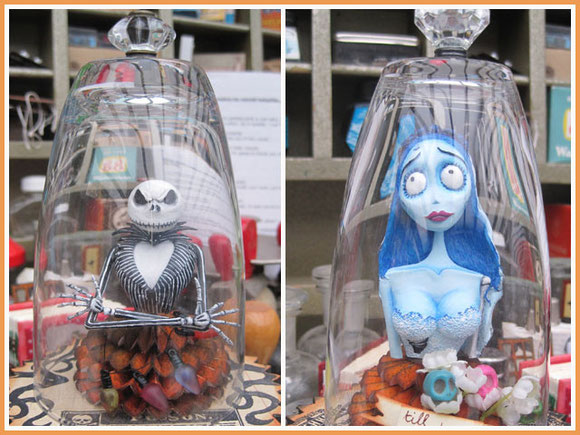 The selfmade belljars finish off the whole project. 
Inspired by Shelly, I made these with an ordinary IKEA glass who has the perfect curve and the glass doorknobs of Tim's ideology line.
They were glued with glossy accents on the glass and it holds perfectly ! 
I'm still not sure if I will decorate the glass bell jars more cause I think I will use them for future projects like a wintertheme, a springtheme,...
I can reuse them, but maybe each project will get their own bell jar.
The bell jars with Jack and Emily are now on my piano display, between more halloween projects.
More about that next week...
Inge