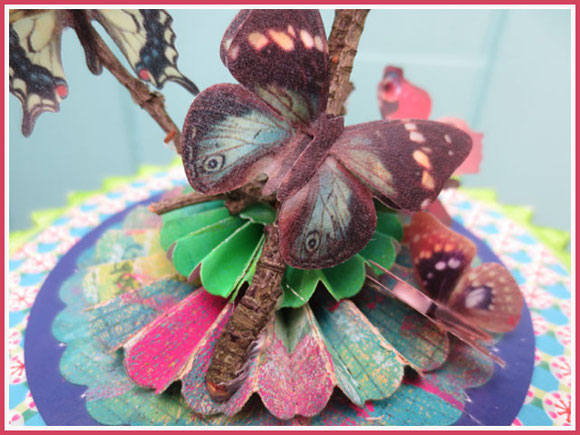 The first weeks of september were tough and very intense, but I learned a lot of myself... again...
Growing older, growing wiser :)
Two weeks ago I could finally have my first schoolday of the schoolyear and it felt soooooo good to be amongst my children, my parents and my collegues again. 
Then it's proved again to myself that working with the handicapped children in my Poppyclass still is my dreamjob. This is the job that I love to do although it can be hard ( for me, mostly physical) and I hope to be able to keep doing it for some more years... IF I take care enough of myself :)
That's the biggest lesson I learned the past weeks...
This afternoon when I was taking my rest in my outsidebed, I saw a butterfly...probably one of the last we will see this autumn. Days have been sunny the past weeks, so butterflies are still present in my garden.
It made me remember of my "butterfly" belljar that I made in summer, but never showed to you.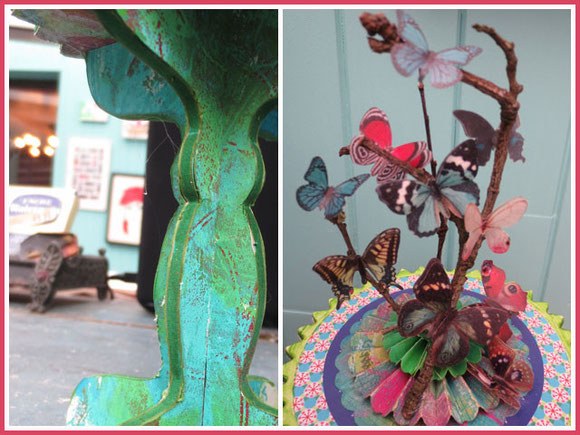 Gelliplateprints come in handy for all kinds of creations, so they did here.
I covered the base of a cheap cupcakestand with a gelliplateprint. 
Part of the design on top of the original cupcakestand was quite nice, so I only covered an inner circle with a gelliprint. The outside edges of the round base was colored with a green copicmarker.
I cut out two sizes of rosettes with Tim Holtz alterationdie, again out of gelliprinted paper. Love the layers and colors in the rosettes ! 
I searched a branch in the garden and added with hot glue vellumbutterflies I once bought. You could also stamp butterflies and color them in  and use these if you don't have something similar.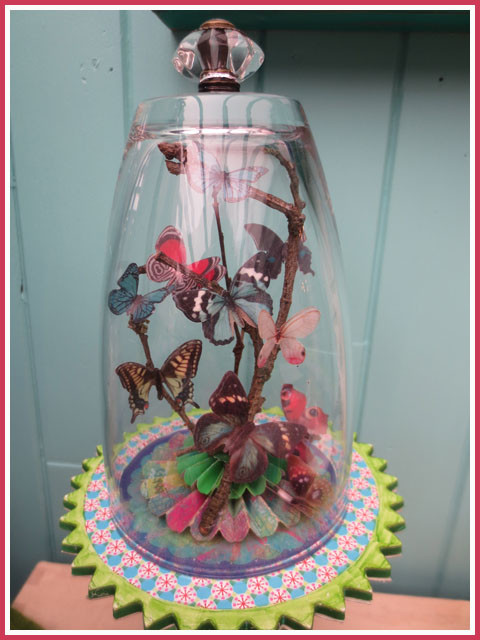 I glued a glassknob (Tim Holtz) on top of an ikeaglass with glossy accents as I did for my Jack and Emily bell jars.
I put the glass over the butterflybranch and added it to my summerdisplay on my piano and enjoyed it the whole summer :)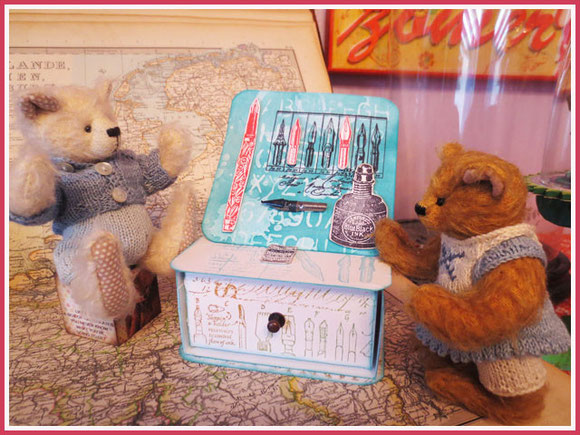 Another handmade project that colored my pianodisplay was this inkbox I made for Katrien.
Katrien had a housewarming party a week ago because she had two new frontdoors... she became 50 ànd she bought her first house, an old house from the 1930's. 
Katrien is a calligrapher and as a little gift I made her this inkwell-box.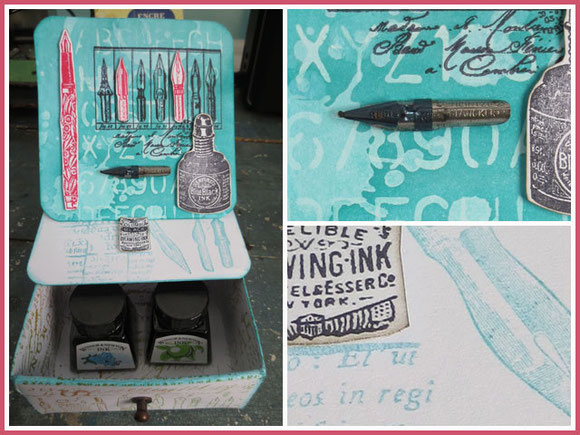 It's based on the easelcard-four drawerbox (from one of the CD's of Technique Junkies), but it has only one drawer.
I love making these boxes from scratch. Plain white flat paper, folded, colored and you end up with a handmade unique gift.
I've been watching Tim Holtz video's on this new stencils and although I use my stencils of the craftersworkshop a lot, I "needed" Tim's...
The technique I used is Tim's resist technique with white distress paint and then putting layers of ink and splatters and stencils on top.
I've not only been flying again, I stretched my wings too...
My local craftshop was looking for members for their designteam and I'm one of the four lucky ones !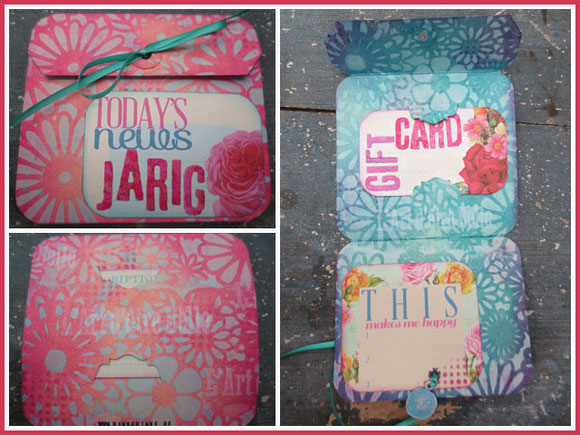 For october I got a bag with some scrapbookpaper from Prima, paper flowers, two metal embellisments, some trimmings,two large Rangertags.... and the commission to make something :)
I love scrapbookpaper. I think there are awesome papers with gorgeous designs... but I never use them...
I try, but mostly I end up making my own paper with stamps, inks, paints, stencils.. That's what I like to do most.
Now I needed to USE that Prima scrapbookpaper ! Definitely a challenge for me, but that's why I wanted to join the designteam : " to be challenged further then my own comfortzone"...
With the first large rangertag I made a giftcardtag. I used white distress paint (the flowers) and white ink (text " l'art d'être belle) as a resist with one of the craftersworkshopstencils.
I decorated both out and inside of the tag. Outside in pinks, inside in blues. Here and there I added another layer with distress inks and Tim's stencils.
The scrapbookpaper was used on the frontlabel on which I added the word "jarig" ( "birthday"), cut out of the same scrapbookpaper with Tim's chipblock stripdie.
On the inside I made a "giftcard" with the scrapbookpaper trapped between two slits made with a set of movers and shapers.
I added another label made with the scrapbookpaper on which someone could write to the recipient what she hopes she will be happy with.
On the label I added some dots with Tim's stencil.
The metal embellisment was a coin that I colored with blue distresspaint and sanded a bit after drying. 
First project done !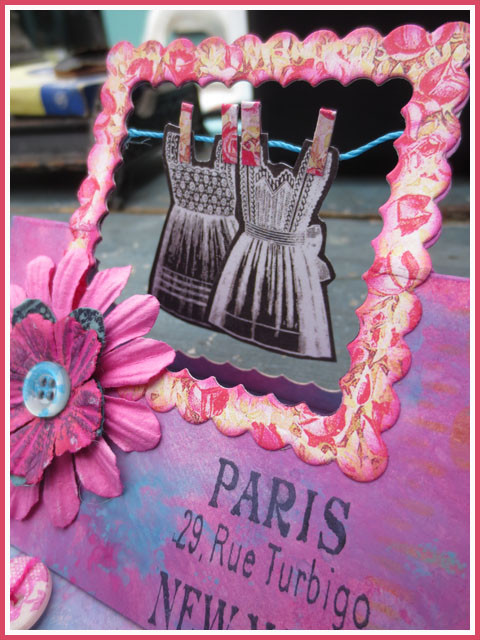 On the sizzixsite you can find Karen Burnistons "flying easelcards" and Shelly Hickox made also one very detailed.
They use one of the pop-updies from Karen and Sizzix, but you can make it easily yourself with dies and partial cutting.
This is something I learned on one of the "onlinecardclasses" from Jennifer Mc Guire. (don't forget tomorrow starts Tim's online class "creative chemistry 102" : definitely a must follow onlineclass for more insight in products and techniques! 
The large Ranger tag was colored with distress paints, again the outside a contrasting color of the inside.
The dresses were cut out of the Prima scrapbookpaper and I made a "vintage clothesline" with my flying easel card.
Flowers were beige... an ugly color for me, but with distress stains and paints and some stamping they fit my colorful project :)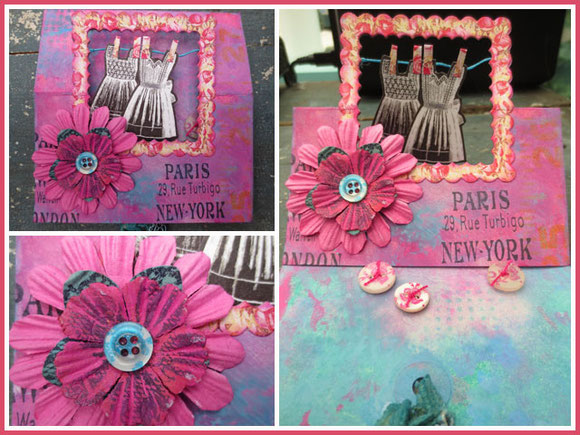 Plain white buttons got some color and design with a lacestamp and stazon ink.
The fun of this flying easelcard is the moving element in the pop-up card. Definitely a must-do-more: my autumn/halloweendisplay is developing in my head and maybe a flying easel card would be a nice extra.
I hope the customers of my local craftshop are inspired by my projects and I'm already looking out for the next challenge.
I love to be busy again, but when my wings get tired, I dive into my outside bed...
It's colder now, but with two blankets and two cats, the dark sky and twinkling stars above me... I feel "warm and cosy".
greetings from Belgium
Inge