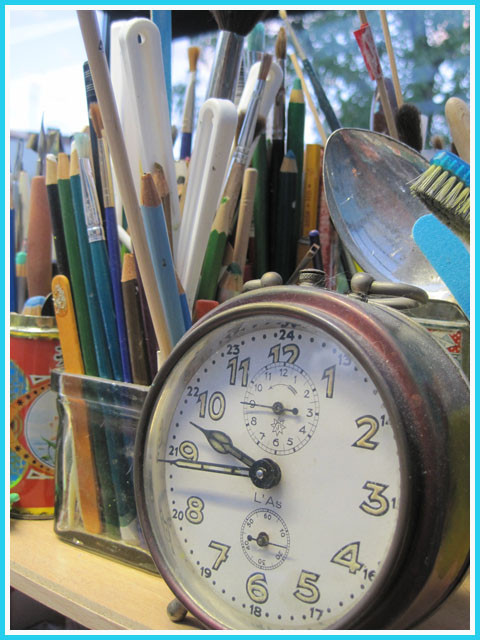 time keeps on ticking away without me having any control about it...
I hardly can believe my last blogpost is from march...
I'm sorry that I let you down... but past weeks have been a constant struggle between a mind that wants to go on and do things, has to do things , needs to do things, longs to create... and a body that refuses to cooperate...
But.. I'm back... energy is reasonable and free time can be used to create instead of lying in the couch :)
I'm glad about that, because we had "Ratteljee" past weekend, our 3 th creative event in the castle of the rats ! 

A sunny day, lots of creative booths in the castle and a lot of interested people! 
I had a soar throat in the evening because of all the talking and explaining about my "passion" LOL
It's a pity you couldn't all be here because you really missed good creativity ! 
To ease your pain about that... a little tour around all the booths...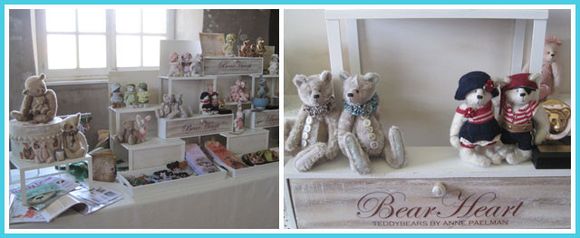 One of our most rewarded artists : Anne Bearheart with her handmade minibears. She did win in the past several first prices in Germany, Swiss,... and they are well earned ! Her bears are gorgeous and unique and perfect in every detail..
Not everyone can afford one of her bears, but she has little bearmagnets, a birthdaycalendar, cards, broches,... with photos of her bears. 
You can find more about her here.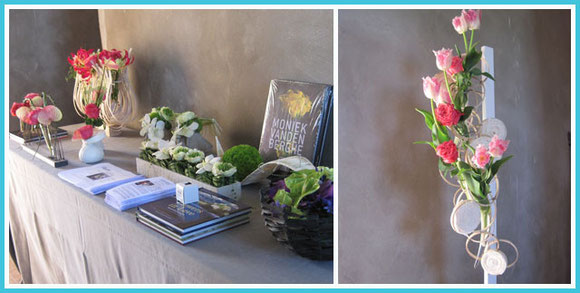 Another well rewarded artist we had was Moniek Vandenberghe... what she can do with flowerarrangements is "art"..
She has been publised in several magazines and books, gives workshops all around the world...
An artist from our own little town...and we were proud to have her in Ratteljee.
You can find more about her and her projects here. 
We are not all artists in Ratteljee, but we do have one thing in common : "passion for our creativity"... and thàt was something we wanted to share with our visitors.
Hopefully we have stimulated some of them to start creating and find their own voice in what they create.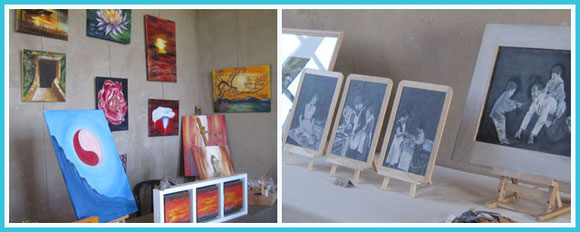 Luc's paintings are mostly inspired by nature and his surroundings and the bold, bright colors really pop from his paintings.
Dorine had paintings with colors, but her series in greytones of "50's" scenes made with gesso, charcoal,...are really special. I have never seen anything like her work.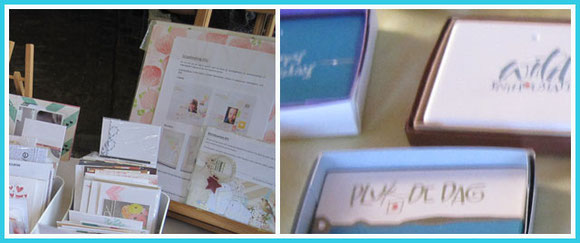 Els is a scrapbookartist, makes lay-outs, cards,gives workshops,... She often designs for Basic Grey and has been published in several magazines.
Whenever I see something from her on Pinterest, I KNOW it's hers. She truly has an own style in this paperworld.
You can read more about her and follow her on her blog.
Bea is calligrapher. Sadly the photos were a bit blurred but she had wonderful cards, text on stones, little books,...
I really like what she creates with her calligraphy.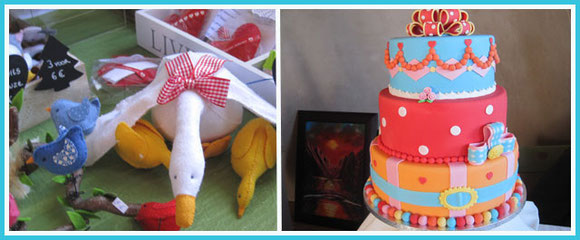 Whenever you see Christel, she has a needle in her hands and is sewing one of her little felt creatures.:)
She had a full booth with lots of felt creations ready to decorate your house or your clothes ( a little birdy on your jacket ? )
More of her feltcreations on her facebookpage.
In need for a colorful cake for a birthday, a wedding, a whatever ?... Fond of cupcakes made with fresh ingredients or decorated in the theme you like ? Sonia makes them for you ! 
Karla had a booth with several items: little babybribs, gift for babies, boxes,... but her jewelry catched my eye the most. I don't know which materials she uses but they are one of a kind.
Anneleen is a colortherapist. We discovered her a while ago on the internet and went with 4 women for coloradvice. We had a lovely evening with her : a really sweet person with a passion for her job and lots of good advice to adapt our wardrobe to make us all look at our best.
She also makes jewelry with Italian murano glass in the colors that suit your type. You can see more of her jewelry here and if you live in the neighbourhood, contact her for coloradvice !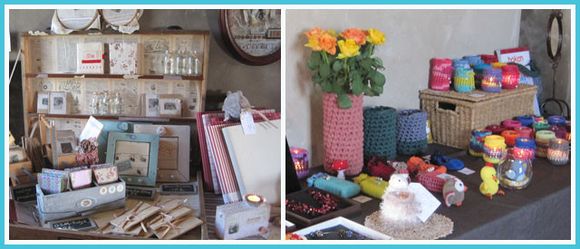 Dorien had a booth full with little goodies to decorate your house. Books covered in fabric, wood blocks with quotes, glassframes with collages...and no more dirty clothes with her sewed aprons !
Marieke is "hooked" on crocheting. Past year she had mostly jewelry, but this year she started crocheting little figures, handbags, little bags for your phone, colorful covers for candlelights,...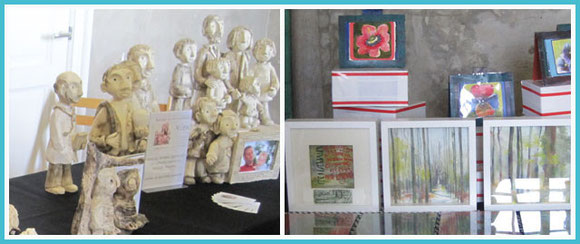 Carine is a teacher who started working with clay with her children in the class and then got hooked herself on creating with the material. 
She has lots of ceramic figures from children to adults in several "workoutfits". She has an own website.
I'm proud to say we had 3 women of our family in Ratteljee : my mom, my daughter and me, all with our own style.
My mom had brought some watercolorpaintings with her combined with calligraphy. No photos of her graphic arts but they are one of a kind too.
Past year I brought some creations from my daughter with me, but this year my mom and I were so proud that Gaia herself wanted to present her work. 
This was her first booth and her first real come-out as an artist.
Her boyfriend Sam was with her and he's a driving force behind her. It's so nice to see how proud he is on her creatings and how he wants to "promote" her.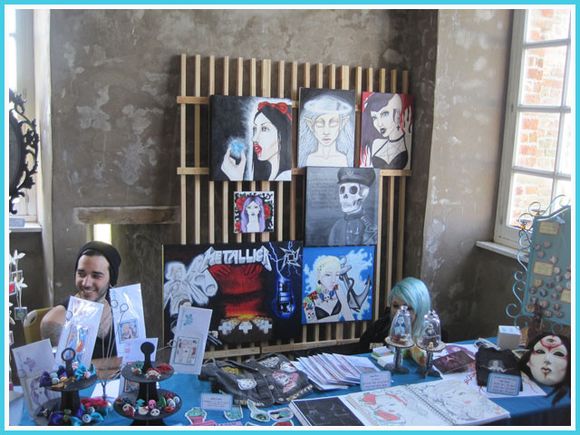 Gaia really has an own style. I don't know how I can exactly describe it... She surely is influenced by tattoo-art, but also by the mexican "dios de los muertes" art, rock and gothic, zombies, vampires, fantasy,...
I know not every one likes her style, but she surely can draw and paint ! ( I can't what she does...)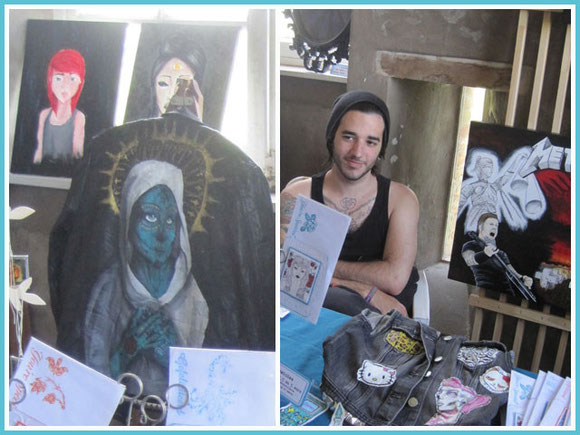 On the left some of Gaia's paintings and a painting she made on Sam's leather jacket. Sam is constantly wearing it, so he's a life billboard for Gaia ! 
On the right Sam, Gaia's jacket with her own painted patches and on the right a big painting of Metallica. 
Sam's stepfather is a huge Metallica-fan and Gaia made him a painting inspired by albumcovers of the band for his birthday.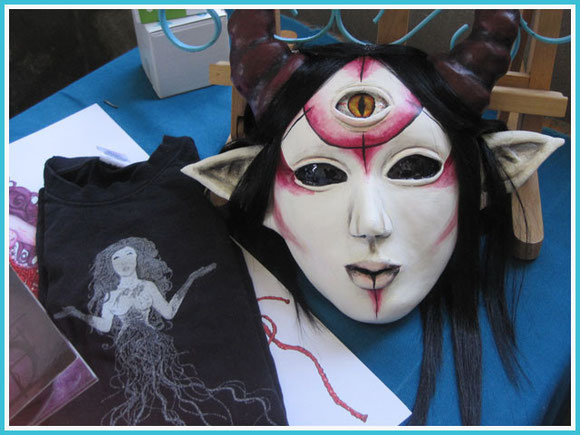 Gaia's mask was made with airdryed clay on a simple plastic mask. She completely builded the face up with the pointy ears and horns. 
I love how she painted the face.
One lady wanted to buy the mask, but Gaia was not yet ready to sell her first made mask ! But she had fun making this mask, so more will surely follow.
On the left an original painting she designed for Sam's metalcore/deathcore band "the wrong kid died".
So cool to see her artwork on the t-shirts and CD-covers ! 
And to see Sam wearing the t-shirt of his band with her work on it..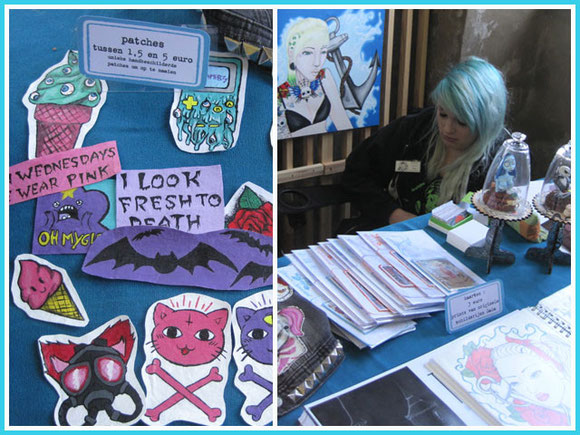 These one-of-a-kind patches were painted by Gaia in my green couch... " I really ruined your couch..." she said past week... "Maybe", I said, " but the stains in the couch can't ruin the joy I have, having you at home and seeing you create..." :)
On the right Gaia sitting on a low chair... a bit hidden still, but she did promote her own work.
We made some cards with prints of her paintings and not-for-sale but just-to-show were her figures of Jack Skellington and Emily.
I made her also a book so she could put paintings and drawings in it or prints of bigger paintings, so she could show the public the range of style and skills she has.
At the end of the day an older man looked twice through all her books and wrote Gaia a "poem":
" To Gaia...
She askes if it's possible that everything is hers
the universe she creates at night
with towers and castles and unicorns
where the moon is a big square
Is everything really mine, she asks again..
the shadow of a orphaned skull
de smell of her woven hair
a skull that comes alive again
Everything is possible, you say to her
Maybe indeed ...everything is hers..."
Marcus Voorstrijs
I love it... and I'm so proud of my daughter :)
You can find more of her work on "slightly bizarre"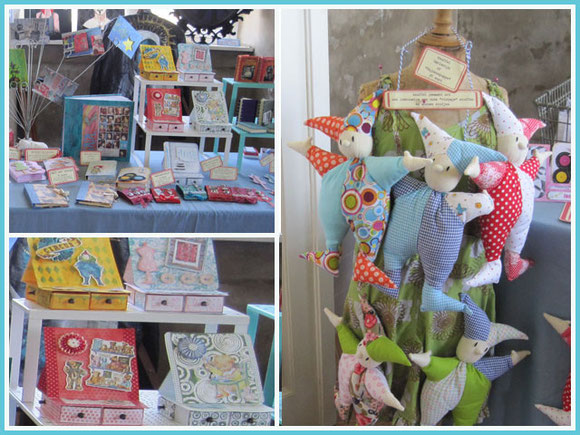 At last... here is my booth...
Of course my handmade harlequins... my little books with copic stitch and selfmade covers, lots of cards with several mechanical cards, my handmade photobook, easel-card boxes,...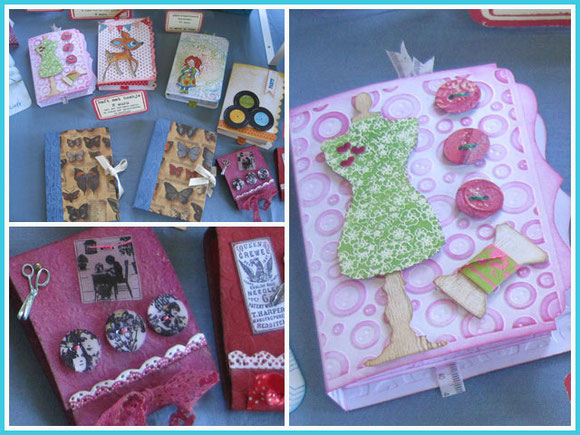 Little folders with Italian paper and a handsewed book in with beads on the spine, my sewing books and several giftboxes with tag and decorated candles inside,...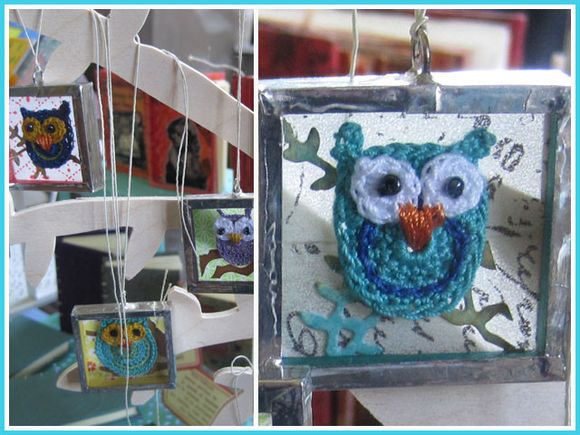 Past year I had crocheted hearts in soldered pendants. 
This year they are accompagnied with little owls on a branch and cupcakes.
The pendants are 3,5 / 3,5 cm tall ( 1,37 inch/ 1,37 inch) and some people asked surprised if I had made them myself ?...
Of course, that's what the fun is all about ! Crocheting with a very small thread and crochethook, decorate a background with washipaper and inked papercutouts, putting them between glass and soldering them... Yes, completely selfmade !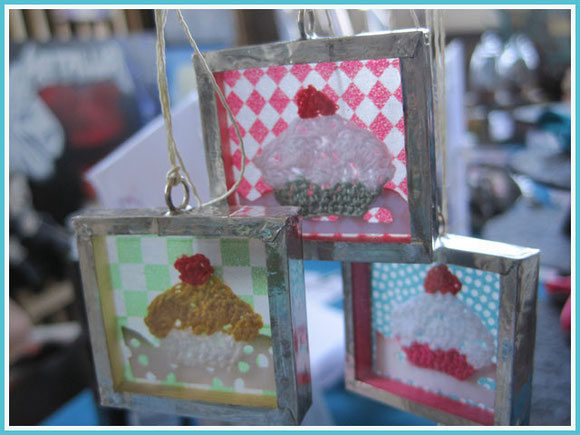 "Life can be as sweet as a cupcake, but you have to mix the ingredients yourself..."
That's what I try to do every day...
Make yourself a sweet day ! 
greetings from Belgium
Inge