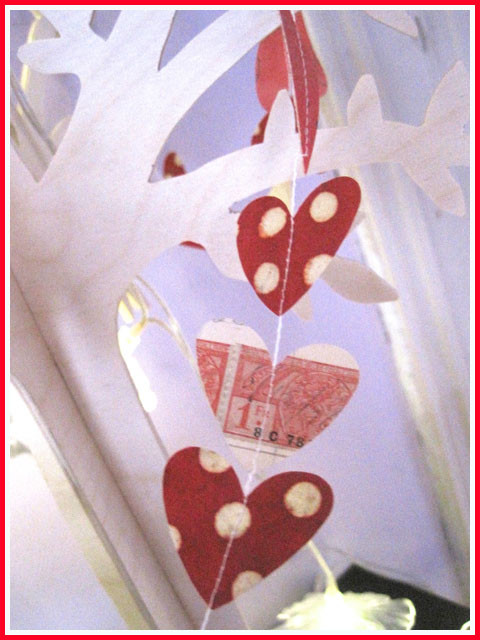 Happy Valentine to everyone who loves and is loved and needs to be loved :)
About two weeks ago I removed my "winterdecoration" in my home. My intention was to make a display for Valentine, love,...but I didn't get started, was tired, had other things to do...
Past week Shelly Hickox posted her Valentine pop-up tag in her blogpost and the story about her friend ignited some ideas...
If you want to see what got me inspired, read her blogpost ! 
14 february is Valentines day... I don't do anything very special on this day, so I didn't want to make a display only for this day, but at least for the whole month of february...
And what do I also love ? ... sewing !!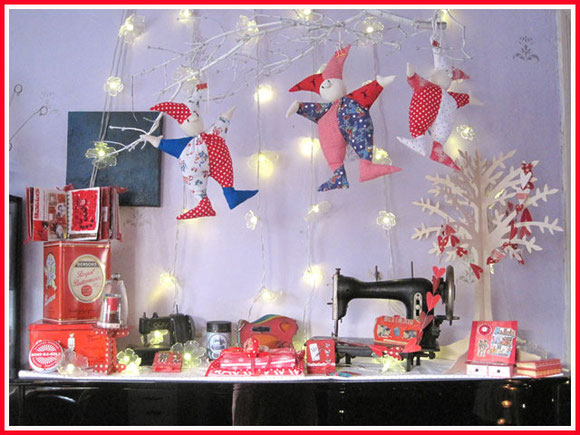 So, here is my "love" display in my house ! 
The overall color needed to be red and as I'm also in a white dotted period, I combined it all.
When making displays in my house, I try to use what I have. 
I know you can buy lots of Valentines stuff, but what do you do with it afterworths ? Put it in a box for another year and hoarder it ? ( like we do with so much stuff already ?...)
I just made a tour in my house and picked some red items like vintage tins I use to put stuff in (these here are housing my scented candles...)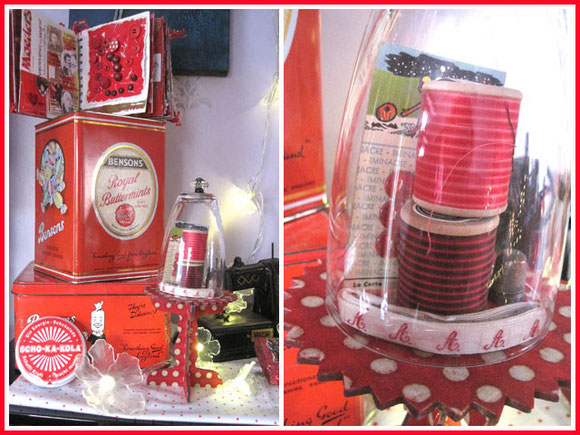 I also love to make some new little things myself for my displays like the cakestand and the bell jar.
I made some for my halloween display with Jack and Emily and back then I knew I would make more.
I bought the cardboard/foam cakestands very cheap, but they can be altered very easily and make a unique cakestand.
This time I covered the base with my last piece of this gorgeous red with white dots handmade paper. I always find it hard to cut up handmade paper, but this one I did use for several purposes in the past and was now used up to the last inch...
The bell jar is made with a drinking glass from Ikea and a know from Tim Holtz ideaologystuff. The knob is glued on with glossy accents and it sticks !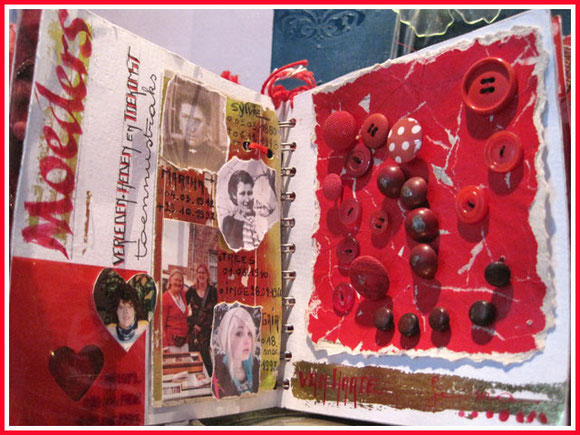 This book is my book from a roundrobin we did some years ago about "love". 
This page was made by my mom and holds vintage buttons and the quote : "mothers are like buttons, they hold everything together" :)
My mom also incorporated photos of my daughter, my sister and me, me and my mom, my grandma and my grandgrandmother.
This line is females do all have the genes of creativity in them :)
In my fabricstash I use to make my harlequins are also some lovely red patterned fabrics. Folding them and wrapping a red with white dots ribbon around it make another part of the display. On top a vintage mushroom crocheting spool..
Behind the fabrics... a sewing machine book !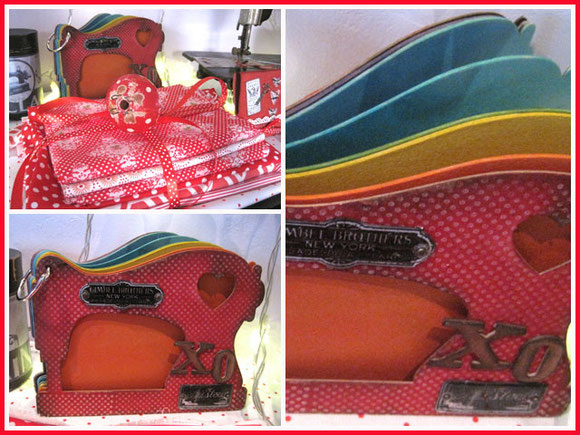 When we were in London past year at the craftshow and we met our UK friends, Bethan had this little cardboardbook for us.
Rummaging through my stuff for items to make my display my eye fell on this book... perfect !!!
It was still plain cardboard, so I started decorating it with distress stains and some stamps.
It 's not finished yet, just the start of a "samplesbook". I think I will add pieces of fabric that I like in here, or selfmade pieces with patternstamps I like...
I colored all the cardboardpages in a different color of the rainbow. I love the sequence of this colors ! Every page will be decorated in each colorscheme...
Thank you Bethan for this book !!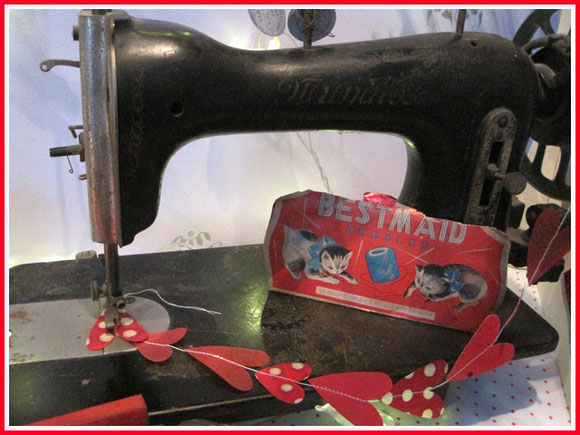 This photo shows the direct inspiration from Shelly's blogpost...
The stitched hearts she saw in her friends house, was used in her pop-up tag and got me started to make my "love sewing" display :)
I searched for some paperscraps with red hues and used the movers and shapersdies of the hearts of Tim Holtz to cut the hearts. 
Just run them through my sewing machine to attach them together and make a garland of it.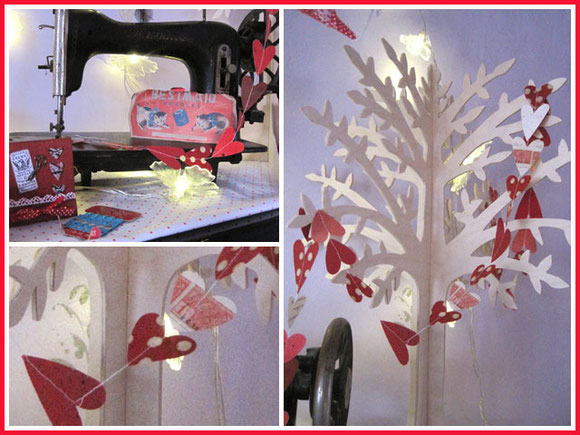 I attached it to the feet of an old sewing machine and wrapped the garland on the wooden tree.
I have two old sewing machines I scored at the fleamarket. I had them for years, but they take a lot of space.
I disassembled them and the sewingmachines are on a mantle in my sewingroom. 
The metal parts of the sewingtables are now in my garden. With a large floortile on top, they make  perfect gardentables outside.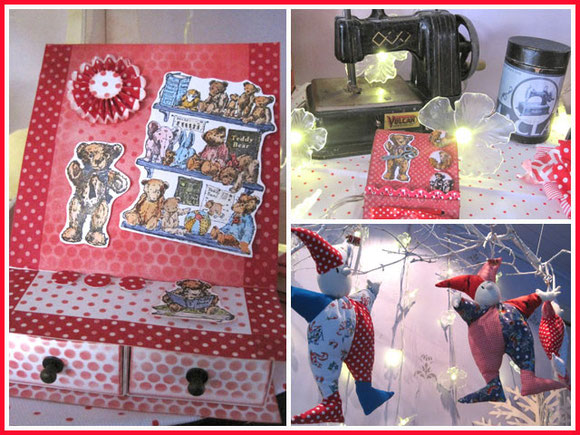 I also brought downstairs the  vintage childrenssewingmachine I have.
A handmade easel-drawercardbox, a sewingneedlebook and some of my handsewed harlequins fitted in the colorscheme.
I love pop-ups and already made several in books and cards, but I never made a pop-up tag like Shelly Hickox did.
Why not trying this different size ?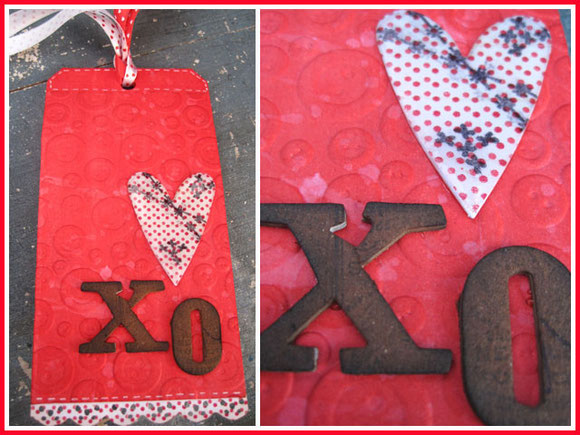 Front of the tag is embossed with a buttonembossingfolder.
The heart is a piece of paper covered with washitape and cut out with the heartsdie.
Some years ago I did not know what XO meant.... until my online friend Michelle Ward made me a blogpost about it ! 
In Belgium we knew the X as a kiss, but didn't know the O was a big hug ! 
The XO is made of cardboard, cut out with the wordplayday, inked with vintage photo distress stain and overstamped with a textstamp.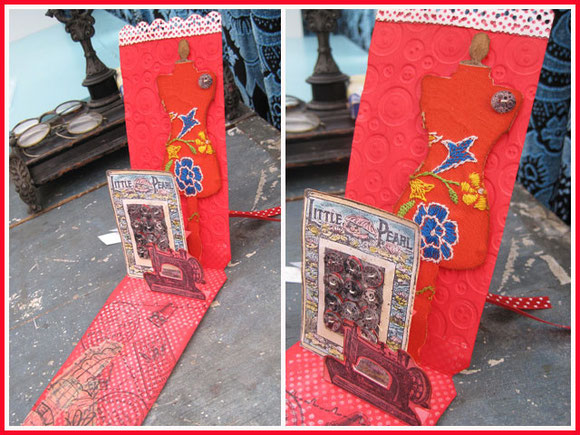 When you open the tag, a  little sewing machine and a buttoncard pop up ! 
I don't have the special dies to make pop-ups but these pop-ups are easily made with tabs. I used this technique in the past to make all my pop-ups.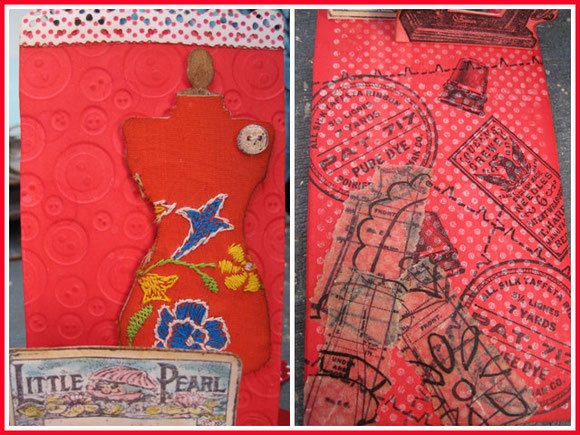 One of the things in my stash was an embroidered card... I don't really liked it as a card, but the embroidery was handmade... so I couldn't throw it away.
It came in handy to use in this sewing tag.
I cut out the fabric with the dressformtag and glued it on a papercutout with the same dressform.
It has some orange hues, so I inked the sides with vintage photo and mounted the dressform with 3D foam on the back so it stands out enough.
The part of the tag that lies down is stamped with stamps of Oxford impressions on a white dotted stamped red background.
I also had some patternstamps I stamped on vintage patternpaper and added them on top of the background.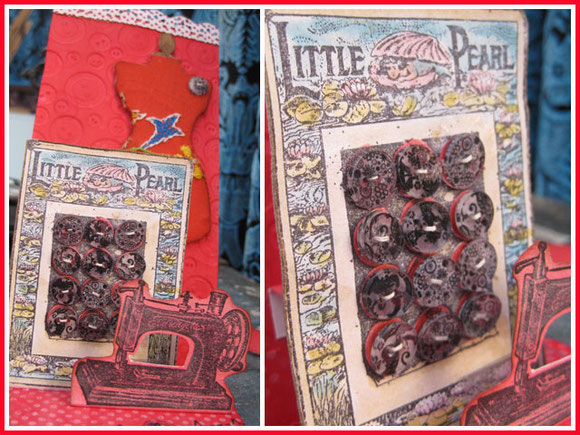 The buttoncard is from the same stampset of oxfordimpressions. 
I colored the  detailed background in with distress markers and made "real" buttons for it.
My latest addiction ....making embellishments from shrinking plastic :)
One of the things I still have to try is : do the ink stays on the buttons if you wash them. If so... I can make my own decorated buttons to sew on selfmade clothes !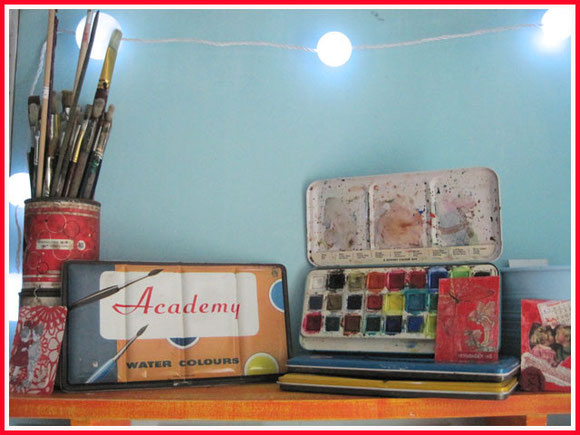 The second display is on a shelf in my laundryroom. This is what you see when you come in through the backdoor in my house...
I love sewing, but I also love paint and vintage paintboxes...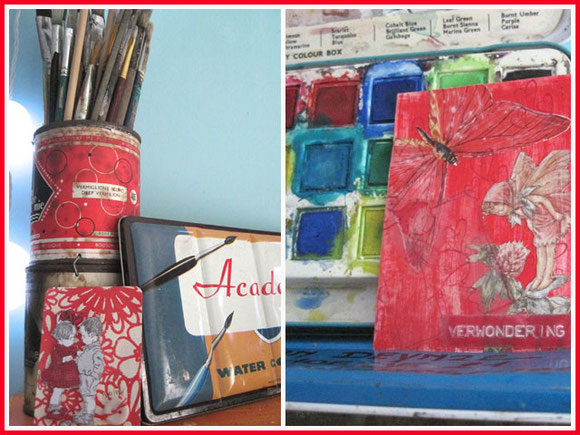 I added some "love" ATC's I made in the past.
I love to incorporate handmade projects in my house and the displays I make. 
Every time I pass the displays I have to smile... It gives me a happy feeling to see nice things.
I love... so many things...
Happy Valentine to you all ! 
Inge