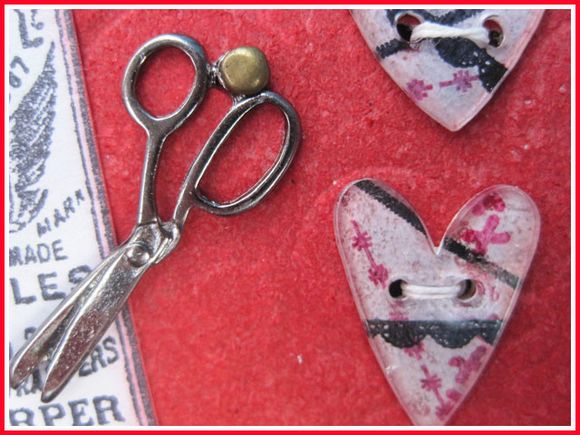 We have a break from school for a week and I embraced the time to create...
If feels sooo good ! 
One of my friends, Dorien, became 50 yesterday ! I told her she has still the half of her life to live, so we had to celebrate this special  birthday :)
For her past birthdays, new yearsgifts,... I always made her something pink, sewing related or with a corset,...so I stick to that tradition so she can "collect" my gifts.:)
I made her a tagcard, based on the tag from Tim Holtz tagdie and the easeldie so it can stand up.
For the background I inked a detailed stamp with white ink and dryed it with the heatgun. When you overink with distress inks the white resists and shows the stamp subtle in the background.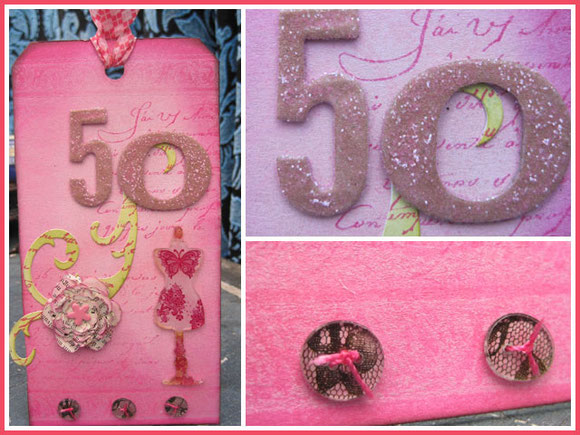 A textstamp in pink added even more interest to the background.
Even me, at 47, finally needs "glitter", never thought I would like glitter, but I do love it on cards :)
I cut out "50" from cardboard with 2 sided-tape on with the worddie and added pink glitter.
I cut out 3 buttons with the "sewing" die of Tim Holtz out of shrinkplastic, inked them with permanent black ink and stamped the lacestamp on the shrinkplastic. And then I shrunk the plastic with my heatgun : voila, custommade lace mini-buttons.
The dressform is also made with a cutout from shrinkpaper. I love how the lacestamps come out on this.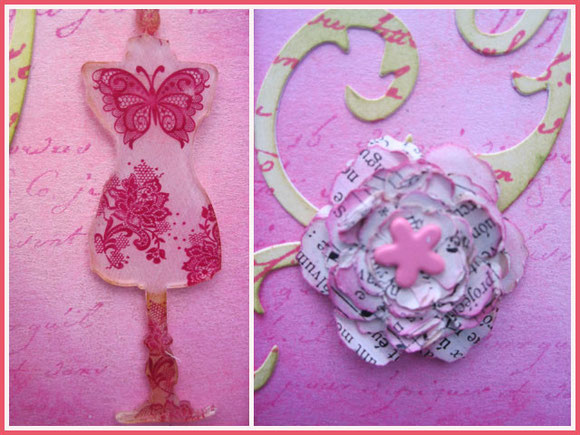 One of the techniques I learned the students in my workshop past week is to overstamp an inked background. Much nicer to see then just an inked scroll.
A paperflower made with very thin old musicpaper adds some texture to the tag.
I while ago I bought the matchbookdie... but haven't used it yet. Time to USE what I have in my supplies ! 
I pinned Tammy Tutterows "for my love" matchbook a long time ago, so she was an inspiration to get started.
My friend loves sewing too, so I made her a little book to hold her sewingneedles together.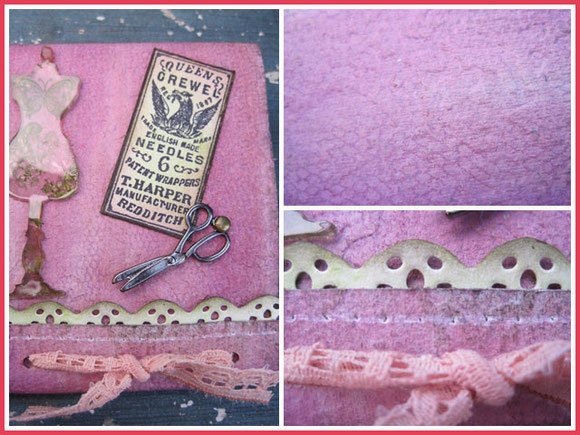 The matchbook was cut out with the matchbook die out of grungepaper.
I colored the grungepaper with distress stains in pink and the white one.
When it was dry I stamped on it with a lacestamp ànd embossed it with an embossingfolder with "fabricprint".
With the laceborderdie of Tim Holtz  I cut out a little border of white paper and aged it with distress inks.
I pricked little holes under the border and connected the dots with a white pen so it looks like it's stitched.
The dressform was made the same way I did on the birthdaytag.
A stamp of "sewingneedles" from Oxford impressions and a metal scissorembellisment finishes off the front.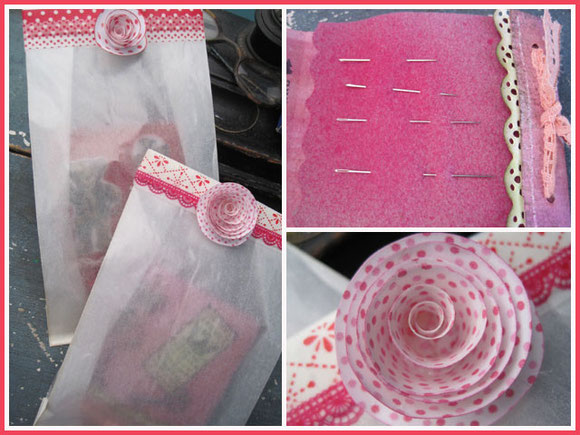 On the inside I added pages in felt to put the needles on. I only got gray felt and I colored it with dylusionsspray "bubblegum pink" to match the book.
The edges got some decoration with an edge die.
Half of the present is how it is presented..
I put the gift in a bag, added tissuetape on top ànd one of my favorite Pinterestfinds : an easy to make flower ! 
This was fun to make, so ... I made more !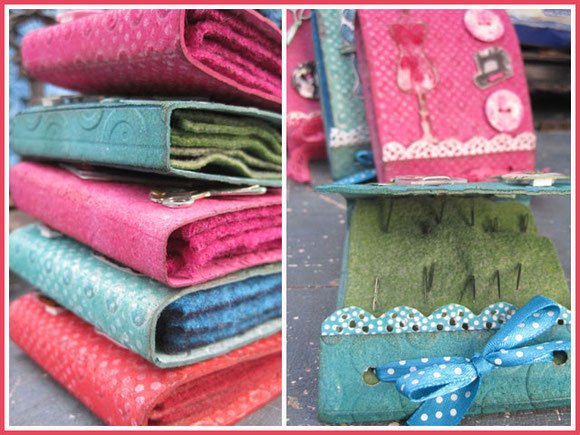 I found out both grungepaper as grungeboard work perfect for these sewingbook. 
You could make them from sturdy paper, but this sewingneedlebooks needs to be sturdy because they will be used a lot.
I think that waxed paper would be a good alternative, but I have to try that out in the future.
All the distressinks work perfect on the grungpaper/ grungeboard, so I made some really colorful :)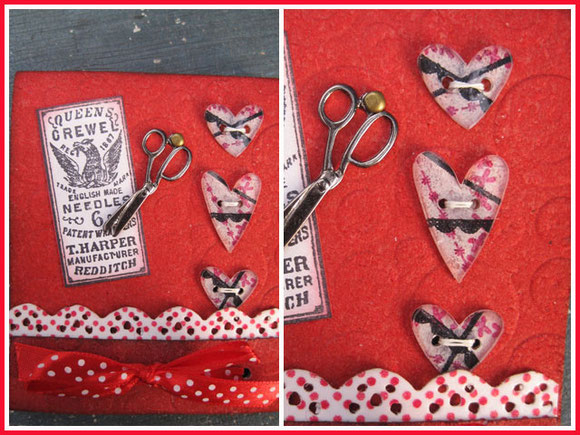 This one is made from grungepaper and embossed with a buttonembossingfolder.
The heartbuttons are my favorite on this one.
Hearts were cut out with the movers and shapers heartsdie from shrinkplastic.
I stamped stitches with a permanent black and reddish ink ( Stazon). I punched large holes in them and then shrunk them with the heatgun.
I overinked the back of the buttons with white permanent ink to make them stand out more from the background because they are clear.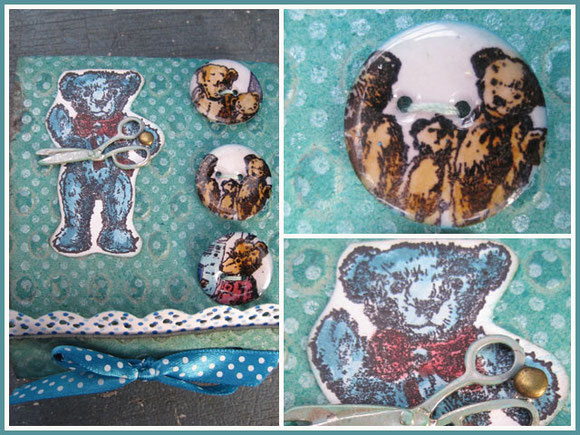 A blue bear-needlesbook...
On this book and the next one I used dotted grungeboard I have  in my stash for .. years... but didn't find a good use for it until now.
After coloring with blues of the distress stains, I stamped over it ( after drying) with a permanent white ink and a little dotsstamp.
I did the same on the next book but then in red.
No shrinkplastic this time for the buttons, but plain paper...
I stamped bearstamps with permanent black ink on heavy paper.
Looking through the circlepunch I looked for nice details and then punched three circles. 
I punched little holes so I could stitch them later to the grungeboard.
All images were colored with distress markers.
I have these for almost a year, but don't use them very much. I still prefer/ preferred the few copic markers I had for coloring, or using the distress stains with a waterbrush to color in.
The distressmarkers often leave strokes when you color and you can hardly blend them. The paper starts pilling often too.
But that changed :)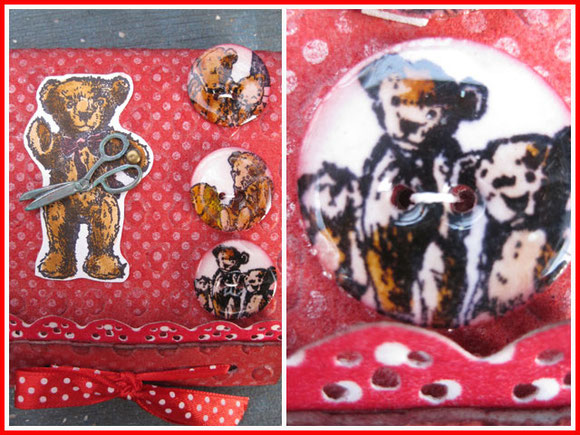 On Tim' last video on distress markers ( distress marker coloring here) I learned that it all depends on the paper you use and the distressmarkers DO blend, but only on good watercolorpaper which I don't have.
BUT.. Tim showed another technique... Picking up a drop of water with the distressmarker and then start coloring. You start light but end up with your usual color of the distressmarker.
I tried this out and it works perfect on my cheap paper ! 
I could create different shades in my coloring and I love how this technique worked ! 
After drying I added four layers of UTEE on the circles which create the glossy buttoneffect.
Isn't that bearbutton cute ???
I love this technique to create my own embellishments.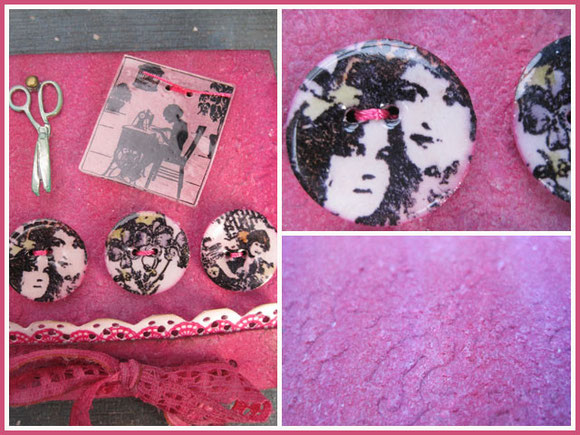 Another needlebook, but made in grungepaper and a pink one...
Almost all the same techniques as above, but an extra embellishment in shrinkplastic ( the lady with her sewing machine)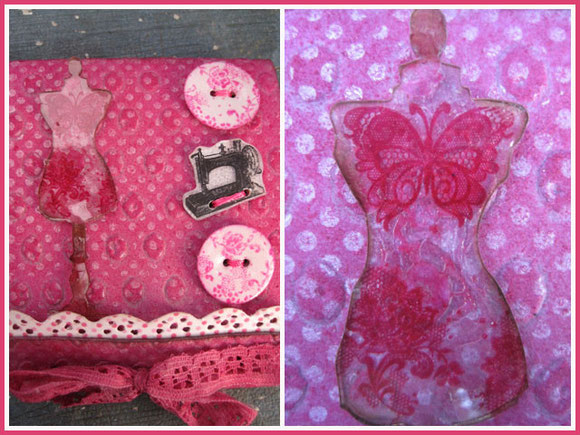 Another pink book but made with dotted grungepaper, made in the same way as the blue and the red bear-books.
I also added a shrinked sewingmachine on this one.
These needlesbooks will be on sale on our yearly creativity-event Ratteljee which we will have on the 5th of may ! 
I know I have still some time to make stuff, but I need the time to make more cards, paperboxes,.... so I have something to show...
But I did not only create to sell... I finally made myself a needlebook ! 
I had my needles on some felt pinned together with a safety pin, but now I have a real needlebook :)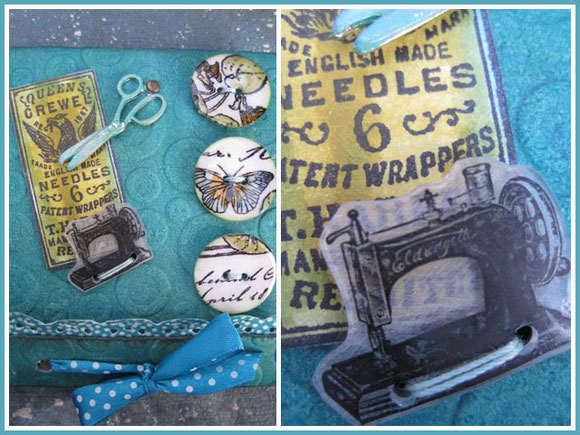 In my blues of course...
All the same techniques as above !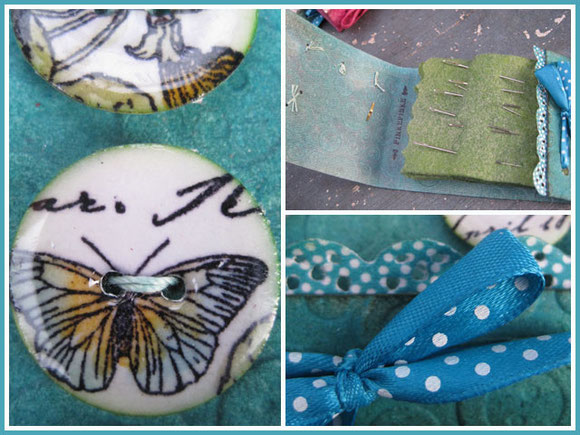 I love my selfmadebuttons... just one large art nouveaustamp I like and then picking some details to punch a circle out.
I used my needlebook constantly the past days, cause now I'm busy handsewing my harlequin softies ! 
I love how making a present for someone, evolved in making more varieties ànd a gift for myself :)
Inge