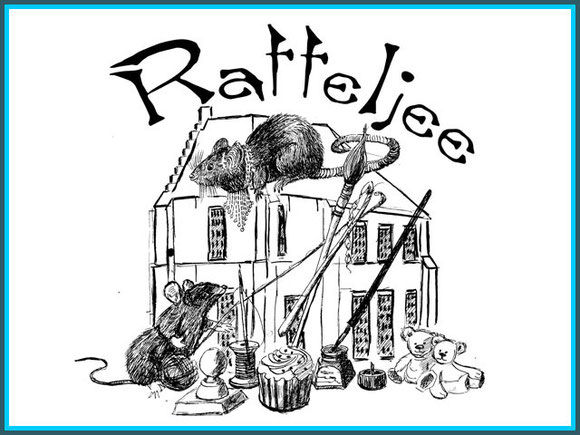 On sunday we had our creative event "Ratteljee" for the second time in an old restorated priory in my hometown, locally known as "the castle of the rats" because it's been an ruin for decades until it was restored some years ago...
Ratteljee is a creative event with 20 people, mostly locally who wants to come outside with their creativity, show their passion to others, share their projects with the outer world.
We had all kinds of "crafts" and I think we had a very good selection and diversity this year.
I hope I can convince you about the quality we had by showing you lots of photos...
I can't show everyone's projects... This is just a sneak peek so you have an idea of what you missed if you weren't there :)
I was in the organizing team, so I was also busy with other things and I forgot to take a photo of my own booth... Luckily I can show you some of the stuff I had for sale that I photographed before...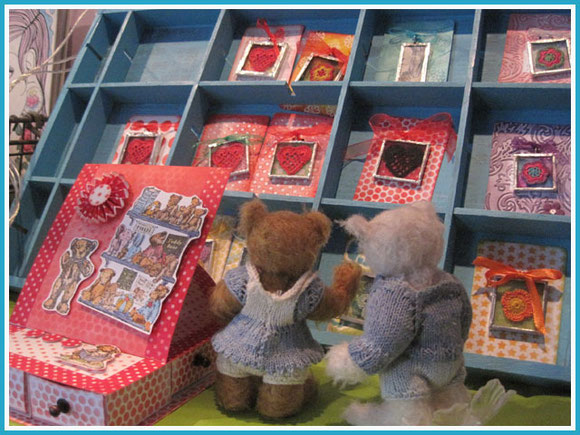 I had my pendants : crocheted flowers or hearts between alcholinked glass or washitape as background, soldered between glass.
They were all presented on "ATC's" , a lovely size to present them.
I had made several easelcard-drawerboxes.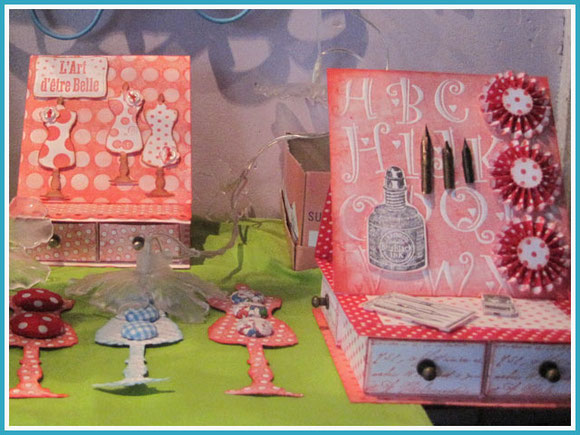 I made fabricbuttons and presented them on decorated diecuts ( the dressform of Tim Holtz).
Of course you can use the buttons on your selfmade clothes, but in the meantime you can store them or use them as a decorative item in a display !
I also had several harlequindolls. I make these alread more then 20 years and they are my gift to newborns.
They are made from a combination between vintage and new fabrics and are all unique, cause once the vintage fabric is used, there is no more to make the same ones.
They are very soft and light and I know several of the recievers really made them their own "cuddly" toy, but it's the child that decides if or if not this harlequin becomes the favorite one...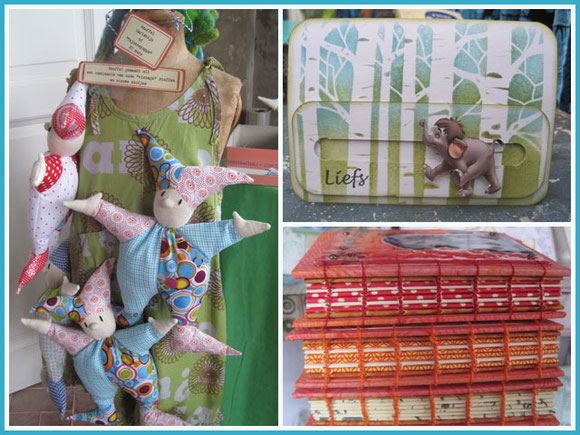 What sold very good were my cards... especially the spinnercards were favorite. 
It's funny to see how people react. They see the card and then you tell them it's a mechanical card and then you demonstrate how it starts spinning ! 
Their faces are so funny to see :)
Some are really intrigued : "how does this happen ? "... and they start looking at the card in all angles trying to figure out the system.
I tell them the secret... just don't know if they really understand without making one themselves...
We were represented with three generations at Ratteljee : me, my mom and my daughter Gaia...
Actually, I was representing my daughter, cause she was having fun at a musicfestival in Groes for a whole weekend...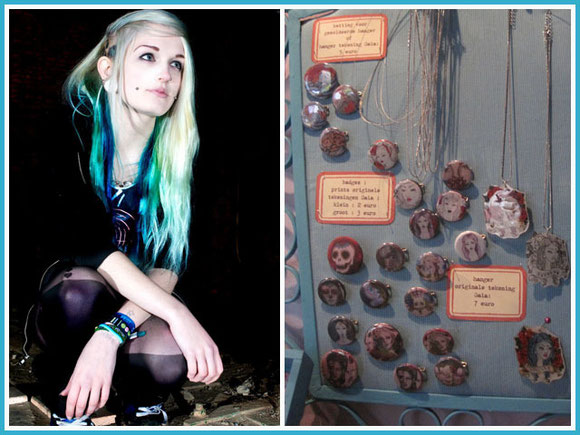 I  really wanted to show the outerworld what Gaia can do with her hands...
That's why I made a booth for her at Ratteljee with lots of her stuff.
Gaia loves mostly to draw and paint. I had several of her paintings presented, I had badges with prints from her drawings and paintings,..
I had her calendar: she had made this past year for school and the instruction was it has to be a reflection of what they liked.
Gaia drew hours and hours on this calendar, filled with zombies ( Marilyn Monroe as a zombie) and vampires, creatures from old horrormovies (Frankenstein, the bride of Frankenstein,...) and recent movies ( death note,...),...
I know this is not everyones cup of tea, but I DO think it's a work of art...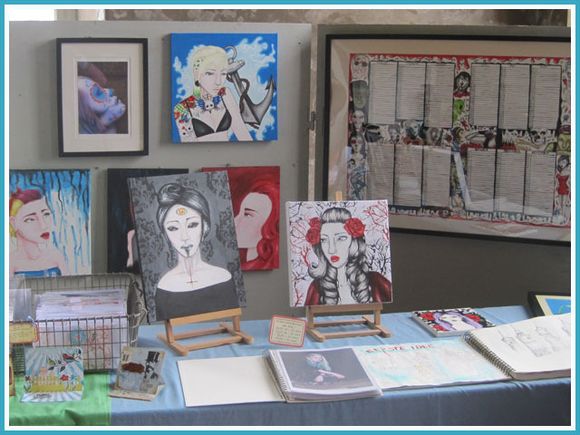 I had two books with drawings and paintings from her, altered photos (I know most girls use photoshop to make them look thinner and taller and... my Gaia uses photoshop to alter her photo in zombie or a vampire...LOL)
I thought people would hesitate to look at her creations, thinking it's a bit strange, not something they are used to, but I was amazed by the interest her work got. 
Lots of people looked in the books, listened to what I was telling about it... and I told a lot... I am a proud mom, you know !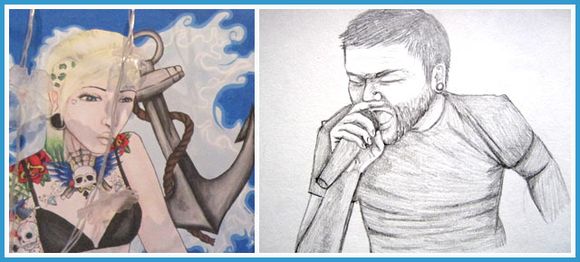 What I love about Gaia's work is that you really can see she has her own style and themes, but she also has several styles in drawing ( stilized ànd realistic).
I knew Gaia was having fun at the musicfestival, but I really wish she could have heared all the positive comments on her work.
I really was a proud mom :) 
I also was a proud daughter, having my mom with her work in the same room.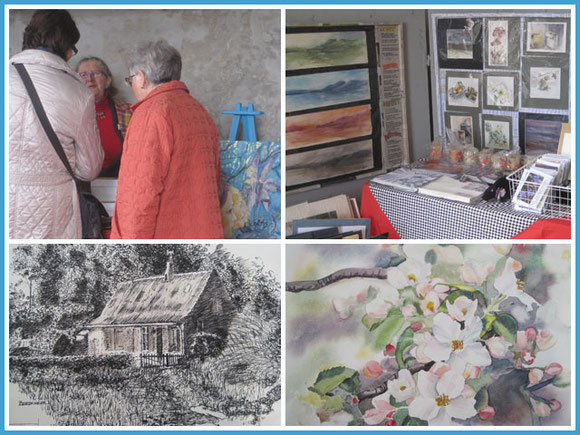 Gaia has a lot from my mom : she also draws and paint.
My mom mostly works with aquarel but can also draw very well.
She also loves to do mixed media : using all kinds of materials and techniques she knows.
We can't deny creativity is in our genes...
My mom, Gaia and me were not the only participants in Ratteljee...
Els loves to scrapbook and showed layouts, but also cards she made. She's also a designer for basic grey and really has an own style.You can find more of her at Bestamped.
Christel is amazing with felt and needle and had a booth full of gnomes and fairies and animals and... made of felt.
She made the little animalheads for the goodiebag the first 50 visitors recieved. I think they are amazing ! 
You can find more of her on her facebookpage.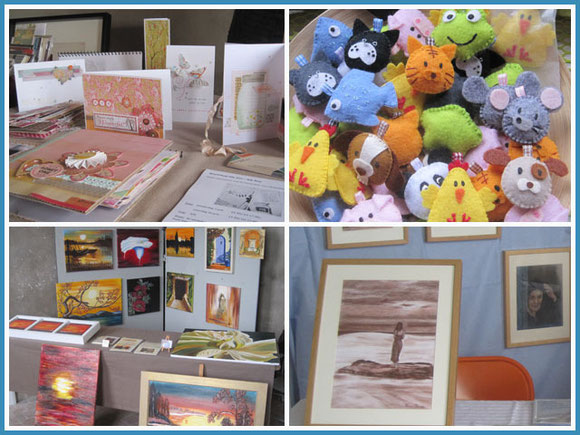 Luc paints abstract and realistic paintings. Dorine draws mostly portrets or figures and bister is a medium she loves to work with.
Sonia and Evelyn are masterchefs in making decorated cakes, lovely cookies and delicious cupcakes.
Linda makes mostly flowercorsages and in the past she exposed in real castles in France ! 
She was a bit surprised when she saw our "castle"... of course it's not a real castle, but the castle of the rats ! LOL
At the end of the event, she admitted that even if it was not a real castle, it was a great and unique building to expose in.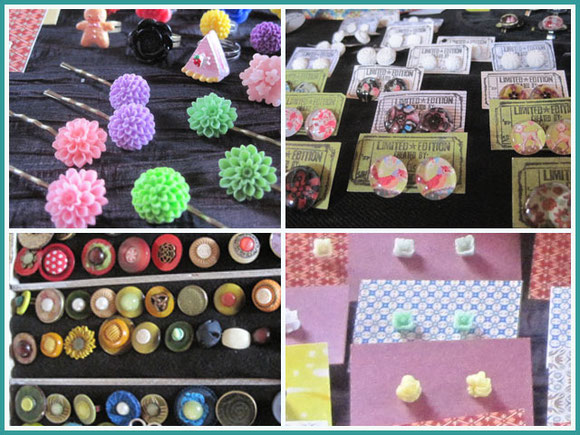 We had several people ( Jo, Sofie, Marieke, Carla,...)  who made jewelry but definitely they all had their own style and they all used different techniques.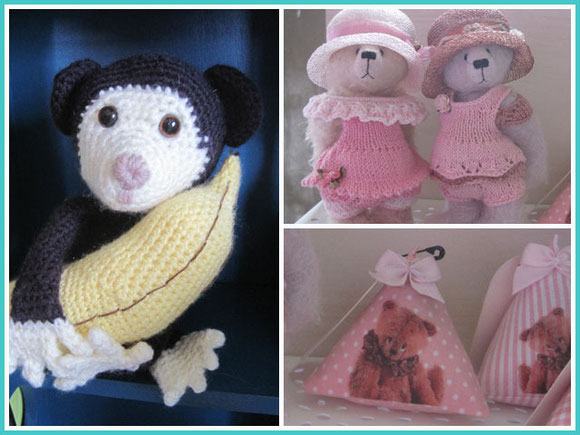 I had my harlequins, but Naan ( Nathalie and Sofie) had handcrocheted softies and other stuff.
Anne was there too together with some of her unique minibears. They are made with an incredible eye for detail ( look at the clothes, look at the hats !). 
You can find more of Anne here. For people who live close : Anne soon starts giving different workshops, so please contact her for more information.
We had more people who participated, but I don't have photos of them all... but each one deserved to be there.
Ratteljee was fun : it was a joy to be able to tell and show our passion.
We did sell some stuff, but the main purpose was "show and tell" and we did that.
I'm sure I'll be here again within a year with photos and a story of our third Ratteljee !
Thanks to all the participants, the visitors, the people behind the scenes,...
you... for being here...
Inge