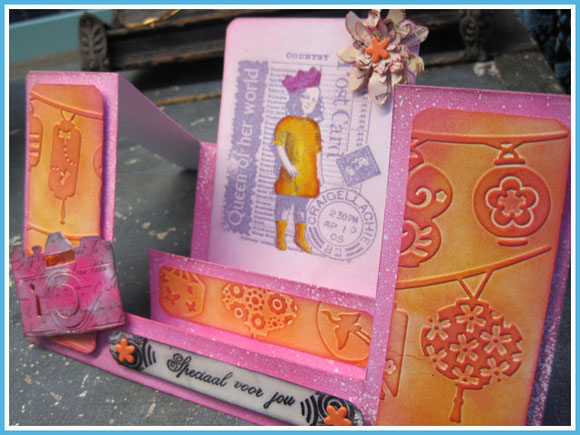 I created a new mechanical card. At least "new for me" : a stepladder card ! 

There are tons of mechanical cards to discover and I want to learn to make them all :)
For the workshop of "Pinkepinke" in my home I wanted to share with my students my most recent discovery : a stepladdercard.
I found this card on a Technique Junkie CD I bought a while ago.
I started to make some examples, but because the measurements are in inches and not in centimeters, the card didn't fit in a regular European enveloppe.
So I had to adapt all the measurements to make it fit, to keep the mechanism moving  and let the card fold open and stand upright and to keep the sight of the card coordinated.
After some attempts I got it right.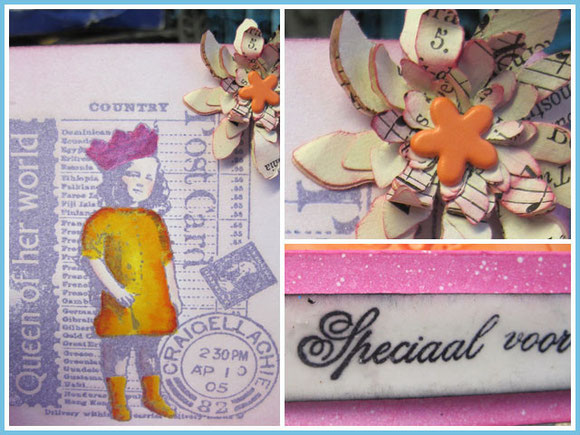 I wanted to learn my students the mechanism of the card, but also incorporate different techniques they learned in the past and some new ones.
We created the background of the card with goosebumps: a product of Tsukineko that creates  white splatters on the card that resist the ink you put on top.
I showed a " universe-card" with this technique in my previous blogpost, but the cards of today show the versatility of the product in any color, in any theme.
Using the product also got me thinking... 
This product is hard to find here in Belgium ( I bought it on Blitsy in the US), so can I create a substitute for my students ? 
Can I give you my "goosebumps" ? ... Here is a little gift for you: my recipe...
Put some regular gel medium ( glossy or matte) in a spray bottle and add warm water in little amounts. Shake everything  and add water if needed until you get a consistency of running yoghurt.
That's it !! 
Spray on your paper and let it airdry. When dry, ink over it with distress inks in any color ( darker or intenser colors make the white dots really pop).
Wipe the nozzle of the spraybottle after use so the nozzle don't get clogged by dryed gelmedium. If so, just use a needle to open the nozzle.
This is an alternative that works as good as the goosebumps of Tsukineko. You can make it yourself if you can't buy it locally ... and it's much cheaper...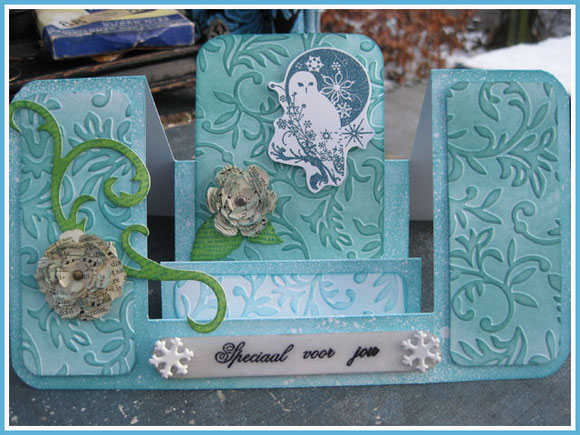 Another example I made for the workshop.
Goosebumpsbackground in peacock blue distress ink.
Most of the panels are dry-embossed and inked with distress inks.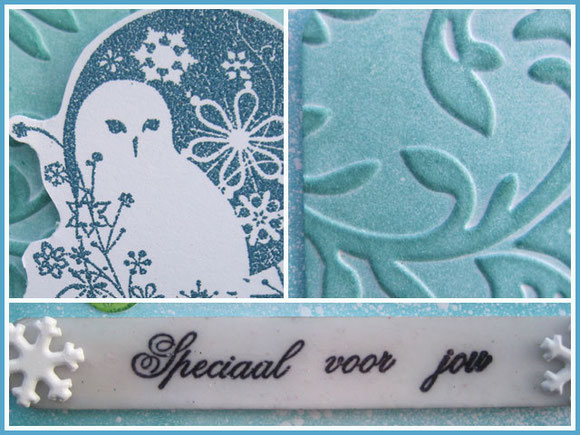 With the dry-embossing we also practiced the inking with distress inks so they blend very well and you don't get streaks or marks.
I also wanted to learn them more about the different embossingpowders and which one to choose depending on the results you want. 
I especially wanted to show them how you can emboss a detailed stamp.
The Adirondack embossingpowders are very good for this purpose.
Another technique was how you can make a fake-enamel label.
For most of the students the UTEE was completely new.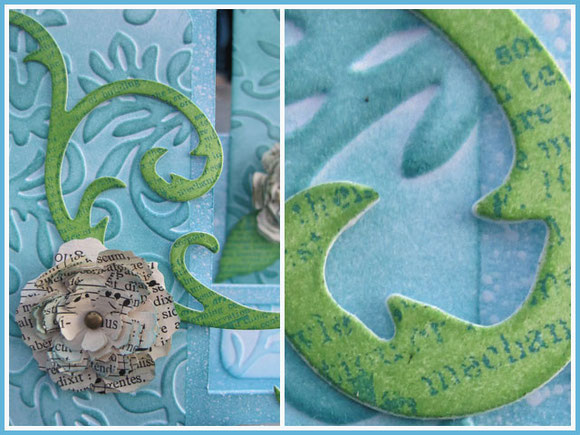 More techniques : how to make a flower with the decorative flowerstrip ( Tim Holtz) and how very thin musicpaper layered in several layers makes a nice flower.
The last technique : inking a diecut with distress inks and overstamping with a textstamp. Easy peasy, but so much more interesting then just inking.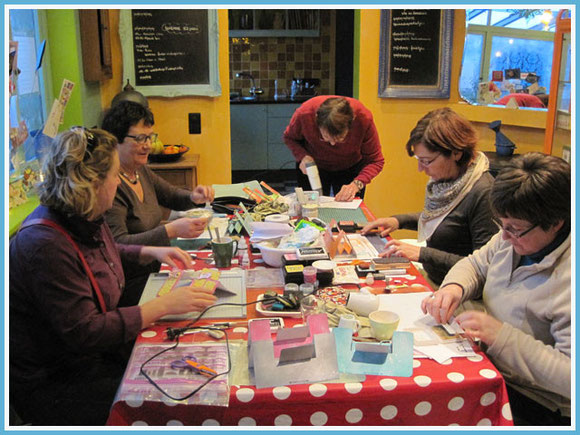 Only half of my regular students could come because of birthdays of grandchildren or a 91 year (8) old mother, or a birthdaydinner,...
I'll be looking for another date to repeat this workshop for them so they at least get the chance to learn this stepladdercard.
The students who were there showed this stepladdercard is awesome ! 
They all worked very hard, very detailed.. love this students :)
Their creations are all unique, although we used the same techniques.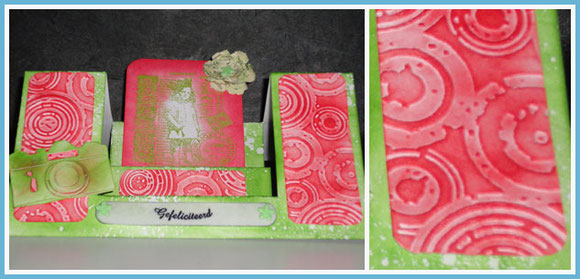 This is the card of Patricia. 
I love the combination of the red and green: not at all a christmascombination, but a happy, girly colorscheme !
The mowed lawn green distress ink really shows the effect of the goosebumpsproduct.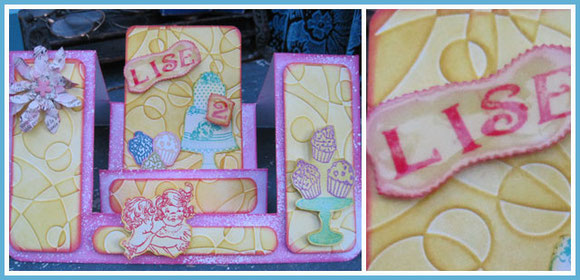 What I love about Katja's card for the birthday of her 2 year old niece Lise is the colorcombination. 
I never used pink( picked raspberry distress ink) and yellow ( lemonade distress ink) together, but this is a colorcombination to remember and use ! 
I also love the use of the embossing folder. I love this one, but haven't used it a lot yet. Katja shows how playful this one looks.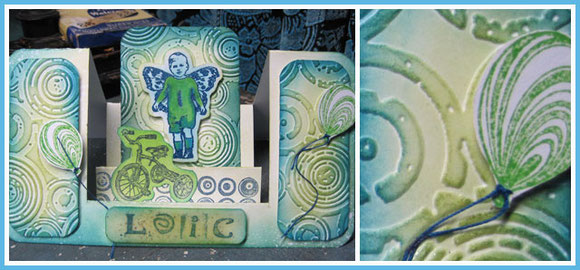 A birthcard for Loïc from Katrien.
She surely uses my favorite colors, but she also shows here how gorgeous the blending of the distress inks can be. Love the use of the circlesembossingfolder here too to create a playful background.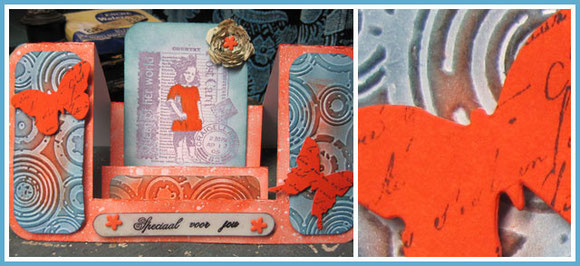 Another birthdaycard for a girl and again an more anusual colorcombination for me, but the red and the blues work perfect together.
Leen used the textstampingtechnique on the cutouts of a butterfly.
I forgot to take a photo of Kristine's card ! If she send a photo to me I'll show her card to you too.
We had a lovely afternoon yesterday and my students didn't only learn from me. 
I learned a lot from them too ! :)
I hope you like my "goosebumps" and get inspired by all the creations you see here !
Inge