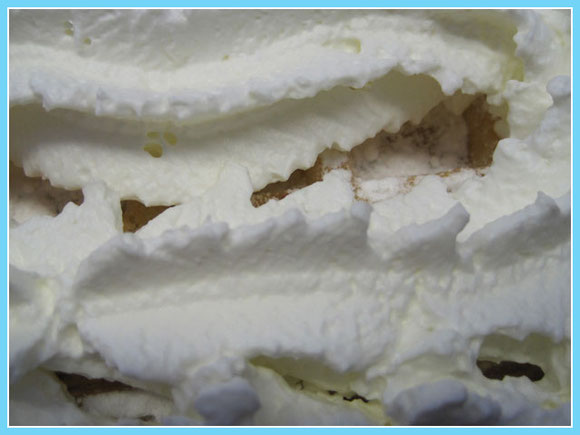 I'm enjoying the moment...now...and it makes me happy...
I was able the past 3 days to create a lot.
First I made two examples for my workshop for children on the 16th of february. We will be making " dioramacards".
This is one of the mechanical cards with a big impact.
You can send it flat through mail, but once opened you have a chunky card...
I know there will be children between 6 and 13, both boys and girls, so I wanted examples that speek to both.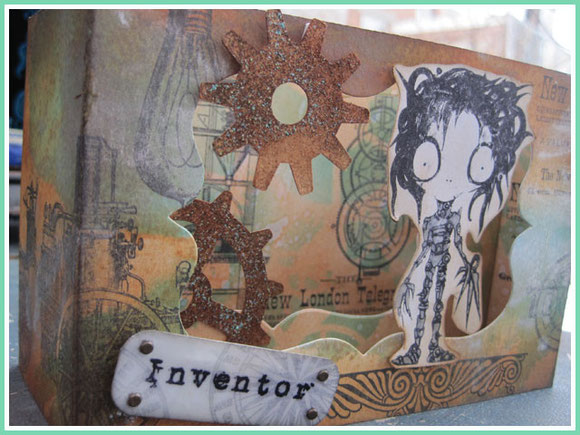 If you are a regular visitor you'll know that I'm a fan of Tim Burton...
I was very happy when Anja, a friend I met online, sended me this "Edward Scissorhands".
I had him for a while, but now he finally got his setting...
I used stamps of the several steampunk stamps of Oxford impressions to create his world.
The gears are diecuts of Tim Holtz, embossed with vintage photo distress embossingpowder and a bit of regular verdigris embossing powder.

The start of the dioramacard was sturdy white paper which I colored with distress inks and stencils and the front part with distress stains.
I love how this one turned out. I don't think the children will know Edward Scissorhands, but it's the moment to introduce them to the world of Tim Burton :)
And if they don't like this one... no problem.. it's just an example. They can actually choose the theme they want. I help them with the techniques and materials, but in the end the endresult is completely their choice.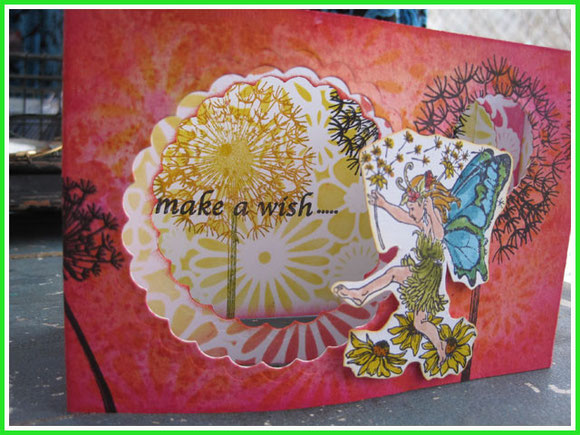 This is the bright or girly (? ) example...
For the peek-through-holes of the first card I used the ornamental mover and shaper of Tim Holtz.
Here I used two different scallop dies of nestabilities to cut out the holes.

Distress inks, distress stains, distress markers,...that's what I used to alter the white card and turn into a colorful card.
I had several creative to-do's on my list when I got an email of the mom of one of my Poppyclasschildren. 
Could I make 8 birthdaycards for childeren between 4 and 8 ? She sended some photos and some specifications about the interests of the children.
This is something I also like to do: make custommade stuff...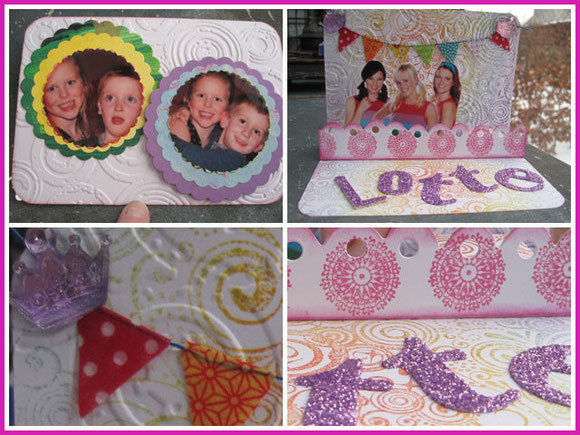 Lotte is a K3-lover, a Belgian girlmusicgroup that's quite popular with the young kids for years...
I made a pop-up card for Lotte with the 3 girls of K3 who pop up when she opens the card.
Lots of rainbowcolors which K3 use a lot in their dresses;
Lotte's name was cut out with the wordplaydie of Tim Holtz ( an expensive die... but I use it quite a lot, so in the end worthwhile the money).
I glittered the letters with the glitter from Ranger I bought on Blitsy a few weeks ago...As they had a good deal on these, I ordered several colors...
Now I have to use them :)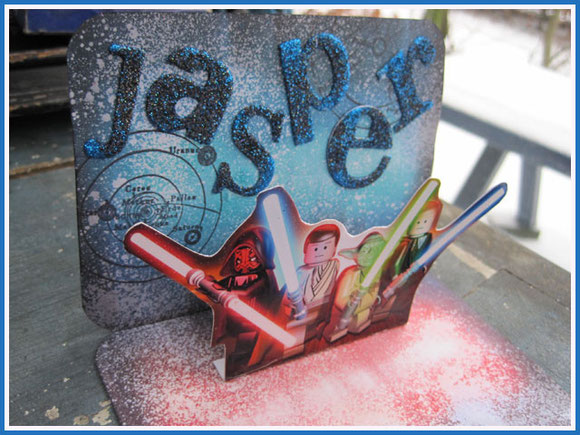 Jasper is fond of Star Wars, so I made him a card that looks like the universe...
A great product to create this "stellar" background is "goosebumps" from Tsukineko. Just spritz on your card, let it dry and overink with distress inks.
I downloaded a Star Wars legofigures image and printed them on photopaper. They pop up when the card opens.

As it is Jaspers birthday he needs a bit of glitter, even he is a boy :)
Black and blue glitter on his name...
More birthdayboys... 4 years old...and fond of "ROX", a childrensoap on the Belgian televison about... cars...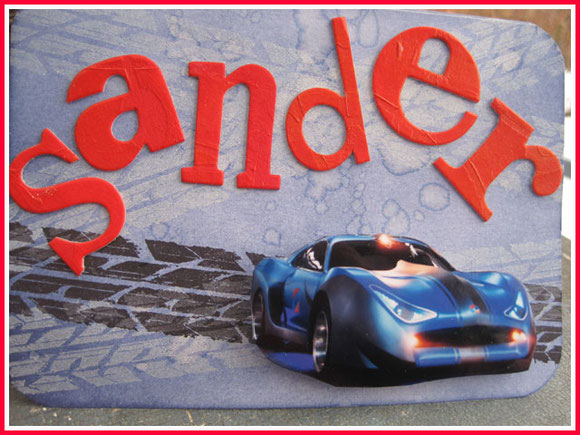 Luckily I recently bought the roadtrip stampset of Tim Holtz in Blitsy.. never knew it would come in handy so soon ! 
Background was inked with distress inks and splattered. 
I stamped the wheel marks first with white ink as a subtle background and added a black one too.
When I have a commission like this I google images. 
Seeing the images of the cars immediately gave me an idea for the colors of the cards.
I also downloaded the image of the car of ROX.
The car is mounted on an action wobble spring which make the car wiggle when the card is moved.
I think the 4 year olds will like this..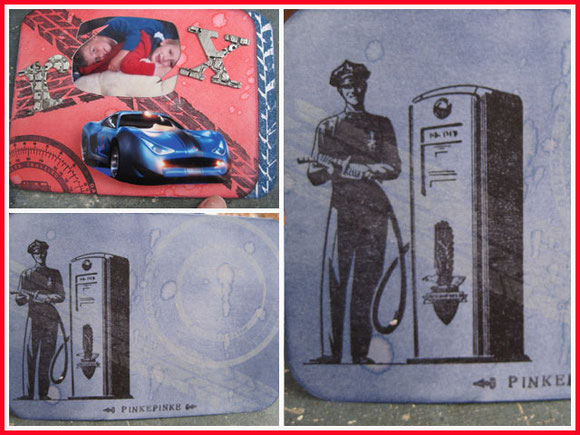 For one of the ROX cards I used the ROX logo and inserted the photo of the birthdaykid Vince and his friend in the "O".
On the back more stamps of the "on the road" stampset.
Two birthdaycards for 4 year old girls..
These needed at least a bit of pink !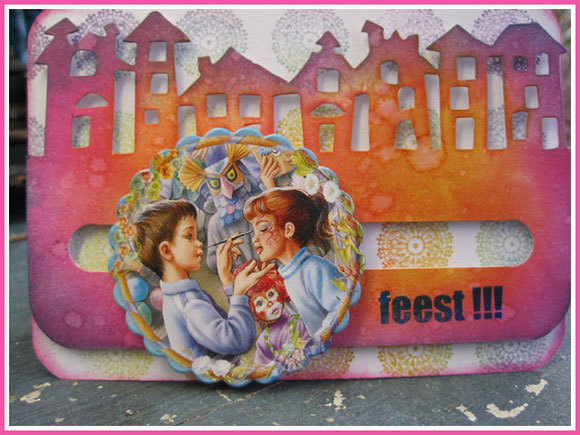 These are spinnercards: another favorite mechanical card.
When you move the card the circle turnes round and round.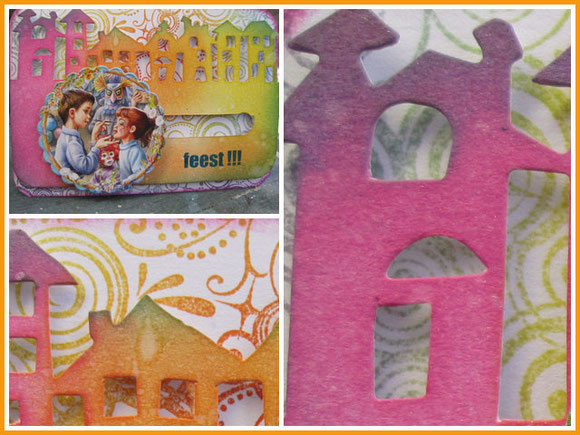 I'm glad the distress inks have finally some bright colors in the sets too ! 
Love this "picked raspberry" pink ! 
It blends beautiful with the other distress inks.
Tibo, who's mom gave me the commission for this cards is one of my Poppyclasschildren with a mental and physical handicap.
He is almost always happy and has loooots of energy.
He loves watching television ( like most of our kids...) and in Belgium STUDIO 100 is a compagny that makes several kidsprograms, but even as a teacher I have to say they are good...
One of Tibo's favorite characters is "kabouter Plop" ( "gnome Plop").
Tibo becomes 6 next week and I wanted to make him a birthdaycard he can handle himself, so it needed to be sturdy and waterproof...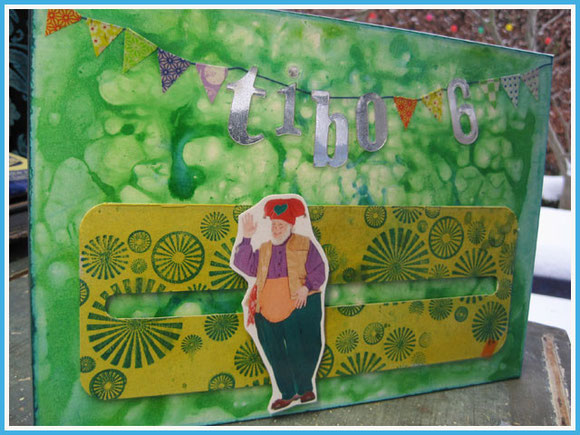 I took a large sheet of cardboard and colored it with distress stains.
I made a garland with washitape and the name TIBO was cut out of mirrored cardboard.
I think Tibo will love this shiny mirrors on his card.
To make the card "Tibo-proof" I sealed everything with sticky plastic, so the ink won't come off if he tastes his card...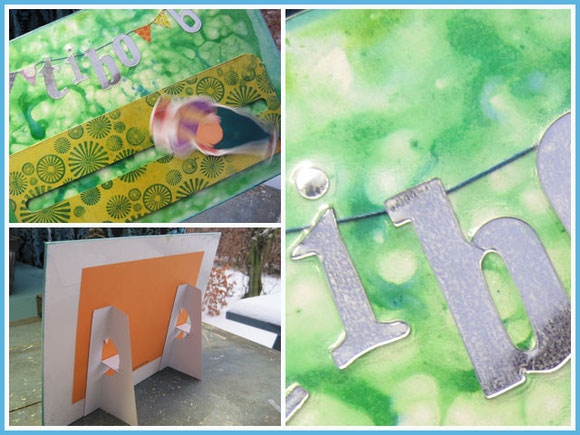 It's a huge spinnercard and gnome Plop spins from left to right. 
Maybe Tibo can do this himself or with the help of mom and dad or his little brother.
The card can stand up by the help of the "easels" to enjoy the viewing, but I hope Tibo has fun moving his card.
Lots of creativity the past days in my veranda.
Outside everything is still white and today it snowed the whole day...
This is the view I have from my veranda into my garden...
I suddenly had the thought " I feel happy... right now..."
What a perfect thought to celebrate ! :)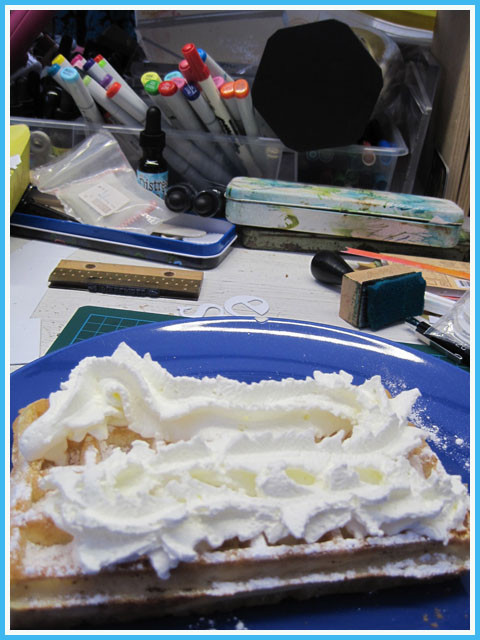 MMMM... a warm Belgian waffle with whipped cream...
I enjoy the wintermoment...now...:)
Inge