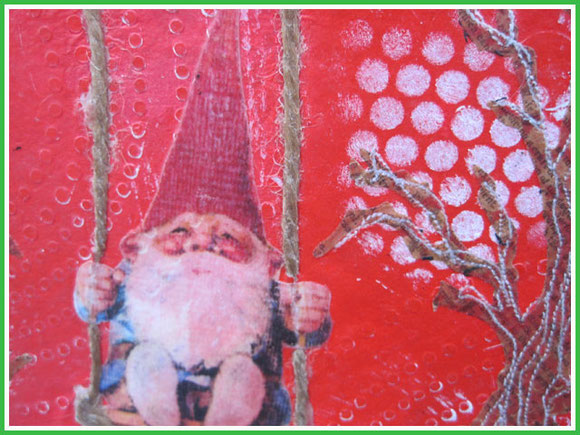 All the remnants of halloween are gone both in my house and outside...
I'm absolutely not yet ready for Christmas and the holidayseason, although I'm making cards now and then.
When I'm looking outside the windows of my creative room, this is the sight I have :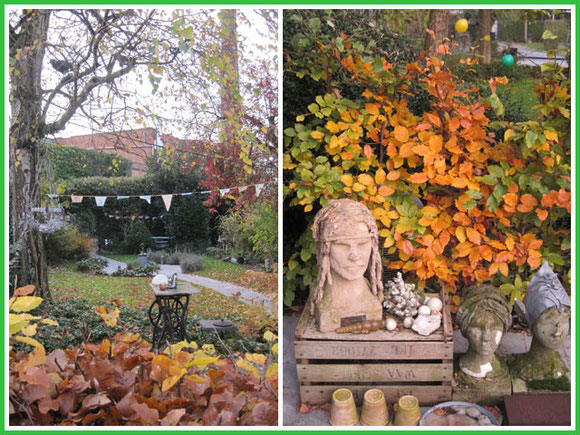 The garden is changing color and whàt colors : greens with reds and bold oranges ! 
Yes, here in Belgium we have a real autumn with a changing sight each day.
Some trees already have bare branches, others are holding on on their colorful leaves until another autumnwind passes by.
It's too early to decorate for winter or christmas and I hàd to bring autumn inside in my house.
I made an autumndisplay on my piano both with findings from the garden and creative projects from me and other persons.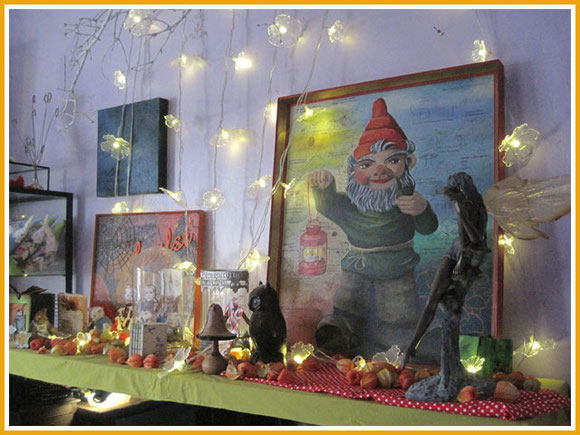 A few years ago my mom made this painting for me of a garden gnome I have in my garden and a background filled with mushrooms.
The fairy is one of my 3 woodlandgardenfairies I bought in the past at the Elf fantasyfair in the Netherlands.
In the summer they find their home in the garden and although they are made of cold cast bronze, I prefer to keep them safe inside in autumn and winter.
When I saw these I fell in love immediately and I saved each year some money to buy another one... You can find them here.  
More handmade creations: the tag with the gnomes is one of the tags in my "into the woods" enveloppebook you will see a bit further.
The wooden toadstool is handmade by someone my mom knows. He has them in different sizes and I'm a lucky one to have one in my possession.:)
On the right the covers I made for an ATC book : it's not ready yet, but the covers suited perfect in my autumndisplay. 
The covers are made with dylusionsinksprays, gelmedium, stencils of thecraftersworkshop and a selfmade stamp ( based on the drawings of Brian Froud).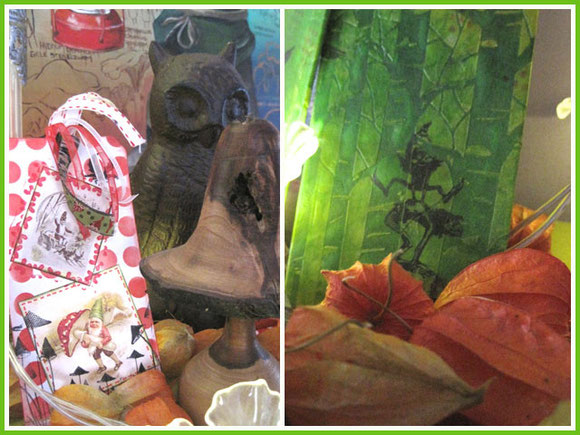 The orange lanterns are from my own garden ! I took me 1,5 hour to pick them all from the stems but I wanted to save them all. They dry perfectly and add such a vibrant touch to my housedecoration.
In the past I put these on  christmaslights !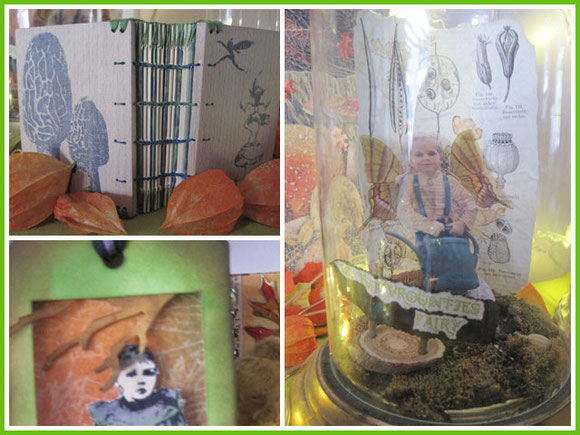 I put a green piece of fabric on the piano, but covered it completely with these orange lanterns.
The wooden book is made in bookbindingclass with the double Ethiopic coptic stitch. I love how stamps can be added on the wood covers and even in plain black ink they make an impact.
On the left a glimp of the autumn 3D tag I made for the childrensworkshop a few weeks ago.
On the right : my own gardenfairy.
I giave my daughter Gaia as a two year old wings with photoshop and printed her on a transparency.
She' standing on moss and little stones in an old glass belljar: I love to reuse these glass ornaments and give them a new life. 
On the back of the glass I added a vintage bookpage of ...poppies ( you know : one of my favorite flowers ! )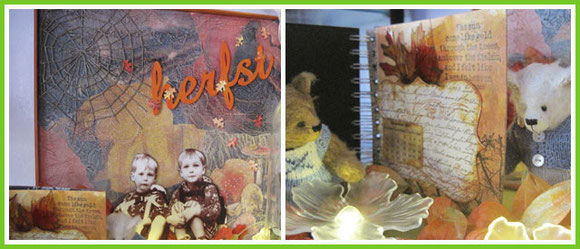 On the left an autumncanvas with my two sons when they were 2 and 4 years old.
I collaged the background with magazinepaper in autumncolors and whitewashed the background. 
I handstitched the spiderweb through the canvas and added glitter with stickles to represent the dew-drops you find in the mornings.
The word "herfst" ( "autumn" in Dutch) was cut out of foamcardboard and painted in orange.
The photos of my sons were also glued on the foamcardboard and cut out so they have a 3D effect. I added leaves at their feet as embellishments.
I made such a canvas for each season all with photos of my children and me as children.
I love to have personal creations as decoration in my home.
On the right a bookpage of a calenderswap of ATT I was in a few years ago. The page is from Betsy Brown ( USA) and I love the colors on her page and the alcoholinked plastic as leaves.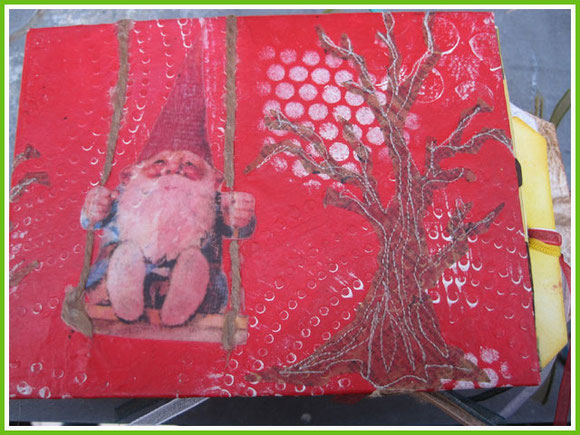 Another decoration in this autumndisplay is my " into the woods" enveloppetagbook that came home at the end of august after a year traveling in our local round robin group.
It started as an empty enveloppebook, but now it's FAT !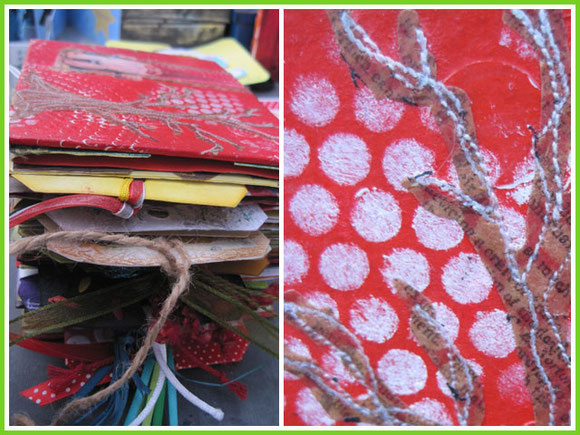 Look at all those tags sticking out and you don't have yet seen the pages ! 
There were 3 empty enveloppes left and I'm working in the book myself to fill it completely.
It's all about pop-ups.... but as this is already a long blogpost : I'll show you more of this book and the pop-ups next week :)
I showed you this book before it left off for the round robin, but that was in a blogpost on my previous website, so I wanted to show it again.
The covers were made with stencils, gel medium, paint, selfmade stamped waxpapertrees stitched on the paper. The trees are cut out with the die of Tim Holtz.
After I covered the bookcovers I completely covered it again with wax, let it seep in and then melted it off again. 
I love the effect this has on the paper.
You can see a bit of the leftover wax on the string of the gnomes swing..
That was the outside of the book : next week more of the inside ! 
Inge