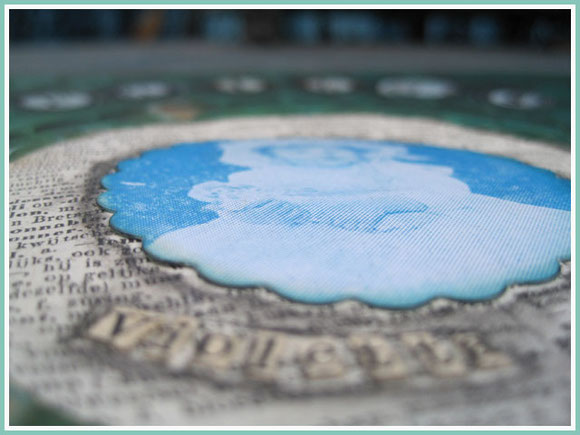 I'm involved in several round robins : a local round robin, a European and an international round robin.
Our local round robin has come to an end after one year. Yesterday we came together to meet, to chat, to eat and to exchange the books and see each others projects in the books.
I made applecupcakes, chocolatmousse and chocolatcookies ( first time I made these, but they are sooooo yummy...) and my friend made a rhubarb cake.
With a cup of coffee and some sweets we got started for a whole afternoon....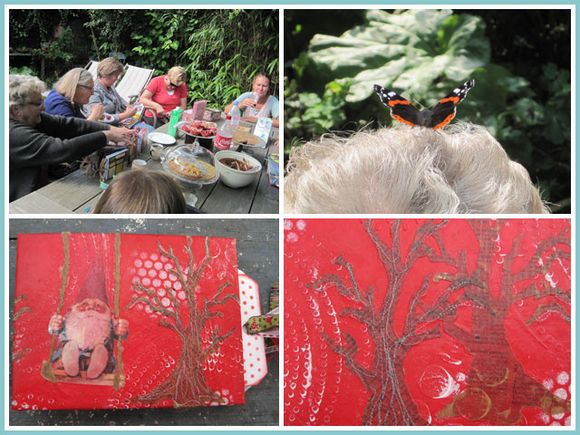 The enveloppebooks left home a year ago and came back filled with creative pages. We picked a name and looked at her creations in every book and did so for every book. 
This gaves us the opportunity to see how people evolved during the past year, if they grabbed back to some favorite colors or experimented with different techniques everytime,.. Sometimes you really could see someone developping an own style, others have different styles. Very interesting.
We were not the only ones intrigued by all the colors and textures in the books. There was a butterfly that came back several times to land on my mom-in-laws white hair ! :)
In november we start with a new round robin : an ATC enveloppebook. You can see an example of what it can be here. 
I haven't been creative at home past week, because it was filled with preparations for school tomorrow ! 
My body and back don't completely agree with this, but after being home for 9 months with backproblems I want to start again in my Poppyclass with handicapped children. We'll see what the future brings...
I decorated my class in a "summer afterparty" and I used Tim Holtz dies to make a banner etc.
I forgot to take photos, but I promise to show you some next week !
Another round robin that's almost coming to an end is an international one : the evolution journals.
I made the past weeks pages for Valerie's steampunk journal and Lillians book.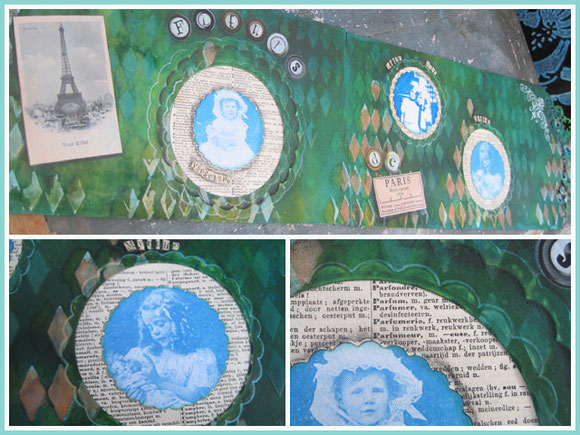 The previous page of Valerie for Lillian was with lots of geometric shapes in bold colors.
The harlequin shape got me inspired and I found a stamp of two girls with a harlequin image in the back.
Being back from Paris inspired me for a Parisian theme...
The background was made by painting with gesso and after this was dry, putting gesso through a harlequin stencil. I first inked the whole page in orange, but then found out that azurblue was Lillians favorite color...
So the page got another inkspraylayer with Dylusions spray and it turned out to be a green-blue background.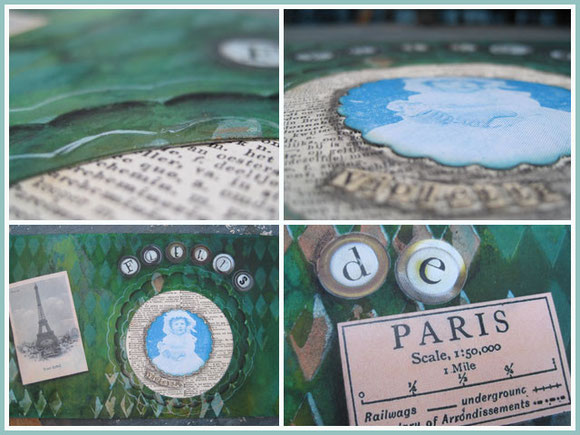 In my last workshop at home I teached the participants to use wafer thin dies and I wanted to experiment a bit more with this myself.
So, I punched out big circles with the circle dies and added texture by embossing with another scalloped circledie.

I loved the result of combining this two techniques. I enhanced the depth by adding charcoal pencil in the scallops.
You never know where the muse takes you, so having one stamp with little girls, I evolved during the project. The cutouts looked like flowers and in the open space I added vintage French bookpaper and photostamps. 
Each girl got the name of a flower : Myrthe, Lilas, Rose and Violette...
Here was finally the name of my page : " fleurs de Paris"... ( "flowers of Paris")!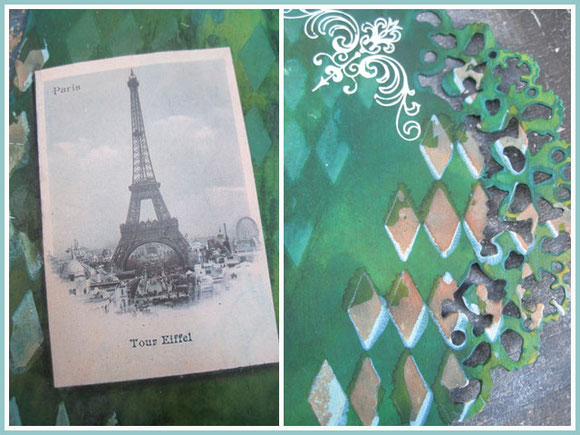 I had some images of Paris for ages, but I am more drawn to stamps then to images, so I use them very rarely.
The image of the Eiffeltower finally found it's spot here on this page.
As the evolutionjournals are also about "going over the edge", I used the "doily edgedie" of Tim Holtz. This refers to all the lace and frills on the clothes of children of the 1900's.
I had a lot of fun making these pages because of experimenting with the dylusionssprays ( which showed in very inked fingers...) and different dies and techniques.
Another journalpages I made are the pages for Valerie's steampunk journal that's "out of the world" if you could see it...
Seeing the photos of the previous projects in this book made me a bit scary of the high level of the projects ànd what more could I add to the steampunk theme ?...
Gina made an amazing textured collagepage with a steampunk " mother of invention"...
This word swirled around in my head and made me think of "mothers of invention", the group of Frank Zappa...
I wanted to do something with Frank Zappa whom I find a very attractive guy... ànd he was in his time an inventor of new ways of music and experimented a lot with styles...

Here's my interpretation of a Frank Zappa in steampunkmode...
I made the background with gesso again and a stencil of gears to make texture.
With modern option paint I achieved the copper verdigris effect.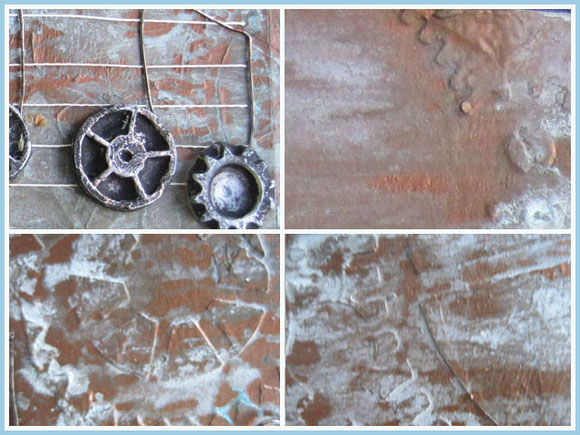 I don't have lots of metal gears cause they are quite expensive here, so I made some myself...
I made a mold of several of Tim Holtz gears and used UTEE to make several gears. I painted them in silver and then overpainted them with black paint. 
The black was rubbed off before it was completely dry, so the silver is exposed again, but there is black in every cranny and nook of the gears.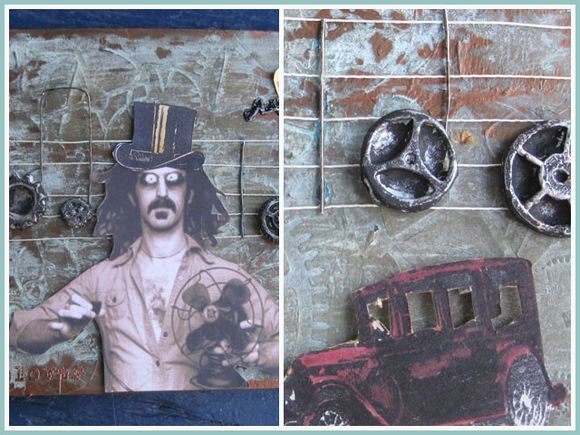 I used the gears as musicnotes on string I sewed on the backgroundpage. The notes form the first notes of " Bobby Brown".
A downloaded image of Frank Zappa ( changed to sepia color in iphoto) was mounted with 3D foam on the background..
I like Frank with his high gentlemanhat !
He even got his "fast car" : a Tim Holtz stamp.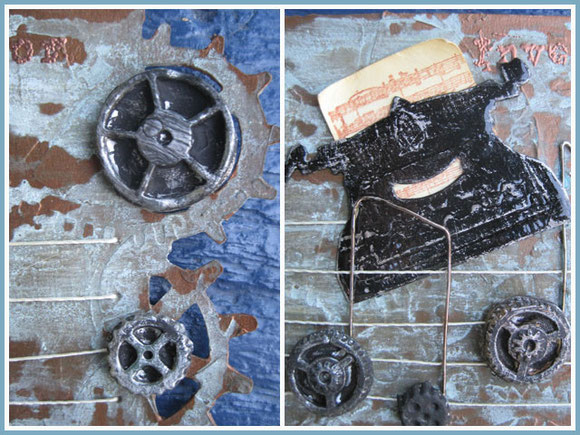 The edge was made with the gears edgedie of Tim Holtz and selfmade gears were added as an extra textural element.
I bet Frank Zappa could have invented a typewriter with which you could write music...
Typewriter is a die from Tim Holtz and was cut out of cardboardpaper, painted with black paint and distressed with sandpaper. I added glossyaccents on top.
Because of the busy week for school these pages are still in Belgium, but today I'll wrap them up and send them off to the US.
Only two more evolutionjournals to go and then we are ready for another new project ! 
Inge