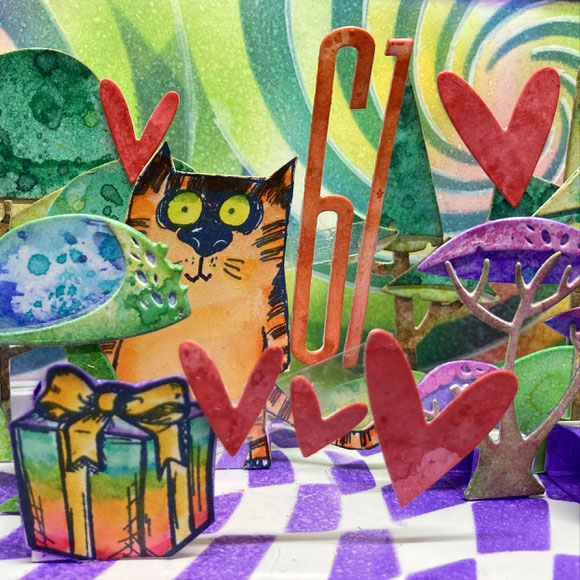 My husband Wienne loves bold rainbowcolors and psychedelic art: music, art, colors, patterns, shapes,...
So I made him a very personal birthday pop up card.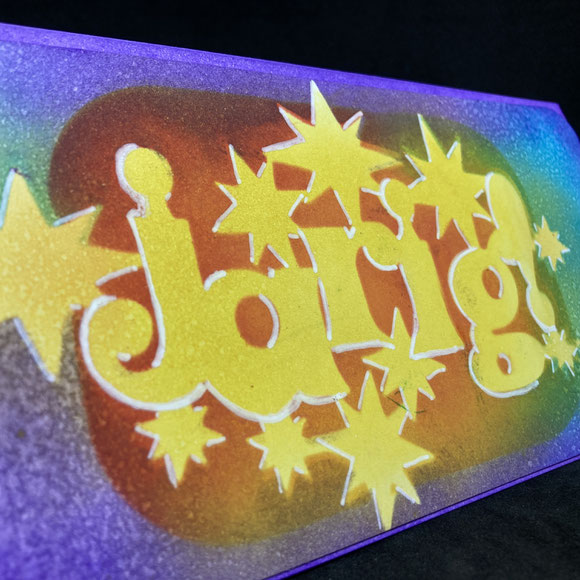 On the front of the card I added the word "jarig". This is the Dutch word to describe someone has a birthday.
The stencil "jarig" was designed by me and cut out with my scan n cut from Brother.
I inked the stencil with distress inks from Tim Holtz and gave the letters a little white shadow with a paintmarker to make the word pop up more.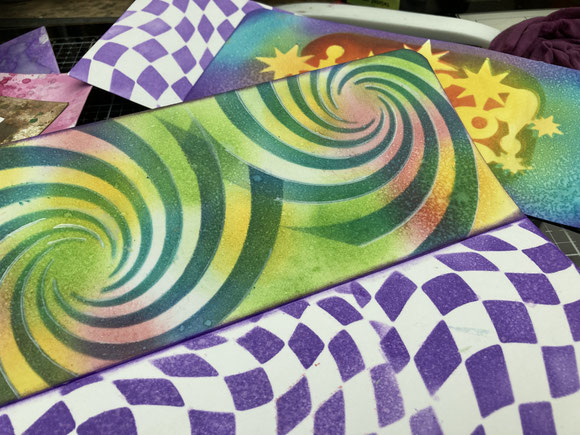 The inside of the card was decorated with distress inks and 2 wonky, psychedelic stencils van Visible Image.
The perfect backdrop this psychedelic pop up card !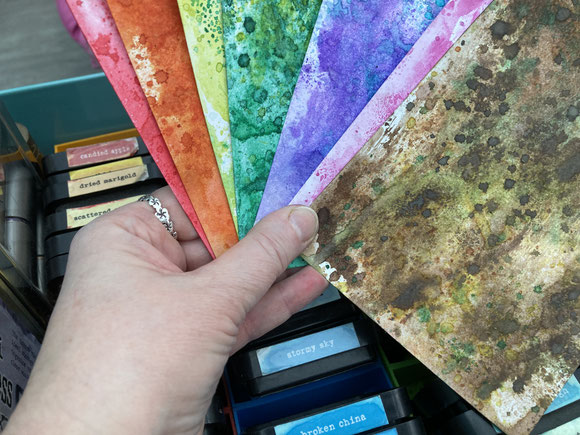 First I made a lot of different backgroundpapers with the distress inks from Tim Holtz and plain white paper.
I put different shades of one color of distress inks on my mixed media mat, spritzed water and then dragged the paper through the inks. 
Between every layer the paper is dried with a heatgun, so the inks get layered and don't mix.
You can find a lot of youtube videos of Tim Holtz for this technique or you can have a look at his lives where he shows how you can use distress inks in different techniques.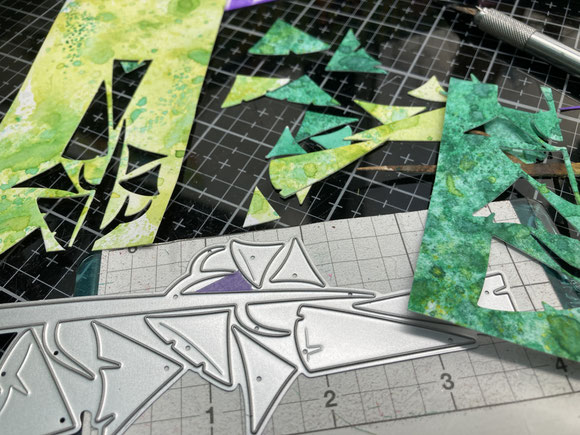 The colored inked backgrounds were used to make the psychedelic trees and toadstools.
I used the funky trees and funky toadstools thinlits. 
It takes some time to die cut everything and glue everything together, but I think it makes all the difference !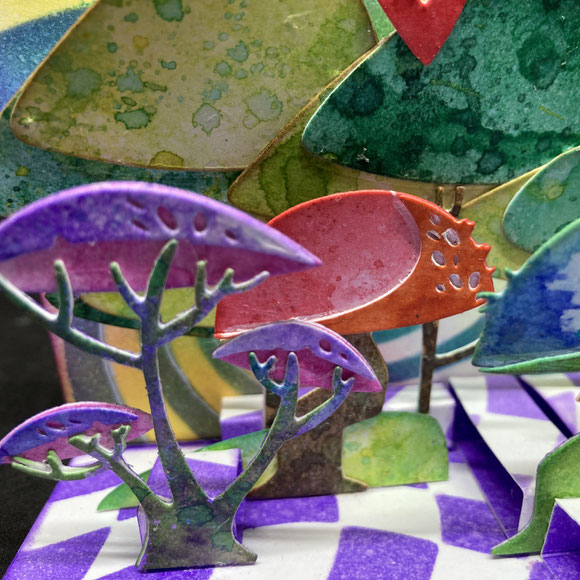 I love the psychedelic forest and would happily live there !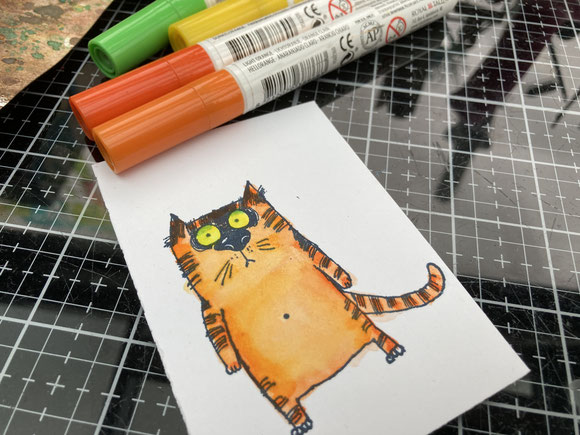 Snarky cat is happy in his psychedelic forest !
The stamp of the snarky cat is from Tim Holtz, but this one looks sad or not happy, not very suitable for a birthdaycard..
With a permanent marker I added two lines to his mouth and now he's smiling !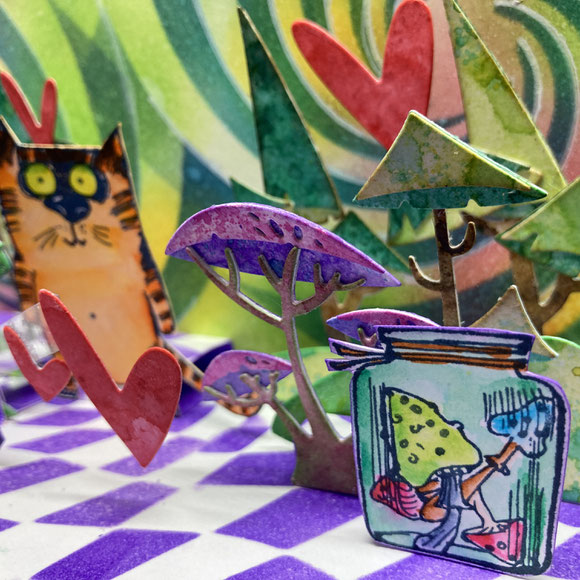 A psychedelic card needs some magic mushrooms.
Never tried them out myself, but read about them and saw documentaries and they can have good use if used wisely!
Birthdaycat feels happy...
A pop up card needs to pop up !
There are several pop up techniques and this one is an easy one, but you can make it as easy or as elaborate as you want by adding more and more elements.
It does take a lot of time and you need to know some principles of this technique so the images don't peep out of your card when closed.
I learn a lot by looking at pop up books, but on youtube my masters in pop up are Matthew Reinhart and Duncan Birmingham (pop up channel).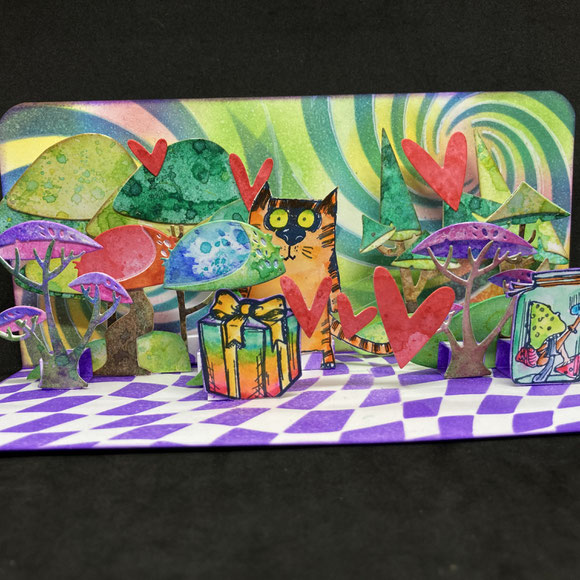 This is the finished birthdaycard for Wienne ! 
I'll definitely get this pop up card printed into a postcard by MOO for my Pinkepinke shop on etsy ! 
No better way to see the fun of a pop up card, by seeing it pop up and move ! 
On my youtubechannel you can find more of these!
I hope they inspire you to try them out yourself ! 
Start with easy techniques and only by making them again and again, you will learn and improve. When I look back at my first ones of 2007, I evolved a lot, but that's because I made mistakes, I explored and played and above all... enjoy myself in making these ! 
greetings from Belgium
Inge