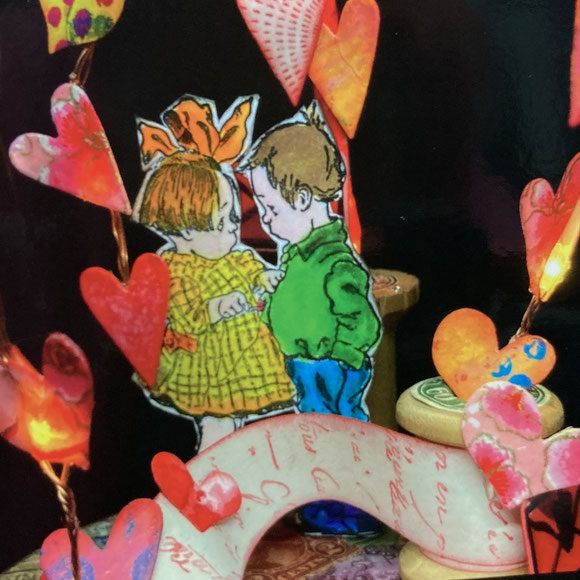 Give me white paper, inks and paints, stamps, scissors and a cutting knife,... and I will turn it into a colorful creation ! 
That's what I love the most: starting from white paper and building all the layers.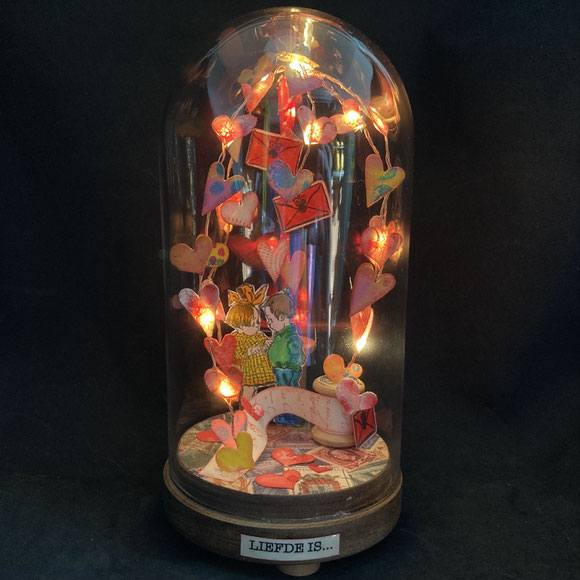 This glass dome "LOVE IS.." is an attribute I made for the multi-sensory theatre of Mabasenso " Hekse Hikse Huisje" about two witches who live in a little house in the woods that is bigger on the inside then on the outside.
They play this theatre for people with disabilities, toddlers, people with dementia,...
I made a OOAK pop up book, a box for this book and 8 dreams in glass.
These will be used when they play in the bedroom from the witches!
The glass dome is from IKEA and is about 20 cm high and 9 cm wide (7,8 inch hight, 3,5 inch wide).
The wooden base stands on 4 old bingopieces, so there is just enough space  to put the batterypack of the tiny lights in between and it is easy reachable to put the lights on and off.
I cut a slit in the side of the wooden base so the string of the lights fit in and the glass can be put on easy.
Base was covered with a stamp scrapbookpaper ( I need to use my scrapbookpaper up that I have...) and this one fitted the theme.
I added some old wooden spoons and a stamped paperscroll ( "love letter").
Love is... sewing a new button on your friends shirt ;)
I love this stamp from The Stamping Ground: stamped with permanent ink and colored in with distress stains from Tim Holtz and a watercolor pen.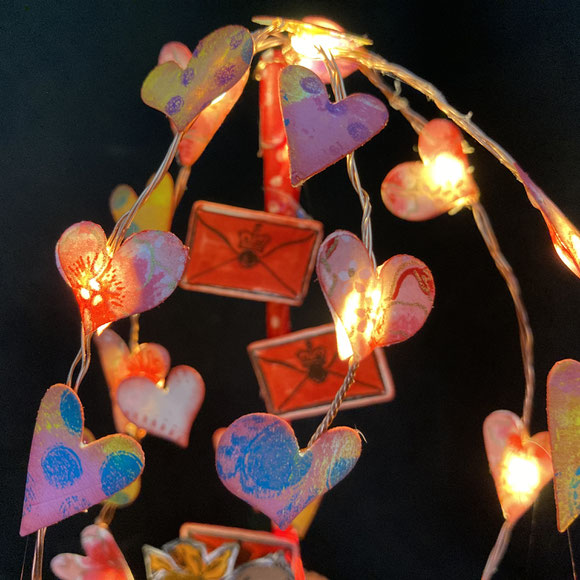 I drilled a hole in the base and glued a wooden stick in it.
This stick holds up the string of ledlights I twisted and let dangle like the shape of an umbrella.
The hearts were cut with the "heartfelt " die of Tim Holtz out of all kinds of scrappapers : handstamped, gelliprinted, handmade Japanese washi papers,.. 
I pressed the ledlights between two hearts. Some papers are translucent, other let the light shine from the sides,..
The paperletters are made with the envelopstamp of my Alice in Wonderland stampset from Oxford impressions.
On the front of the glass dome base I added a strip with the title of the "dream in glass" ( "liefde is.." is Dutch for "Love is..")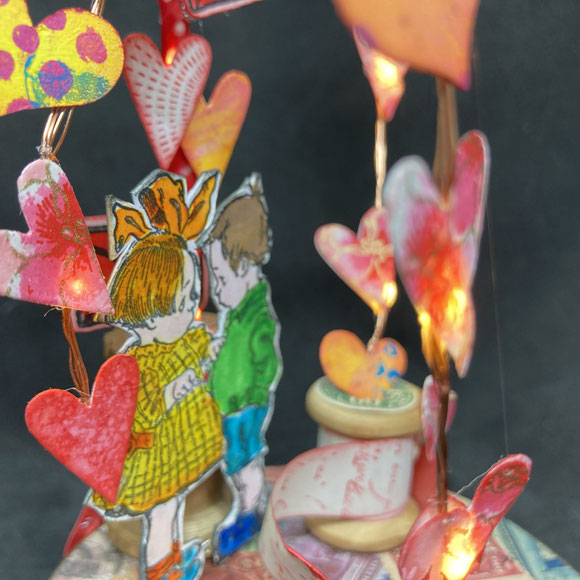 I love to make ooak projects, but this also means they leave the house and then they are gone for an adventure outside of my house.
Luckily I can take nice photo's with my phone ! 
I always take a lot of them so I can see and remember all the details I added.
And sometimes when I look at the photos I think... 
Well, this one would look good as a postcard ! 
So that's how my postcards are made.
Photos from my own creative projects that I get printed by MOO, a compagny that prints in such an amazing way you can see the depth of the original even in a flat 2dimensional postcard ! 
This "love is" postcard is now in my Pinkepinke etsyshop together with my handmade pop up cards, my handsewed books and many other postcards ! 
Perfect for a Valentines card, but why not give it to a friend of someone else you love ? 
Spread the love by sending real mail ! 
greetings from Belgium
Inge