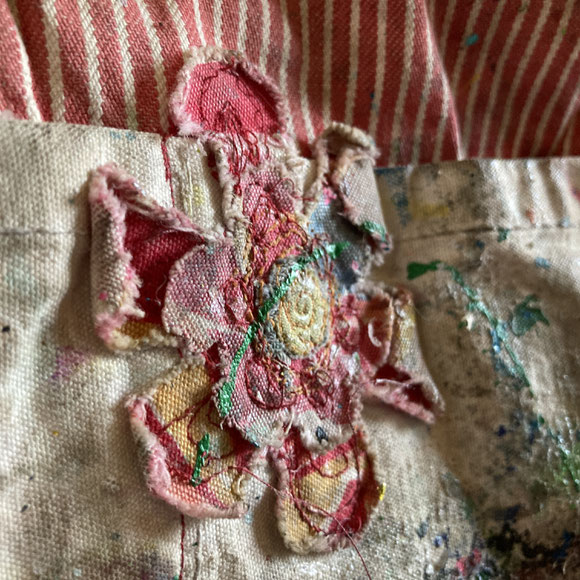 I made an apron in 2011 with Oilily fabric I found in an outletstore and a piece of the Tim Holtz apron I recieved after ordering one of his books. These made up the body of the apron.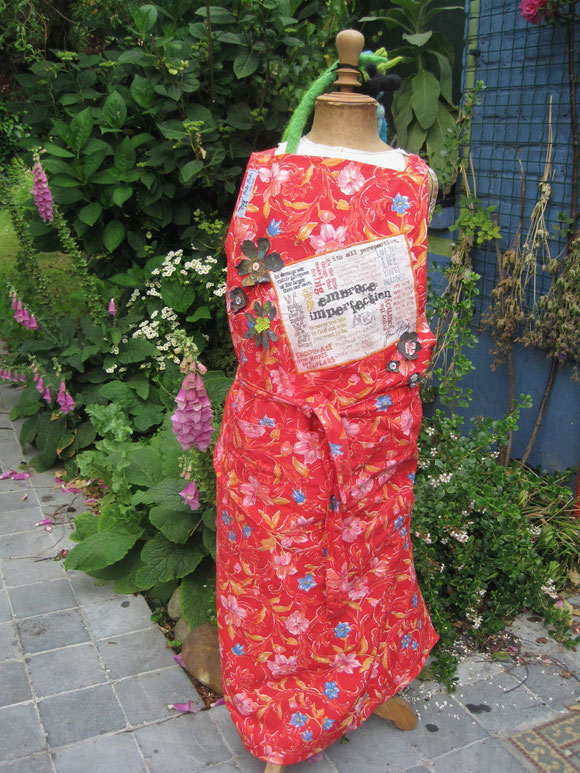 I also added flowers made from the previous apron, a blue one, that my mom gave me 10-20 years before ? 
The apron had such beautiful stains in it and holded so many memories of creative moments, I wanted to do something with it.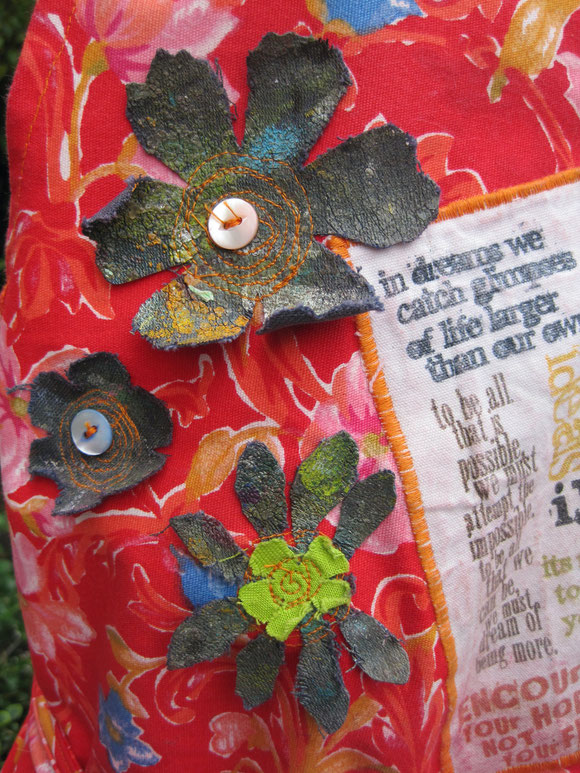 That apron died a few years ago and I made a new one, a red striped one, again with outletfabric from Oilily, reusing the Tim Holtz quotes fabric, fabric flowers made from the two previous aprons,...
I used this apron the past 7 years daily whatever I create with inks, paints, markers, glues,.....
It also traveled with me to Coventry in the UK in 2018 for a week filled with artworkshops with Julie Fei-Fan Balzer and Nathalie Kalbach.
A trip on my own to the UK after being chronically ill for so many years and being at home since 2015 after my physical crash.
The whole creative week filled with inspiration, creative play, the kindness of the teachers, the shopowner who organized it and the other participants,... were a gamechanger for me that moment.
It was definitely a start of putting myself and my creativity more on the foreground in my life. Also one of the moments that started my healing..
It went with me in 2019 to Amsterdam for a handletteringworkshop with the amazing Mike Meyers from Better letters. Again a revelation, creative play, meeting new people.
I think my well-used apron was already at it's end for about 2 years... 
The fabric was stiff from glue and paints and there were holes in the pockets, so they could not hold stuff inside anymore, the ribbon to tie it around me was so frayed, I could sometimes hardly unknot it to get it out!
But a combination of balancing energy, prioritizing time to other things and an I-do-not-want-to-quit-this-apron-feeling made me procrastinate...
But new times, new year, new challenges,..
Time had come to finally get behind my sewing machine and make a new apron !
And of course, it's about re-using, recycling and upcycling ! 
The yellow-white fabric is from an old curtain, bleached on one side by the sun, but the other side was still colorful enough.
Some parts of the fabric were fragile because of the power of the sun, so I took the most sturdy pieces to make the apron out.
For the breastpocket I used a screenprinted piece of fabric that was not 100% right for the cushioncovers I made from the other prints, but still too good to be thrown away ! 
The drawing is from a painting my mom made of our house with cats in her own imaginary way.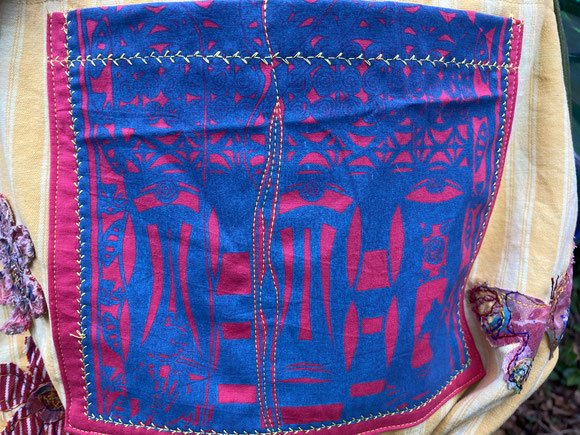 For the other pocket I used a printed fabric that was once a printed bag.
Bag was worn out, but I saved the printed cover for years for the right occasion..( now ! ;) )
The print shows all kinds of things I make: sweets, books, softie harlequins, postcards, pop up cards, 3D projects,...
The bag was perfect to show people if someone asks : "what do you create ? "!
Now my apron will tell this story.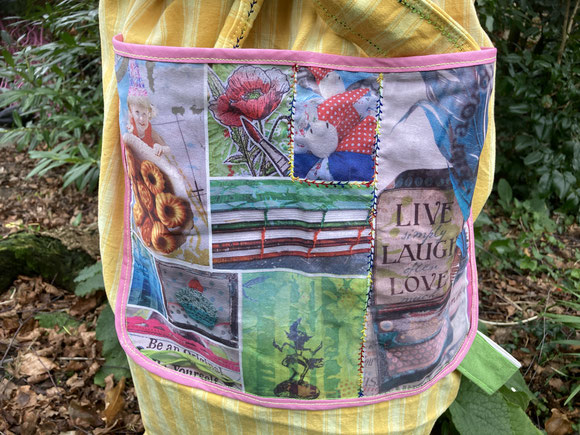 The reused, upcycled apron would not be complete without pieces of my previous aprons. So there are stories of more than 30 years on this apron ! 
And now I fly into a new year with new adventures of life and hopefully lots of creative projects and connection with other people.
I'm flying into the unknown 2022!
Exciting !! :)
greetings from Belgium
Inge