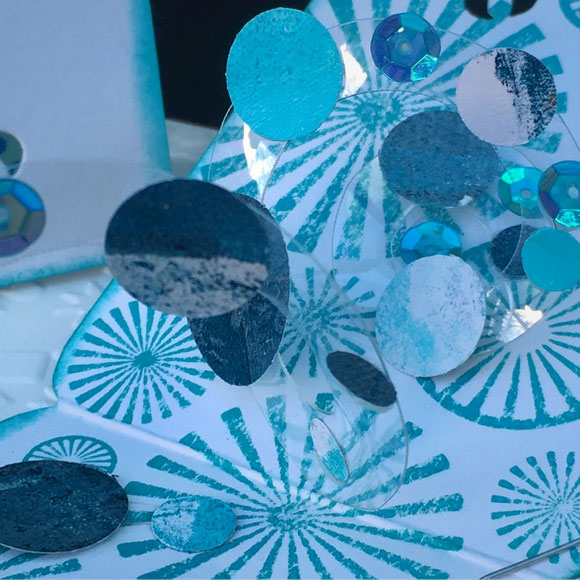 New year, new intentions or renewed intentions...
I really want to give my blog a new chance, cause I always loved writing these stories.
People who followed me in the past, know I struggle with fibromyalgie and CVS since 25 years.
After 5 years of crashing I'm still at home and I probably will never be able to work at my passionjob again: teacher of the Poppyclass with children with severe disabilities...
At first, life seemed to get on hold, but now after 2 years I found a new rhythm in life and all those years, creativity has been my saver.
It kept me sane and helped me to avoid depression and it gives me joy every day ! 
This is something I shared in the past and still want to share!
One of the ways to do this is sending handmade New Years cards.
It always takes me a lot of time... end of january is always my goal to get them all out of the house... but it's 2018 for 365 days, not ?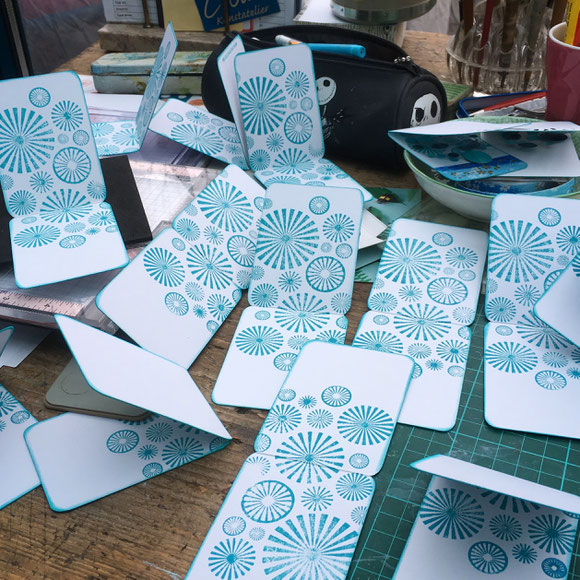 Since 2007 I make my cards in ATC-size ( 6,3 cm/ 8,9 cm) and in white and hues of blues.
Once I started this I couldn't go back, cause this makes a lovely collection and my recievers even expect I add one to their collection !
On the inside I stamped with distress oxide inks (Ranger and Tim Holtz) and stamps of one of my long-admired artists Michelle Ward.
On her site you can buy several of her own designs: stamps and stencils.
This stencil looks like fireworks for me, so everyone can use some sparkle and shine in the new year.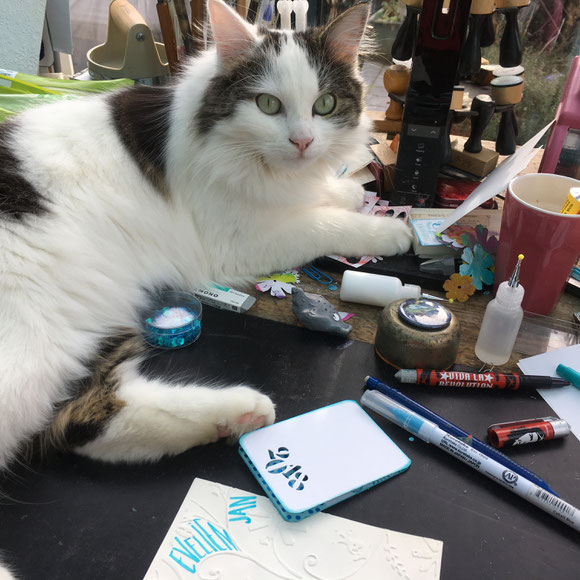 One of the reasons my cards take a lot of time is.... distraction and obstruction by my cats !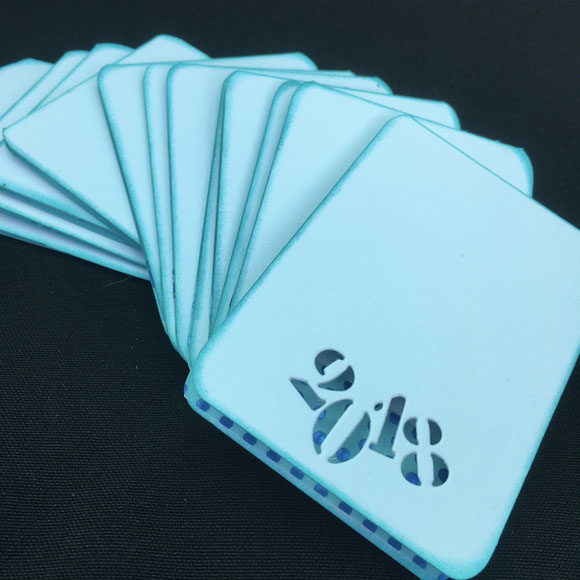 The cards are double ATC size so I could make them into a folded ATC-card.
On the front I diecut the year 2018 with metal numberdies from Tim Holtz.
This gives a little peek of what happens inside the card ! 
Don't forget to add some ink on the edges of the outside and inside of your cards, cause this little touch really helps to draw the attention of the viewer inside.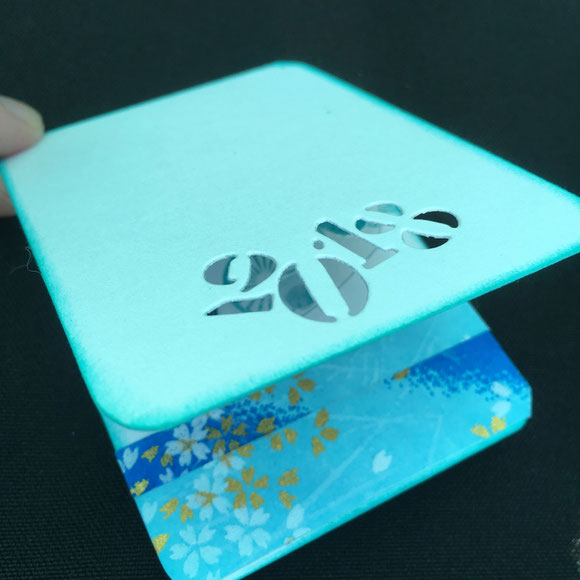 I added washitape from therareorchid on the bottom where you can see through the numbers.
I found the screenprinted washitape and papers of therareorchid through instagram and ordered twice from them. They have awesome prints and the owner is a very sweet person who runs her own small business.
And if you are a maker yourself you definitely have to support other small handmade businesses ! 
Inside the card I added a spiral popup.
I cut a spiral from leftover packagingpaper for the spiral.
In the future I will show here on my blog how you assemble a spiral popupmechanism !
On the spiral I added little circles.
When you gelliprint with a gelliplate (mine is from gelliarts),  you always have leftover papers and especially the paper where you clean your brayer, can have lovely textures and colors.
One of these scrappapers had several hues of blues, so perfect for the circles for my new-years-cards ! 
I love how my popupcards turned out.
They are little cards but with a surprise inside with a meaning..
I wish sparkle and joy in 2018 with lots of little happy moments that make life worth living.
The spiral is an upgoing spiral...so if you want to climb a mountain... take the winding road. It takes more time, but gives you more chance to reach the top.
An advice I take for myself too ! 
To keep my popupcard open, just put a little paperclip in the middle fold.
My popupcard will be displayed the whole year.  Everytime I pass by, it will remind me to stay positive and live in an upgoing spiral.
Same wishes to you all ! 
greetings from Belgium
Inge