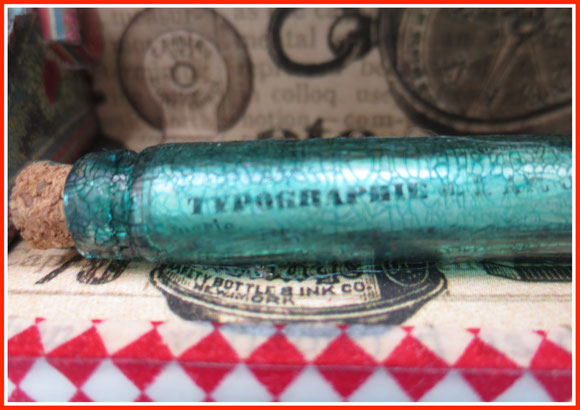 Making something from almost nothing... thàt's what I love about creating..:)
Do you remember that I told you in my previous blogpost about a big box full of "throw-away" cardboardboxes ? 
Well... here she is..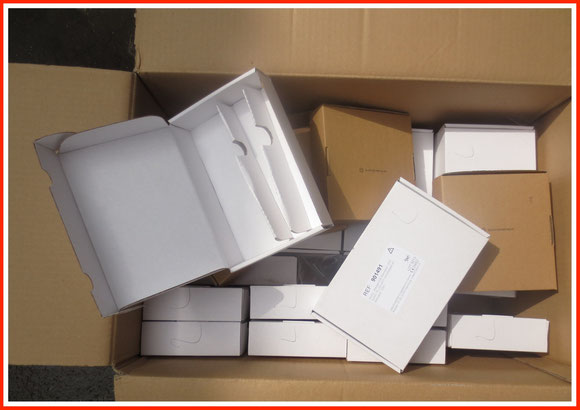 My husband once said : "never marry a teacher... you can't imagine the amount of stuff they bring home".
After 27 years of marriage.. HE is the one who brings stuff home for me..I think I got him infected...LOL
As soon as I saw these boxes I was happy he didn't threw them in the recyclingcontainer.
Such nice cardboardboxes.. I immediatley knew I could do something with them.
I already upcycled some of them into "cabinets", but here is the promised 4th project : a Graphic 45 typography cabinet...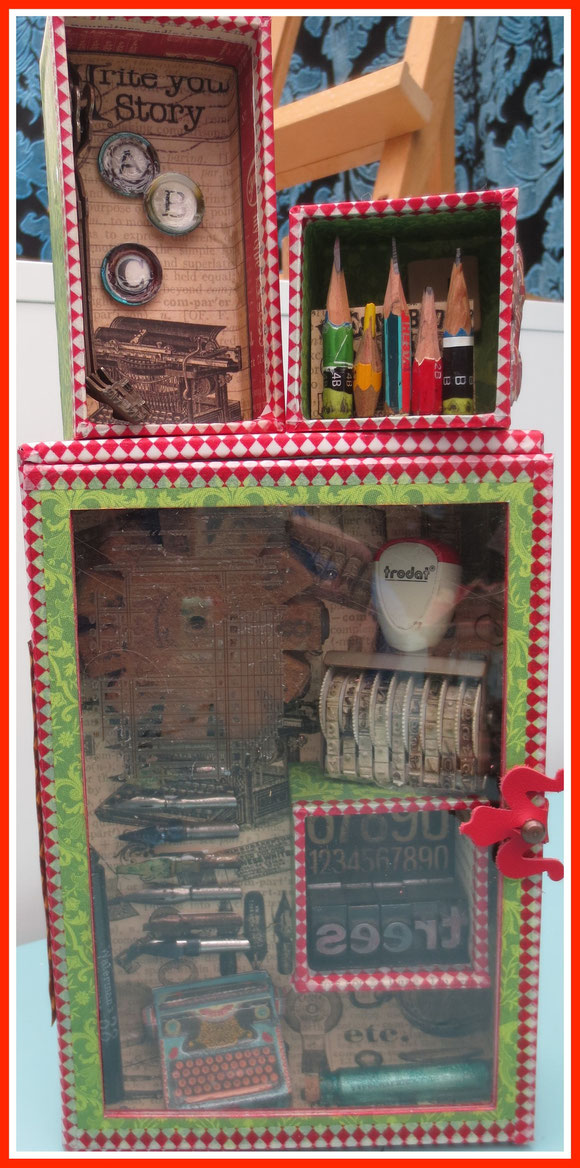 I used the cardboardbox as the big cabinet and made 3 little cardboardboxes myself with a sheet of sturdy cardboard.
I covered them all in Graphic 45 papers and washitape.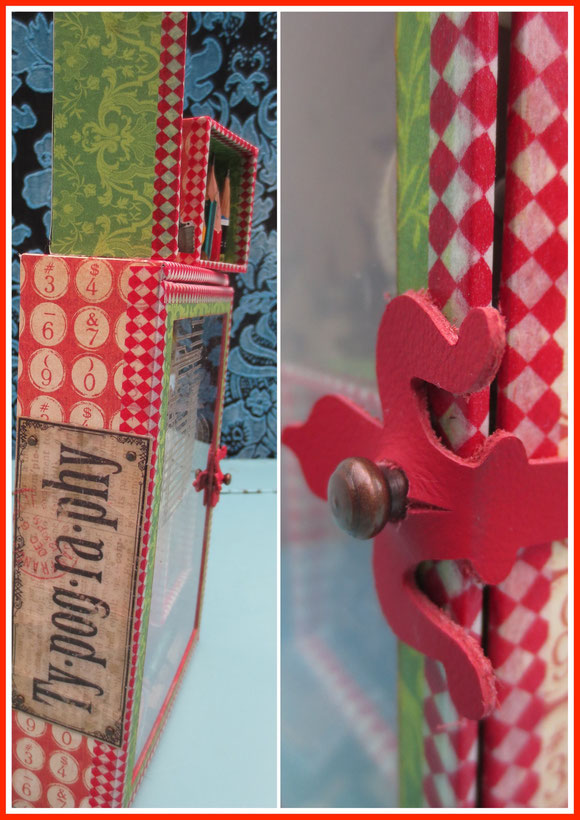 Here you have a sight on the sides of the cabinet.
On one side the text "typgraphy" which I covered in 3 layers of UTEE.
On the right you see the closure I made with a hitchfastener from Tim Holtz and a leather strap I cut with his "metal findings"die.
I cut a rectangle out of the cover and placed a plastic packaging sheet  between that and another piece of cardboard.
The cabinet now has it's "glass"-door and can be closed.
I added some stamps and rub-ons on the plastic to add some interest, but it doesn't blur the view.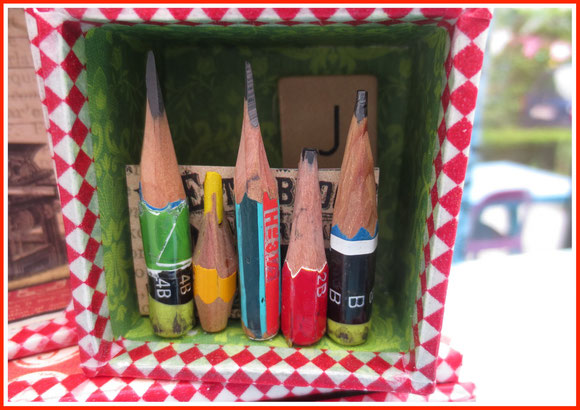 My mom draws and paints... She uses pencils a lot until they are almost gone.
Then she put them in a glass jar...
Understand now where my "hoarding" comes from ?....:)
She gave the little glass container to me so I could do something with them.
These little stumps are perfect for my typography box ! 
I glued them down so they could stand up in one of the little boxes on top of the cabinet.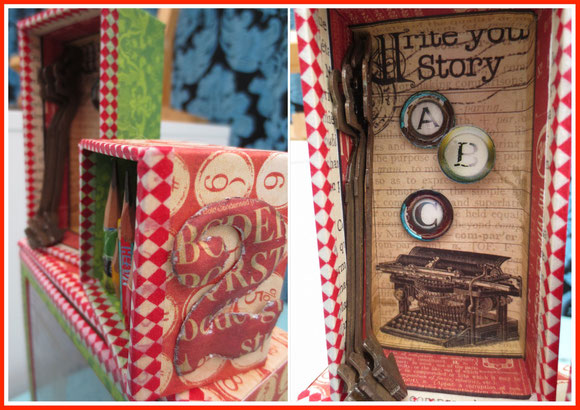 In the larger box on top of the cabinet I added some metal parts of an old typemachine I have. It's a bit broke, but I couldn't throw these parts in the bin.
My savings gave me a perfect embellishment for  this box!
On the left you can also see a metal number of Tim Holtz covered in paper.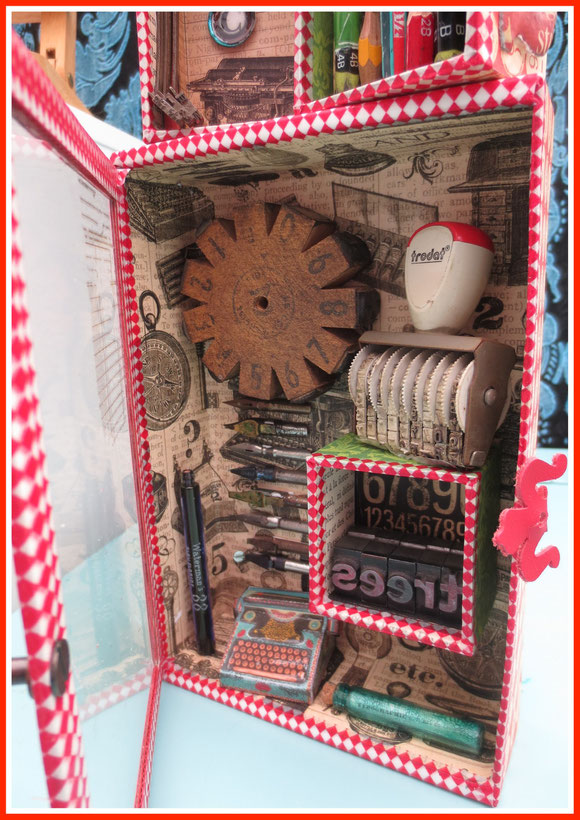 When you open the box, there is a little collection of stuff I had in my drawers: an old wooden numberstamp,  a datestamp, metal stampletters, inkpens,  a glass inkbottle,...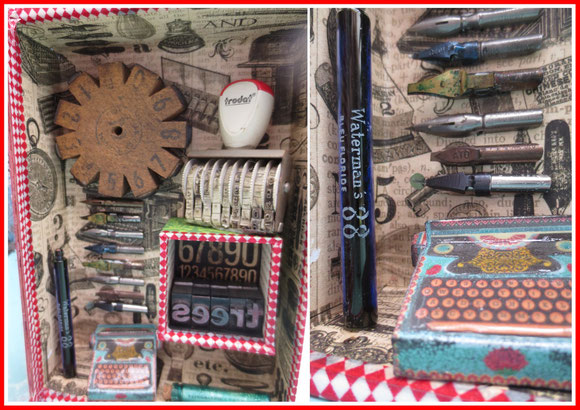 I also resized the typewriterprint to fit the box.( see for the link on Etsy in my previous blogpost if you are interested. She has lots of other nice paperstuff too)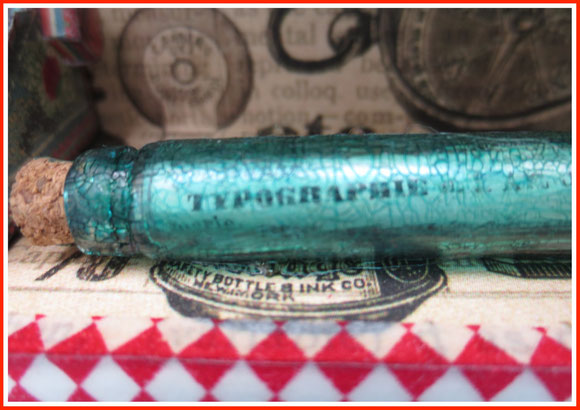 In one of my vintage dictionaries I found the explanation of the word typography.
I tore it out, made a small roll of it and put it in a glass bottle (Tim Holtz)
The bottle was aged with crackle paint and alchoholinks.
These cabinets are such fun to make.
I already made 8 of them...with different themes, gelliprinted papers, bits of my  stash finally find a visual place outside of my drawers...
I'll show you more of them in the future.
In the meantime... dig in your cardboardboxes and stuff and create one for yourself ! 
greetings from Belgium
Inge