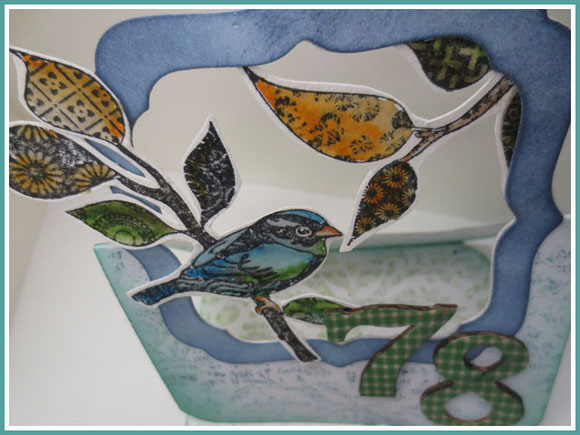 We had some birthdays the past 2 months in our family. Some are from the men in my life.. so a challenge to make a card :)
My husband Wienne became 53 at the end of january ! 
Although a lot of men don't really care about cards ( or they pretend to...), I made him a personal one.
I discovered the flying easelcards a while ago and wanted to give this one a try.
Wienne is a" technical" man...and I know there are no gears in a computer... but   the gears had to represent his technical skills :)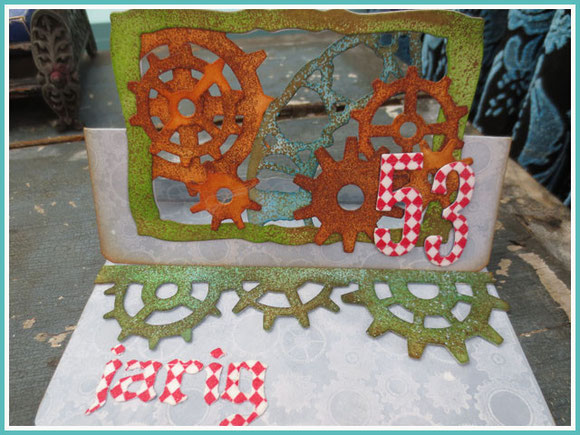 Flying cards mostly have something to "dangle" or to " fly" in the open space created by partial diecutting, but I love the see through effect you can make in the opening.
I cut several gears and the clock with Tim Holtz dies, colored and inked them with distress inks and embossing powders and stack them behind the frame or attached them to each other to make the "see through layer".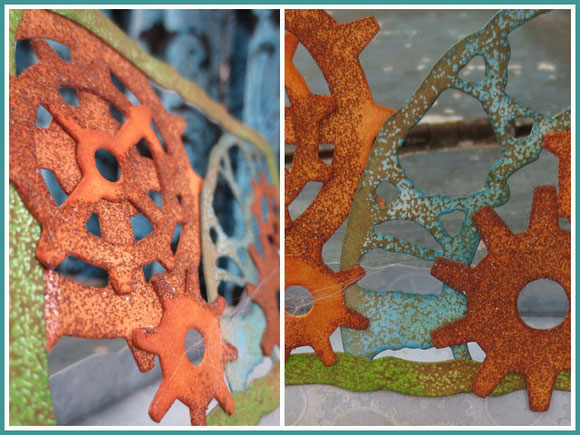 For the gears I used distress powders and you can see how "gritty and rusty" they are now.
For the clock I used the rusted enamel technique from Tim Holtz : inking with peacock feather distress ink, putting clear embossing powder on top and flicker some off again, melting the left over embossing powder and then overinking with a dark brown distress ink like vintage photo.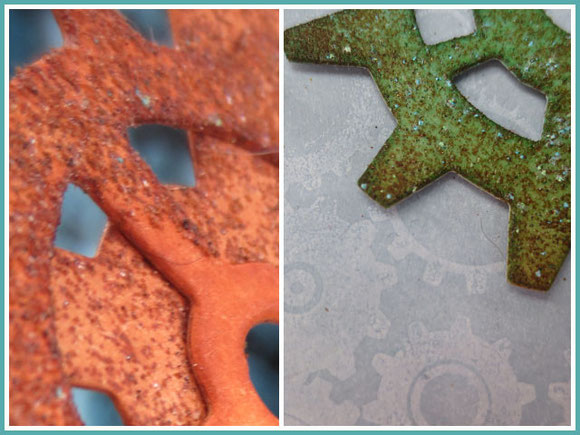 On the gears ( made with the gears edge die) which make this card in an easel-card I used blue as a base color and added some verdigris embossingpowder on top of the brown distress powder to add a bit of color.
The backgroundtechnique I used for the card was "resisting with white ink". I stamped a large gearstamp with white ink, dried it very good with the heatgun and then overinked with iced spruce distress ink.
A subtle background but more interesting then a plain background.
Another man in my life is my father-in-law : together with my mom-in-law they really accepted me as a "daughter" in their family. 
No horror-stories for me about bad mom-in-laws !!! LOL
Although he's been struggling with his health for years with all kinds of problems, he always pulled through and we are happy he's still with us.
78 years old ! That's already a honorable age.
He always quitched special birds for a hobby and because of his health he had to size down, but lately started again with four new colorful birds :)
His love for birds inspired me to make his birthdaycard.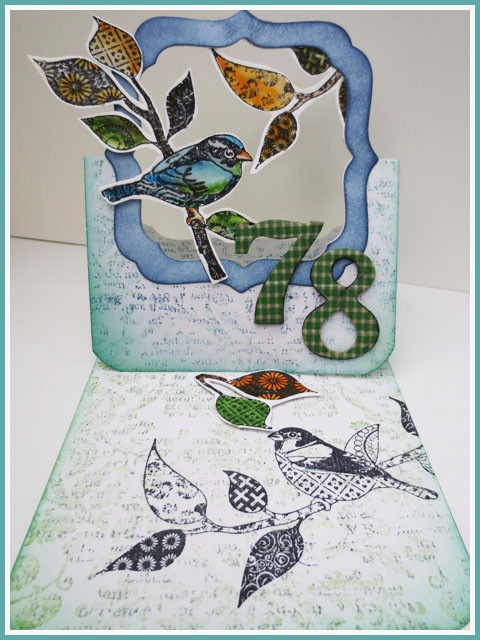 Background was made with the "kissing technique" in which you make stamps "kiss" and then stamp. 
Ever wondered how you get text or another pattern in certain spaces of a design ? Look here for a tutorial on the kissing technique.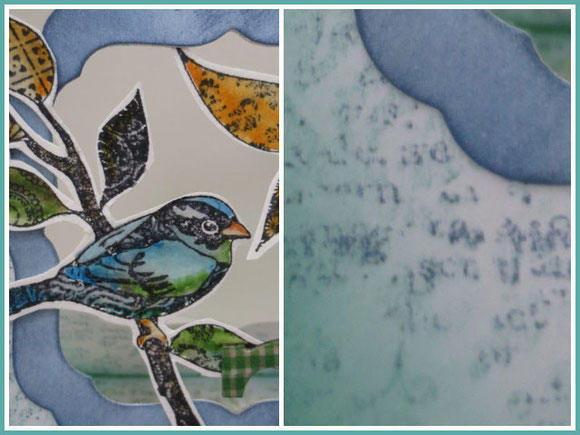 The bird was stamped with permanent ink on watercolorpaper and colored with the distress markers. Always a colorful result ! 
Past tuesday, one of my other favorite men, son Aran, became 23 ! 
He loves cats, so his birthdaycard has some cats on it.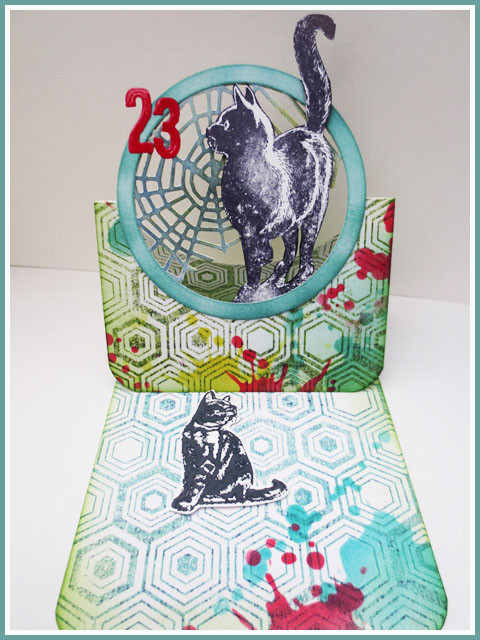 In the past I often made my men-cards in two colors ( mostly greens and blues...), but following the online cardclass "his and hers" makes me stretch my colorpalet for boys much further.
I chose a graphical stamp for the background, also a tip from the onlinecardclass I keep in mind when making a manly card.
I added some more layers on the background with stencils and distress inks.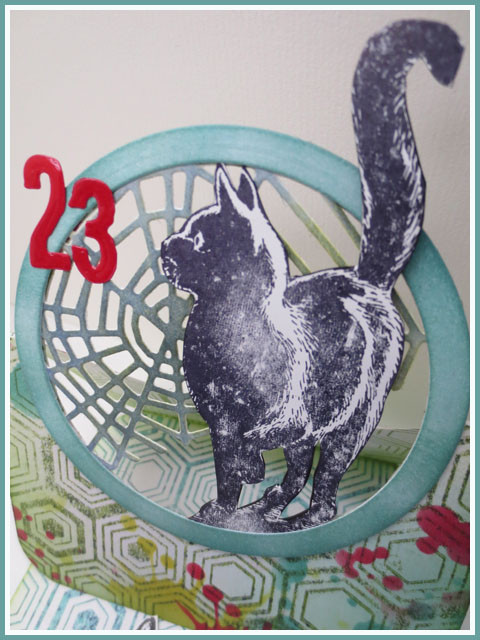 Here again I love the see-through effect. I created this with the spiderweb-die from Tim Holtz and a cut out of a stamped cat.
I had a workshop yesterday in my home where I teached " manly labelcards and flying easelcards".
The cards I made for the birthdays were perfect examples for what I wanted to teach, but I also made a real " flying" easel card as an example.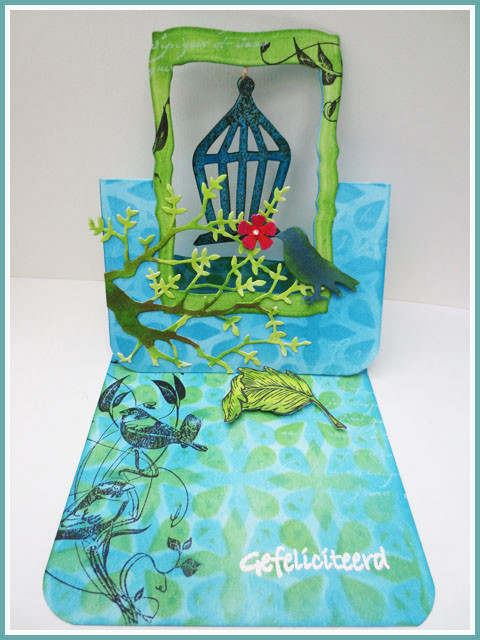 You have a partly see through by the diecut of the branch, but the birdcage is "flying" in the opening.
I used the enameltechnique again on the birdcage.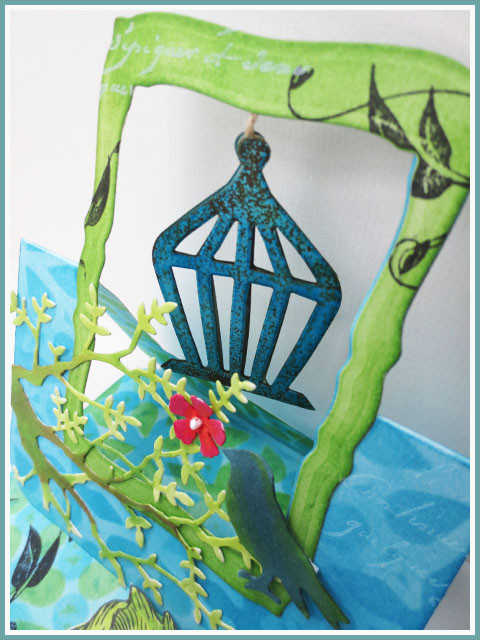 I love different layers in my cards, so next to inking the background with distressinks, I ink once or more through stencils, add stamped images in black, white,...
This layering is definitely my cup of tea ! 
I also promised you a little "pink"...
Dorien had her birthday in the beginning of february and I made her a handmade card and present.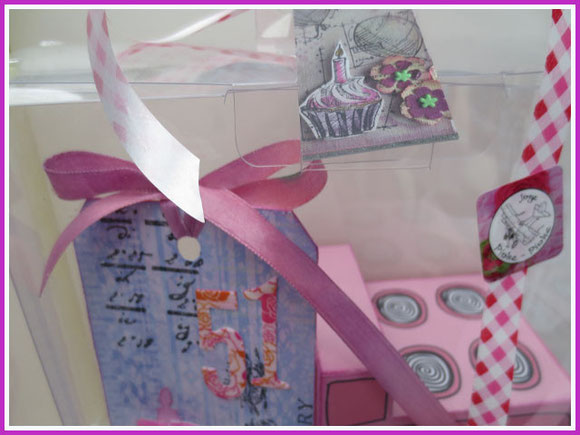 When I saw the vintage "paper" ovens on Pinterest, I fell in love immediately ! 
They are a design from Claudine Helmutt and she sells this ànd other retro -drawn stuff on her etsyshop.
I ordered this printable ( and some others...) and after paying you get a link to download the printables immediatly.
This one comes in 5 colors and I chose a pink one for Dorien, to match her card...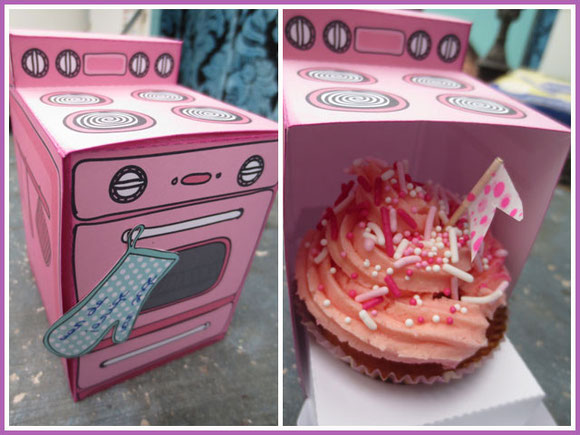 They are quite easy to assemble : just follow the instructions with the pdf.
I baked cupcakes with nutella and made pink frosting.
I'm not so fond of the frosting myself... I love all the gorgeous decorations people make on cupcakes, but I myself don't like the taste of it..
BUT... it lookes good, so I decorated one to put in the oven as a gift.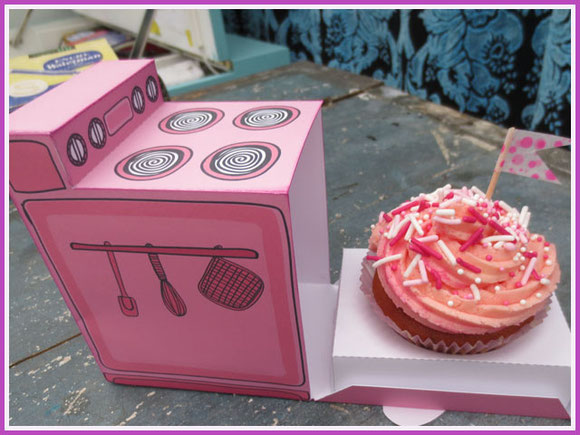 Inside the oven is a paperholder to put the cupcake in. 
I love this oven to give a little gift ! 
For years I make Dorien something with sewing, corsets,... as a theme.
I made her a labelcard with a 3D-dressfrom made with honeycombpaper and a die.
Background was again made with the resisttechnique with white ink and different layers on top.
Another addition for her "papercollection from me" :)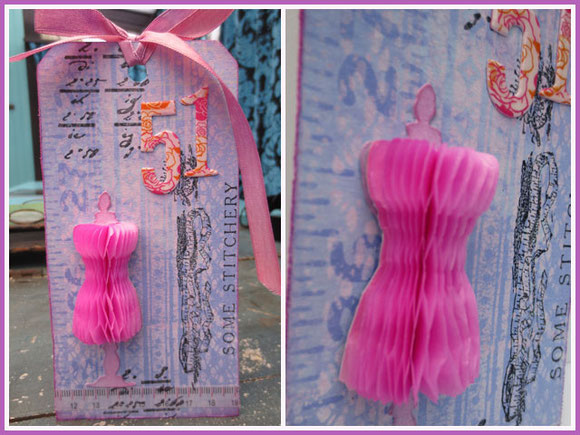 I'm working in my active moments on other creative projects..
But more of that in another blogpost ! 
greetings from a sunny Belgium
Inge