I got a sweet textmessage from Ellen, my collegue this morning to wish all the people she loves a happy day... I first thought: " why today ? " 
I guess I was NOT awake yet :)
A happy Valentine's day to you all ! 
I don't really participate in all the fuzz about Valentine, but I love to make a red display about who and what I love ! 
I surely love my three kids, but this display turned out especially about/ for my daughter...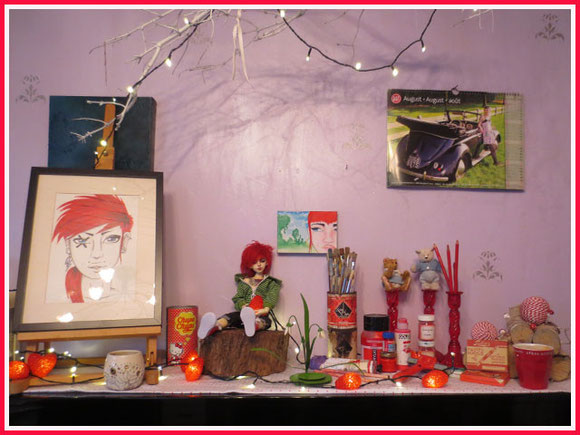 First I started collecting all kind of red stuff I found in my house: red heartlights, a painting with a red haired girl made by Gaia a few years ago, but it's still one of my favorites, paintbrushes in a vintage paintcan, red candlesticks, her ball jointed doll with red hair...
And while collecting I thought why couldn't I make it a little tribute to my creative daughter ?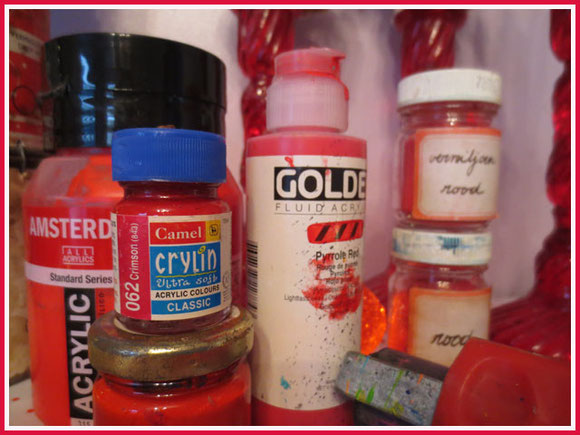 What Gaia loves most is drawing and painting, just like my mom.
First she had her own paints, but I see her more and more dig in MY stash, even my craftstuff to use it in her creations.
And collecting... it seems we have a range of reds in different bottles and jars :)
Gaia also loves to do her own make-up and she experiments a lot with colors and shapes, and yes, sometimes people turn around when they see her pass.
I smile when that happens : she sure brings color in the world ! 
She has her own style and I was thrilled when she said she was asked to do a photoshoot for a calendar ànd she could completely be herself ! 
When the calendar arrived here in january, there were real woman on each page : large, small,.. no photomodels from the magazines, but all women with a personality.
I complemented the guy who ordered these photoshoot for promoting his business of vintage volkswagen cars for this and he replied : " we sell real cars and we love real, not photoshopped women" :)
Gaia is the calendargirl for august...but she's already on display now :)
I not only got the real calendar, I also got all the photos of the photoshoot from the photographer on CD. 
Wow, photos of my daughter ( do you know it's hard to get photos from your children when they get older ?...) ànd a whole lot, real nice shots.
Another photoshoot that Gaia did was for a friend who had to make a photoshoot for school about " beautiful freaks".
Gaia turned herself into the icedemon again as she was in autumn with her selfmade props.
Another red item on the display is a chupa chupsbox with ... hello Kitty. Gaia loves horror-and fantasymovies.. but is also a fan of Hello Kitty...
When she was 14 years old we went to Elffantasy in the Netherlands. There she found out about ball jointed dolls and she bought her first one, ready made.
This little guy has been in a lot of displays the past years.
But because she loves to paint and to do make up, she wanted to give him a new face up.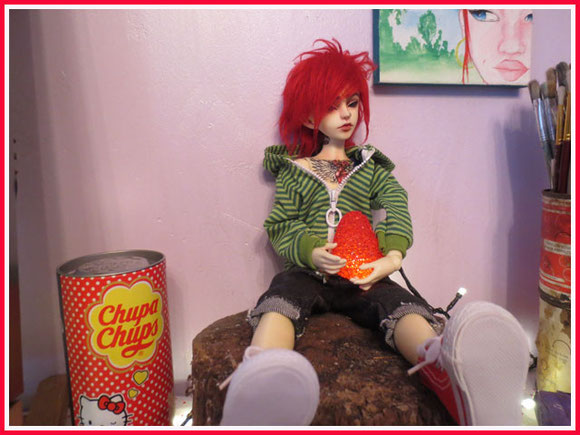 Gaia also loves tattoos ànd her boyfriend Sam.
One day I found her painting Wolf, the ball jointed doll on his chest and I was amazed...
Wolf got a tattoo on his chest and neck ! And not just a tatoo, but the same tattoos Sam has in real ! 
If you know how small a ball jointed doll is, you know how small the crown is on the neck...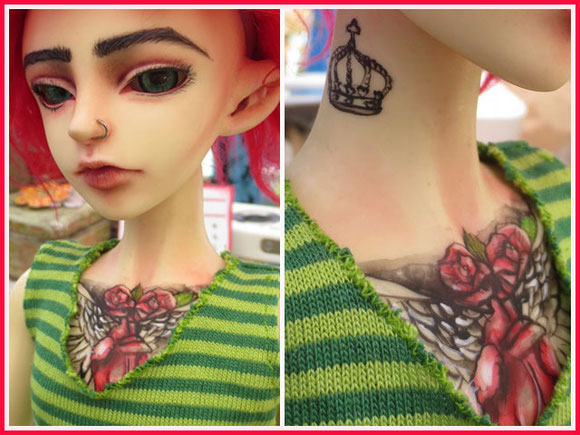 I love the details and shadows she painted in the tattoo, just like a real one..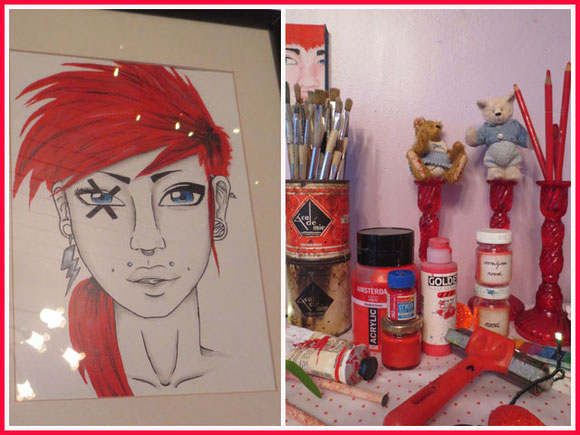 More red stuff.. even my gelliplateroller was added.
My little bears sit on top of red candlelightholders and as "uneven" numbers look more interesting ( and I have no third bear),  I added three red pencils in the third candlelightholder.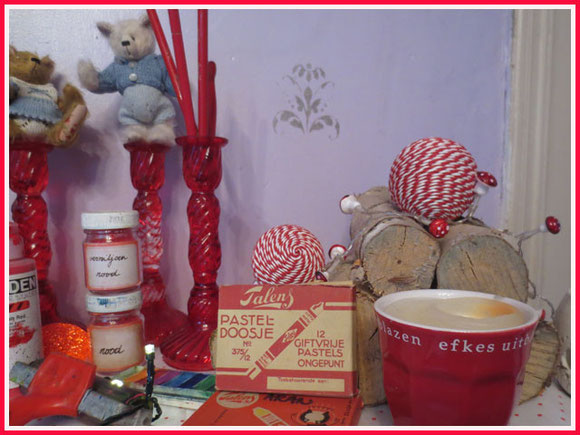 In my stash I also found old oilpastels in vintageboxes.
On the red candlecup you can read the text " efkes uitblazen" ( Dutch for : "take a break") and passing by this display and seeing this quote I get reminded to take much needed rest, to have some quiet time between busy moments... we all do need this more in this rushing world..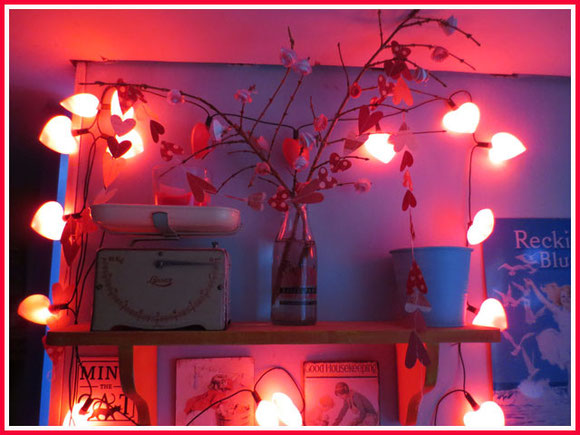 When you come in my house through my backdoor, these little red lights ( who turn up white in this photo ?...) give a warm gloom.
A vintage milkbottle holds some branches cut from the garden.
I added handmade paperflowers in reds with the heatgun to the branches.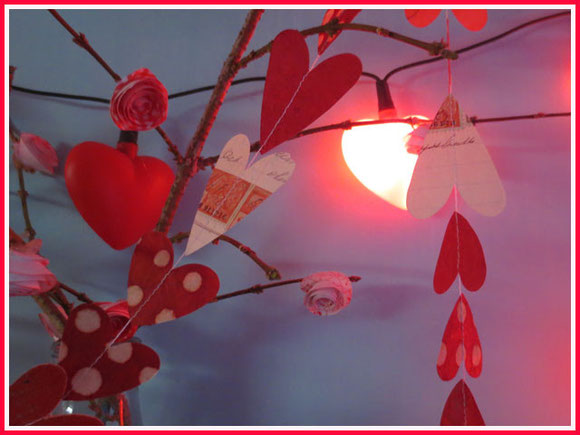 The papergarland was made with leftover papers from previous projects. You know those scraps that you can't throw away ? 
Well, some of them found their purpose here.
And someone else whose going to be loved is little babyboy Ferre, the first son of a collegue of my husband.
I loved the birthcard ! In bright red, cats in different spots and silhouettes..
If I get a birthcard I try to take inspiration from it to make my own gratulationscard.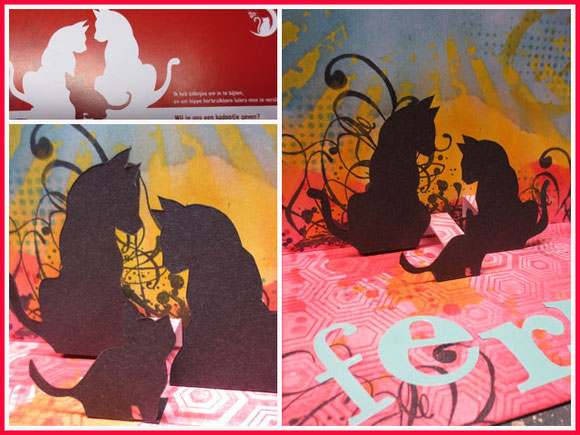 Still in love with pop-up cards, so I made a cat-pop-up card for Ferre.
Lots of distress inks and paints, layering stamps and stencils,.. loved to make this one !
When I cut branches for the display in the milkbottle, I cut too much. The little twigs that I had to cut off to get the branches IN the bottle..I couldn't throw them away.
I found an old bottle with red labels in my cellar, added water and put them in my veranda.
Outside there is not much sun, lots of rain and wind... but these branches hold a secret in them...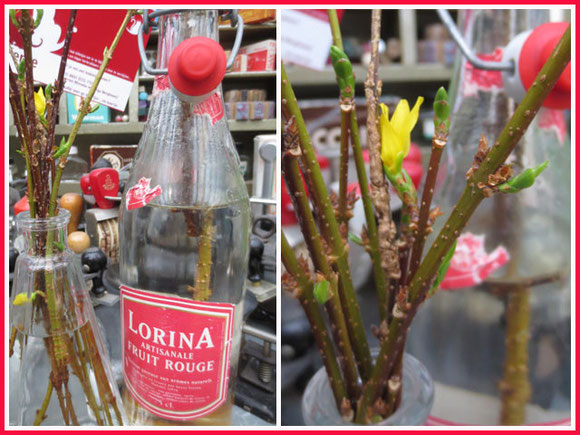 The branches hardly had any buds when I put them in the water two weeks ago... and look what's happening ? 
Don't know when, but I love to be assured spring will come ! :)
greetings from Belgium
Inge