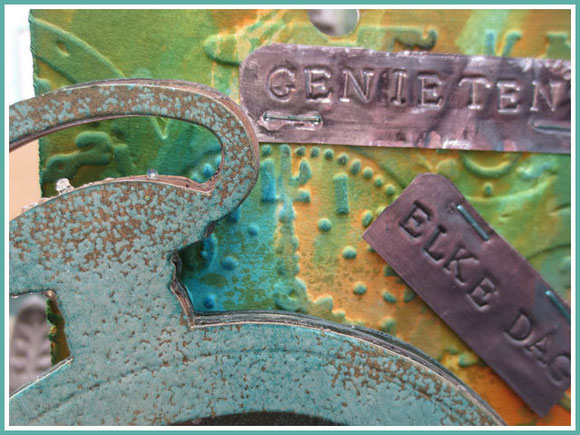 I have not any teenager in my house anymore !!!
We had two birthdays in our family the past week...
Gaia became 20 on the 18th may and yesterday my eldest son, Freek, became 24...
This means..."no more teen-agers in the house..." cause Freek, Aran and Gaia are all in their twenties now...
I'm still remembering their birth at our own house as it was yesterday, but it's not... 20 years has flewn by... does this means I'm getting old ?..
Maybe :)
But it reminds me most of all that we have to seize the day as it comes and enjoy the happy moments every days has, even some less better days...
You never know how many days are given to you and the older you get, the faster time seem to fly...
My grandmother once said : " the day goes open and closes in a blink..."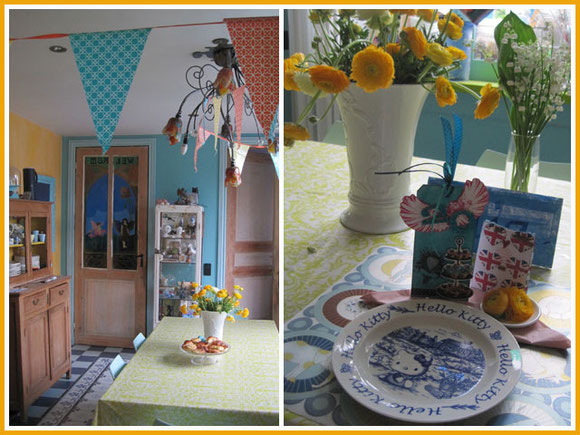 So we hung up colorful garlands, put bright flowers on the table, a handmade birthdaycard and present and her favorite plate of hello Kitty ;).....and celebrate the luck we have to have her already 20 years in our family !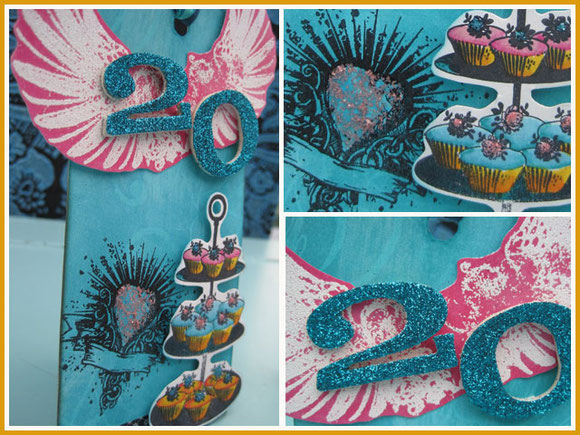 This year, everyone that gets a birthdaycard from me gets a tagcard that can stand up and their age in bold numbers..
For the background of Gaia's card I stamped with white ink, let it dry and then overinked with distress inks. The white ink acts as a resist. A subtle background, but a technique with a result I like a lot.
The wing were white embossed and overinked with raspberrypinkdistress ink (still very happy Tim Holtz brought some bright inks in his range of distress inks ! )
The cupcakes... my daughter loves cupcakes, both making ànd eating, were stamped and colored with copic markers. The flowers on top of the cupcakes got a little sparkle with distress stickles.
I cut out the number 20 several times with the wordplayday and layered them until they had the thickness I liked.
One 1 and 2 had doublesided tape on them so I could easily adhere glitter to the numbers.
She's 20, but she says she feels she's stuck on her 18th... Who does not recognize that ? LOL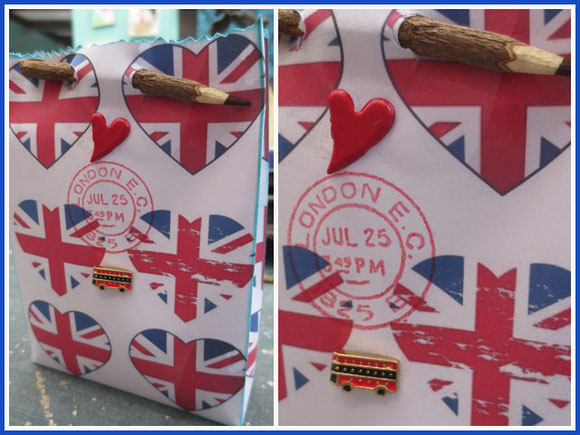 When kids grow up it's sometimes more difficult to find a good present for them. Mostly they like money they can spend themselves.
No problem with that, but I don't like to give it in an envelop... I want at least the feeling it's a "present"...
Gaia goes at the end of june to London with the make-up school where she follows a course, to thé biggest make-up event in the world.
She really looks forward to it: lots of workshops to look, hopefully participate, lots of compagnies with products you can't get hands on here...
But she needs some money, as we already pay her trip.
I went to the bank for British pounds and put it in a little bag.
I ordered Tim Holtz stamps from France and the UK, but they didn't arrive in time, so I could not use them on this bag.
I searched the internet and with the help of photoshop I made a paper with the union jack and hearts and cut it with the "in the bag" die of Tim Holtz. 
With a London stamp and a little red bus ( a little gift from one of my UK friends) I got the perfect wrapping for the pounds ! 
Gaia will happily spend them all, she said :)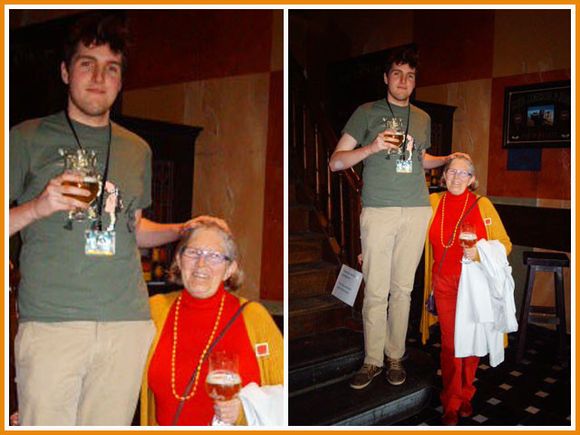 little boys grow fast... litteraly ! 
I got this photo from him and my mom when they met in Ghent where he studies.
Freek is always in for a joke.... he IS tall ( 1m 86 cm), but not such a giant as he looks in the first picture. ...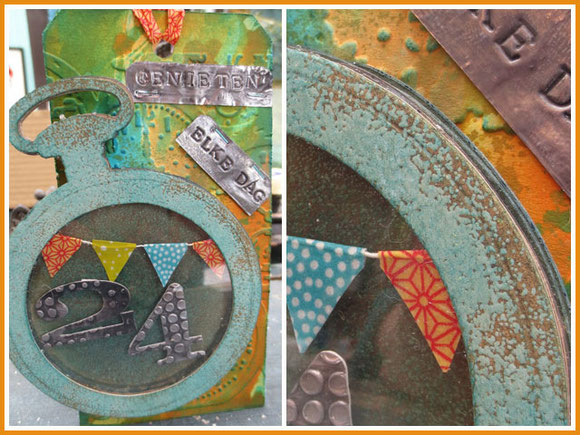 24 years old... 
I already had two little children at that age...
He's still free as a bird, enjoys his youth and studying at university.
Other choices then mine, but I hope he does not regret them. I don't regret any of mine :)
I made him a colorful tag with a background colored with distresspaints and embossed.
I hammered the quote " genieten... elke dag..." ( enjoy every day) in some metal, leftovers from something on my husbands work they would throw away but he salvaged it...
Thanks to the ATT Trading Post I was able to buy the metal punches from someone who didn't want them anymore and was happy to sell them.
I cut out the pocketwatch several times out of leftover cardboard and layered them so I created some depth. 
On the last layer there is plastic on the back to mimic the glass of a pocket watch.
Inside the watch the number "24" and a garland with washitape.
Lots of watches and time... a hint to my son to enjoy every day of his life.. now...
Two people also enjoy their life and their marriage and their son gave me the commission to make a special card for their 30th weddinganniversary.
He asked if I could do something with a tandem and their heads...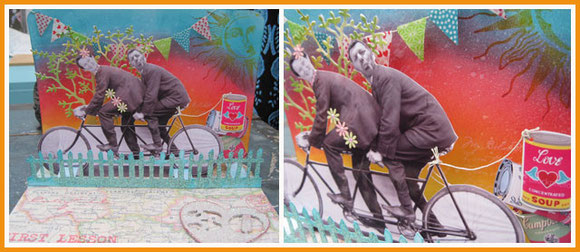 Photoshop was used to alter a vintage photo of two men on a tandem in the couple...
I don't say my photoshopskills are perfect, but all in all I was quite happy with how their heads looked on the bodies...
I printed some Andy Warhol tincans and added them to the tandem.
It's a pop-up card, so it completely folds down, but once you open it you see the 3D composition of them riding on the bike with some tin cans flying around behind them.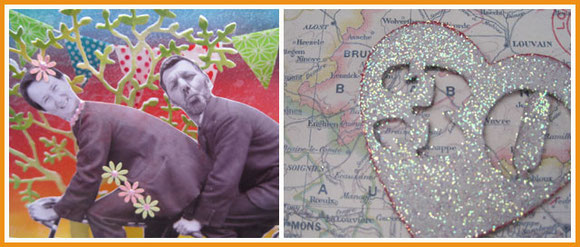 There is also a cut out of a tree that pops up and a washitape garland on an inked and stamped background.
A bit of glitter on a heart with the number "30" cut out.
Another challenging and fun commission I got was to make a weddingbook for the best friend of my sweet collegue Ellen.
As an inspiration I got the two weddingcards from the couple... Two ? 
Yes, there was one funny card in which the couple asks their friends to the party, but their children Wolf and Lou had their own "weddingparty" too ! 
This already gave me inspiration : these people are colorful,enjoy their life, enjoy a good laugh and moderate themselves...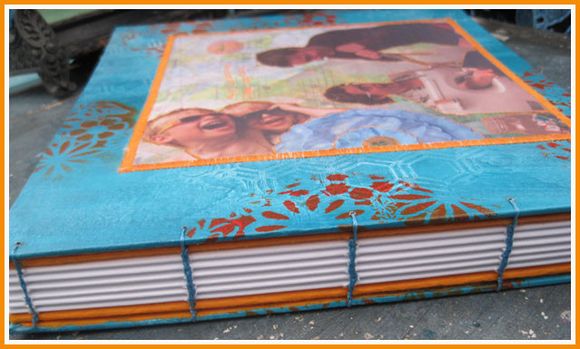 I made them a handmade book, handsewed with the copic stitch. 
On every first page of every signature there is a stamp with a quote or image that makes me think of them.
I made the paper for the covers of the book with gel medium, acrylic paints, stencils,...
Once all the layers are dried, I can sew on the digitale collage I made.
The collage is printed on canvaspaper with  fiberfill between the collage and the backgroundpaper.
When I stitch this, you get a "puffed" effect, like it's quilted.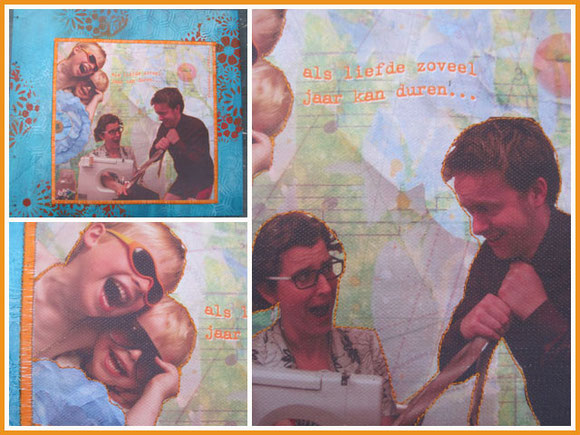 In the collage I used the images of their weddingcards and put them on a layered background.
They love music, sewing, bright colors, fun, friends, gardening...
It's all in there.. I used images of projects I created myself and layered them all.
I love it to know that my own creations are in there and are used again in new projects.
My collegue couldn't wait until the wedding yesterday and gave it to the couple on wednesday so they could use it as a guestbook... That's what she told me, cause she admitted, she was just inventing a reason to give the book as soon as she could :)
Yes, this projects give me some "candymoney", but I admit the biggest joy is knowing that some people get a smile on their face when they recieve my creations..
Enjoy your life !! 
greetings from Belgium
Inge