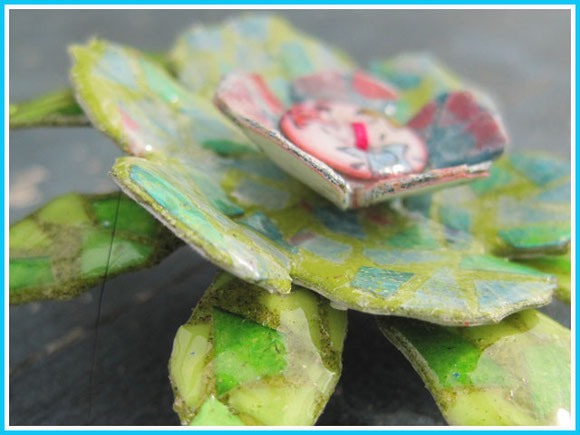 I've always loved Gaudi ...
I fell in love with Gaudi's creations years ago. This total-artist was a Catalan Spanish architect who lived more then 100 years ago, but his work is still alive and in progress.
You can read more about him here and google for images of his work.
His unique use of left over tiles, bottles,... and how he incorporated them in the decoration of his creations is beyond imagination. 
I love his use of colors, colorcombinations, fluid designs, ... inspired by nature ( he's one of the most famous Art nouveau artists).
He was not "just an architect" but a total artist who had eye for the design of the doors, the furniture, the doorknobs, the sitting places, the shadow places in the garden...
When we moved 19 years ago in our old house from 1924  I wanted to do something in my house inspired by his mosaics.
I used glassmosaics to make a frame for my plain bathroommirror.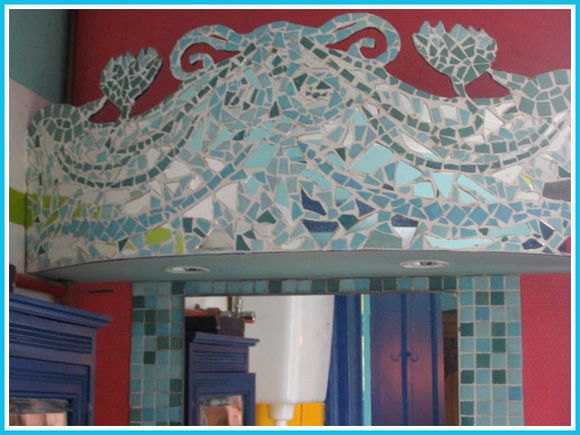 I also made a mosaictop to put the lights in above the sink...
An artnouveaudrawing of waterlillies was my inspiration and I cut this out of bendable wood, so I could adjust this to a rounded board.
Then I covered it with my leftover glasstiles, pieces of old tiles and broken mirrors.
I'm still proud of my first Gaudicreation :)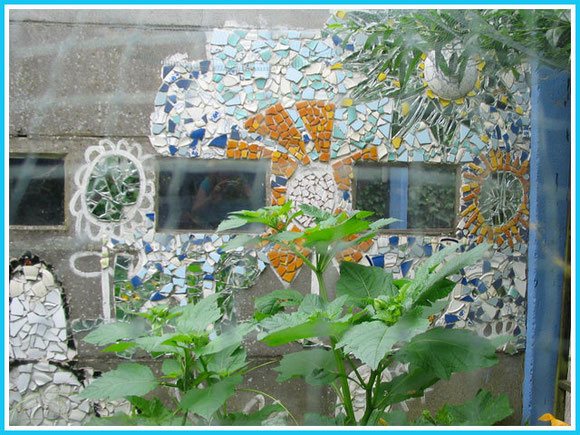 Second creation is my chickenrun.. 
When my kids were small I let them draw on the walls and painted their drawings in white paint.
Then I started filling in the spaces with broken and left over tiles, cupboards, plates and mirrors..
It's still a work in progress, but hey... Gaudi's Sagrada Familia is also not finished yet :)
I have had the luck to visit Barcelona once a few years ago and visit the Sagrada Familia, Parc Guell, casa Mila, casa Battlo,...
My hope is to once return to Barcelona and dive into his creations once more..
In the meantime Gaudi keeps on inspiring me in smaller projects...
When Tim Holtz posted his Tattered Flowers Challenge, I wanted to participate. 
Finding time was an issue, but when the days flew by, finding the right inspiration was a bigger issue.
So many people already created so many beautiful and unique projects, that it was hard to find "my project".
And then suddenly, the muse and Gaudi got me inspired...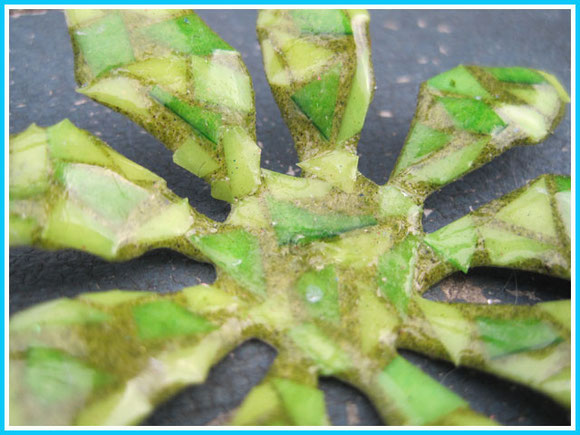 I had a workshop at home yesterday and one of the techniques was how to make unique embellishments for your cards instead of buying them. 
One technique was one that Tim showed a while ago : making a mosaic piece...
After the workshop my head started spinning...
I cut out the flowershapes with the tattered flowerdie from  heavy paper covered with doublesided tape and cut small pieces from left over scraps.
When I decorate papers myself with paint, inks, sprays,... there are always leftovers too nice to throw away.
These handmade papers add something more because they are not "flat" but there are already different "layers" in them.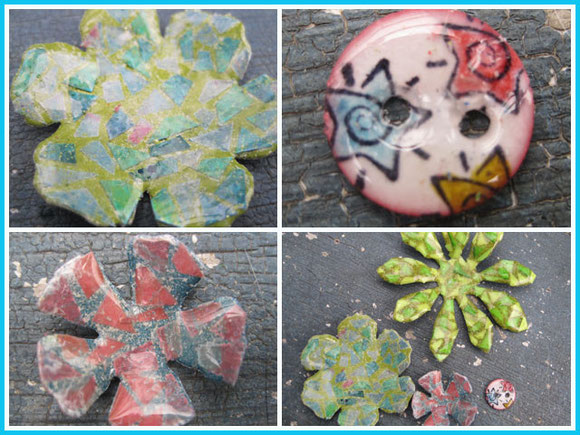 I covered the different flowersshapes with the small pieces.
For "grout" I used different embossingpowders: I used both adirondack embossingpowders as distress powders. They just give a different look and feeling.
I then covered the different pieces with 4 layers of UTEE...
This transformed the pieces of paper into " ceramic decorations"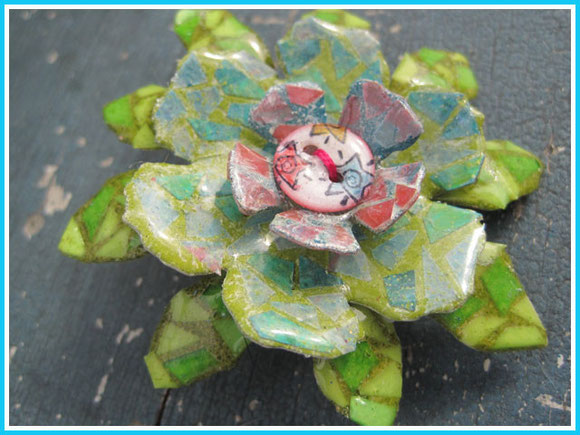 I punched holes in the "selfmade button" and the flowers and sewed them together.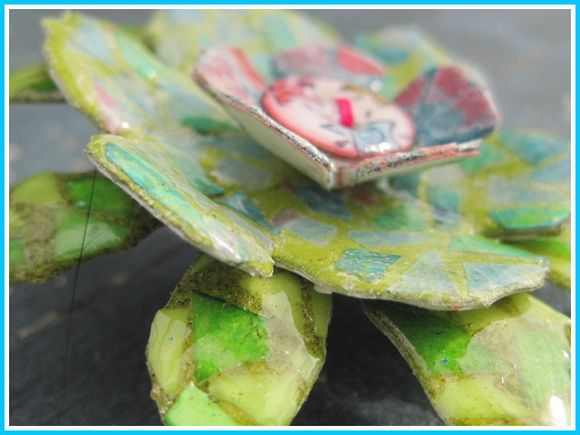 I glued a pin on the back and voila...
... a tattered flowers Gaudi-inspired brooch ! :)
Inge