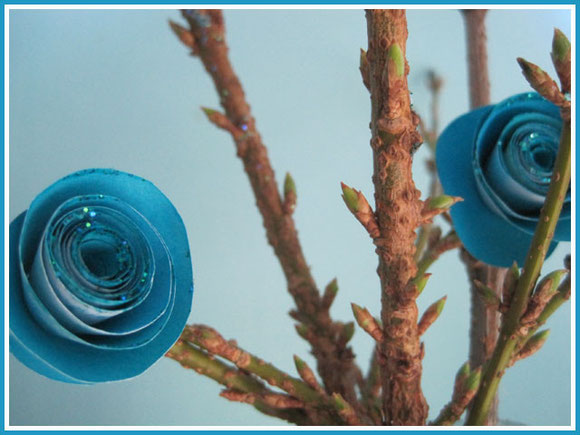 For the moment it's not really winter here in Belgium...
Not exactly cold, but no sun, some days pouring rain, but no weather to stay outside, so I love to make it cosy inside my house.
I was very late with my decorations for Christmas due to busy at school and being exhausted once home, so two days before christmas I finally found the time to get rid of my autumn display...
I immediately decided I skip the christmasdecorations and make a more "wintery theme" in the house in white and blue with lots of lights...
I love lots of little christmaslights inside the house during the wintermonths. Every morning I lit them all. And then comes a day I start forgetting it... that's the sign darkness is going by and I have enough "light" in my day again.
The lights are my treat against the winterblues: cheap and very effective !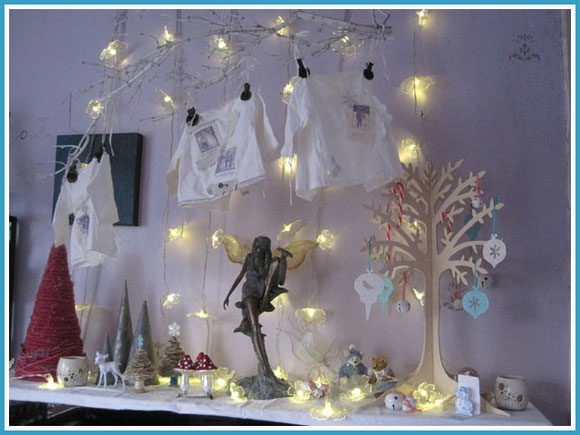 This is the winterdisplay on my piano, my favorite place to make a little vignette.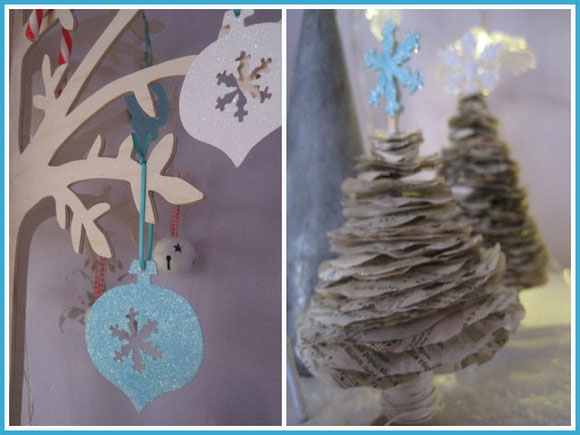 The weeks before the christmasvacation I longed to "create" some new christmas/ winterdecoration.
As a pinterestaddict ( yes, yes... I really admit and I'm not ashamed of it...) I found lots of nice stuff to make.
One of these want-to-do's are the trees made with papercircles : super simple but such nice effect.
Thanks to Els of Bestamped I got some tips to give some room between the papercircles by adding here and there a little piece of cardboard. 
The trees are made with several circles I made with circledies in several sizes and just pinned on a wooden skewer. 
For the base I grabbed a wooden spool and just inserted the skewer.
For the top I glittered icestars I cut with the movers and shapers die of the icestars.
I'm not a glitterwoman, but since I saw how Jennifer Mc Guire used glitter on one of her cards in one of her onlinecardclasses ( they are worth their money !! ), I used glitter for the first time in my life.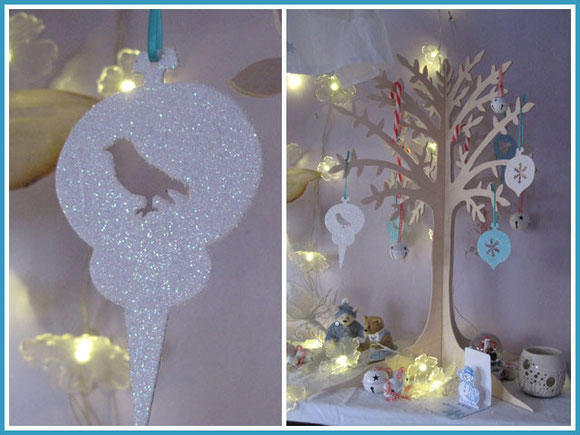 The icestars are diecuts as are the ornaments. I just added wide strips of doublesided tape on boths sides of cardboard until they are completely covered. 
Then I diecut the shapes I wanted adding a bird or an icestar mover and shaper into the ornaments.
Adding glitter to the tape and voila : ready ! 
Super simple, but I love the effect. I'm a glittergirl now...
The tree was a find on a christmasmarket I found in the beginning of december. It's made in an institute for handicapped people and as soon as I saw this in their booth, I knew this was a must-have.
You will see this tree in coming vignettes.. changing from a wintertheme to a  blossoming tree changing to ...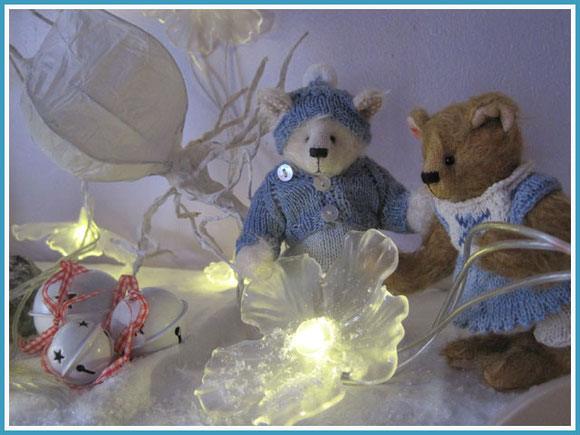 The handmade bears I got from my mom past year and made by my friend Anne Bearheart, are wandering through my winterwonderland...
The big white flower was made with metalwire and tissuepaper and was a project from my daughter in school 2 years ago. I love to use this one in my displays too.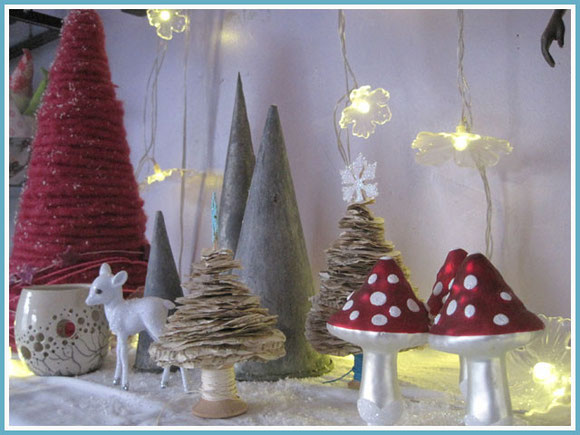 Another part of my winterscene...
Glass toadstoolornaments in red with white dots: I love the combination of red, blue and white.
The paper trees and metal cones my stepfather used in the past to make candles. I love circles and balles, but I am also fascinated by cones...
The pink cone was a handmade "tree" I bought in a flowershop past year : it's made with pink felted dreadlocks, a bit of thread around it and stars made of wax.
A little white sparkling fawn from our trip to London in september finally found it's place in my home.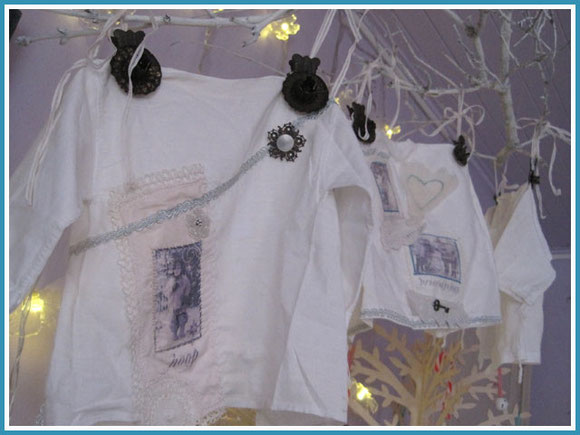 Above the piano hangs a white spraypainted branch. It hangs there the whole year: perfect to hang something from it in an easy way.
I made these fabric ornaments some years ago with vintage first babyshirts: altered photos of my kids as young children in the snow transferred on fabric and sewed on.
I added some vintage brooches and other findings, lace, trim, felted heart,...to finish them of.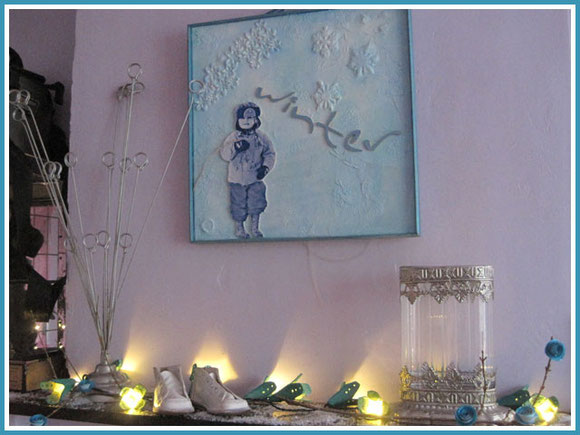 Another winterdisplay in the house on a mantlepiece.
My wintercanvas with my daughter as a 3 year old ( she's 19 now...). Lots of layers with paper, lace, embellishments, paint,...
The photo of my daughter and the word "winter" are cut out from foamboard so they add some texture to the canvas.
On the mantlepiece itself two newly made decorations...
Branches with paperflowers and fairylights made from eggcartons...

Another cheap, fastmade, lovely pinterestidea.
You can find the original blogpost how to make them here ( as soon as I find it on my pinterestboard.. :/).
I spraypainted mine with dyslusionsinkspray in different blues and added distress inks on the edges.
The holes are made with a crop-a-dile.
Just put them on ledlights and there you have it : custommade, unique fairylights !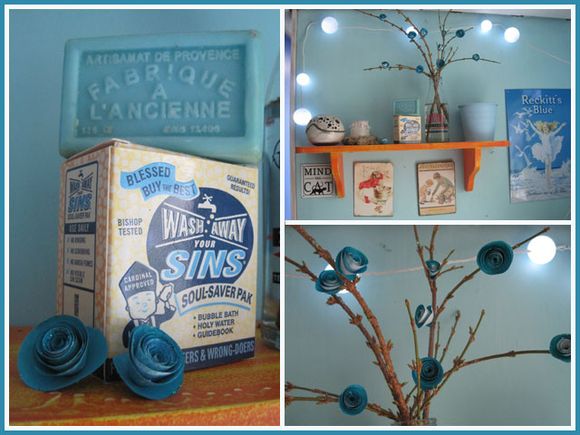 The last display in my blue and white cosiness is in my laundryroom when you come in through the backdoor.
In my collection of vintage soaps I found a perfect blue piece of soap and a bubblebathsoap box... "wash away your sins"... perfect as a starter of the new year and the box had the perfect colorcombinations for my display :)
Branches of my garden with selfmade paperflowers.
My last pinterestidea for this winterscene and a how-to you can find here ! 
I colored my papers with distress stains in different blues, let them dry and then cut circles out with two different sizes of circledies.
Then you cut the circle in a spiral, rolling the flowers starting from the outside of the spiral, some hot glue to let the stay together and some icicle stickles from Ranger.
With hot glue they adhere perfect to the branches.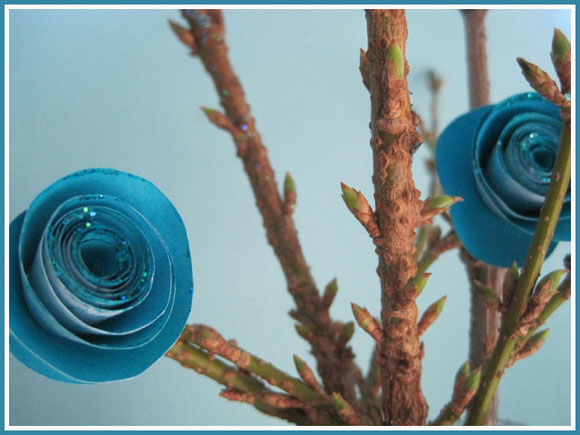 Can you imagine these flowers in pink for a springdisplay ? I do...
Do you see the little knobs on the branches ? ... The branches are kept in a bottle with water and I wonder if the branches witll start growing and if the yellow flowers of the forsythsia will appear...
A little bit of spring ready to appear when the right time comes...:)
Inge