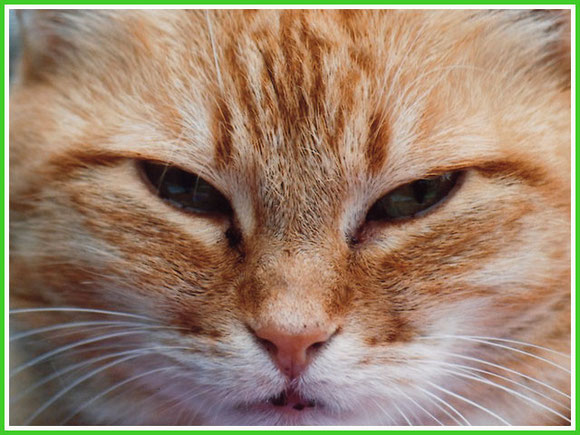 I buried my sweet cat Zita this morning...
Zita was 14,5 years a member of our family.
She was sick since spring : problems with her kidnies and nothing to do about it. 
She still had a good summer and regained some weight after giving some special food, but the past 14 days she grew thinner and thinner... and the past days she hardly wanted to eat or drink...
Past week we knew she was dying, but as she still seemed happy, she still could purr when she was sleeping with me in my bed, we hoped she would die in her sleep at home.
We hoped she would make it until next saterday when my son Freek comes home after 4 months in Finland...
We never let her alone anymore, carried her upstairs in our bed cause she really was my "bed-cat" for years : always on the lookout to come with me when she saw me preparing for going to bed.
On fridaynight I wasn't home and my husband moved from our bed to the couch with Zita, cause she didn't want to stay in our bed. That was so sweet of him ! 
Yesterday she threw up blood.... We always have said we would let her go, but not in pain, so we went to the vet and put her asleep...
It feels so hard to let her go and we all feel such a missing in our home, even there are still 5 cats left...
We strolled throught our cat-photos from the past years...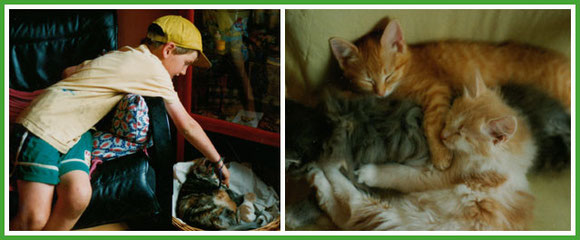 Zita was born in the summer of july 1998.
When Freek came home from youthcamp there was a huge surprise for him : Hennie gave birth to 3 kittens : Red Zita and Tommie and Vlek.
We kept them all, but Tommie and Vlek didn't survive the busy road we live in. They were hardly 1 year old, but Red Zita stayed...

Her mom Hennie gave birth again and didn't take care of the one kitten Zea she had.
Amazingly Zita took over the role as a mom and even nursed Zea!
Zea was adopted and years later gave birth to Aureya.
We adopted Aureya in 2003 and Red Zita and Aureya became best friends.
Another example of how caring Zita was..
Black cat Helmer gave birth to 5 kittens. A week later Zita gave birth to 3 kittens... 
Because the feeding was hard for Helmer we put one of the kittens in Zita's nest... 
In the end the 8 kittens had two mothers... and when they were hungry they went to either Helmer or Zita.
On the right you see Zita with one of her own kittens and three of Helmers kittens !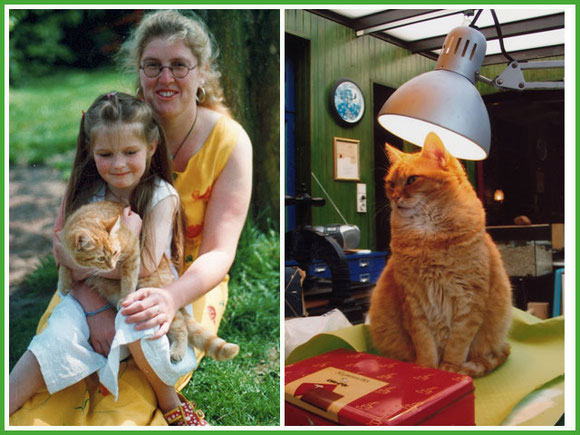 Zita was such a gentle, sweet cat : no biting , no hissing, no stretching out her claws...
Maybe she wasn't the smartest cat we have... but she surely knew how to let the light shine on her :)

The wealth of cats...
The past 6 years we constantly have had six cats. This seems to be our number.
If we have more : something bad happens. If we have less... a cat arrives at our door...
Like all creatures, you have persons you like and others that are not your best friend..
Zita en Aureya were friends. You could often find them washing each other or sleeping very close.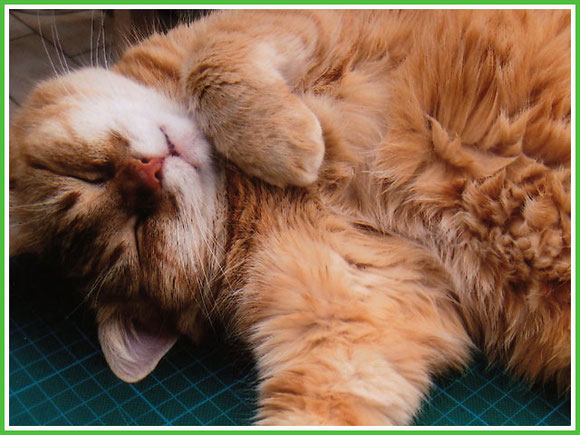 Zita gave total confidence in us... showing her belly while sleeping.
When we were eating in the dining room, her favorite place was under the glasscabinet. Often she was waiting, lying on her back, belly uncovered and helding her frontfeet curved. 
She soooo looked like an orange seal then ! 
She had her habits...
waiting on the stairs when I prepared to go to bed, so she could surely accompagny me
jumping on the bed and asking attention to be crawled for awhile before she went to sleep herself. She stayed mostly the whole night until we get up the next morning.
when I was sewing with my sewing machine, she loved to sit close (because of the vibrations ? ) and when she wanted attention , she started biting in my sewingthread...
waiting patiently at the diningtable or if it took too long, miowing until she got her tray of milk every morning.
when she got the special package of food since spring, she always was so excited and miowed in a special way, she alarmed all the cats in our house. So we ended up giving them all something extra...
when I was in my veranda, being creative or on the computer : she was always around. Very close mostly, even in some inconvenient places with hardly some space to lie down, but she was there...
...
I'll miss all her habits and her constant quiet presence...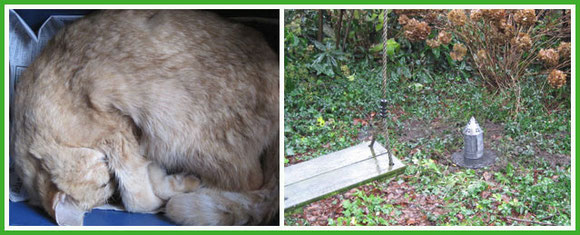 After the vet gave the injection she died in my arms...
We put her to rest in one of her favorite positions and that's also how she was burried this morning in my garden.It just looks like she is sleeping...
Sweet Zita, 
I give you back to the earth...
In spring flowers will grow on you and you will bring joy again
A rock with your name will mark you place
you're not alone
you're in the same soil as several of our previous cats
Thanks for your sweet soul and compagny the past 14,5 years..
Miss you !! 
Inge