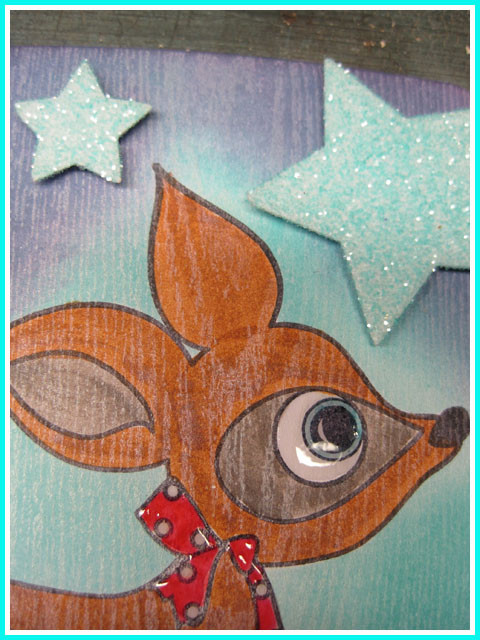 They are coming !!!
No panic... no aliens or enemies, but GOOD things are coming.
Good things come if you make them come :)
In Belgium we have a special celebration, a special childrensday : 6 december is the birthday of Saint-Nicholas and that day he brings presents for the children.
Most of you know that I work with severely handicapped children and Saint-Nicholas is also coming to our school.
For years he gets the help of a service club : club 51, a group of women who engaged themselves at their 51st birthday that they would bring joy to people.
They take care of Saint-Nicholas and his friend Piet so he can come every year to our school, they help to provide a little present for each child and they bring pancakes, puddings and chocolatmilk, so we have a party at school.
This year I wanted to give this club a present back for all the years they have been good for our children.
I made them a Saint-Nicholasbook : " he's coming"..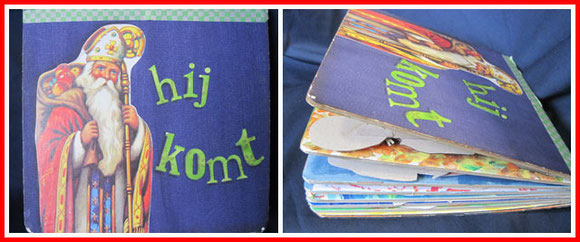 I altered a childrens boardbook in a pop-up book.
When the book is opened our children pop-up on every page ! 
Because of the privacy of our children I had to "change" their face, otherwise I'm not allowed to show these on the internet. 
A bit sad you can't see their smiling faces, but just "imagine" them... It's there !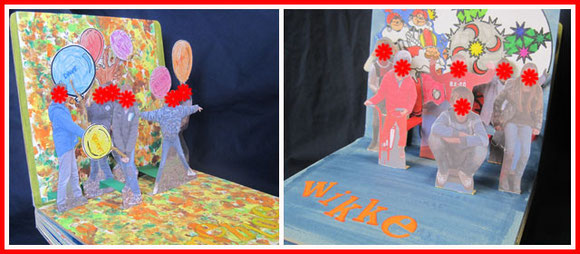 In our school we have 51 children between the age of 3 and 14. Mentally they behave like children between a few months and 6-7 years old. 
Several children have multiple handicaps : mentally, physically, autism, emotional and behavioral problems,...
It's a tough but satisfying job.
With the help of my collegues I was able to take pictures of them all and it's fun to see how the personality of several of them shows through in the photos.
Each teacher of a class provided me with a backgroundpaper the children made in class.
On top our "Zonnebloem klas" ( "sunflowerclass") and " de Wikke" ( "Vicia"class ).
The sunflowerchildren wanted balloons for Saint-Nicholas, so I added the balloons with clear plastic strips to the pop-up figures.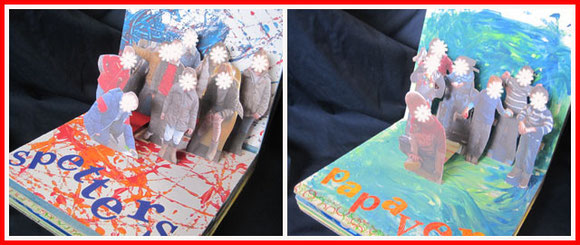 On the left our " Spetters klas" ( the "sparkle" class) and my "Papaverklas" ( "Poppyclass").
The Spetters dipped marbles in paint and let them roll over a paper in a box.
I handpainted with my Poppychildren with paint and shaving cream.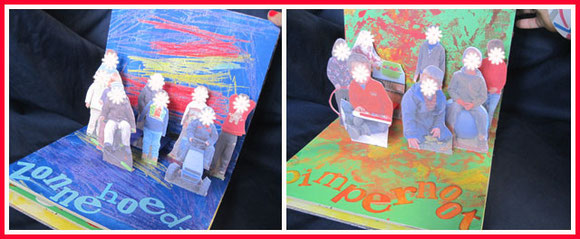 Our " Zonnehoedjeklas" ( "echinacea class") scribbled with waxcrayons on paper and overpainted with blue ink.
Our "pimpernootklas" ( "bladdernut" class) painted over leaves and printed them on the paper.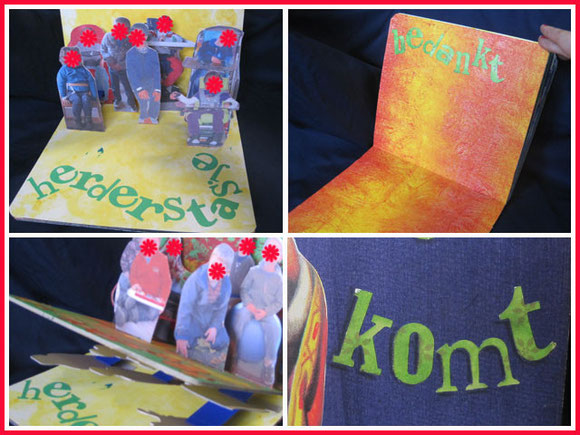 The children of the "Herderstasje class" ( "Shepherd's purse" class) also handpainted with paint and shavingcream.
I added an extra chipboardpage with " thank you". Here will come some photos of the visit of Saint-Nicholas of this year.
I made the background with wallpaperpaste and paint.
My "wordplay"die of Tim Holtz came out very, very handy to cut out all of the letters of the classes names.
Past tuesday "he came" to our school and the club recieved the book. I wasn't there that day, but I heard from my collegue they were moved by the book and it will be cherished.
Some people said the book was too nice to give away... and although I feel some sadness to see it go after all the work I put in, it also feels very good to give something away and know it will be in good hands.
There are more good things to come : holidays, christmas, new year, new promises, new goals...
It's up to us to make them positive and good! 
I made some holidaycards the past two weeks, experimenting with techniques and materials, inspired by the holidaycardworkshop of onlinecardclasses, pinterest,...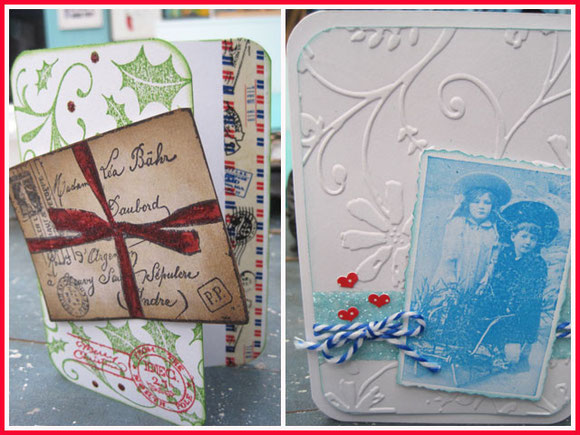 Time to use my new "stamp" washitape, trying out glittering with two sided tape and looking to adapt a common embossingfolders into a "winter"theme.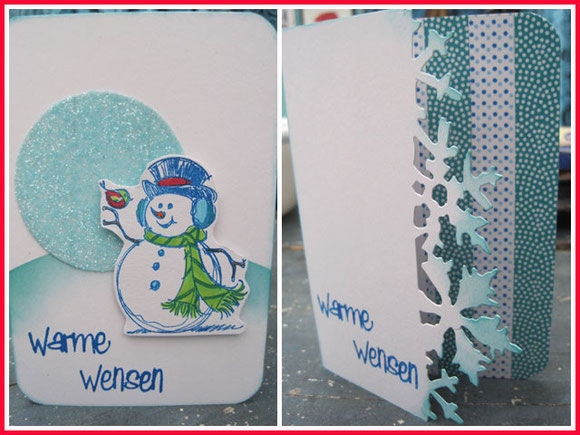 A tough job... trying to keep my cards "clean and simple".
Although I'm not a glitterperson, I really fell in love using this blue glitter.
I just add wide two sided tape on paper and cut out a shape that I want ( like the circle here ). Peel of the top layer, add glitter and burnish on.
More washitape on the right....I know washitape is not meant to just hoarder, but I have to push myself to USE it too...
Love the icestar of Tim Holtz edgedie.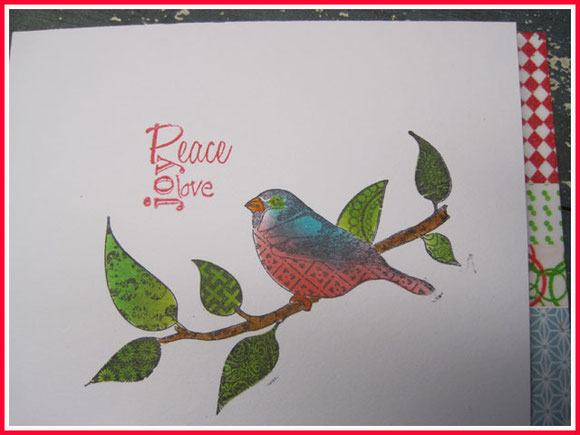 Definitely an idea I got from the holidaycardclass ! 
Cut off 1 cm on the right of your frontpaper and stick a strip of patterned paper on the next paper. 
Instead of patternpaper I used washitape...
In the class I also learned how to color in an stamped image quickly with distress inks and selfmade stencils.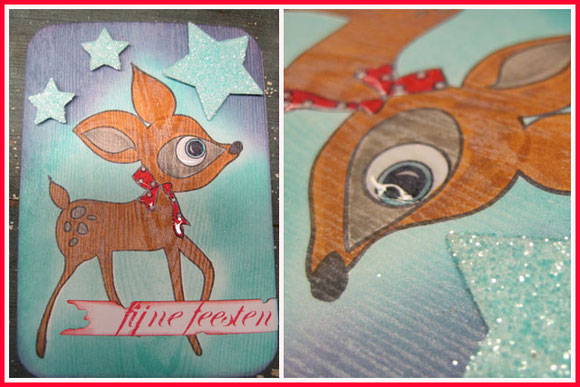 I'm not a 'cutie" stamp lover, but when we were in London in the craftshow I've been hunting for a "vintage fawn". It was a tough search, but in the end I found this one ! 
The technique I used is definitely a "must-do -more" technique. I stamped with white ink ( archival brilliance white ink) and a woodgrainstamp. 
I dried the ink with my heatgun. 
I then stamped the fawn with permanent black ink and colored it in with distress markers.
The white ink resists the ink and the distressmarkers and the woodgrain shows through the coloring !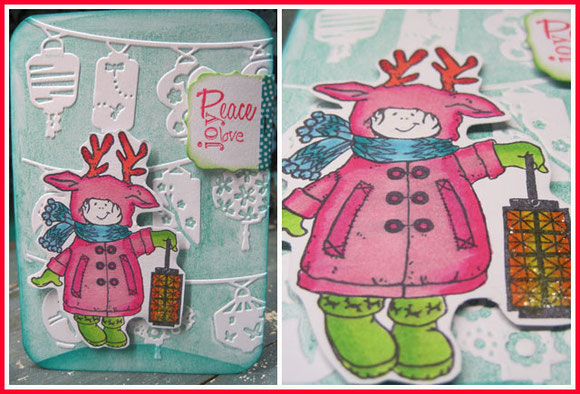 Another "cutie" stamp that I do love... I colored in the girl with copic markers and gave her a glittery lantern with rock candy distress stickles
The lantern embossingfolder is also an "all year around" that you can use for any theme.
I loved making the cards. It's relaxing and you have a result in a short time.
But now I'm working on a "mermaid's adventure" tunnelbook... But more on that, next time ! 
Inge