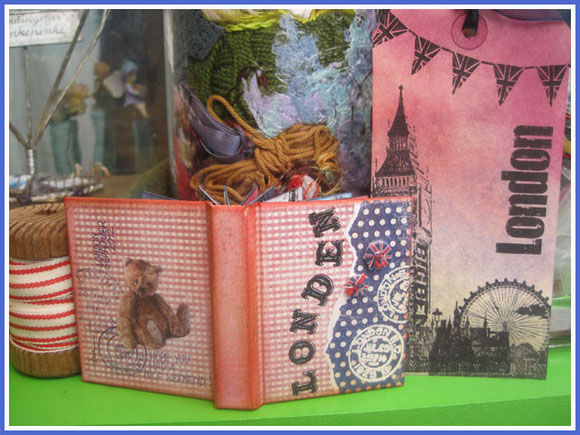 Sorry for not being around for two weeks... 2 weeks ago I had to go facepainting at a local fair and school was too busy in the week to find some time to blog.
And past weekend.... well... we were in LONDON ! :)

On saterdaymorning 6.30 AM Anne picked Dorien and me up with the car and we left in Ghent with the train at 7.24 AM direction Bruxelles.
After 3 check-ins with lots of identification the immigration officer put his stamp on our travelpapers and we were allowed to go on the Eurostar from Bruxelles to London.
At 10 AM we put our feet on Britisch ground in St-Pancrasstation :)
It felt sooo good to be back again in London and we immediately took the tube direction Ally Pally...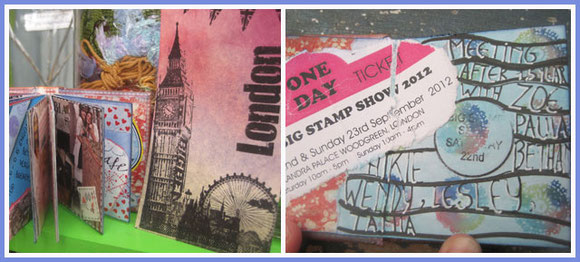 After 1,5 year we finally met our UK friends again at the big stamp show in Alexandra Palace in Woodgreen in London !
What started a few years ago online at the yahoogroup ATT as a collaboration, developed in European friendship.
This was the third time we met Nikie, Bethan, Zoë, Paula, the second time with Tania and Wendy and the first time with Lesley.
Warm hugs welcomed us in the beautiful entrance hall of Alexandra Palace.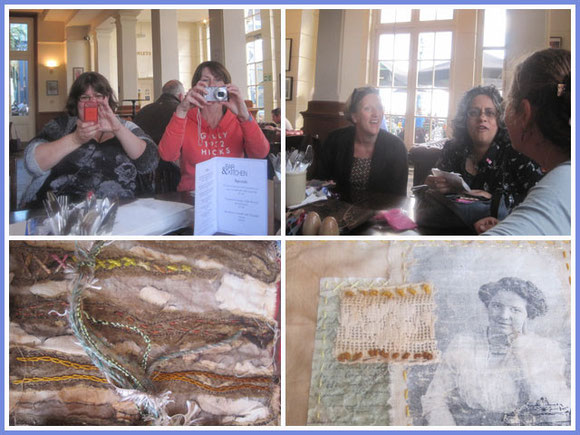 We first headed of for a drink and some food and the first chatters ànd of course having fun taking photos of each other!
Lesley would not be able to stay the whole day with us and she has collaborated with us in our fabricbook of the Sweet Sisters.
She brought some more of her handmade books.... mixed media... fabric, paper, transfers, stitches,... One of her bookcovers looked like the bark of a tree, but it was completely made with fabric and fibers...
This surely is someone we can learn from a lot ! 
Edit : Nikie stayed with us the whole day, but I couldn't spend a lot of time with her. Maybe next time ? Anyway the "bark"book is not Lesley's, but Nikie's !! Sorry Nikie I messed them up... One thing I know for sure : you and Lesley are both fabricartists I could learn a lot from !! 
Then we headed into little groups into the craftshow...
I thought I would hyperventilate... the hall was big.. so many boots... where to start ?... where to spend my pocketmoney ?...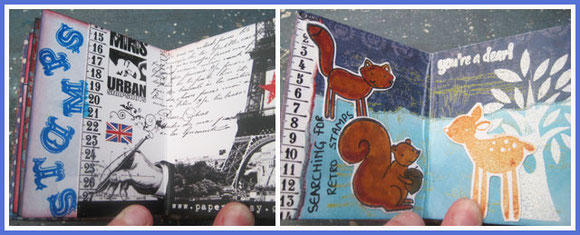 What's so nice about this craftshow is that there are so many British stampcompagnies with stamps I've never seen...
This also made it very hard to choose and eliminate... what to buy, what not...
One of the targets of this day was to find a retro fawn... everybody helped me searching and I indeed found two sheets with a retro fawn on it... You'll surely see some creations with it in the future.
I filled my bags with stencils, stamps, dies, embossingfolders, distress stains, glitter,....The fuller the bags, the emptier my wallet... but I saved a long time for this day, so I sought, found and bought everything I had on my wishlist... and more :)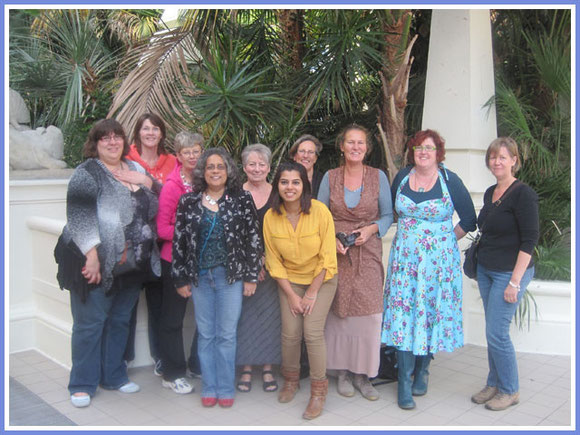 At 3 PM we had a stop for a drink and some sharing about what we found, what we were still looking for, which booth we must have seen...
Tania joined us and we took a groupphoto of Euro-ATT group.
From left to right : Zoë, Bethan, Lesley, Wendy, Nikie, Dorien, Inge, Anne and in front Paula and Tania.
At 5 PM they closed the doors of Ally Pally... so we were "kicked" out :)
With 7 left we head over to our hotel close to St-Pancras station.. We checked in, left our heavy bags in the room and went to the hotelrestaurant for dinner. 
They gave us a good price for a three course meal ànd our breakfast, so we took the deal.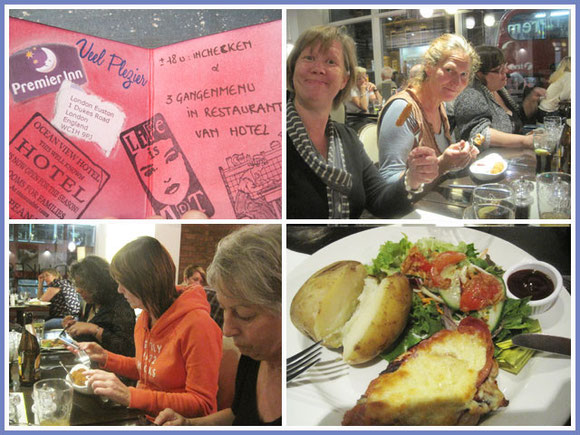 Maybe the British are not well known for their cooking like the French or the Belgians, but it tasted perfect. Mmmmm.... a jacket potato with chicken and melted cheese,...
The compagny was good too, so we enjoyed the evening together with lots of stories.
With full stomachs we headed over to Bethan's room, rearranged the table and chairs and beds, so everyone could sit around the table.
We didn't made it to create together in the room with our first aidcraftkits as it was our initial plan, but we shared a lot...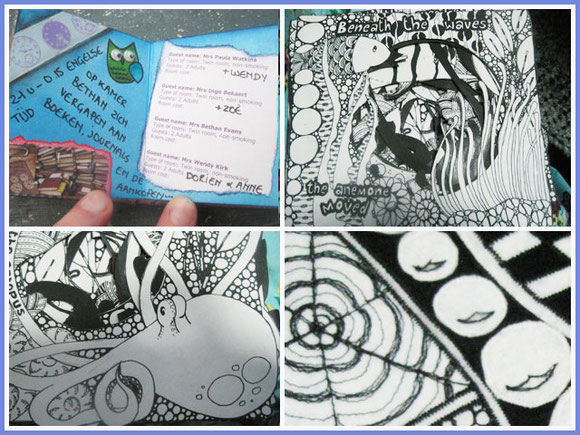 Books, books, books... everyone had their fabricbook with her we created together the past year in a round robin. Some of the pages we had seen when the books were in our homes, but lots we have not seen.
A lot of ooh-ing and aaah-ing and how did you do this, what materials you made this with,... a sharing of materials and techniques.
Zoë had her zentangle tunnelbook with her... no words to describe how awesome it is. In this book went hours and hours of drawing...but the result is stunning. Zoë even had a piece of stitched zentangling with her.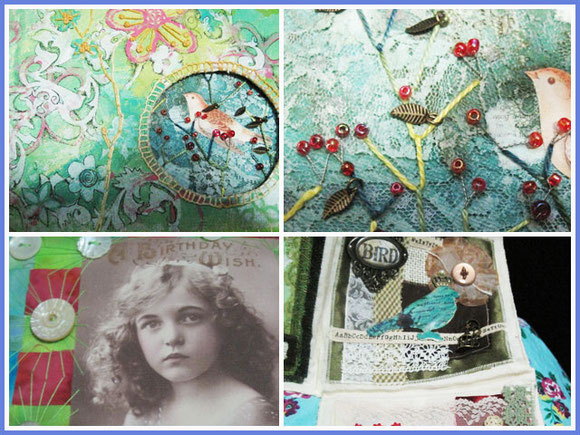 Paula and Wendy also brought some of their books made with lots of materials and techniques : real pieces of mixed media art.Sigh...
I wanted to soak it all in, took several photos so I could learn from the experiences I had with these books.
After the exchange of the booknovelties, we had to share our bags from Ally Pally....
What did you buy ? Why ? What are your intentions to create with it ? ... enough stuff to fill the evening chatting together.
00.15 AM British time everyone went to their bed in the big, clean room (what a difference with the Paris hotelroom...) and I had a good night sleep in a good bed. I didn't even heard Zoë snorring as I have been warned for...:)
On sundaymorning we had a good British breakfast that would feed us whole day.
At 10 PM we left our hotel for Colombia Road... in a British weather... rain...

Taking the tube, waiting for a bus and walking to Colombia Road in the East End of London made us experience the pouring rain, but no problem once we arrived in the street...
I've never been here before  and I even never have heard of this road although this was my 7th visit to London...
Colombia Road is known for its flower market on sunday. 
Nothing to see in the week, but on sunday the whole street is full with flowerboots.
On the right and left side there all lots of small shops, only open in the weekends.
We went shop in, shop out, avoiding the rain by doing this and making discoveries....
What do you think of the Ryantownshop of papercutting artist Rob Ryan ? Take a look here for his website and an idea of his creations. I love papercutting, but his work is a real labour of love and patience.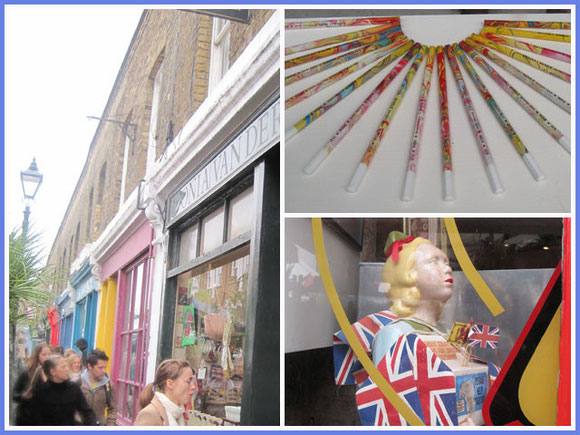 Everyone hopped in and out of the shops... a small Japanese papershop... I bought tiny tiny paperclips here.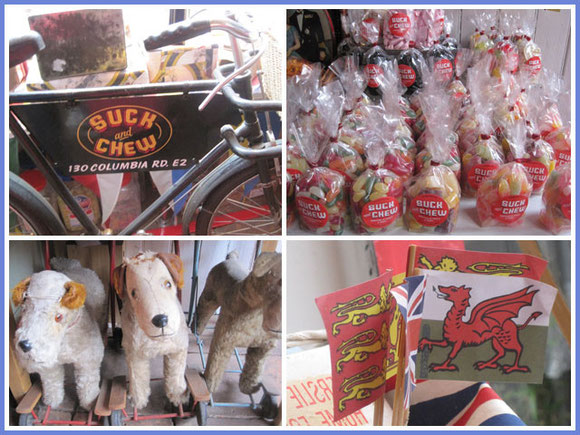 A candyshop... lots of British candy, but also vintage tins and these cute dogs.
I bought an altoid tin with mints. Now I have to eat them all quickly so I can create a mixed media piece with it as I've seen from Bethan and lots on Pinterest.
Bethan showed me the Welsh flag with the white and green and the red dragon ... that day I learned Wales is a country in the UK and is not English...just like Belgium is an independent country..
I promise, Bethan, I never call you English again ...LOL...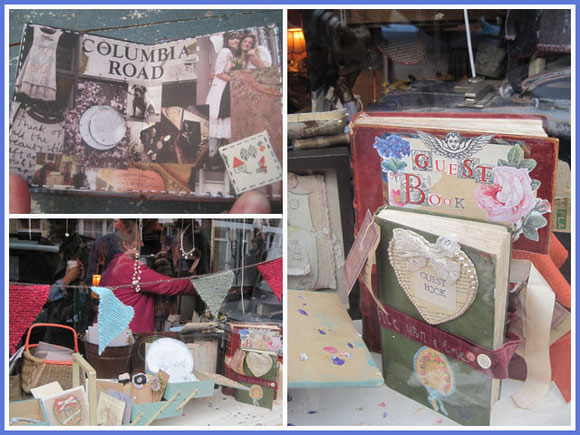 Two girls who are also very proud of their Welsh origin are jessie and Buddug.
They earn their living with their mixed media : hand embroidery on vintage cloths, collage, journals, books, cards, enamel on metal,...
These girls are worldfamous. People from all over the world come to their little shop in the weekend, even from Australia, to see and buy their creations.
You can find more about their projects here 
They were surely inspiring for us ! 
At the end of the street I heard music that gave me goosebumps... the voice, the instruments...
A small girl stood there singing with her guitar, accompagnied now and then by a guy with a cello...
streetmusicians ?... as they moved my heart, I gave them some money... but I came back when I saw there was a "contactbook" lying down...
I wrote my name and commented : " if you had a CD I would buy it immediately..."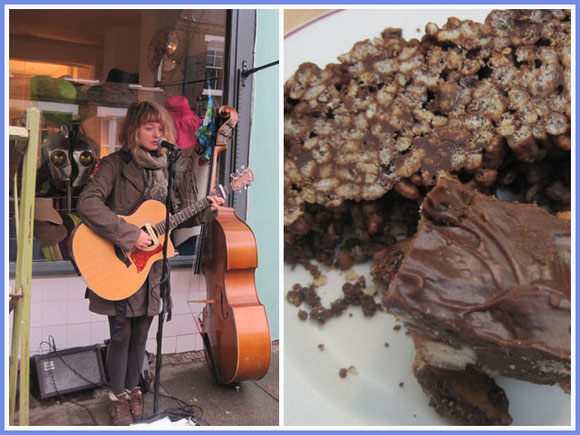 Oh look... there were CD's too ! I bought one immediately as a support for these young musicians and ,girls,  am I glad I bought the CD ! 
Once home I listened to the CD of Brooke Sharkey and listened over and over... this is the perfect music for my artroom :)
You can find more about this musician here 
She's already playing a lot in the UK , but still plays on sunday on the street, as her father, a musician also, recommended her.
Luckily she was there on sunday or I would never have met her and missed some gorgeous music in my life ! 
Time for a break and a chocolatindulgance in a local communityhouse. 
After that Zoë and Wendy left us... till next time !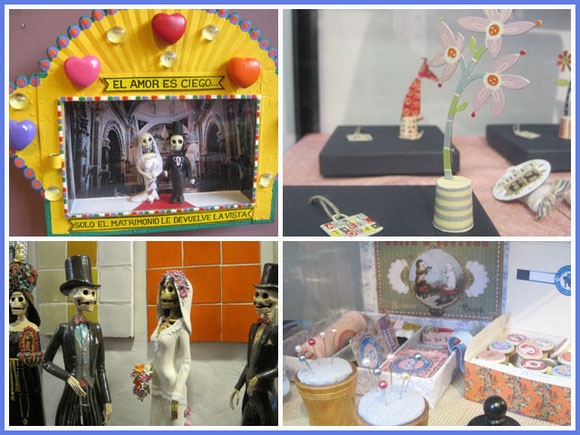 A shop with mexican creations : "dios de los muertes"... a favorite of my daughter so I took her some photos as "inspiration".
Seeing all the beautiful fabric books the past two days, we couldn't ignore the little fabricshop "beyondfabrics" with lots of fabrics in vintage and retro style. You can have a look at their shop here.
They had a nice glasscabinet in the shop with vintage sewingnotions and some handmade stuff.
Anne found lots of special ribbons for her mini bears and I bought a ribbon with "red riding hood"images for my tunnelbook " once upon a time red riding hood went into the woods...", a book that is currently on a journey from belgium, to France, to the UK, to the Netherlands,...
We left Colombia Road in the pouring rain, but not before I bought myself a package of English pink roses on the flower market.
Whe we went through the check-in that night at the eurostar, the man behind asked : " Pink roses ?..." I said : " I bought them as a hint for home...".
He just smiled :)

We went back to the center of London by bus where it was much more crowdy. 
Paula had a proposal... could we hide for the pouring rain in Paperchase ? ...
A papershop ? Surely ? Can you get a "no" when you ask this to creative people ? .... 
This is so much more than a "candyshop" for us. This shop was a revelation for me : all the handmade and printed papers, the paperstuff ( books,...),...
I spent my last pocketmoney here on washitape, skull erasers ( which I already molded with mold-'n -pour...) and some halloweenstuff for my daughter and for home...
I think we wandered seperately for 1,5 hour through the shop... until we really had to leave otherwise we would miss our train ! 
We kissed goodbye to Bethan and Paula and took the train back to Belgium at 7 PM.
I came home at 23.45 hours...
Packed with lots of stuff, but mostly with lots of gratitude of the past weekend and the meeting with friends.
We'll see each other again in spring ! Promise..
Inge
PS : several of the girls had little gifts for each of us ( thanks ! ). The little bearbook was a gift from Anne when we left home. I used it as a little "journal" for the days in London...