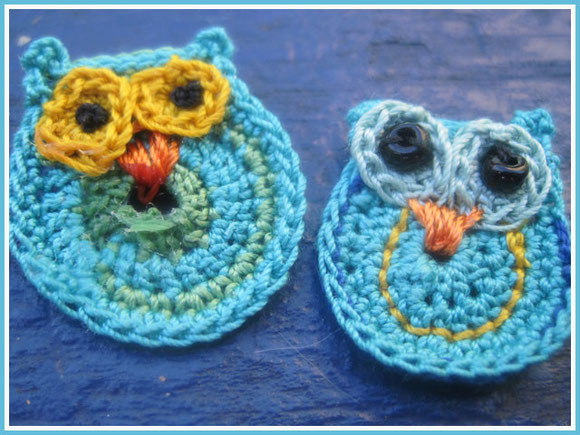 I admit... I'm addicted to Pinterest...
I'm on facebook, but hardly use it.. just use it to have a look at some peoples account, but it's not my thing.
When I heard about Pinterest, a digital pinboard ( but also a social network...) a while ago, I thought maybe this was something for me.
I got an invite and logged in, but didn't took the time to "learn" how to use it.
In one of my favorite magazines " Flow" was recently an article about Pinterest and I got curious again.
With the help of the article I took my first steps in the use of Pinterest and the rest is history...
Every night I dig in my bed with the ipad and go searching on Pinterest.Actually the use of it is quite simple...
You can "pin" interesting things from a board they suggest or you can "pin" interesting things you find on a website yourself.
In the two months I'm using Pinterest I created 31 boards. Most are about creativity, art, house or gardenideas,... but I also created some for school.
A new world opened again and I'm making new activities for the handicapped children in my Poppyclass thanks to ideas I found on Pinterest.
I also made a board about crocheting when I found these...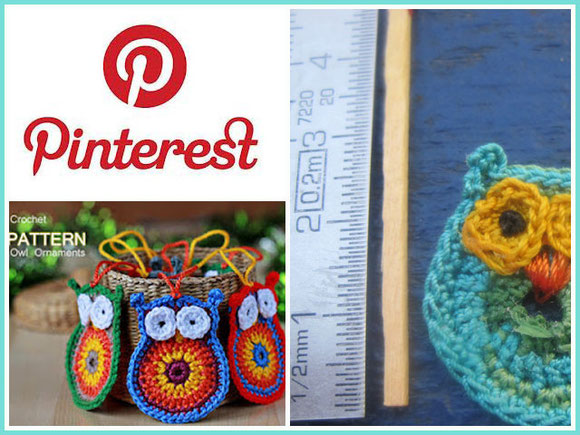 These cute crocheted owls caught my interest and thanks to the "pin" of Pinterest, I could find the Etsyshop of the designer of the patterns.
I ordered the PDF's yesterdayevening and today I tried them out.
You probably know I like to work with very fine yarn and my owls are just 2,5 cm ( 0,98 inch) high. Oh, I feel the ideas coming to incorporate them in other creative projects....
Keep an eye open, you certainly will see these owls appear again...
Only downside of Pinterest is that you get addicted... this means you go in bed at 10 PM with the intention to go sleeping early, but the clock passes midnight and I'm still collecting "just one more pin"....:)
You only can get into Pinterest through an "invite", so if you are interested let me know your emailadress and I send you an invite. (If you don't like your emailadress in the comment, send me an email at pinkepinke@telenet.be)
Are you already on Pinterest and do you have interesting boards to share, can you send me your link in a comment so I can follow you?
When you are logged in, you can find me here.
Another creative news : my mom and I are part of the artexhibition Gîrn-Art in Boekhoute ( Belgium).
She shows her painted trees and I show the books I make and my projects I did in "round robin journals" locally, European and international.
People are very surprised to hear about these roundrobins and ATC's and I loved telling about them yesterday when I was there to "guard " the exhibition.
I've been so busy telling that I forgot to take photos of the displays of our work...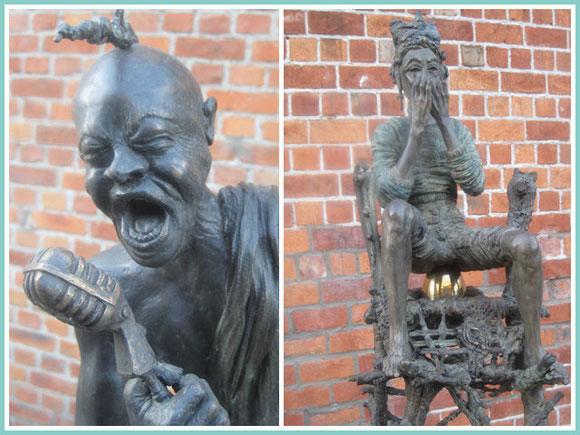 There are more then 20 people showing their projects and I can't call everything "ART" ( I don't even call my own projects art...), but these little statues are ART for me. I love the creative ideas he worked out and all the details in the bronze figures.
Another project I liked were large paintings made with lots of gelmedium and paint. They are very colorful and lots and lots of texture. I could hang one of these in my house :)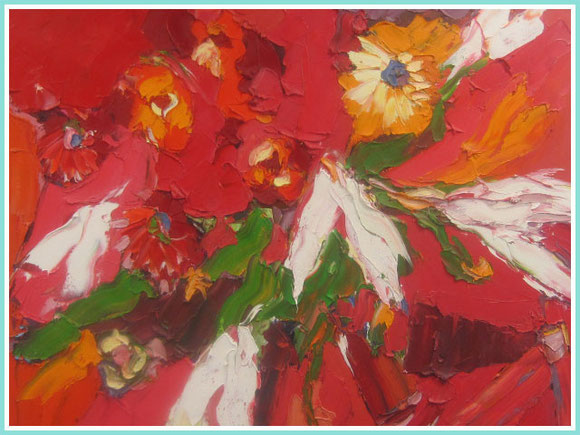 This painting also caught my eye.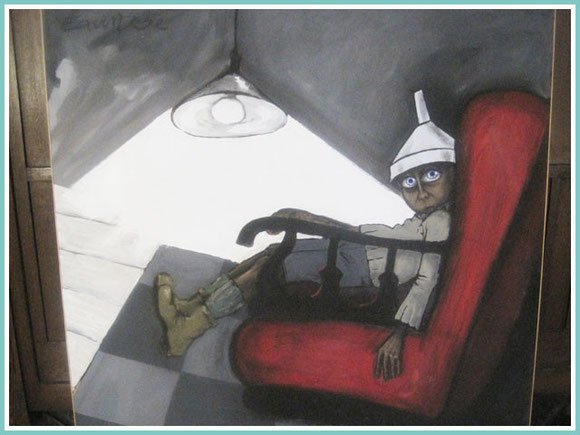 This painter ( I don't even know his name... shame on me...) really showed an own style. He can draw, he can paint, he can tell a story,... this is ART for me.
Seeing these paintings I know I must exhibit the paintings of my daughter in the next edition of Gîrn-Art in two years... She also has a very own style and I have not seen anything similar...
The last creative project for today is a commission that I got.
I was asked to make a design for a large poster A1 size. There was a poem about the sea she wanted on it. It's a present for her mom who's very fond of the sea.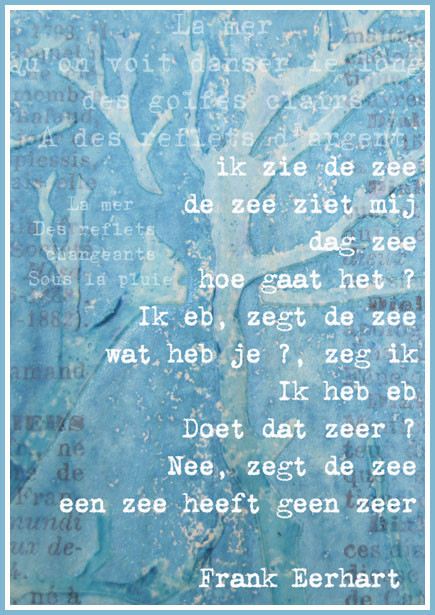 I used a photo of a part of the background I made in Eileen's evolutionjournal which was made by adding gelmedium through a stencil on old bookpages. Layers of blue paint were added.
In photoshop I added a part of a songtext of Jacques Brel, a Belgian singer about the sea. The songtext is in French and used as digital layer.
On top I added the wanted poem of Frank Eerhart.
This was the first time I made such project ,but I have to admit I love to see my handmade background printed on a large poster ! 
Inge