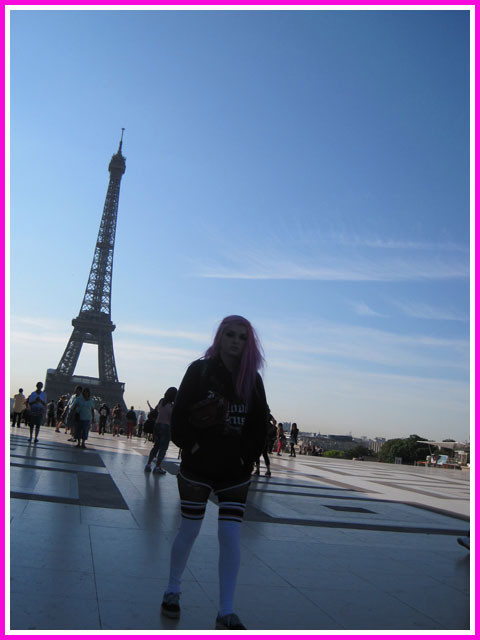 A big week ago I was in Paris for two days with my 19 year old daughter Gaia.
My intention was to blog about it sooner, but life came in between : doing homework, having two workshops : one for adults, one for the children of my collegues, I've been on a fleamarket past sunday, I went to the tattoo-artist to finish my tattoo,.. 
Anyway, here is finally my story about our "Paris in pink" journey...
We left home on wednesdaymorning 8 august at 5.45 AM and arrived in Paris with the Thalystrain from Brussels at 9.30 AM.
Our first stop to visit was the Eiffeltower... The photo on top of this blogpost is the sight we had on the Eiffeltower when we turned around the building close to Trocadero metro station... We were on a hill and had the Eiffeltower straight in our sight.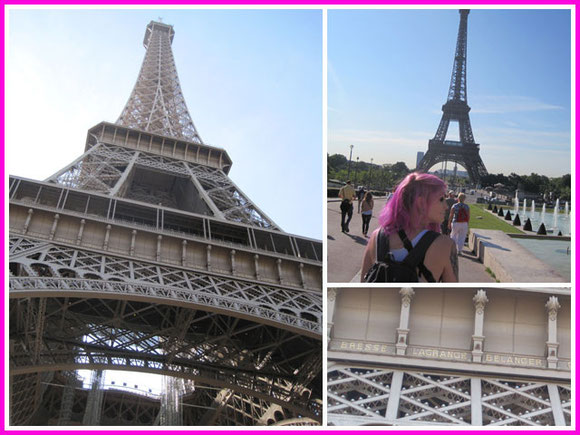 We took the stairs down and passed by a beautiful area with fountains, but although it was  warm you're not allowed to sit on the grass or get your feet wet in the water...
The Eiffeltower rose up as a giant tower before us. It IS huge when you're standing under it. Hundreds ( or thousands ? ) of people were waiting in very long lines to take the elevators and the stairs...
This waiting is nothing for me and my daughter, but we enjoyed admiring the different sides of the Eiffeltower and seeing all the metal and scrollwork.
The Eiffeltower was built for the Worldexhibition in 1913. After the exhibition there were plans to demolish the Eiffeltower but there was a lot of protest also because the tower was and is still used as a broadcasting tower.
Who could have thought that the Eiffeltower would grow into a national symbol for France and Paris ! 
It IS a nice example of technology and detailed ironwork.

Walking through a park and the building of " l' hopital des invalides" we arrived at the Champs Elyssée... In one of the sites online I read that the Champs Elysée is one of the nicest roads in Paris... Hmmm, this does mean you don't look at the traffic that's running by or the big commercials of the shops...
My daughter bought some clothes on the Champs Elysée ! ... No nothing expensive :) They had a H&M there and she found some good bargains : a new jacket, t-shirts and a short... I was happy cause she don't often find something she likes in the shops and now she was clothed completely for 80 euros! 
We had lunch in a cute pizzarestaurant. The pizza tasted perfectly and I liked the decoration in the restaurant : wallpaper with vintage images and a wall of books.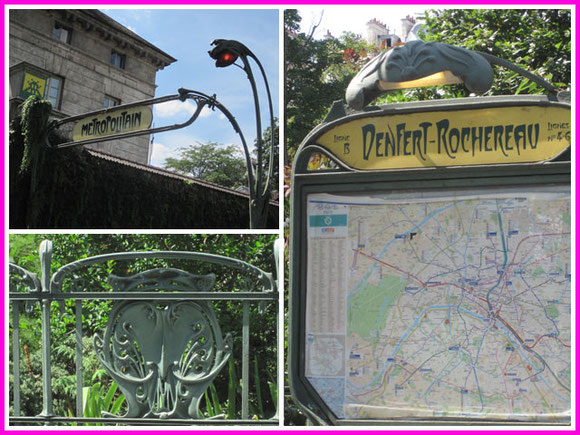 Love this metrosigns ! They are original art nouveau creations and you can still find a lot of these in Paris. 
There are new metrosigns, but although they are bigger and modern I still prefer these ! 
We would have loved to visit the catacombs but there was a huge line of people waiting. Someone came and said we had to wait at least 1,5 hours and it was even not sure we could get in after all the waiting because they close at 16 hours... The catacombs are only open between 14 and 16 hours...
Damn, this was a touristic place that would have intrigued my daughter...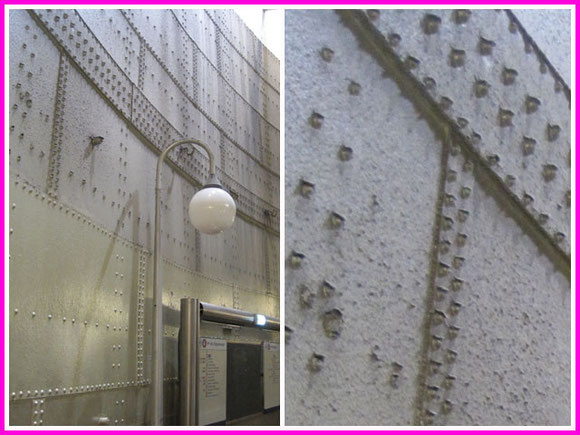 In Paris they not only have art nouveau metro stations.. I loved this "steampunk" one too ! 
Upstairs we took the stairs... but that was much heavier then I thought. Now I could understand why there was an elevator :)
In the elevator back down we had a nice reaction on my daughters pink hair...
I thought Paris was used to quite a lot, but my daughter seemed to be one of the attractions in Paris with her pink hair... She got lots of comments ( nice and not nice ones), lots of staring ( funny, happy reactions, but sometimes also impolite staring and not by children...)
In the elevator a young girl stood right before my daughter, said nothing, but stared at Gaia... I asked the girl : " do you like pink ? " 
She stopped gazing, turned around and nodded...Her British grandma gave her grandchild this reaction: " All princesses wear pink ! ..." 
Oh, I love this reaction ! I understand that people have a second look, but impolite staring is not nice...
I was surprised by the reactions in Paris...I thought they were a lot more innovative.. I'm sure my daughter wouldn't even attract attention in London...
Do you understand now why my blogpost is called : "Paris in pink " ? :)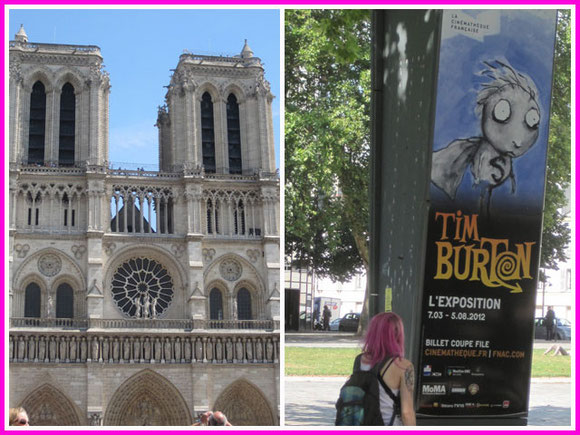 We went to the Notre Dame... This is the church we all know from the "hunchback of the Notre Dame"...
We would have loved to visit the church inside, but there were again huge waitinglines in the burning sun.
Next stop : "cinématique"... Actually this was the reason why Gaia and me were in Paris... We are huge fans of anything Tim Burton produces and we knew there was an exposition in Paris for a few months.
Because of my backproblems we didn' make it earlier to Paris.
Gaia's friend visited the exhibition in the beginning of august and said it was so worth going. 
Gaia still wanted to go, searched the internet and found out the exhibition was until the 12 th of august.
I immediately booked a train and a hotel and our dates were 8 and 9 august. 
When I asked Gaia to look on the internet for tickets to avoid standing in line, she discovered on the official site the exhibition was due to the 6th august....:/
The travel to Paris was booked, so we swallowed in our dissappointment and looked up other places in Paris to visit. Gaia had not been in Paris before, so this would still be a discovering journey.
We did go to the place of the exhibition hoping we could at least visit the museum and maybe there was still something to see from Tim Burton or we could buy the book of the exhibition in the museumshop...
It was closed.... they were in vacation since the 7th august and the museum was closed for the whole month of august...
We wish we could rip of the poster of the exhibition but we didn't dare... Luckily we found later in a coffeeshop a small poster of the exhibition and when we told the lady "our story" she gave it to us :)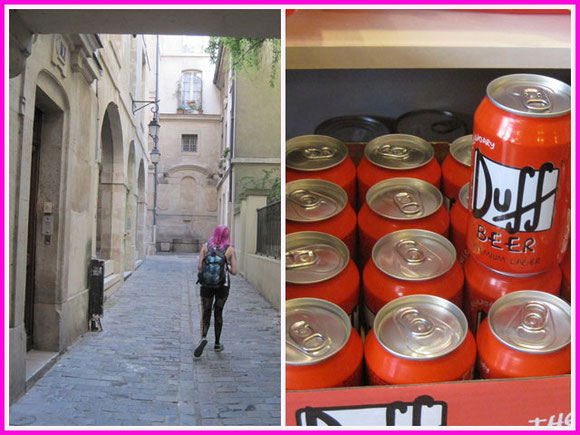 After traveling up and down the metro, walking miles between all the tourists, we long to have some " quiet" time..
We found this peace in "le Marais", a section of Paris that's worth while visiting too.
There are tourists here too, but not as much as close to thé touristic places. Le Marais is a part of St-Paul. 
In the early days Paris was not so big. It was a small city surrounded by little towns like St-Paul. Once the centre of Paris grew, the big city "swallowed up " all these little towns and they became a part of bigger Paris.
You can still see these little towns in the St-Paul region. You walk a street and suddenly you see a big gate that stands open. If you go inside, you discover behind this gate more streets and little shops and nice coffeeshops to sit down quietly.
We even found a little American shop in one of the streets... They sold "Duff beer" ! Didn't buy one but had to take a photo to show at home "Homer Simpsons favorite beer".
We did bought some special m&m's you can't find here, some icing for cupcakes and "nerdcandy from Willy Wonka" ! 
I had to buy these for my "nerds" at home and save an original product of Jake and the chocolatfactory... ( hello Tim Burton, did you lend us this way to find this shop ? ...)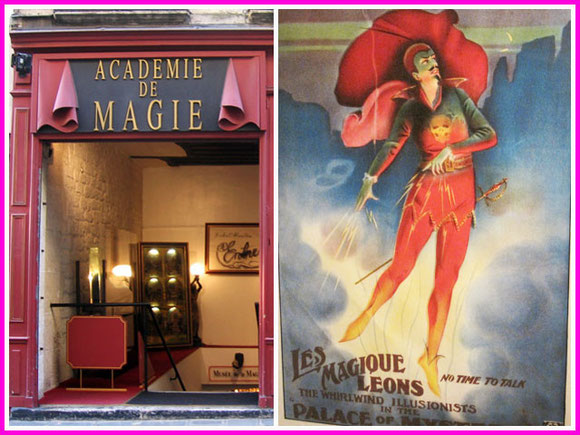 There's also a little museum in Le Marais :" La musée de la magie". It's a small cosy museum filled with original posters and stuff used by magicians of bygone area. There are a lot of optic illusions too. Even people of our generation are amazed by these.
There is a small magician show and although we are used these days to big revelations, the magician made us wonder : "how does he do that ? ".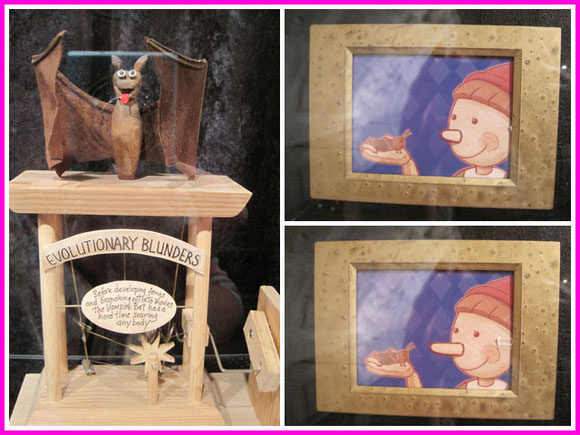 There was also an exhibition of "automats", vintage and newly made.
These were the attractions you could find on fairs 100 years ago.
I loved the growing nose of Pinocchio ! Made me wonder if I could make it myself as a " mechanical card"...
A small museum worth while visiting if you are in Paris, with or without children.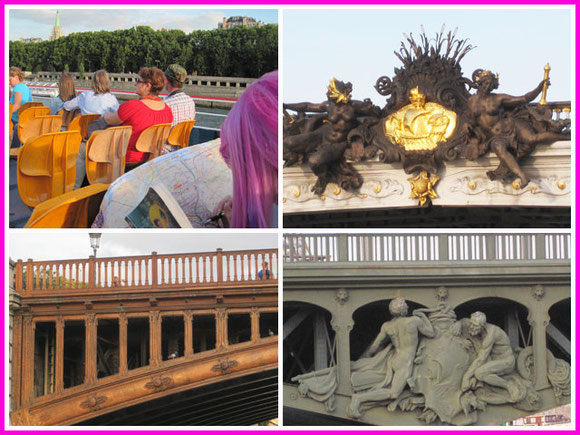 Although I've been to Paris before, this was the first time I took a ride in a " bateau mouche" on the Seine...
I can highly recommend this as one of the first things to do when you visit Paris ! 
I bet it's very crowdy during the day, but we did this at 8 o' clock in the evening and this was perfect.
It was very relaxing and the trip on the Seine really made you seen the "grandeur" ( "greatness") of Paris.
We sailed under several bridges and none is the same. There was even a wooden bridge, but most are from iron and stone, but what a huge nice ornaments they have !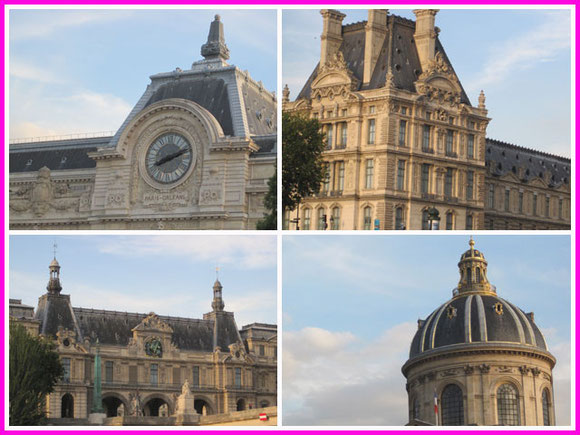 This boattrip leads you past most of Paris famous "grand" buildings : the Louvre, le Musée D'Orsay, the Notre Dame, the Eiffeltower,...
It was one big building next to the other and that moment made me realize why Paris is indeed a "world city".
When you walk through Paris you walk between the buildings, but you don't have a clue what's next or behind that building. 
The boattrip showed it all !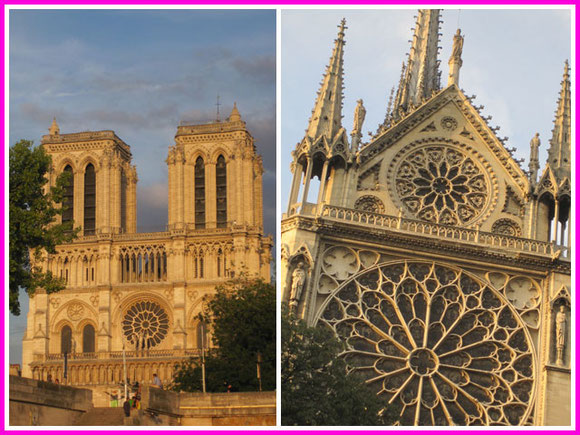 Everyone knows the left image of the Notre Dame, but actually the Notre Dame looks more beautiful seen from the side or behind.
The frontside is quite ungainly although the details on the front makes it nice to look at.
But look at the photo on the right ! What a gorgeous window and all those fine little towers !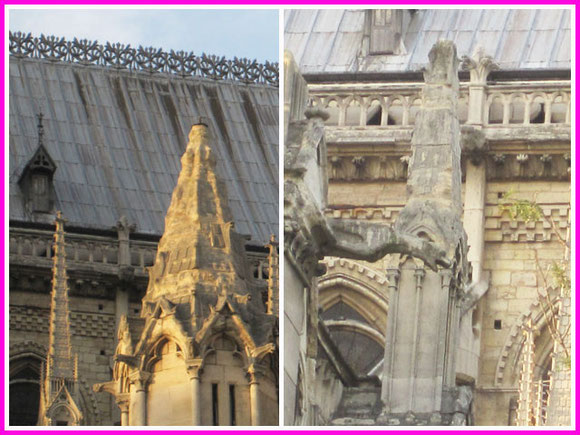 Look at all the carved details in the towers or the ironwork on top.
Can you find the gargoyles on the right ?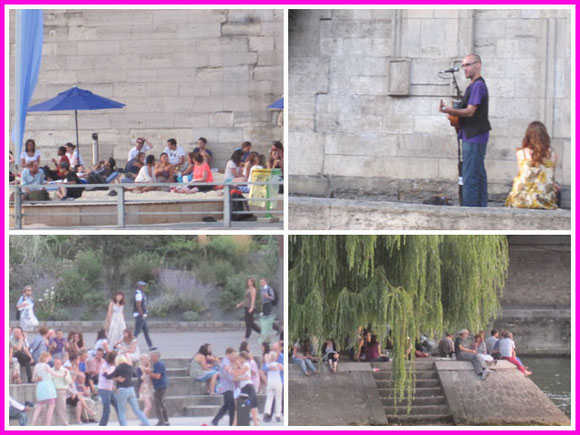 It was hot in Paris and it looked like every Parisian came out of their house.
It was nice to see how people "live" at the sides of the Seine : people were sitting there, making music, dancing,.. They even made a beach with sand along the sides of the Seine !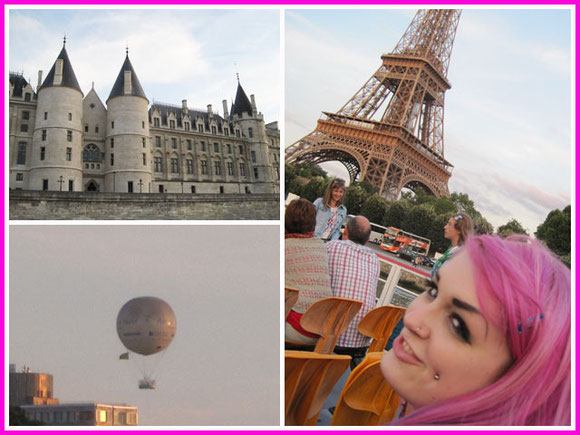 The boattrip took almost an hour.
Just before it became dark, we passed beside the Eiffeltower. Funny how lots of people grabbed their camera to take photos of themselves with the Eiffeltower in the back...
I made a funny one of Gaia saying she didn't want such photos...
Then we went back to our hotel : completely worn out...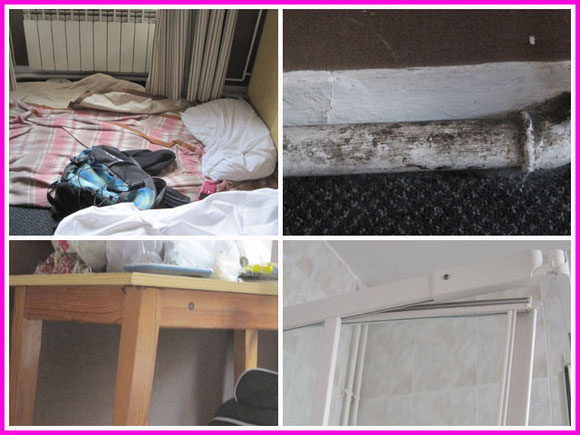 The photos in the internet didn't show what we got...
The location of the hotel was perfect : close to the Bastille and two metrostations, but it was small and dirty...
The bed for two persons was very small and Gaia preferred to sleep on the ground..
There was mold in the closet, on the tubes,...
Sheets were clean, but there were spots on the bedspread...
The people were polite and nice and we could leave our luggage there too, but it's not a hotel I would recommend or go back.
Paris is expensive, but next time I look for a hotel in another category I did now...
Anyway we did catch up some sleep...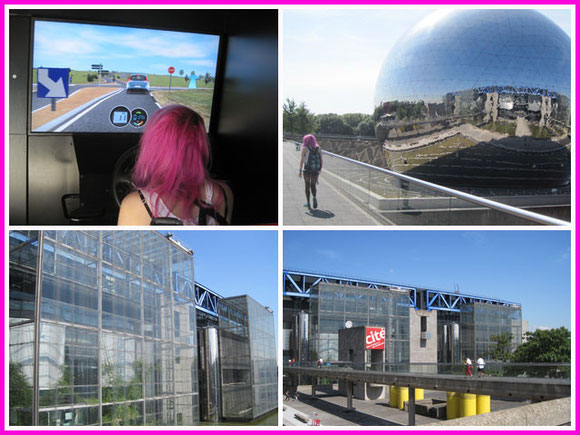 Next morning we went to a newer part of Paris : the museum of science and technology. 
The building and it's surroundings look like one of the scenes in the film " inception" : very futuristique, but I did like it. 
The museum is huge and you can spend more then a day there, especially with children. There are lots of interactive displays and Gaia tried out an "electric car".. Hmm, she crashed... but I have my driverlicense and even I crashed ! ... Hope this doesn't mean anything for the future for her or me...
The museum is placed next to water at Port de la Vilette and has a nice parc too. Worth while spending more time in the future.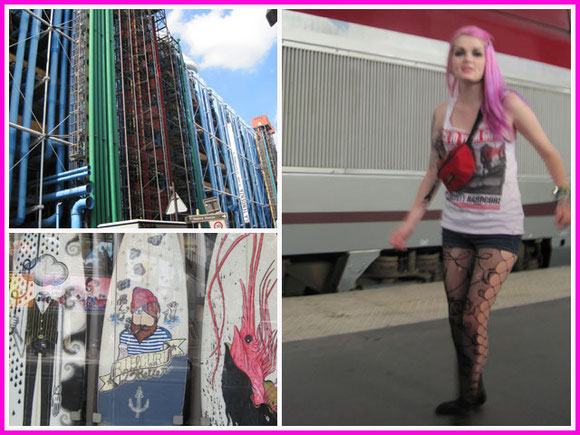 We spend the afternoon looking for a papershop with stamps 'l' art du papier", but after walking miles, we must agree that " rue de Montparnasse" is not the same as " boulevard de Montparnasse",...
We visited some gothic shops, passed by Centre Pompidou ( the photo left on top). This was the back of the museum of modern art and yes, it's special, but actually it's ugly too...
We ended up in "gare du Nord", where we would catch our train back home.
Gaia ended up walking on her socks in the station: her feet hurt and were overheated...
Two days in Paris with my daughter was a revelation, but it's very busy and after two days in the crowds and noices, I felt "overexcited" by all the stimuli..
Nothing feels like home and it's nice to have a home to come back to...
Or when it's hot like the past days, to float in my outside bath...
Inge