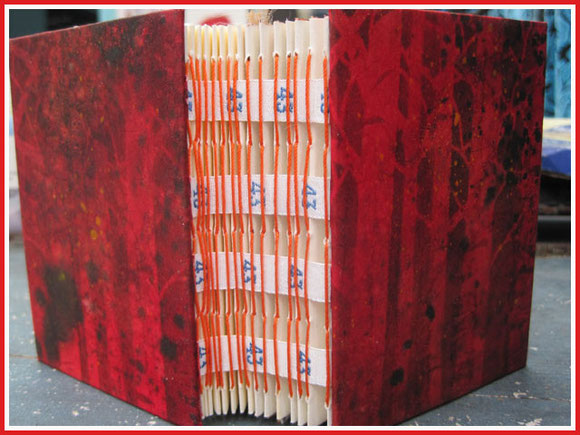 I'm working on a new project for a new round robin...
At the end of this month our current local round robin of an enveloppebook ends when we meet and give the books back to the owners.
People have already been asking "if I had an idea for a new roundrobin"...
My proposal is to make a small enveloppebook with space in every envelop for an ATC. Each participant may choose her own theme, but decorates in every book one envelope and makes one ATC according to the theme.
As an example I'm making a Halloweenbook. Every time I don't have a real project in mind, I make an ATC and decorate an enveloppe in my own book just for the fun of creating.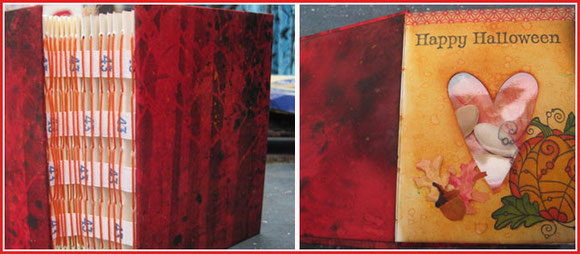 The covers were made by spraying paper with all kinds of inks and using a treestencil of the craftersworkshop.
I cut enveloppes with the new enveloppedie of Tim Holtz and sewed them into an accordeonpaper with ribbons.
Then this accordeon was attached to the covers to assemble the book.
My first enveloppe has a heart-cutout and is sealed. Inside are pumpkinseeds that show through.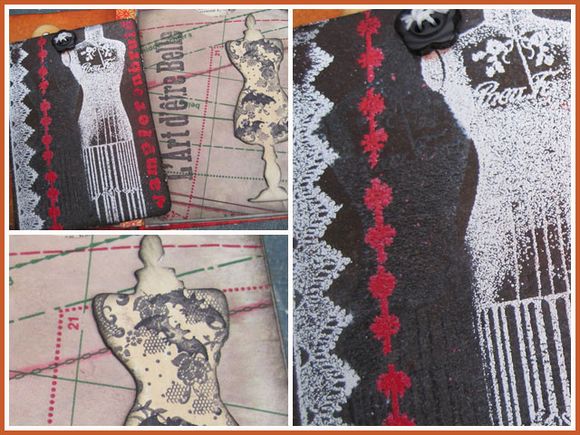 I think you can use all kinds or a lot  of your stamps in a theme, if you just adapt them a bit.
What do you think about designing a dress for a vampirebride? What will she think of red, white and black, some lace and a bat ? ...
I alternated two kinds of enveloppes. There is an envelopp that closes on the back, the next one is open at the top.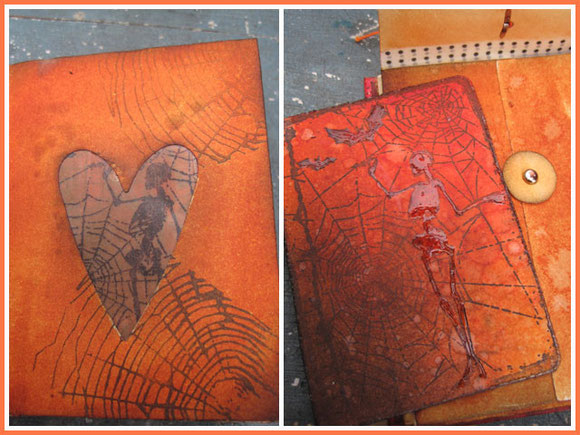 A skeleton and spiderwebs decorate another eveloppe and ATC.
The open heart in the enveloppe is backed with selfmade waxpaper.
Inside an ATC of Tim Holtz on a sprayed and spritzed background. To make the skeleton stand out more I putted glossy accents on the figure.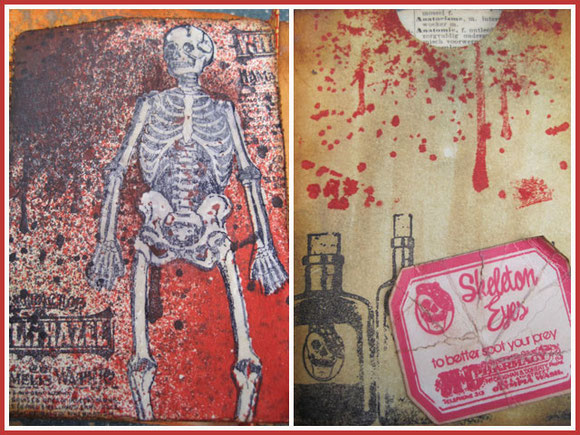 What's left over when they need skeletoneyes in a creepy apothecary?...
Indeed.. the skeleton..
On the left the ATC .I inked the ATC with distress ink old paper cause this would show through in the skeleton.The skeleton was stamped with permanent ink and with a perfect medium pen I inked the skeleton and embossed it with UTEE.
A few more stamps of Tim Holtz and spraying with Dylusions sprays.
On the enveloppe a Tim Holtz stamps and halloweenstamps from the Artistic Outpost.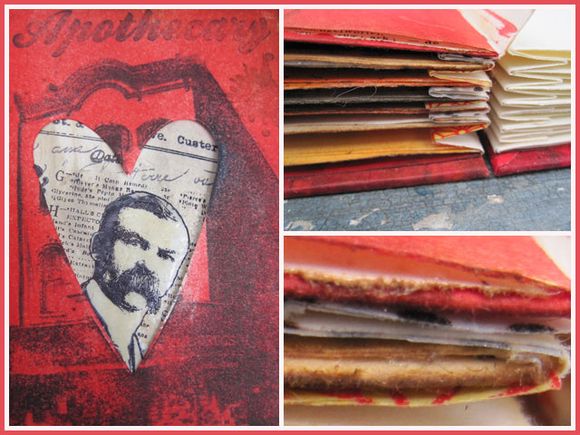 The man that keeps the apothecary open seems a decent man, but having skeletoneyes in his store ?...
The ends of paper between the enveloppes are covered with washi tape .
For the moment I have done the half of the enveloppes and ATC's in the book.
At least I have something to show to the participants and ask if this is a project they would like to do.
Being busy with ATC's I collected my ATC's I made and recieved in the past.
I didn't have a proper way to display or store them: some were in an old book that falls apart, some were in a box, some were on display...
I made several ringbinded books the past months for onlineclasses I followed, the outprints of Technique junkies,..
Now I made two books for my ATC's with plastic sheets that are used for collectorcards. 
I covered the boards with packingpaper from Anahata Katkin ( Papaya ART), a designer/artist I like a lot.
One of the books is for the ATC's I made myself, the other book is for swapped ATC's.
I made a lot of ATC's in the beginning of my stamping and used them in my displays in my house. Collecting them all together made me realize I did made a lot ! 
I have several themes : halloween, writing, sewing, love, the sea,...
Seeing them all made me realize I like ATC's and it's way too long ago since I made or swapped them ! Change will come in the future :)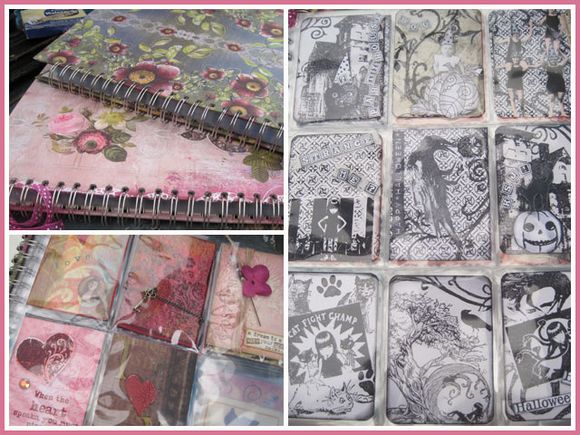 One of my first ATC's I made was for a challenge on a Dutch onlineshop.
I made a combination of fabric and paper with stamping and inks : "sew beautiful"
I couldn't believe my eyes when I saw on the website I won the third price ! And I recieved a set of stamps... one of the first of my collection then.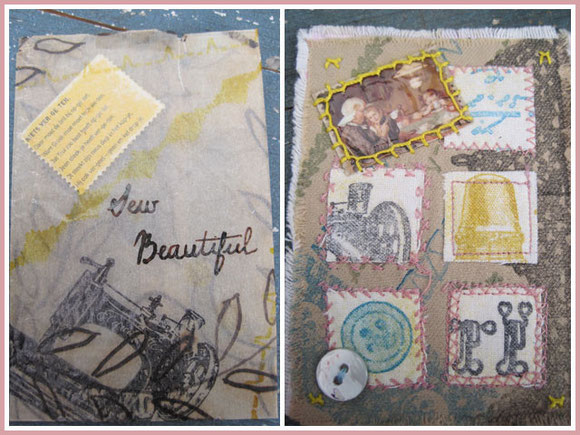 Also in the beginning of our local round robins ( 2007 ? 2008?) we made ATC's with a monthly theme.
To house my recieved ATC's I made books for every theme : being a mom, easter/spring, favorite animals, schooldays,...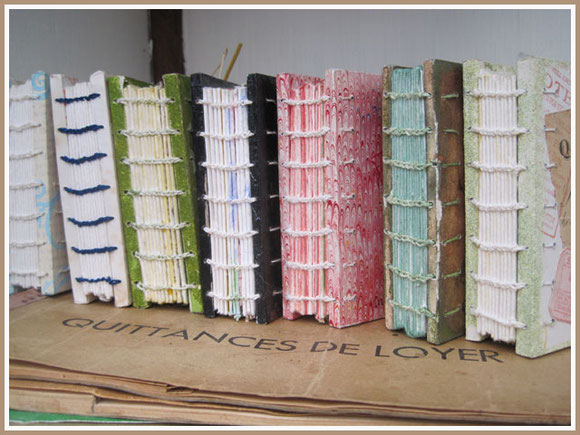 These books are still on display in my craftroom in a glasscabinet.
For the ATC's of "schooldays" I made for everyone a blue/white ATC with a soldered pendant on with the first letter of their name and images of things they like.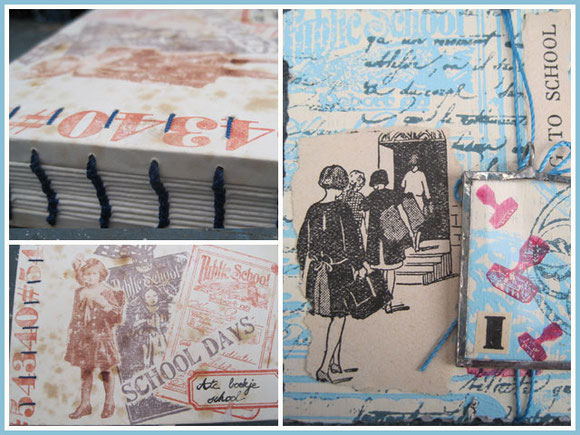 My goal for these books was to house an ATC in every page and decorate the page according to the ATC.
The ATC could still be taken out, but put back in it's place after use.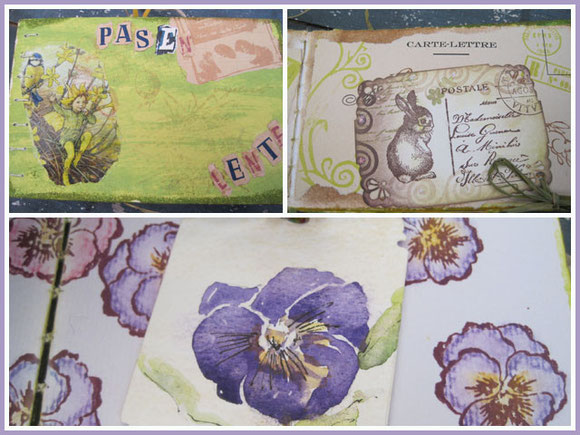 I managed to finish some of the books, but not all...
Here you see the book "Easter/ spring" and the ATC's of Anne with the rabbit and one of my mom with the pansy with their decorated backgrounds.
I don't only look for a way to store ATC's, but I also use ATC's to store things on...:)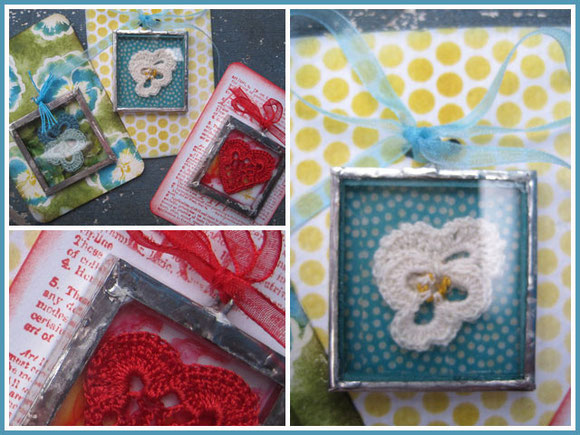 An ATC is the right size to store and present my selfmade pendants.
I crochet flowers or hearts, decorate the background of the glass on which they are put on and solder them into a pendant.
ATC's are decorated matching  the pendant.
You can order some of these pendants on my etsyshop. I have more made then are listed now, so if you're interested I can send you some photos. Just send me an email.
Some day I will fix my shop here too...
No more creating the next two days, but soaking in inspiration...
I'm going to Paris with my daughter for two days ! Tomorrow we leave very early in the morning and come back on thursdayevening.
I have some "must sees" on my schedule : the Eiffeltower ( cause my daughter has never been in Paris) and the Louvre ( Egyptian collections), but we also want to do some alternative visits : the catacombs, la musée de la magie, the cemetry of Montmartre, le Marais, le viaduct des Arts,...
I even looked up a Paris store with paper and stamps... " l'Art du papier".. You never know they have stuff I don't have !! LOL
Inge