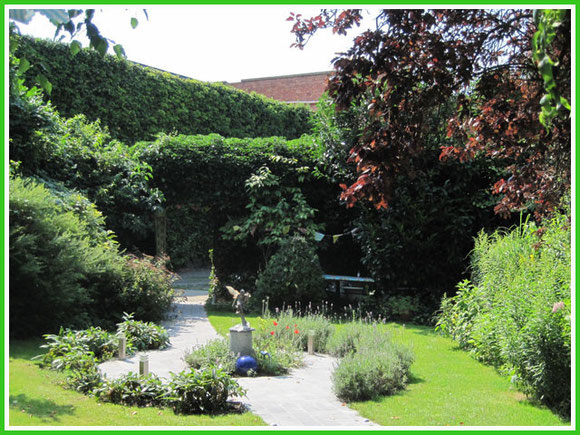 After two weeks of pouring rain, we got real summer the past week. The temperatures rose until 30 ° C ( 86° F)... 
Not really my cup of tea... a bit too hot... I'm more then pleased with temperatures between 20 and 25 ° C, but luckily mankind doesn't have the ability too choose this himself...
The good weather has its advantages too : warm evenings... my daughter had a gardenparty with some friends on tuesday and they enjoyed the evening and night on my wooden terrace in the garden into the early hours of the next day...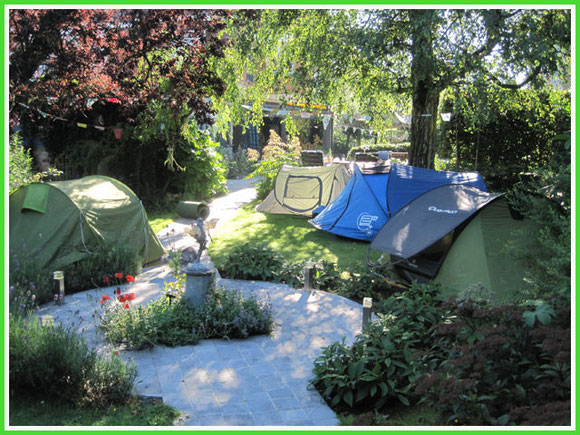 I enjoyed this sight in the morning... everyone still sleeping in their tents in the garden while the sun is already lightening the day...
Inside the house is was quite cool ( it's an old house) and during the hotest hours of the day I stayed inside and worked on the boys bedrooms. I've been busy for a big week now and I'm almost finished repainting them completely..
Even it was doable in the house, after a while I got overheated, but I do have my solutions for this...
In my garden I have an outsidebed ( for an afternoonnap...) ànd I have now an outside bath too...

I remember when the kids were little, I often took a plunge in their swimmingpool just to cool down, but since about 3 years they used it so little in summer that we didn't put it outside anymore.
But I did miss the "cool-downs" in the swimmingpool in summer...
In the autumn past year I searched the internet for an old bath. My husband declared me "nuts", but with his help and a relative the bath came home and was installed in the garden.
Autumn and winter was not really the moment to try it out, but days like the past week were perfect...
The bath is tucked away between my shrubs and above me there is a "ceiling" of ivy.
No one can see me sitting in my bath in my bathsuit... but I can overlook the whole garden..

Past week I cooled down 3 times in my outsidebath... With a little essential oil of Rosmarin in the bath and a magazine ( and OK, maybe also a spider and some leaves,...)  I soaked there for an hour...
I had to smile when I saw myself in my bath : these are moments to treasure and I have the feeling I have a bit of heaven in my home...
Apart of being creative in the bedrooms, I made two birthdaycards.
In the online class " stretch your stamps" I relearned the technique to make your own custom inkpad with distress reinkers and the cut 'n dry felt.
I made myself a rainbowinkpad and immediately fell in love with it and had to use it in different projects ...:)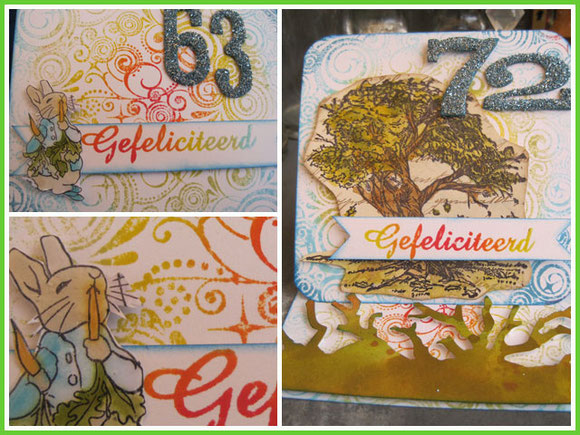 Rita became 63 and she's a fan of Peter Rabbit.. so I make her every year a card with Peter Rabbit on.
The background was made with a large backgroundstamp which I love for all the circles and swirls.
Peter Rabbit was stamped with permanent black ink and colored in with distress stains. Then he was completely covered in glossy accents.
For my mom who becomes 72 coming wednesday I made a card with a tree, cause trees are her favorite.
The numbers on both cards were cut with the new "word play" die and decorated with german glass glitter.
Another card I made was a project I wanted to do for a looooong time. A few months ago I bought several books on pop-ups and mechanical cards/pages.
One of the techniques I wanted to try was the "pull-tab with changing picture".

In the center of the card is a center image. when you pull the tab on the left...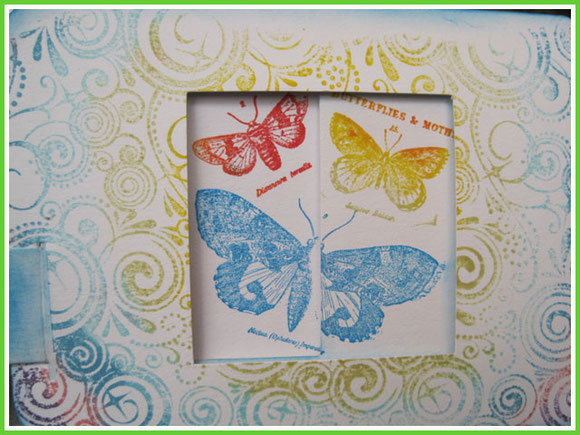 .... the image changes ! 
In the meantime I made several of these to find out the do's and don'ts and adapt the technique to my taste.
Not every project worked perfect, so I'll try more out.
Another project that was on my to-do list for a long time, was remaking some of the books and bookbindingtechniques I learned a few years ago in bookbinding.
It was a long time ago and I had a lot of problems to figure everything out again. Luckily I had my techniquebook and my notes of the classes.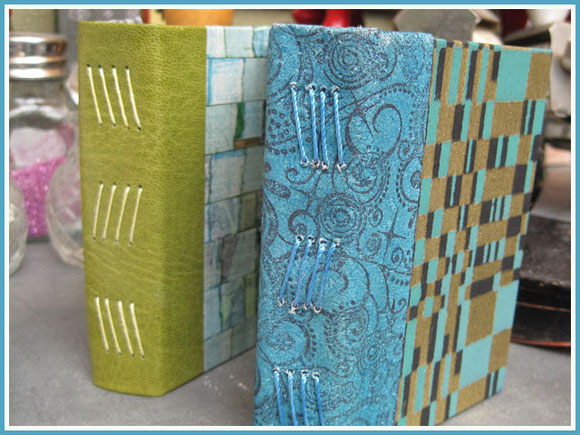 The book on the left was made in bookbindinglessons. It's the quick leather binding with a real leather spine. I don't know why they call it the "quick" leather binding, cause it took my hours to figure it out again ! 
I don't have leather that is treated for bookbinding.
But I had grungepaper...
I've seen grungepaper used as spines of books and this product has its flexibility but can also be colored with distress stains and stamps, so why not try it out ? 
I'm quite pleased with the result ! 
I could thin out the grungepaper at the ends with a craftknife so I could use it in the same way I would have used leather.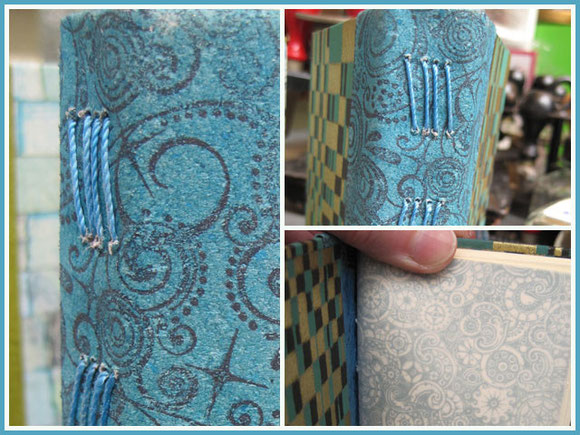 I love the stitching in this technique. It looks very easy on the outside, but it's NOT easy to do.
I needed to make a sewingpattern for the back and the signatures and this is "maths"...
The paper I used for the boards on the outside and inside is an old paper I found in a pictureframe. I liked it and saved it for future purposes..
The protective page on the first signature is made of printed vellum.
I like how the book turned out, but I have to practice this bookbinding a lot more, to get it in my fingers... 
For the moment it's the " slow grungepaper binding" instead of the"quick leather binding" :)
Inge