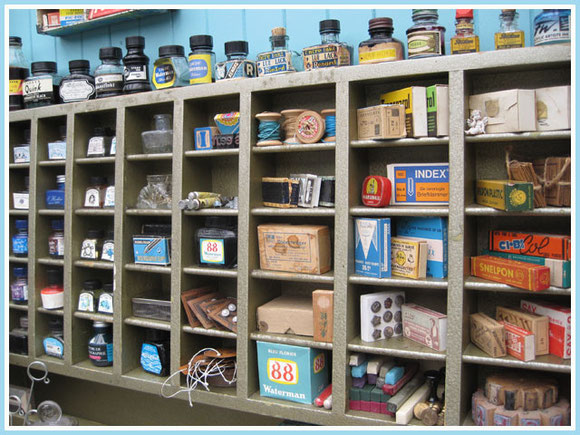 I revamped my creative room in the veranda... After a year of not being able to do bigger works, I finally am able to take a brush in my hand and paint bigger spaces then a journalpage :)
When we moved in our house of 1924, 18 years ago, there was a veranda attached with brown woodpaneling... Brown is not my color, so one of the first things I did was overpainting the brown with a green varnish.
I chose green, to make the link to the garden, but after 18 years I wanted something else...
One of the tasks I want to complete this summer is repainting the bedroom of my eldest son Freek. I bought 3 tubes of paint to "test" the colors in his room. The colors are : eggshell for his ceiling, azura for the focal wall and Turkish stone for the other walls.
Hmmm.... the Turkish stone color called to me : " what about the veranda in this color ?"...
I did a test ... this color matches my curtains I made past summer perfectly...
So instead of Freeks bedroom I started painting my creative room !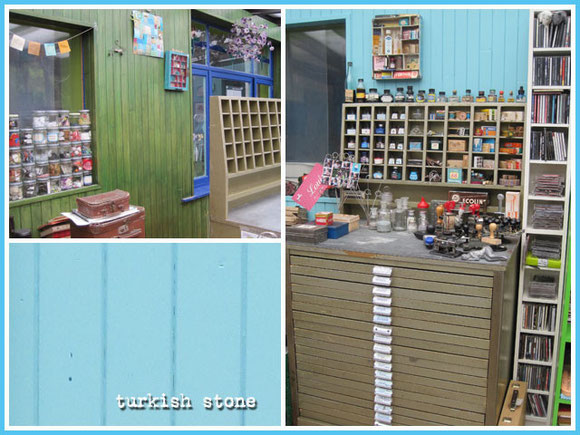 In the past I would have completed this task in two days... but considering my backproblems of the past year, I was wise and worked in stages... It took me 1,5 week to complete the job but this means not only the walls got painted, but every drawer and cabinet was cleared out too and reorganized.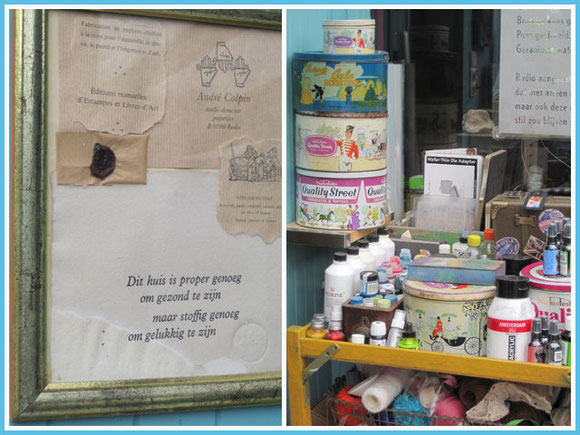 One of the first things I hung up again is a favorite quote: " this house is clean enough to be healthy, but dusty enough to be happy"...
Most of my creative stuff is stored in open cabinets so I can see what I have and I'm more inspired to use it all.
I've always loved and still love old tins. Some are pure decorations, but most are also used as containers to hold my paint, sprays, scentcandles,...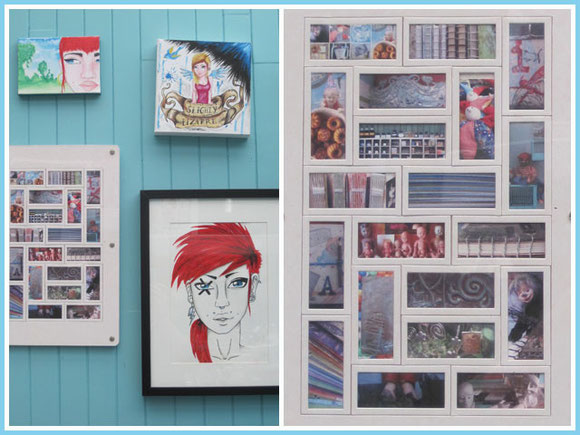 On the wall above my radiator, between two windows, I hung some artwork up from my daughter. These ar some of my favorites I will never sell.
I also have a display with several of my MOO-minicards in. On my MOO-cards ( my "business"cards) I have photos of things I made myself ( books, dolls,...) or views in my house.
I love this display I bought at MOO.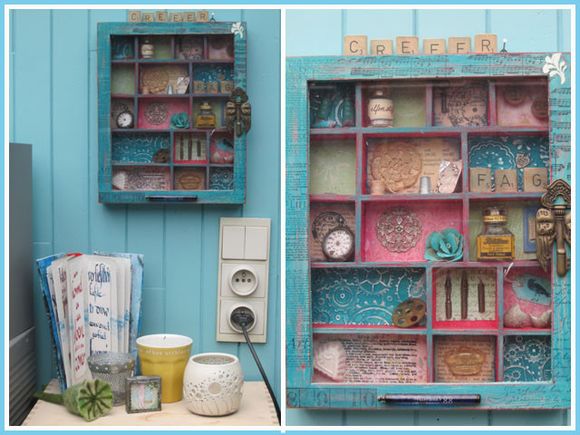 Above a wooden drawercabinet in which I house my edgedies, precut cards, melting pot,... I hung a box I made in a workshop in my local craftshop.
The workshop was mostly about backgrounds, but once home I added found stuff I saved through the years. My daughter asked recently why I added the word " FAG" in the box... I had to laugh : it's not a word... The letters are the first letters of my childrens name : F for Freek, A for Aran, G for Gaia... I never thought about the meaning of the word . LOL
There is fairydust in the box, a robin's egg I found in my garden and didn't want to throw away,old pennibs,... On the door is one of the flying keys of Harry Potter...
Every item has its meaning...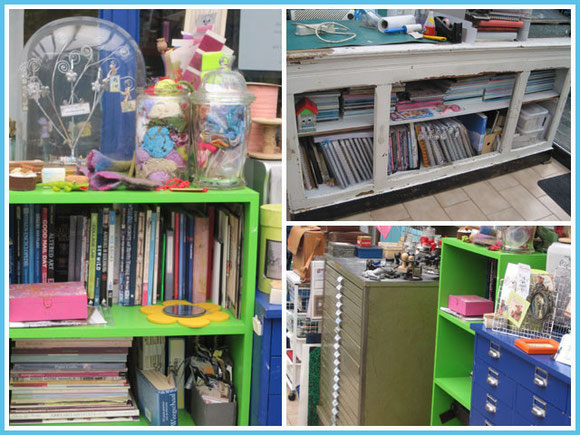 I share this creative room with my husband... He is housed with his modelscaling on the other side of the old white cabinet. This is my "cutting" table for larger paper or to use my Vagabond. 
In the cabinet my collection of Stampingtonmagazines of the past 7 years. These magazines opened my creative world and are still a source of inspiration.
This cabinet also houses the books I made by printing all my blogposts with comments of the past 5 years on my previous website. My diaries...
The blogposts and comments on this new website will end up on paper and in books too.
The past years I also bought several books on mixed media, bookbinding,.. and they are housed in an open green cabinet.
The blue drawercabinet I share with my husband. More paints, glues, tools,...
My pride and joy is the green fakemetal printerscabinet I found in a second handshop.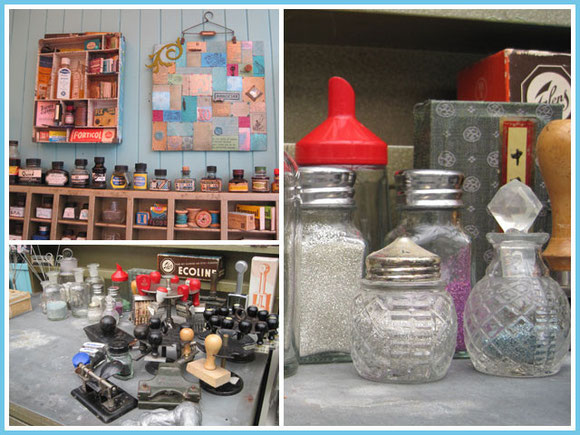 In the drawers lots of wooden stamps, clear stamps, scrapbookpaper and handmade papers.
On top of the cabinet my collection of "officesupplies" I gathered through the years on fleamarkets: old stampspinners, old stamps, lots of inkpots in different sizes, some with the inks still in ( and still useable!).
My glassglitter is in old salt 'n peppershakers...
Above my printerscabinet a "patchworkpandemonium" I made myself after seeing the ones on the internet made in Tim's classes.
The "configuration" box is one I made myself past week. I'll show you more about this one in a following blogpost...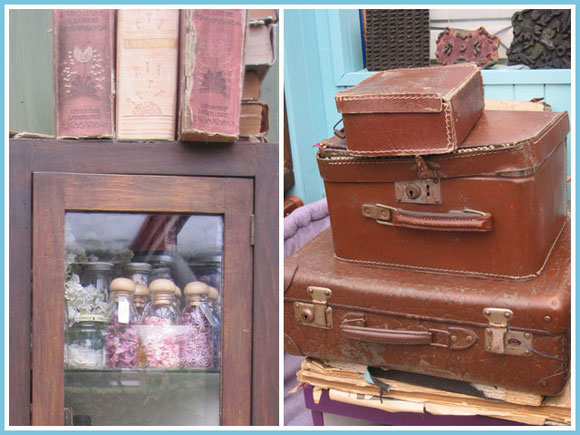 More old collected stuff... Lots of papers, old books and magazines, crochetingstuff,... is tucked away in vintage suitcases found on fleamarkets and second handshops. Lots I have for years, long before they were sought after like now, so I bought them for cheap prices...
An old glasscabinet on the wall to display more stuff.
On top old French dictionaries from "Larousse" : these are my favorite ones with the brittle pages and the images.
I bought them to tear papers out and use in mixed media projects, but some I don't have to heart to pull papers out...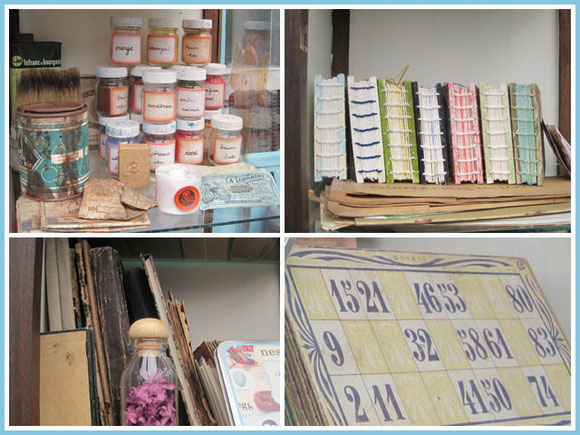 In the glass cabinet more old stuff to cherish and use : pigment powders, old packages of fabricdyes, old bingocards,..
The books are handsewed books I made to house ATC's in.
I also inherited some old exercisebooks from the beginning of 1900 : handwritten recipes and even one of my grandmother she used as a young child in school.
Originally saved to use because of the old handwriting, but I think I'll make copies if I need some...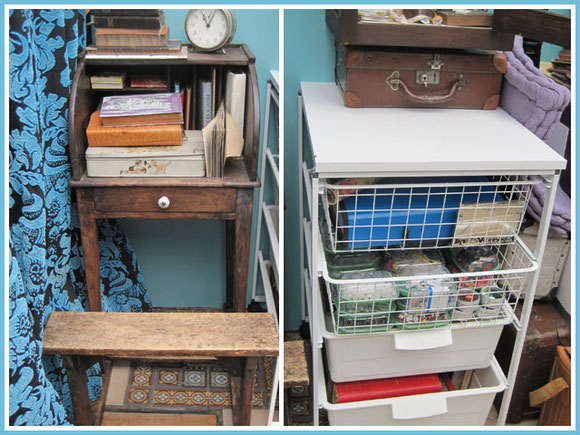 Above a little childrensdesk I inherited. It must once have belonged to a rich child of a family where one of my ancesters was a servant. Normal kids didn't have a desk like this !
On the right a new Ikea drawercabinet on wheels. I needed some more storage place for more ( yes, more... ) old books and my little embellishments I housed in glass jars before. 
It' very handy, but doesn' t have the right look... yet... Nothing some paint or old papers or whatever won't be able to alter !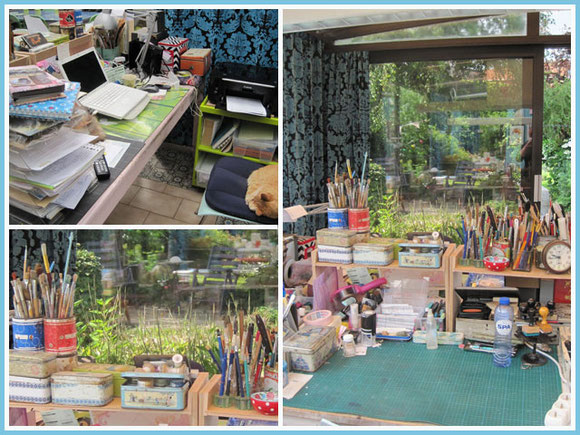 I have two old tables to work on. One is my "computer" table ( messy...) and overtaken by cats..., on the other I do my creative projects. 
I cleaned my worksurface to make this photo...LOL
When I sit here, I can see through the windows my garden, my waterfountains, my fairies and path of Alice in Wonderland...
If the weather is a tiny bit good, I open the glass doors and I have the feeling I'm outside in the garden.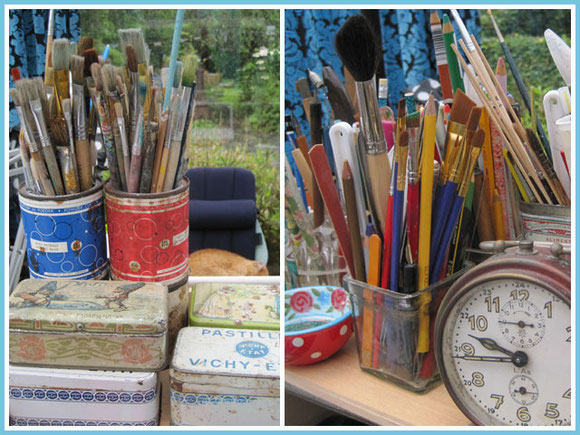 My storage here is again old stuff : old sewing or sweets tins, old painttins I attached on top of each other so I could use them for my paintbrushes.
Everything is in handreach, so I don't have to search long to find what I need.

My markers are in IKEA storage. My inks are in vintage tins.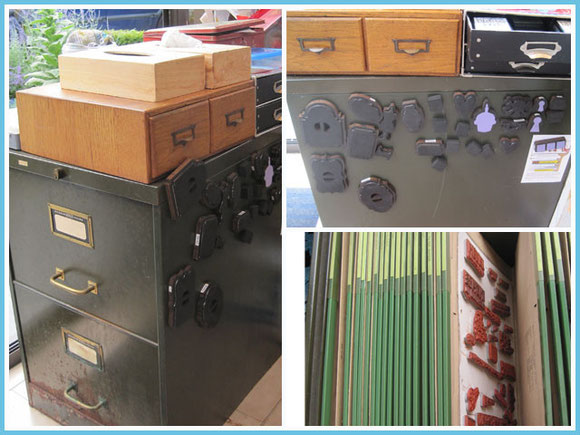 Another secondhandshopfind... a metal cabinet for filefolders.
This one was cheap and even had all the original filefolders in it : the perfect spot to house all my unmounted stamps.
In the little drawers on top are my alcholinks, distress inks, embossingpowders,...
When I was looking for a storage place for my movers and shapers I suddenly noticed my metal cabinet... As this is metal, the movers and shapers stick to it ! Perfectly in handreach and I can see what I have and use...
Phew... this was a long virtual trip to my revamped creative space.
I hope you enjoyed it and maybe you get inspired.
I combined my love for vintage stuff, my collecting of it with my creative life.
I can use it all ànd enjoy looking at it. :)
Inge