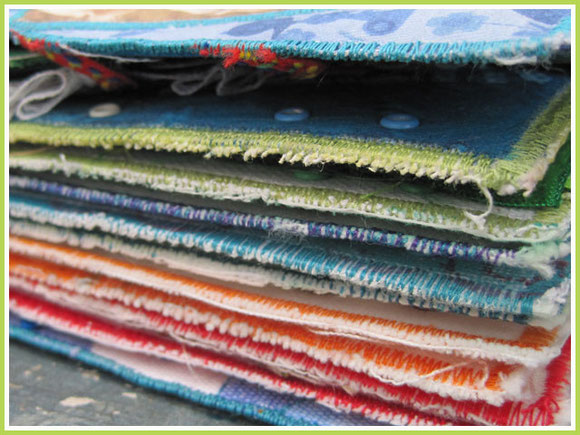 A few months ago we started a new European round robin with the "sweet sisters" (me, Dorien, Paula, Zoë, Nikie, Bethan and "new sister" Lesley).
The commitment for the book was that it has to have something with fabric, stitching... kind of a fabric book but we also loved to see a mix with other media such as paper, paint,...
Everyone was free to choose an own theme and mine was " once I was a child". They could create anything about their childhood, a imaginative child from now or years ago.
My book made it home this week and much to my delight they all created something personal about their own youth ! 
It's awesome, really awesome and I like the quality of each one's work.
I HAVE to share this with you : maybe you get inspired :)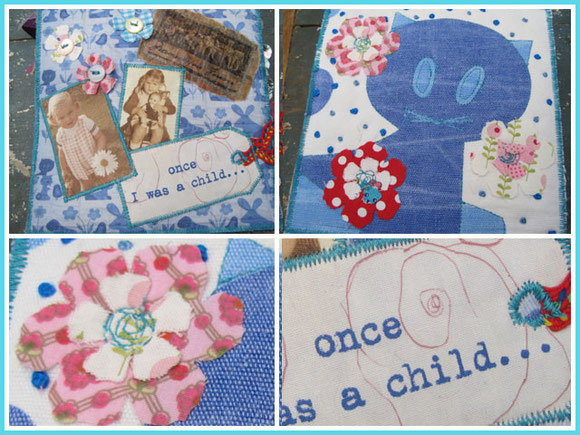 On top my covers front and back. I started with a piece of fabric that I had since I was a child:  a vintage fabric with cats and rabbits,... I used it in my childhood to play with my dolls, but I NEVER cut it up or used it to make something with it.
I still had it in my drawers after 40 years...  I took a photograph of the fabric and resized it to a smaller scale and printed it on fabric. The back of the book is a piece of the real fabric I finally had the guts to cut it up and use it ! 
I embellished the covers with photos of myself as a small child with my dolls.
A scribble I made as a child was scanned and printed on fabric too. I printed the title "once I was a child".
I cut it up with a tagdie and sewed it on the frontcover.
Fabricflowers were cut from favorite fabrics with the tattered flowersdie of Tim Holtz and freestyle stitched.
On the back I added French knots with blue thread.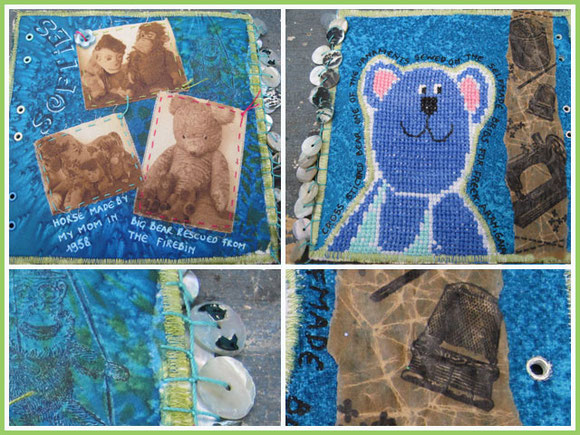 I made all my pages by sewing canvaspaper/ wallpaper and cottonfabric together with batting between. The sides were all stitched with different colors of threads ( see blogphoto). 
I need color, you know :)
My own page was made by spraying ink on the lining paper and adding salt. The ink reacts with the salt and gives a special background. Some childrenstoysstamps were added on the background .
On top I added some photos of softies I have since I was a child.
On the back of the page a cross-stitched bear I made for the bribs of my own children. The brib was worn out and now I could save my cross-stitched bear in a book :)
As a child I was allowed to use my mom's sewingmachine to my make my dollsclothes. To represent this I stamped sewing notions ( needle, sewingmachine,...) with permanent ink on craftpaper.
I then turned it into my own waxed paper by putting hot wax on it until it's completely soaked in. Then a remelt the wax on the paper with my heatgun and let it melt off again. There's a certain amount of wax that stays in the craftpaper and this gives a great effect, especially when you crumble it up afterworths.
I added a decorated edge by sewing mother of pearl circles on the side.
After I finished my pages the book went on her journey...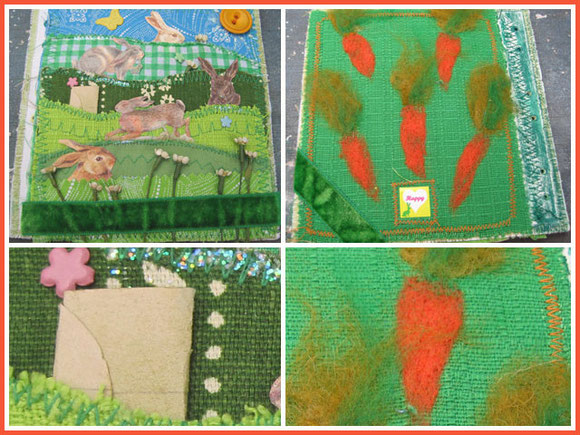 This page is from my Belgian friend Dorien. She had rabbits as a child ( her father still has), so she was inspired by them to make this page. 
She really did a good job : I love the different fabric hills the rabbits are running behind and on top !
On the back she needlefelted some carrots. Love the contrast between the green and the orange ! 
From her the book left Belgium for a trip around the UK.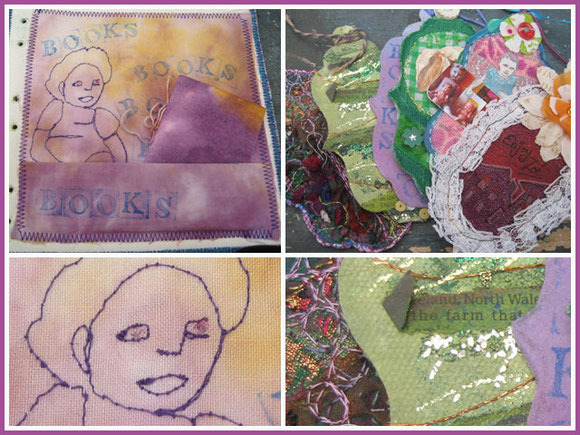 Lesley is a friend of Zoë in the UK and is joining us for the first time.
Her father took her as a child to the public library. It ignited her love for both reading and making books ! 
I love how she stitched the child ! She sure has sewing skills ! 
It seems she makes a lot of books in all kind of media: I hope I can see more of her in the future.
On the right the sign-in tags I added for every participant. It's nice to see how every tag can be linked to the maker and the page they did ! Love, love all the texture in them !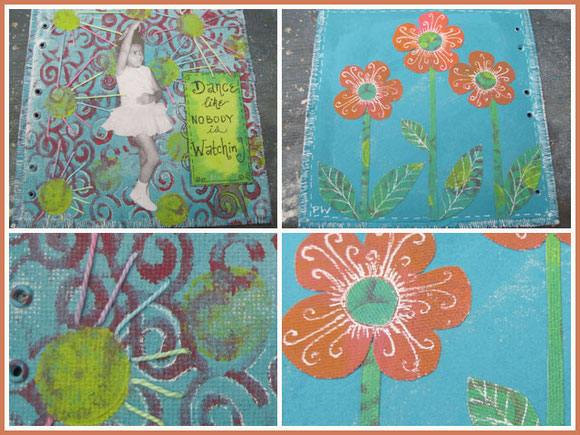 Oh Paula as a child !! I immediately recognized her page as hers by her style, but I love to see her as a child on the photo. She still has the same eyes.
Paula made a great colorful background with paint and stencils or stamps ?  and added stitching. This is so her and she has me inspired several times by doing this.
On the back a bunch of flowers cut out of painted/ stencilled/ stamped canvaspaper. This adds so much depth in the flowers. Of course her doodling with the white pen couldn't be missed. I love how she always uses her white pen !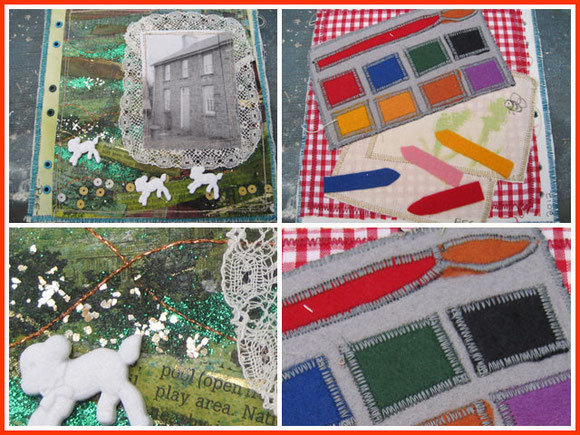 This is Behan's page. I have to pull her ears when I saw this page ! 
She's always SOOO hesitant about her own creations, she has no inspiration she says,...
Look at her page... it's awesome !! Her background is layered with several papers, paint and glitters are added, even stitching. This is completely my cup of tea ! 
The photo is of her granddads farm where she spend a lot of her childhood. She was always drawing and painting there and this is reflected on the back of her page. She collage-stitched a felted paintbox and crayons.
Bethan, this is the LAST time you are in doubt with your own work !! You can do it and I love it ! :)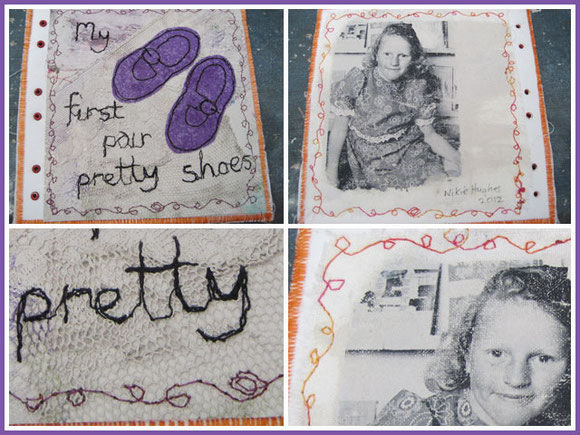 Nikie is so good in freestylestitching ! On a painted background she layered lace and stitched a pair of Mary-Janes ( I still love this kind of shoes...) AND she stitched the words "my first pair of pretty shoes".
Love, love the photo of Nikie on the back ! I only met Nikie twice but she's so recognizable on this photo ! 
i think it's a transfer she made on fabric or it's printed.. not completely sure, but it's great. Love the stitched border around the photo too.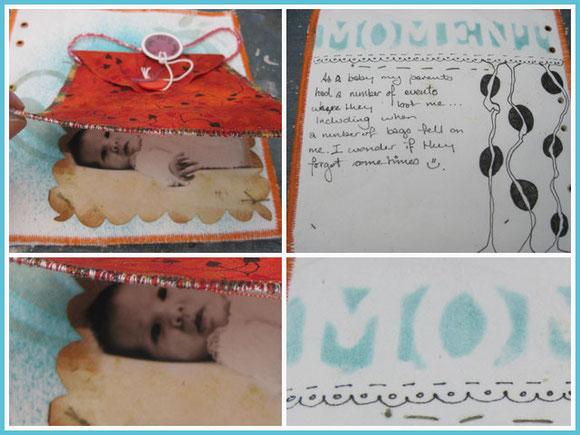 Zoë was the last to work in my book and I had some extra pages in it so I could add to my book if I wanted it.
Zoë asked if she could use them cause she had so many ideas to work out and I'm glad she did !! 
On a sprayed stencilled background is an orange fabric purse. The story is that she got lost several times as a child... Once she got lost when a number of bags fell on her ! 
Under the orange bag is a gorgeous fabric photo of Zoë as a baby. I met Zoë in real twice and she still has the eyes of her as a baby ! 
On the back is the story of the bags , soms zentangling ( that I love) and the word "moment", inked through a selfmade stencil of Tim Holtz ' moments" die.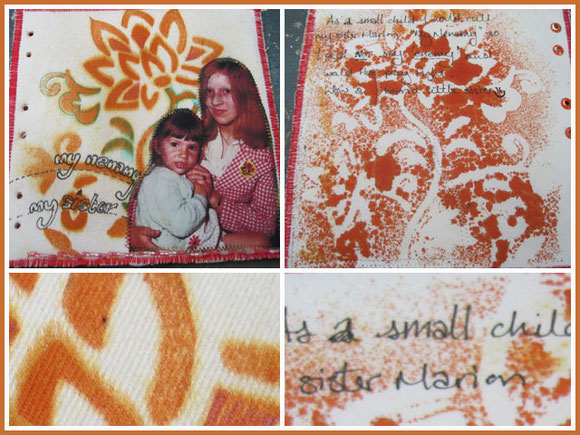 Second page of Zoë is a confession she wasn't always a sweet child... She often played fight with her elder sister Marion and cause Zoë couldn't say the word "enemy" she called her sister " my nenamy"...:)
Nice photo of them"in love" on a stenciled and sprayed background.
Another photo of Zoë ! Isn't she cute ! 
A fabric page about the sea and the days they spend there as father and daughter making sandcastles for a long time.
On the back again some zentangling of her. It looks like young seeds to me... reminding me how memories that are planted in our memory are kept forever and even have their influences in our current life.
This book is the third book I do with the "sweet sisters" and it's another one to cherish a lot, to flip through the pages over and over again to enjoy and get inspired.
It makes me long to see Zoë, Paula, Nikie and Bethan in real life again after 1,5 year and we will...
We finally decided to come together in London for the craftshow in september and spend the weekend together ! 
You'll hear about this journey at the end of september ! 
I've been working on some creative commitments. One I got from a collegue of me. Did I have decorated washing-gloves in my creations ? 
Not really... but I have now :)
Friends of them are married for 25 years and as gift everyone gives a decorated washing-glove with some money in and they will all be hung in a christmastree ?.... I'm curious to hear the story about this ! 
I stamped with black permanent ink on several pieces of felt and collaged the owls together. The tree was made by ironing "wonder under" on brown felt and running it through the Vagabond with the branch treedie. Worked perfectly.
I did the same with the "25" from my new "word-die". Everything was glued with glossy accents to the washing-glove, so this is a decorative one and not one to be used :)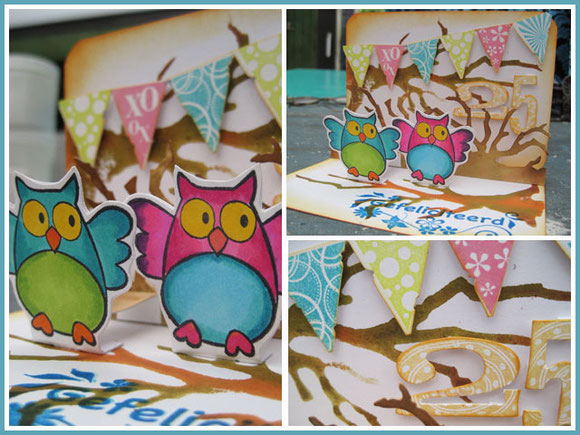 Today I made a matching pop-up card for the couple.
The owls were stamped and colored with copics. The trees were stamped with distress stains and a selfmade foam stamp ( from the branchtree die).
I also used the branches edgedie to pop up behind the owls.
The banner is made with the pennants edgedie and stamped with stamps from Michelle Ward.
I hope the couple loves retro and handmade ! :)
Married for 25 years... That's how long Wienne and I are married today too ! 
It feels like yesterday... so does this mean we're getting old ? LOL
Inge