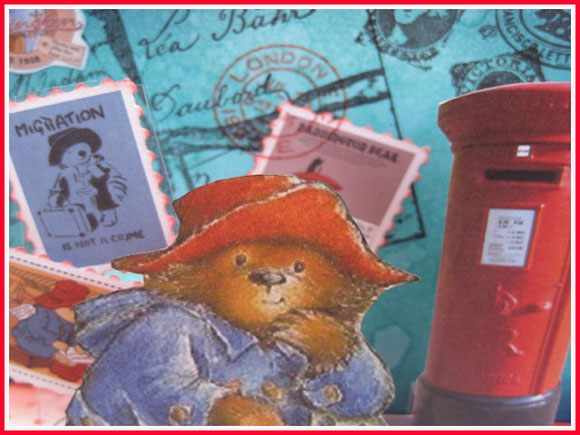 Anne Bearheart's enveloppebook arrived at my home with the theme : Bears and anything mailrelated...
I first thought of doing something with Pooh bear and mail, but searching for inspiration on the internet I found Paddington bear ! 
Of course : Paddington got lost in Paddington station while traveling. He must have send mail from where he has been before on his travels ! 
One of Anne's favorite colors is red, so I combined red with blue: it reflects the colors of Paddingtons clothes and hat, an English mailbox is brightred and red, blue and white or  UK colors !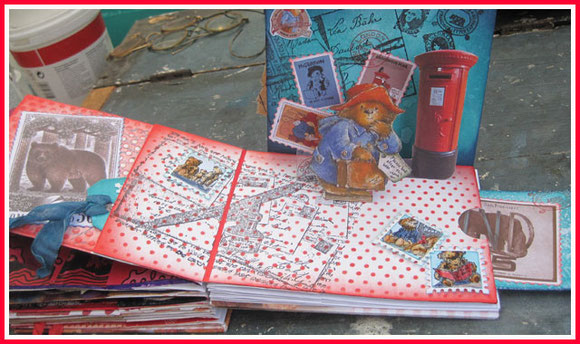 Paddington could travel from finland, to the UK, to San Francisco... even to the universe ! 
If you followed me before you know I end up wit a pop-up in every enveloppebook...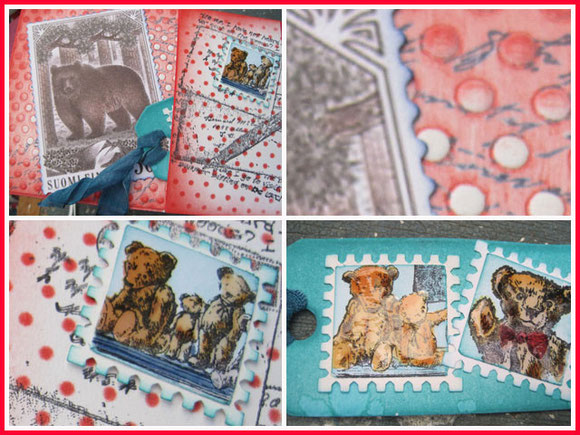 Part of the left page was embossed with a dotstencil which I inked with red distress ink and stamped a reflections textstamp on and then ran through my Vagabond. That's how the text appears between the dots and not on top of the dots.
Lots of dots in this book cause I know this is another favorite of Anne :)
I found an image of a Finnish stamp with a bear on the internet. 
My eldest son will study at the Helsinki University in  Finland coming september until december. Anne already asked me if he could collect some Finnish stamps : now I know why ! They are indeed gorgeous.
I don't have much bearstamps but I have a large one with lots of bears on a shelf. I stamped this stamp with permanent black ink on white paper, colored the bears with distress stains and after drying put a layer of glossy accents over them.
After drying I inked them over with distress ink. Where the glossy accents is, the ink won't stay.
I mounted these bears on a scrappaper punched with a stamppunch.
Now I have my own bearstamps ! 
This is the right page of the enveloppebook.
I teared off a piece of paper from craftpaper I use to spray or paint on, so it was already a bit distressed.
The large telegramstamp wishes the reciever all kinds of good things. That's what Anne can use for the moment...
In my stash I had a rubber bearstamp from San Francisco. 
I heated a waxstick and stamped in the hot wax with the stamp. Because I inked the stamp first with embossing ink, the stamp got released easy from the wax when cooled.
And then you have to open the flap...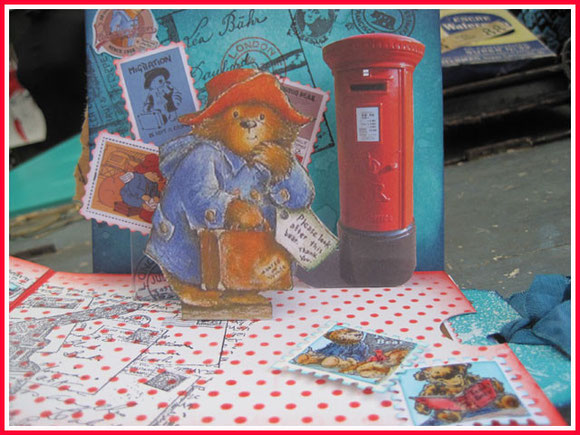 Here he is : Paddington bear ! 
I assume he's in the UK now, seeing the red mailbox...
The Paddington image is from the internet, as are the paddingtonimages on the back I resized and changed into mailstamps with a decorative scissor.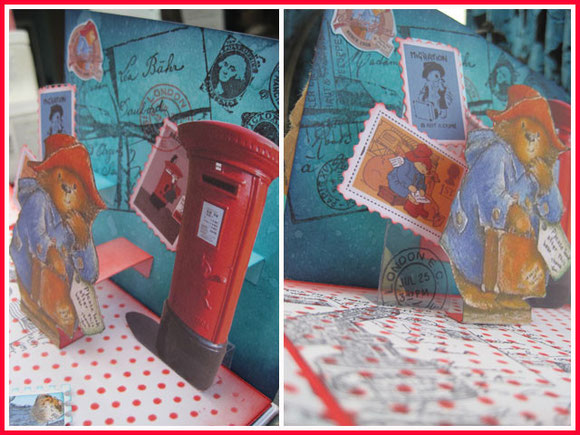 Here you can see how Paddington and the mailbox is attached on the back with tabs which make them pop up and stand up when you open the page.
The back was inked my new favorite distress ink : peacock blue ! I added some mailrelated stamps with permanent ink on this background.
For the tab on which I mounted the Paddington stamps I used a piece of packagingplastic. This doesn't bend as easily as a papertab, but I loved it that it was transparent.
It makes the images "float" in the air and I added a "London" stamp with stazon ink.
I don't know if you know Banksy ? This is a British street artist whom I admire for his fun sight on the world, his power to make a statement with his art, the way he makes graffiti real art... You can find more about him here.
Banksy made this Paddington stencil : "migration is not a crime..." It says enough....

More handmade bearstamps with the same technique as I explained above. Love this technique and the results ! They are mounted with 3 D-foam to stand out more.

The tag in the rightpocket shows Paddington went to other places too...
Next to my bearstamp of San Francisco I found this image of a bearstamp of San Francisco on the internet.
I guess San Francisco has something with bears seeing them appear on their stamps : are there a lot of bears there ? Anyone who can explain the relationship between this city and bears : feel free to tell the story here ! 
I think Paddington will need a spaceship for his voyage to the next destination: Ursa Minor ( Little Bear) and Ursa Major ( Great Bear) !
The tag was spritzed with Tsukineko goose bumps and they resisted the inks perfectly. 
I first did the San Francisco side and when I saw the effect it reminded me of the starry sky and then I thought.. of course Little Bear and Great Bear ! 
Funny how things come together...
And now about something completely different...
Some of you (you know who you are :)  have asked how my back evolves...
Well, good news from the neurosurgeon is that most of my spine is still good, so I don't need spare parts and a backsurgery ! 
The pain is still there but coming friday and the week after that I will get "facetinfiltrations" in my back... Fingers crossed they solve at least a part of the backproblems ! 
In the meantime I keep myself mentally sane by creating ! 
Inge