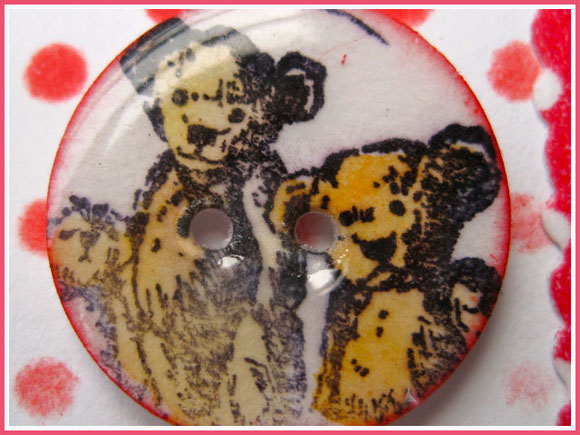 "Mothers are like buttons... they keep everything together..."
A happy mother's day to everyone who's a mother or cares like a mother ! 
I'm a happy creative mother and creativity helps me to stay a happy mom.
I have an appointment with a neurosurgeon in 1,5 week to talk about a possible backsurgery....:(
After the first disappointment and tears when my reumatologist told it, I grabbed my inks and stamps and started creating.
It immediately started to lift my spirits and i've been creating in every possible moment the past week.
Looking at my photos about what exactly I would show you in this blogpost I discovered I created a LOT the past week...
I even need a second blogpost for the tunnelbooks I worked in so that's for the future.
I created for several birthdays past week and one of them was Anne's.
She loves anything about sewing but is most of all a huge lover of bears. She makes the most wonderful tiny bears I know ! You can find some here.
I first made her an easelcard.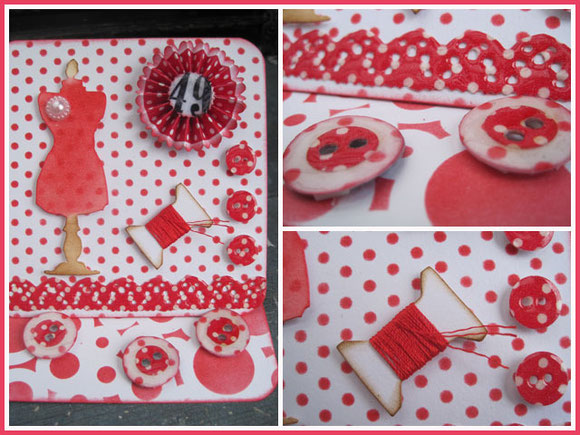 I also know she loves red dots, so in everything I create for her I try to incorporate them.
Backgrounds of the cards were made with the stencils of the craftersworkshop and barn door red distress ink.
I punched small and big circles. On the big ones I added dots with ink. The small red- with- white- dots buttons were made by adding washi tape to sturdy paper and punch circles out of it.
I punched two holes to make them look like buttons, but embossing them 3 times with UTEE really makes them look like buttons. I love this technique and I love UTEE ! 
I also used the UTEE on a washi tape covered scrap that I punched with Tim Holtz vintage lace stripdie.
Same technique on the circle with the "49" on the rosette die ( again with washitape).
I also made her a handmade gift.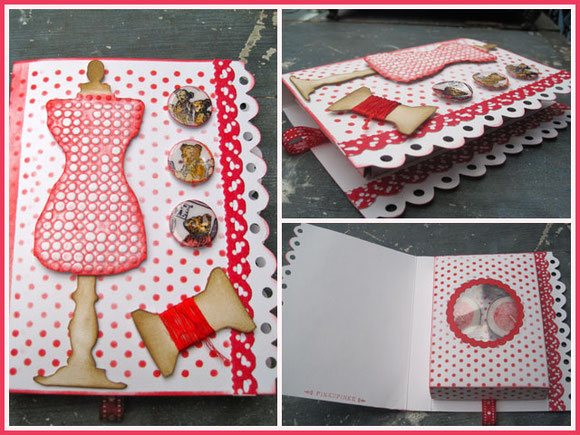 I found this box in a tutorial on a CD of  Technique Junkies. 
The cover is decorated and on the inside is a box also made with paper in which you can put a present.
Dots again here with the swiss dot stencil of the crafters workshop, the red with white dots washi tape ( again the lace die of Tim Holtz).
The dressform was embossed with Tim's dots embossingfolder.
My favorites here are the buttons...
I wanted to keep the box assorted with her card which was about sewing, but I also wanted to add something with bears.
Why not creating bearbuttons ? ! ...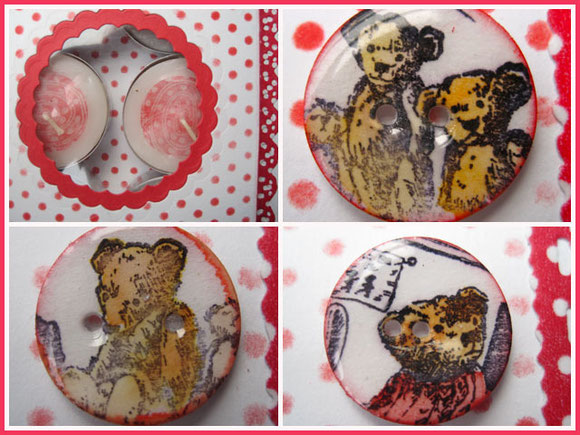 I wish I could sew this buttons on my clothes ! But they are not washable... they are made from paper, stamped with permanent black ink, colored with distress stains and a watercolorbrush and three times embossed with UTEE.
The candles inside are decorated with stamped tissuepaper that was melted on the candles.
Other projects this week were tags inspired by the techniques in Tim's two books and his creative chemistry 101 online class.
I had the easel die for a while now but had not used it yet.
I told myself I'm not allowed to just buy and hoarder Tim's stuff, but that I have to USE it...
On the back of each tag I added a paper easel cut out with the easel die and I really like the result that the tags can stand up right now !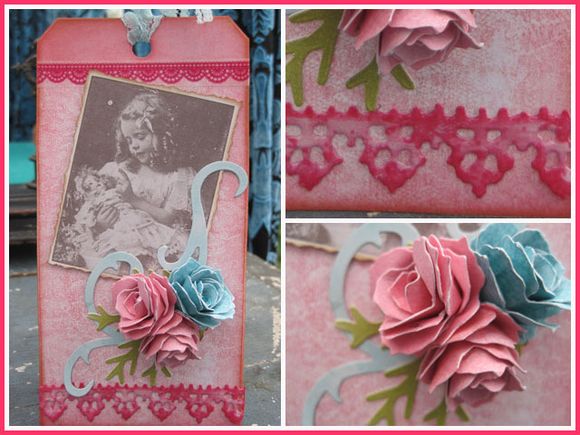 The lace on top is a washi tape, the lace under is stamped paper cut with the lace strip die and embossed with UTEE.
Another die I had for a while and I have not used yet was the distressed pineconedie.
I used it to make the blue and pink roses here. It needed a bit of practice to make them look like I wanted, but this die will be used more now ! 
I made them of paper ( 120 grams) and colored with distress inks, splattered with water.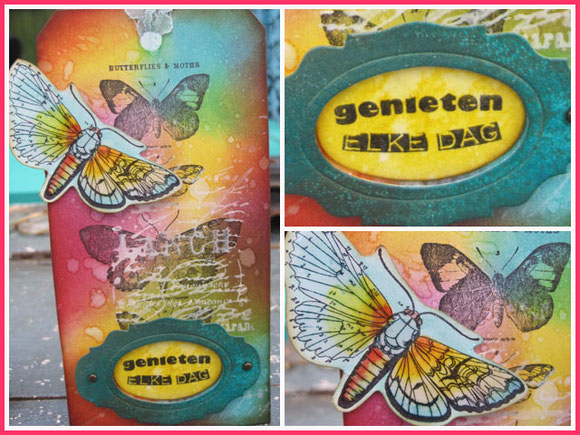 Background inked with several distress ink, splattered with water and stamped on with white distress stain. I like how this technique adds a subtle layer to the tag.
The butterfly was colored with distress stains and a watercolorbrush. After drying I added glossy accents. When this was dry I cut the butterfly out and inked over it with distress ink. The glossy accent resist the ink and gives a lovely shine and texture to the butterfly.
The bookplate was inked with the new spring distress stain peacock ( I think this is my favorite color next to broken china !! ) .
I added clear embossing powder, flickered some off and overinked with a brown distress ink. Instant verdigris !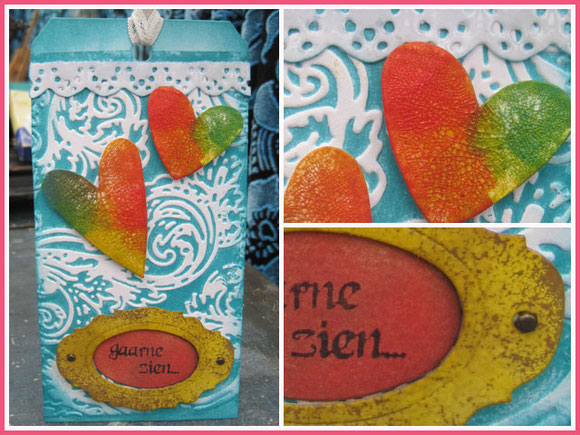 In this "gaarne zien " ( "loving") tag I used the same techniques as in the tags above.  The yellow bookplate was inked with the new yellow "lemonade" distress ink. On the hearts I used the shattered stains technique.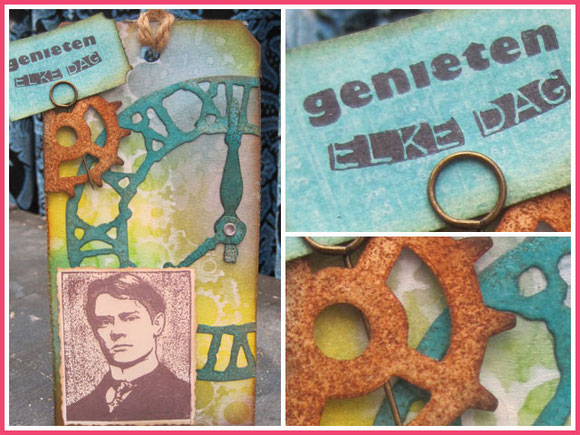 In this tag I used the new spring distress inks together.
The little label " genieten elke dag" ( "enjoy every day") was inked with blue distress ink and overstamped with the white distress stain.
I used the same technique to overstamp the background with a gears stamp.
On the gear I used distress embossingpowder and on the clock the new "verdigris" technique.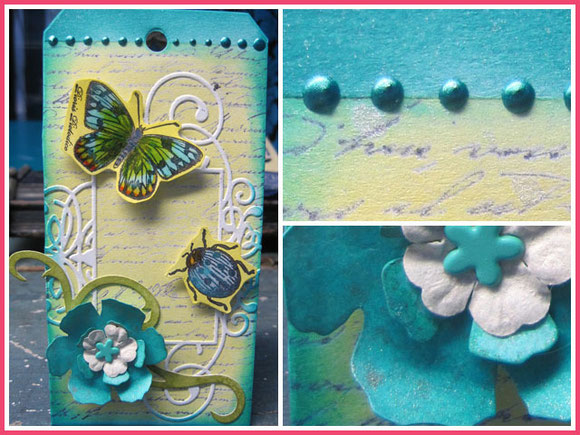 On this tag I used two of the new springdistress inks and the stamping with reflections on the embossingfolder technique.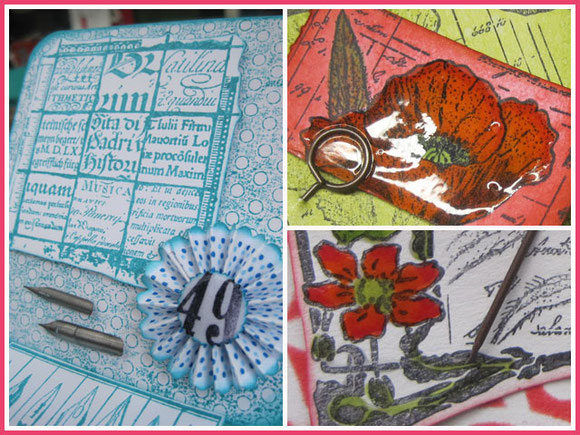 As last photos, some details of birthdaycards I also made this week.
When I overview my creations of past week I cannot say I haven't been creative ! :)
I hope you get inspired by this blogpost and get your fingers inky ! 
Inge