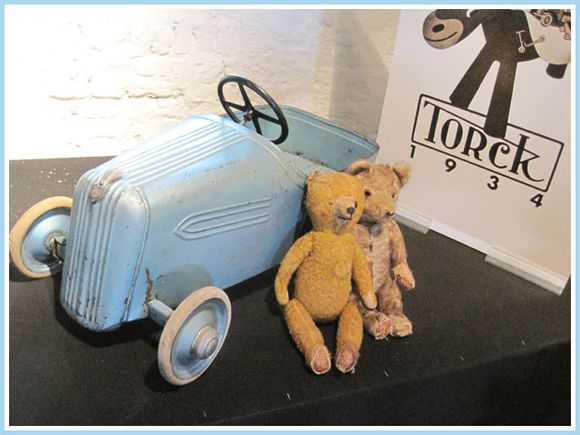 One and a half week ago my husband and I went to Ostend, a city at the Northsea for 2 days.
We are married for 25 years and with students in the house there is no big budget for festivities or the planned travel to the UK... but instead we will treat ourselves with some small suprises during the year.
Thanks to a deal on the internet I was able to purchase two nights in a chique hotel in Ostend... at least chique for us :)
We could see the sea from our roomwindow !
These two days we walked by the sea and the beach a few times, visited the town, went for a long walk in the port of Ostend behind the atlantic wall ( remnants of the second world war),...
Now and then we took a stop for a cappucino with fresh cream...mmmm...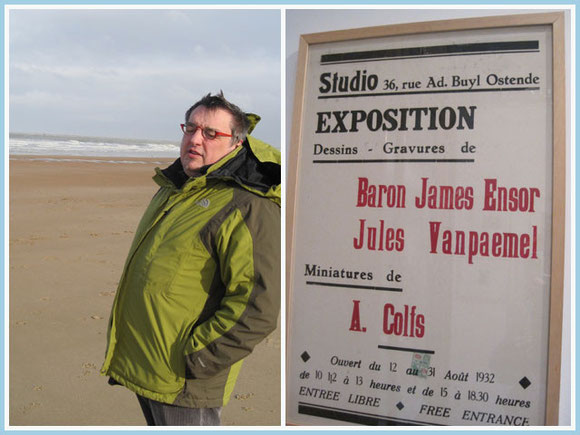 I visited Ostend in the past. I then visited the museum of James Ensor ( 1860-1049) , a well-known Belgian painter.
One of his most famous works is hanging in the Guggenheimmuseum in New York.
There was a replica of this painting in the house where he lived the last years of his life.
I missed this house the past time, so I could convince my husband to go there this time.
On the outside there is a big window with all kinds of shells and seatreasures so if you didn't know that James Ensor lived here, you would walk by...
This little house was originally a little shelf and souvenirshop where his aunt and uncle lived, but when they died James Ensor came here to live in 1917.
After his dead it became a museum.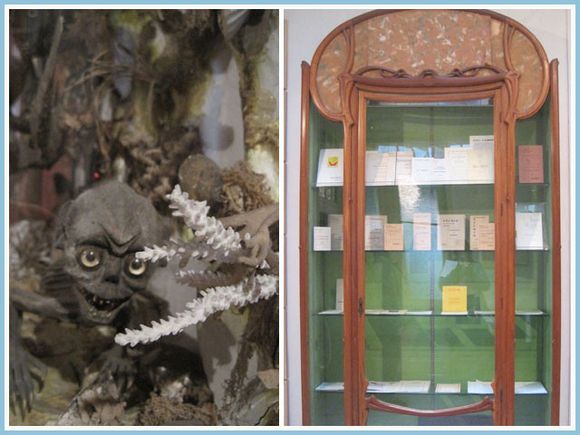 Downstairs are large photos of him and his friends and a very special 3D-composition.
The weird creatures behind the shells immediately spoke to me. As did the Art Nouveau glasscabinet with lots of documents about him ! 
This would suit perfect in my house with all my collections... don't think they would sell it...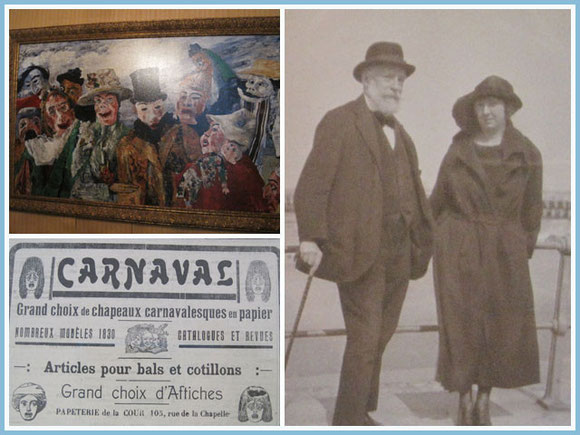 James Ensor is mostly known for this paintings of people with the masks. I don't really "like" them, never would hang one in my house, but they do have "something".
On the first floor we could see a video about the life in Ostend in the beginning of the 1900's ! 
We could visit his dining room and the room where he painted and met other artists.
A small museum but well worthy to visit when you ever visit Ostend !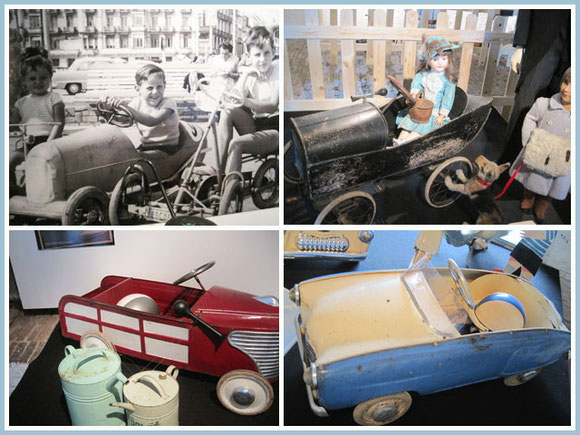 When we walked along the coast we arrived at "Fort Napoleon". We did an audio-tour about the origin of this fort and what it was used for in the past centuries and the past worldwars. 
What interested me even more was that there was an exposition of vintage cartoys that were made between 1934 and the 1970's in the Belgian factory "Torck".
This exposition was build up completely from the collection of two people who hunt the world for these rare childrenstoys.
Originally the "cars" were made from wood, but have been made for years out of metal inspired by the real cars of that time.
These were childrentoys, of course for rich children but in the 50's and 60's you could also find them at the sea for the children to ride in.
Now they are collectibles...
I wished I could grab one of these and take home with me : they were gorgeous !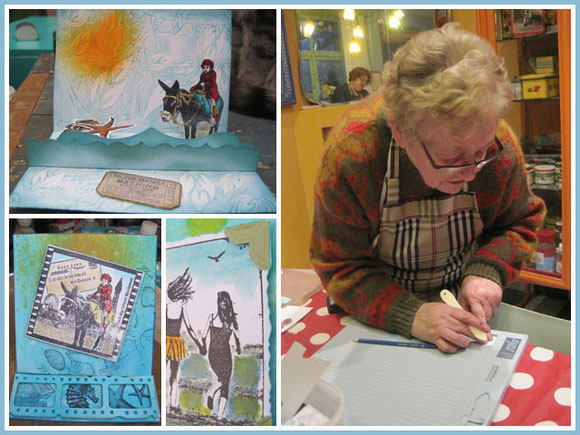 One of the reasons I couldn't blog past week , was that I had a workshop in my house : how to make an easelcard and a pop-up card.
Sadly some people were sick ( the flue is knocking lots of people down for the moment, even my son and daughter have been sick past week).
We were with a little group of 6 woman and it has it advantages. I could really help people with little hints and tips for the techniques, how you ink large areas without having pain in the shoulder,...
I gave them the technique but they could choose their own theme and I helped them to work their ideas out.
I had some examples of the "sea"... any idea where I got my inspiration from?:)
At 18.30 I phoned my dad-in-law that I didn't get my mom-in-law out of my house ! LOL
She was so busy and occupied and she left my home 1,5 hours later then she would normally have done. No worries about eating at the right time as usual.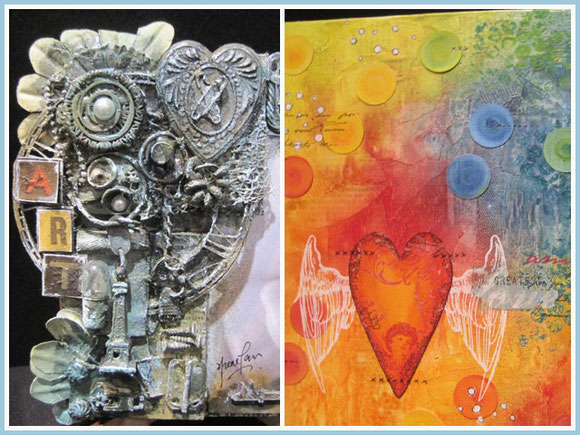 Second reason I didn't blog past week.
On sunday we went to a craftshow in Lille ( France) : "pour l'amour du scrap".
It's just an hour with the train from where we live, so that's not so far.
My mom's friend who would have come with us was still sick, but my mom-in-law grabbed my arm and went with me and my two friends.
The craftshow was not so big, mainly about scrapbooking and I didn't saw much new things or must-have stamps, but we met some people we knew, had a chat, ... This show was my mom-in-laws third craftshow and she proved that even in at 75 you can be happy as a kid when you find craftstuff you like ! 
I took some photos of examples of the workshops that have been going on the previous days. I just forgot whom these creations are from... but they attracted me : left one for the collage, right one for the colors.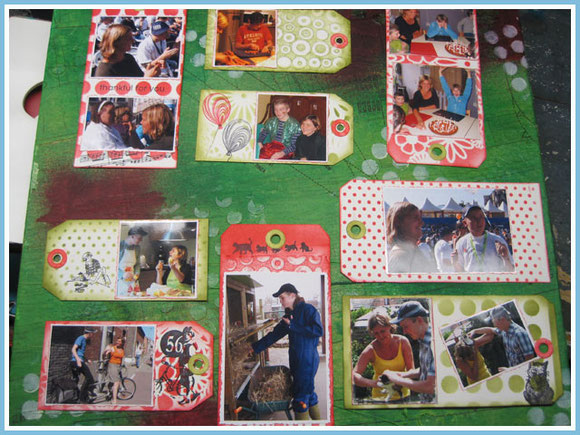 This week I finished a collage someone asked me to make as a thank you for the woman who took care of her autistic son.
I loved making the background with a double layer of patterpaper, sprays, stencils,...
On the tags are photos of Seppe and Katrien. They show how Seppe and Katrien interacted, what activities they did together,...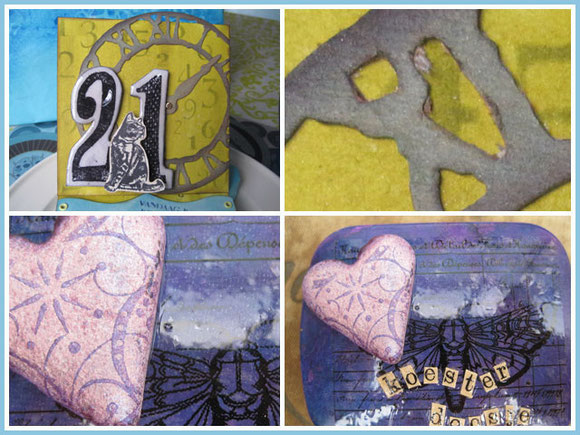 I also made a new cherishbox for someone's birthday. In the tin is a little harmonicabook with photos of her loved ones.
The tin was colored with a basecoat of paint and alcoholinks.
On the craftshow I found a plastictape with vintage images. I used one on this box as an extra layer and added the word " koesterdoosje" ( cherishbox) with letters cut out of an old book.
The heart was made with UTEE and colored with white dabber paint and then with perfect pearls. I stamped on it with stazon.
And last but not least... I made a birthdaycard for my second son Aran who became 21 yesterday !!!
I still remember the day this special sweet son came into our lives... Incredible how fast the years go...
But we enjoyed them :)
Inge