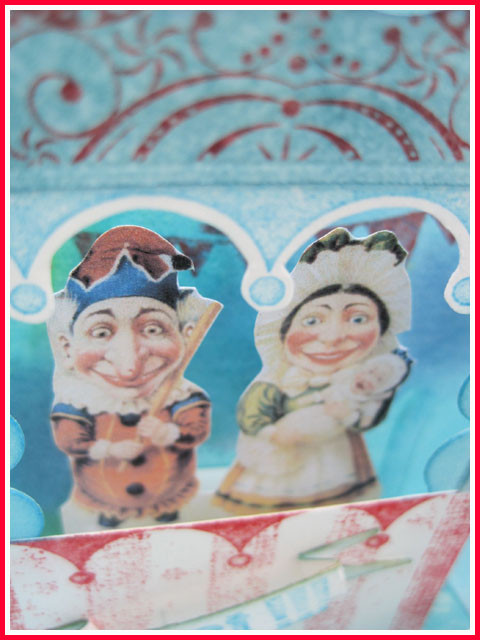 POP-UPS ! 
I'm still completely in love with pop-ups and mechanical cards...
Instead of decorating my piano with a Valentine theme and reds, I made a display completely dedicated to pop-ups.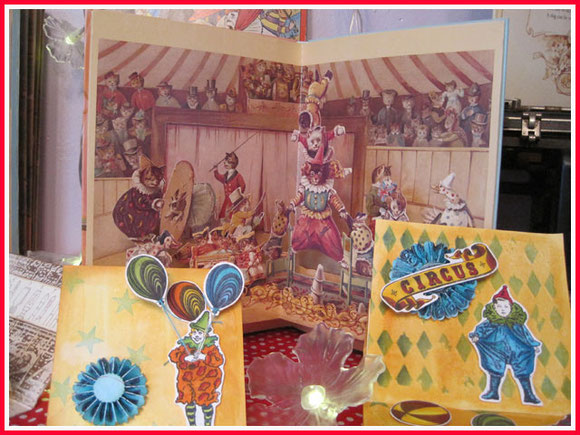 Working on more easelcards and easeldrawercards I was tickled to search the internet for more "pop-ups".
I hopped from one site to another , reading about the history of popup books, new artists who develop new pop-up books,...
There were two names that came back on almost every site I visited : Ernest Nister and Lothar Meggendorfer.
These two invented end 19 th century several mechanical systems to use in their books and add a surprise element in each book.
I bought a few months ago 5 books about pop-ups and they explained a lot of mechanical systems, but didn't really show completed cards/bookpages.
So, I was looking for pop-up books with the different systems. The books with the tabs can easily be found even in today books, but what about the cascading images and the rotating images? 
The beautiful books of Ernest Nister , who's first book was published in 1892 surely would be a treasure, hard to find and very expensive...:(
Okay, then I'll buy some pop-up books from artists of today like Robert Sabuda (http://robertsabuda.com)
I searched Amazon and bookmarked some books worth buying and then I found a link... Stella & Rose books...(www.stellabooks.com) : specialized in rare and collectable children's and illustrated books...
This was a revelation ! I searched the hundreds of pop-up books they have in stock... and unbelieveable but the books of Ernest Nister were there too, but not cheap ( 200 £ for a book...), so that was not an option...
To my surprise I made a discovery : in 1980 they made a reproduction of his books ànd the books were available for prices between 8 and 15 £ !! 
I hit... and hit... and hit the "buy now" button...
I was over the moon when the 7 books arrived ! These were the books I was searching for so long !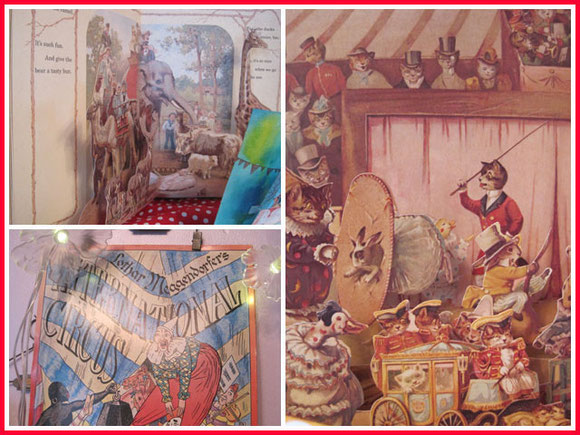 The books not only work with the pop-up systems I wanted to explore, but the drawings are so beautiful with vintage images of a bygone era.
A book with pop-ups of farmanimals,  a visit to the zoo or in a circus.
Now I could see different systems of pop-ups with tabs, but there are also two books with a circular system.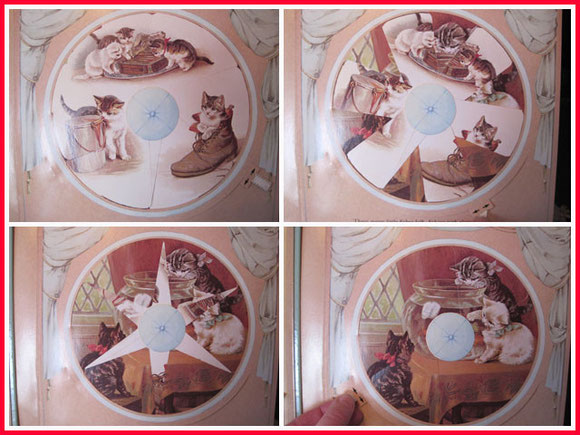 In the middle of the page is an image in a circle. There is a tab on the right. When you move the tab from left to right  images are moving and a second image is rotating over the first image.
When the tab is on the left : there is a full sight of the second image.
I really want to figure this system out, cause this one is NOT in my instruction pop-up books...
Another nice book is with cascading images. Just pull the tab on the bottom and the first image flips open. Maybe you know this from the "waterfall" cards. I guess the same system is used here.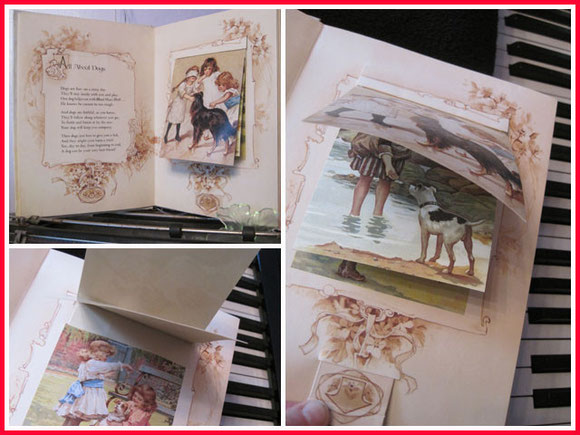 These books that I love are now decorating my house. I added my version of simple pop-up-cards. Simple, but I love the effect !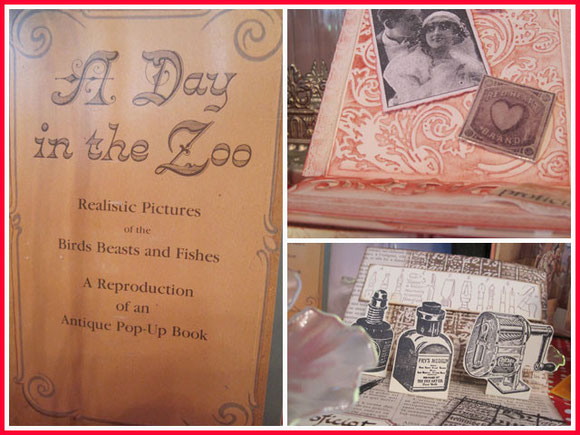 The books just ignited my hunger even more to make pop-ups myself...
When I recieved Bea's enveloppebook about "dolls" in our round robin group, I wanted to try something mechanical out in her book too.
I don't know if you know " Punch and Judy" , in Dutch they are called "Jan Klaassen and Katrijn" ?
They are puppets in a puppet-show that was very popular in the early 18th century, but their popularity lasted for decades. You can read more about their history here ( http://en.wikipedia.org/wiki/Punch_and_Judy).
I searched the internet for images of Punch and Judy and started my pages from here.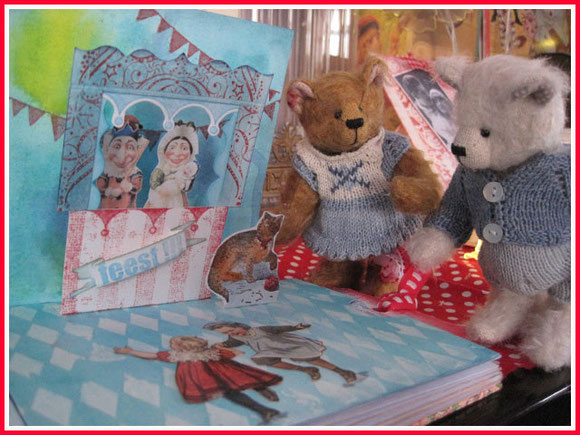 Here you can see the right page opened. The mini-bears from Anne Bearheart are as curious as children and adults were to see the show ! 

The photo shows the completed pages. Background is made with gelmedium and the harlequin stencil of the craftersworkshop.
After drying it was inked with distress ink broken china.
Left is a printed image of Punch and Judy as they are well-known.
I stamped a stamp of two girls with permanent ink and colored it with distress stains and a waterbrush.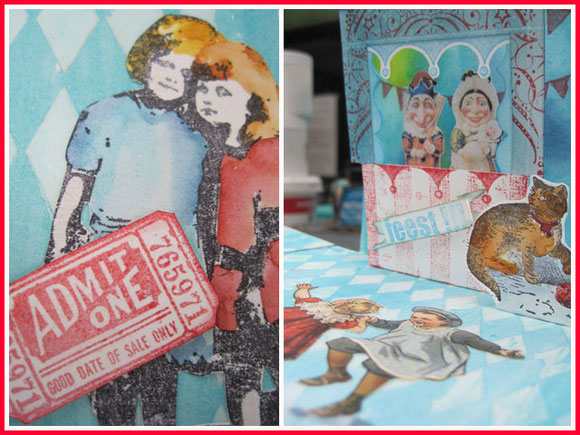 They hold their ticket for the Punch and Judy show.( "admit one "ticket from Tim Holtz)
On the right is Punch with his dog. The banner ( Tim Holtz die) was stamped with the word "Big Top" from the circus stampsset of Oxfordimpressions.
When you open this right flap the pop-up of the puppetry opens and you can see two dancing children ( "Ot and Sien", well known figures in the Netherlands)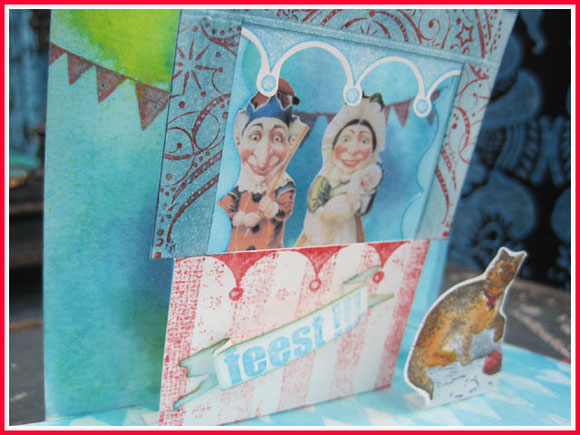 It's hard to see on photo I think, but the images of Punch and Judy ( images from the internet), the selfmade puppetry and the stamped cat are on three different levels attached with tabs on the flap, so they give dimension to the card.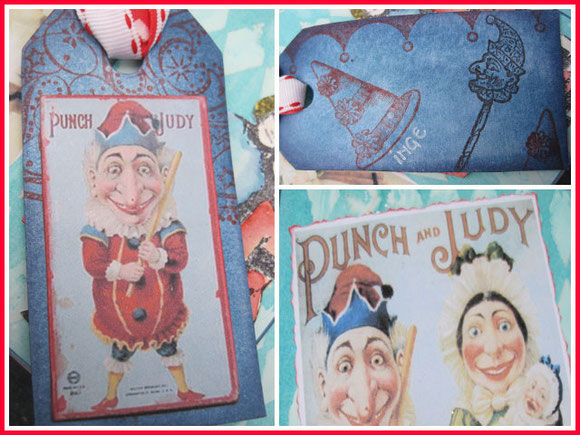 In the left pocket of the enveloppebook is a small tag with another Punch image on the front.
The tag was colored with distress ink spritzed with selfmade glimmermist and stamped with a stamp with fine details.
On the back of the tag a hat and a Punch-toy from the oxford impressions circusstampsset.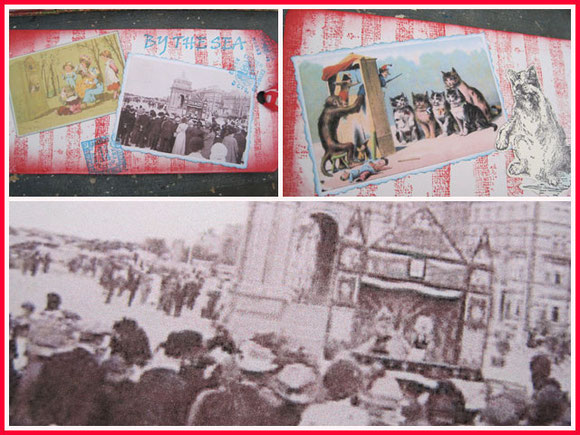 The big tag in the right pocket of the enveloppebook is decorated with stamps ( oxford impressions) and images found on the internet.
The performances of Punch and Judy could be seen for years at the seaside in the UK. The Puppetry was set up on the beach and the people who passed by could see the adventures of Punch and Judy just like we look at soaps on TV now..
It was definitely something that could enchant young and old... just like pop-ups and mechanical cards and books intrigue me...
There is definitely still a child in me that loves to play :)
Inge